By Tamara Khandaker
Vice News Canada
Defense lawyers in Ontario want to start pushing judges to consider how systemic racism may have contributed to the criminal activity of black offenders they are sentencing.
While courts in the province have long recognized the relevance of race and racism when meting out punishment, what has been lacking is a specific mechanism to deal with the issue, argued Wayne van der Meide, a regional manager for Legal Aid Ontario.
The proposed cultural assessment — much like the Gladue report that judges, defense lawyers and Crown counsel can request when sentencing Aboriginal offenders —  would give judges expert evidence on how the person's environment, as well as the history of racism in Canada, may have contributed to his or her criminal activity.
Read the entire article here
Read about America's incarceration problem here
Read more Breaking News here
Griot: Dr. Fran Kaplan
When visitors to America's Black Holocaust Museum's former facility (1988-2008) are asked "what are your strongest memories of your visit?," they most often mention two:
Meeting Dr. Cameron, ABHM's founder and listening to the story of the lynching he barely survived as a teenager, and
Standing inside the slave ship cargo hold and listening to a Griot (oral historian/docent) describe the conditions of the Middle Passage.
Sadly, Dr. Cameron is no longer with us to tell his powerful story in person. And this week we almost lost the impactful slave ship exhibit as well.
Fortunately, Dr. Cameron gave many interviews during his lifetime – and left us a wonderfully detailed memoir of his experiences growing up under Jim Crow, including the lynching and his subsequent incarceration. And thanks to the generosity of the company in charge of demolishing our former museum building, the valuable slave ship exhibit was spared the wrecking ball and bulldozer.
On April 21, 2017, just days before demolition was to begin, Greenfire Management Services sent three of their demolition workers to do something extraordinary: spend four hours carefully disassembling the large replica piece by piece so that it could be moved to a safe storage facility to await the completion of our new museum facility in 2018.
The replica of the ship was not removed from the building when ABHM was forced to abandon it in 2008, because there was insufficient time and funds to arrange for disassembly. All other exhibits not built into the walls, floors, and ceilings were moved to storage, but the ship, along with murals representing African life before captivity, had to be left behind. The abandoned building was subsequently vandalized and repeatedly flooded. All the walls and murals became covered in mold – with the miraculous exception of the walls, murals, and timbers inside the slave ship!
ABHM consultant Brad Pruitt, who has for several years worked closely with Maures Development on the Historic Garfield Redevelopment Project where our new museum will be housed, directed the disassembly and moving teams in the successful effort to save the ship.
One of the movers, Frenchy, vividly remembered his visits to the museum as a young person. As he and the other men lovingly carried each piece from the ruined building to the truck, Frenchy said, with tears in his eyes, "I'm saving a piece of our history!"
Now in storage, the slave ship's many pieces will eventually be reassembled like a puzzle, refurbished, and restored.
Visitors young and old to ABHM's new facility will again be able to see, hear, visualize, and clearly understand the torment and deeply admire the strength and resilience of the African ancestors brought to this land in chains.
Please note: In order to return as a bricks-and-mortar museum, to restore its exhibits and create new ones, ABHM must raise $1.5 million by Spring 2018. If you wish to help, please consider making a tax-deductible contribution here.
Photo Gallery: The Rescue of ABHM's Middle Passage Exhibit
A Voyage to Slavery: The Story of the Middle Passage
As if two simple words could contain the horror, the journey was called the Middle Passage. It was the middle let of a terse and efficient trade triangle where human torture and suffering were unimaginable.
Nearly 20 million Africans were captured during the largest forced migration in human history – spanning over 3 centuries. They were shacked two-by-two and herded onto vessels where as many as 600 other captives awaited the horrors of the voyage. It is impossible to determine how many people lost their lives during the crossing. Current estimates range from 1 million to 2.2 million.
Listen for the spirits of the ancestors. Their sad voices tell us how their story began.
From: The Root
By: Monique Judge
Amidst the drama and craziness surrounding the Trump presidency, the concept known as "Fake News" has been at the heat of President Donald Trump's frustration. Monique Judge defines what fake news really is as she writes, "fake news is something that is created intentionally to deceive; that it not happening in any legitimate mainstream media I can see." Judge clarifies that news that someone does not agree with is not considered fake news, and this may be where the President is confused.
Judge further explains the definition of fake news and its misrepresentation by the President. In order to fight back against the President and his propaganda against media Judge advises the following,
"Not only do we have to present the truth, we have to do so repeatedly in order for those facts to stick. The same way in which Trump is repeating his "fake news/fake media" mantra to get it to stick in people's heads is the same way in which we need to come forth with facts that debunk the propaganda he is putting out there."
To read more about this article follow here.
To read more of ABHM's Breaking News look here.
Written by: Keith McAllister
Edited by: Zak Morse
April 1st fell on a Saturday this year, and community members from more than 20 different churches and organizations around Milwaukee gathered at Alverno College to engage in the impactful social justice event, Racial Justice: The Courage to Act. The event left attendees with much to think about in the struggle for justice. It also illustrated efforts to build coalitions across organizations committed to racial justice in Milwaukee, including the YWCA Southeast Wisconsin, Rid Racism Milwaukee, and Unitarian Universalists (UUs) for Black Lives Matter.
For a full list of co-sponsors, visit the event page; for insights about the day's program, check out the hashtag #Courage2Act on Twitter and Instagram.

Among the co-sponsors was America's Black Holocaust Museum. ABHM's Head Griot Reggie Jackson delivered the opening address, which described the impact of  racism in Milwaukee and the struggle for justice in Milwaukee's past and present. Jackson's address set the tone early on for serious engagement by addressing directly the scope and severity of the city's racial injustices.
Jackson described how Milwaukee is the most racially segregated major city in the U.S. "Milwaukee's issues are literally killing black people." Wisconsin is the "only state in the U.S." where the life expectancy gap is not improving, and two thirds of the distressed population in the state is concentrated here in Milwaukee. Facts like these—and many more shown in the speaker's presentation—are indicative of wider social and economic disparities.
The conference left us with the resoundingly clear message: more action is needed for racial justice. In light of events like Racial Justice: Courage to Act, there is a need for community members to ask hard questions, articulate lived experiences, and help reconcile historical injustices to promote justice in today's Milwaukee.

For more about the organizations involved, explore the event's Facebook page.
To learn more about America's Black Holocaust Museum, please explore the virtual museum galleries.
Read more Breaking News here.
In the article "After Changing the Rules of Engagement, Senate Republicans Vote Neil Gorsuch Onto the U.S. Supreme Court," contributing writer Deepa Iyer talks about the reaction of racial justice, women's rights, and LGBTQ organizations to the confirmation of the 113th justice, Neil Gorsuch.
She writes:
"Democrats filibustered the nomination yesterday, denying Gorsuch supporters the 60 votes they needed to move to a final vote. In a move observers and individual lawmakers have characterized as the death knell of any possible bipartisanship in the Senate, Majority Leader Mitch McConnell (R-Ky.) changed the body's rules of Supreme Court nominations, using what is called the "nuclear option.""
She continues:
"Civil society organizations have consistently opposed Gorsuch's nomination for his conservative viewpoints on reproductive rights, LGBTQ equality, and criminal justice."
Read More About Past Supreme Court Decisions That Changed History here. 
Visit our Breaking News Page here. 
Wednesday, April 5th – 6:30-8:00pm
Has There Been a Black Holocaust in America?



Lecture/Q & A by Dr. Fran Kaplan, Coordinator, ABHM's Virtual Museum
Shorewood Public Library & Senior Resource Center
3920 N Murray Ave, Shorewood, WI 53211
Free and open to the public
Fran addresses the question: Is it accurate and fair to describe the experiences of Africa's children in America as a holocaust?
She engages the audience in an exploration of the definitions of the term holocaust and the common features of modern holocausts. Fran shares the history of the term's usage and an overview of the central experiences of African Americans as a group since the arrival of their ancestors to North America as enslaved people in the early 1600s.
About Dr. Fran Kaplan
Fran has worked actively against poverty and for social justice, diversity, equity, and peace for almost fifty years, most of these in Milwaukee.
Her professional practice as a social worker, community organizer, and adult educator has taken her into the seemingly diverse fields of farmworker rights, women's healthcare and reproductive rights, child protection and parenting education. Fran is also a published author and filmmaker.
During the last six years Fran has worked full time with the community group that runs the Dr. James Cameron Legacy Foundation and its programs, including America's Black Holocaust Museum.
She has been particularly involved in developing the online museum and its offline public education and interracial dialogues. Dr. Kaplan also helped launch the Foundation's imprint, LifeWrites Press, and issue a recently expanded edition of Dr. Cameron's memoir, A Time of Terror, among other publications. In December 2016 she was given the SE Wisconsin YWCA's Eliminating Racism Award.
Fran raised her three biological and foster children in the great Milwaukee neighborhoods of Riverwest and Sherman Park, where she still resides. She is thrilled to be a bubbe (grandma).
---
Sunday, April 23rd – 12:00-1:30pm
The Hidden History & Impacts of Segregation in Milwaukee County



Lecture/Q & A by Reggie Jackson, ABHM Head Griot

Milwaukee Friends (Quakers) Meeting

Milwaukee WI

Reggie discusses segregation in Greater Milwaukee with particular attention to its impacts on the Riverwest neighborhood where the Friends Meeting House is located and the next neighborhood to the north, Harambee, which have different makeups and histories.
Not open

to the public
---
Saturday, April 29th
How to Engage Students to Become Socially Conscious

Workshop by Reggie Jackson, ABHM Head Griot

Educators' Network for Social Justice
10th Annual Teaching Conference
Milwaukee WI
Not open

to the public
From:Huffington Post- Black Voices
Written By: Kristina Puga
Writer and activist Eugene Ethelbert Miller discussed his love for writing and history by stating:
"I wanted to be involved in every aspect of writing about it," says Miller about the politically-charged time, as sharply and energetically as if it were just yesterday. "It was just like now – with the Woman's March and Black Lives Matter…"
Miller, who goes by "Ethelbert" spent his college years immersed in black history.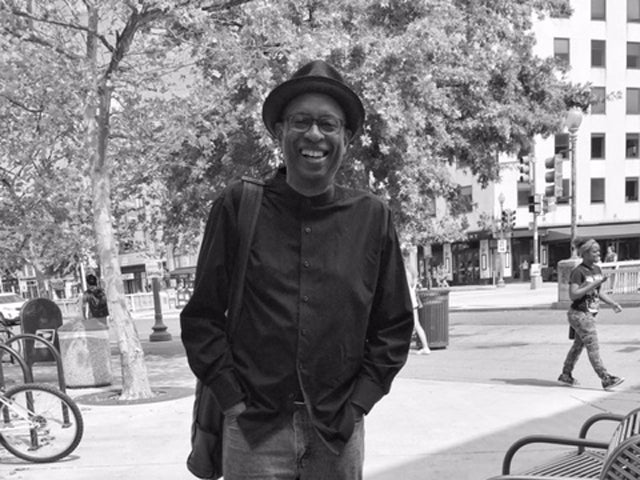 He attended college (Howard University) in the same year that Martin Luther King, Jr. was assassinated. This, among other events (such as the assassination of Robert Kennedy, and the Vietnam war) led him to began a career as a poet. He explained:  "I wrote many love poems," says Miller. "I wanted to leave behind poems that were similar to Pablo Neruda's work."
Millers' family consisted of a postal working Father, and a seamstress mother. He explained that college was "a strain financially." Therefore announcing that he would be a writer to his parents was a bit of a misunderstanding. He later explained all of the different opportunities his writings afforded him: "When I look back on my writing, it took me to places that I couldn't have gone otherwise," says the poet, mentioning the U.S. State Department sponsored some of his trips. "I went to Iraq, Saudi Arabia, people would send me to all sorts of places."
Miller continues with more inspiring anecdotes for writers of all backgrounds leaving us with this piece of life advice:
"I think what I've learned now are two things: We have to practice deep listening. We have to understand what [people] are afraid of, what they're suffering from. Then the next level is compassion."  
Read the full article here
Follow Miller's work here
Read more Breaking News here