Griot: Anna Strong
"But life itself compels an optimism. It does not seem reasonable that the majority of the peoples of the world should finally, lose joy, and rational justice as a global experiment to be pursued and fiercely protected. It seems unreasonable that more than 400 million people, right now, struggle against hunger and starvation, even while there is an arable earth aplenty to feed and nourish every one of us. It does not seem reasonable that the color of your skin should curse and condemn all of your days and the days of your children. It seems preposterous that gender, that being a woman, anywhere in the world, should elicit contempt, or fear, or ridicule, and serious deprivation of rights to be, to become, to embrace whatever you choose…"[1]
This quote exemplifies the life that June Jordan led and just how much of herself she put into all of her work, from her shortest poems to her longest books. She was an activist to say the least and she believed that the best way to address the social and political climate of her time was through her writing. Her writing changed the way that people read poetry, the way that they looked at the events happening in the world around them, and the way that they viewed Jordan an author. The quote above hints at some of the topics that she often discussed within her pieces of literature, but even still there was so much more and that is exactly what this exhibit is dedicated to; the life and work of June Jordan.
Jordan's Early Life and "Double Struggles"

She was born in Bedford-Stuyvesant, New York on July 9, 1936 to two Jamaican immigrant parents. Due to this she did not have what some would describe as a "traditional upbringing". It was for this reason that she began to write at a very young age, using her writing as an outlet. Her parents were not like most at the time, as they were stricter and more demanding of her, especially her father.
This is evident in her work. In her poem, Poem about My Rights, she wrote, "Before that /it was my father saying I was wrong saying that /I should have been a boy because he wanted one/a /boy and that I should have been lighter skinned and /that I should have had straighter hair and that /I should not be so boy crazy but instead I should /just be one/a boy…"[2]
Through this poem, readers were able to gather an understanding of the problems that Jordan faced within her own home, as if the problems that she faced when she walked outside into the world weren't enough. Jordan had what many have come to know as a "double struggle". This means that she struggled twice as much as the average American because not only was she black, but she was also a female and she felt it even in the confines of her own home.
Resilience In the Face of Trauma
Jordan at one point said that she had encountered many bullies throughout her life due to her Jamaican background, and the fact that she was small and short, however, she named her father as one the first regular bullies in her life (Jordan, Civil Wars: Selected Essays). In another one of her books, Soldier: A Poet's Childhood, she even wrote about the times that he had beaten her: "Like a growling beast, the roll-away mahogany doors rumble open, and the light snaps on and a fist smashes into the side of my head and I am screaming awake: 'Daddy! What did I do?!'"[3]
Another traumatic event that Jordan wrote about which had an influence on both her life and her writing was when she was raped. She wrote about this event and her process of coping with it. In Poem about My Rights Jordan wrote that she had once thought she was in the wrong for being in the wrong place at the wrong time. However, she came to terms with the fact that she was not in the wrong. She realized, instead that there was something wrong with the system, which would allow for a person to commit an act of sexual assault and not have any penalties. Within this poem, not only was Jordan critiquing the system, but she was also addressing the problems that she often faced growing up as a female, and those problems were not singular to her. This poem was a message to young females growing up in America, a predominantly male society. She wanted to let them know that even if they face adversity, as she often did, it is not because they have done something wrong. Instead, women should be free to be who they are and who they are becoming and they should be unapologetic about it. "I am not wrong: wrong is not my name," says Jordan.[4]
These traumatic events shaped her into the resilient woman that she became. Although her father bullied and beat her she still found a way to see good in their relationship. She stated in an interview before her loss to breast cancer in 2002 that she never doubted that he loved her and thought highly of her and her abilities.[5] She also began to cope with her experience with sexual assault as she often explored the issue of sexual identity and sex within a number of her poems. Many of the traumas that June Jordan overcame throughout her lifetime, she saved for her poems.
Living Black in the US of A
Although Jordan was actually Jamaican there were certain experiences that she could not escape as a resident of Bedford-Stuyvesant, New York, and as an American citizen. When people looked at her, they saw another black person and therefore they judged her and treated her the same way as they would have any other. Therefore, her writings tackled an array of topics, from black love to police brutality. Her poem, entitled Poem about Police Violence, encompasses both of those topics as she flows between different techniques and auras within the poem.
"What you think would happen if /everytime they kill a black boy /then we kill a cop /everytime they kill a black man /then we kill a cop /you think the accident rate would lower subsequently? /Sometimes the feeling like amaze me baby /comes back to my mouth and I am quiet /like Olympian pools from the running /mountainous snows under the sun…"[6]
What Would I Do White
She also dedicated her poem What Would I Do White to tackling this issue. Within this poem she made it obvious that she couldn't even imagine white because it would be an entirely different lifestyle than the one that she had led. She ends the poem with, "I would do nothing. That would be enough."[7] These two lines alone would have been sufficient for an entire poem. It emphasizes the differences in lifestyles while letting the reader know a little bit about her struggle as an African American. It tells the reader that unlike the alternate lifestyle which she was writing about, she has had to work in her life. She has had to work to be accepted in her family, work to be respected as a female within society, work to be equal in the eyes of the police and government officials while witnessing police brutality and corruption, and she has had to work to become the person that she was destined to be in such a demanding and hurtful world. And it is partially because of that simple difference, that she was pushed to write many of her better pieces of work.
Although, the purpose of the poem was not so that she could speak poorly about white Americans, but rather to demonstrate that life as a white American is much different from that of an African American. Within the poem she also wrote, "I would forget my furs on any chair. /I would ignore the doorman at the knob…"[8] Many will read these lines and assume that she is alluding to the fact that whites are careless and ignorant, however these lines have a much deeper meaning. They hint at the fact that wealth is also something that separates her life from that of a white American's. She would not have furs to drape anywhere, nor would she be living in a house with a doorman ready to open and close the door at her will. Jordan worked hard all of her life, partially because she was a single mother to her son, yet she still didn't live anything close to the lifestyle of the character that is described in the poem. How could she live such a lifestyle when there was still so much work to be done?
Perspective and Impact on the World
This is the type of question that Jordan would have tried to answer within one of her poems, however, her writing was not limited. She did not limit herself to writing about the negative things of the world nor did she only write about the African American community and the injustices of the world. Yes, she wanted her writings to mean something and to have an impact on the community in which she lived in and the world as a whole. It is for this reason that she tackled such topics as 9/11, police brutality, sexual assault, government scandals and acts of corruption, she wrote about positive things as well. However, she should never be mistake for simply another "angry black woman" who used her poems, books, essays, etc. to let out her frustration. Instead she should be viewed as one who used her platform to make an impact by glorifying love, uplifting black men and women, teaching the youth, and empowering the African American's experiencing the daily struggles of life. There is so much more than anger to be seen within her poems.
Poems in the Key of Love
One of June Jordan's more famous books, Haruko/Love Poems was simply a collection of love poems that she had written over the span of twenty-two years.[9] In one of her poems she eloquently wrote about not only love, but also procreation.
"Little moves on sight /blinded by histories /as trivial or expansive /as the rain /seducing light /into a blurred excitement /Then /she opens /all of one eye… she who sees /she frees each of these /beggarly events /cleansing them /of dust and other death."[10]
This poem alludes to two lovers who are joining to "cleanse them [selves] of death". They are cleansing themselves of death by making sure they continue to live through the legacy of their children. Which was also something that Jordan believed was essential; the legacy of children. It is for this reason that she wrote many books dedicated to young readers and edited the poems of young writers. In the book Soulscript: A Collection of Classic African American Poetry, she edited the works of young authors. The contributors to this particular book wrote though provoking pieces about experiences that should be well beyond their years. Yet they write about them so eloquently.
One of my personal favorites within this book is entitled Monument in Black.[11] It sheds some light on the differences between races while emphasizing the blood sweat and tears that African Americans have put into this country and into the world, without much recognition. However, she does it through acknowledging the "monuments" that whites have achieved or at least that they are praised for. The message of the overall book is that young authors should have a voice as well since the collection of poems were all produced by young adults. While this book is only edited by Jordan, it is not the only book that she published for the youth. She wrote Kimako's Story, Who Look at Me, New Life: New Room and many more.
June Jordan wrote many impactful and important pieces of work.She was an educated African American female who took on the roles of mother, author, and political activist. Her books and poems were a place where these roles could merge together or be non-existent altogether. Jordan's dedication and style of writing was one that cannot be mimicked and one that is missed. However, due to her impact on her community, her work and legacy will continue, especially since many of her writings are still relevant to the world that we live in today. This exhibit was dedicated to the life and work of June Jordan because she dedicated her life and work to all of us.
Sources:
[1] Jordan, June. Civil Wars: Selected Essays. Boston: Beacon Press, 1981, 4-5.
[2] Jordan, June. Collected Poems of June Jordan. Port Townsend: Copper Canyon Press, 2005.
[3] Jordan, June. Soldier: A Poet's Childhood. Boston: Basic Civitas Books, 1999.
[4] Jordan, 2005.
[5] Dinitia Smith, June Jordan, 65, Poet and Political Activist, (The New York Times, June 2002).
[6] Jordan, June. "Poem about Police Violence." Mr. Africa Poetry.
[7] Jordan, June. Some Changes.New York City: Serpent's Tail, 1993.
[8] Ibid.
[9] Jordan, June. Haruko/Love Poems. New York City: Serpent's Tail, 1993.
[10] Ibid., 3.
[11] Howard, Vanessa. Soulscript: A Collection of Classic African American Poetry. New York: Random House Inc., 1970.
Anna Strong is a 2017 graduate of Marquette University in Milwaukee, Wisconsin. During her studies in English literature, she interned with America's Black Holocaust Museum. However, she was particularly interested in African American literature and feminism, which led her to research and publish two pieces of work about these in Marquette University's electronic publications. She is now greatly looking forward to continuing her education within this field and in law.
As millions of students return to school, the nation's Justice Department (DOJ) is beginning an investigation that could potentially sue universities over affirmative action admissions policies….
For Black people and other ethnic and racial minorities, this investigation seems like window-dressing to deny millions of students a quality education in the name of injustice.
Such actions also signal a more subtle message is to roll back to the progress achieved in broadly affording students of all races and ethnicities the benefits that higher education derives….
"The American Dream offers each new generation the opportunity to build on the successes of previous ones," wrote Nikitra Bailey, an executive vice president with the Center for Responsible Lending, in a related op-ed. "However, if you are African-American, the nation's history of enslavement and legal bigotry consistently requires each generation to start anew…."
"If it passes, we are announcing to the world that women and minorities will not be given an equal opportunity to succeed in business in our state," said Hillegonds. "This is the wrong message to send at a time when we are trying to attract new businesses and develop a talented, multicultural workforce ready to meet the demands of the 21st century economy."
State-approved bans on affirmative action in higher education also led to fewer Black students in the University of California system as well as at the University of Michigan at Ann Arbor.
Today the real difference between then and now is that the U.S. Justice Department is resuming a fight for the preservation of White privilege that is armed with resources and personnel that taxpayers of all colors provide.
The United States Supreme Court recently affirmed the use of affirmative action in admissions decisions in the "Fisher v. University of Texas" case. In that ruling, the importance of diversity as a compelling state interest was affirmed as settled law. The decision was also a victory for equal opportunity and recognized again that it is critical for schools to create diverse and inclusive student bodies.
As the cost of higher education tends to increase every year, students of color are the ones most likely to go into debt in search of a degree that will deliver a middle class standard of living. Even four years after graduation, Black college graduates earning a bachelor's degree owe almost double the debt of their White classmates, according to CRL research.
"The U.S. Justice Department must enforce inclusive educational policies as they open the doors of opportunity for all," said Bailey.
Read more Breaking News here.
Read the full article here.
Read more on Affirmative-Action here.
Read more about National Newspapers Publishers Association here.
According to a new analysis by the New York Times, Black and Hispanic students are still more underrepresented at top colleges than they were 35 years ago, despite affirmative action policies.
The analysis found that, since 1980, when data for fall enrollment was first available from the National Center for Education Statistics, the share of Black freshmen has remained essentially unchanged….
The gap between college-age individuals and actual college students has grown from 3 points in 1980 to 9 points.
Terry Hartle, a senior vice president at the American Council on Education, noted that while minority students have certainly gained ground at institutes of higher learning, they have not done so at highly selective schools.
And while programs like affirmative action can certainly help to bolster minority numbers at schools, the truth of the matter is…
Minority students are often confronted with lack of access to better teachers, better resources, and advanced courses,…
"There's such a distinct disadvantage to begin with," said David Hawkins, an executive director at the National Association for College Admission Counseling. "A cascading set of obstacles all seem to contribute to a diminished representation of minority students in highly selective colleges."
Read more Breaking News here.
Read full article here.
When Patricia Stephens led a group of black college students to sit and order foot at a "white only" Woolworth's lunch counter in Tallahassee, Florida in 1960, they were told, "The South is not ready for that."
When Fannie Lou Hamer led a group of black neighbors to the courthouse in Indianola, Mississippi in 1963 to register to vote, they were told, "Mississippi is not ready for that."
When fast-food workers led primarily by black women walked off their jobs in 2012 to strike for $15 minimum wage and a union, they were told, "America is not ready for that."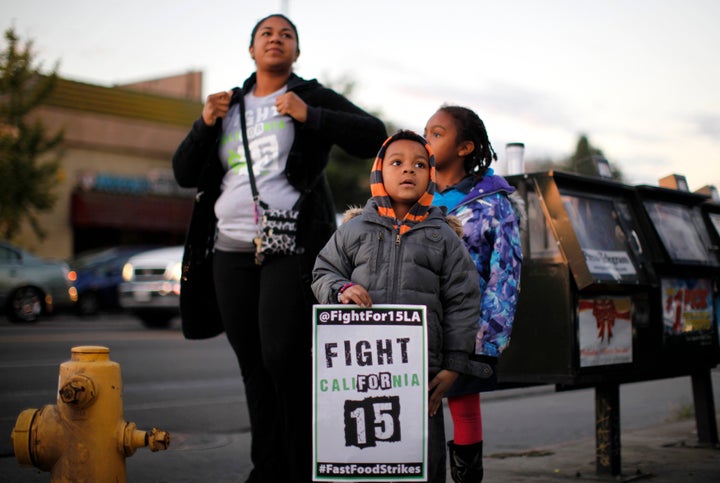 Time and again, women of color have changed the world through their resilience and fortitude to never settle for less than first-class citizenship, even if the forces against them said it's not yet time for progress.
The time has come for a minimum wage that meets the basic needs of workers in the 21st century. Raising the minimum wage would boost pay in low-wage jobs where millions of men and women now spend their careers. Low-wage occupations in food service, home health care, retail, and customer service are projected to see the most job growth over the next decade.
The typical worker struggling on less than $15 an hour is a woman over 30 who works full-time but still cannot make ends meet. While only one-third of white workers earn less than $15 an hour, most women of color do.
A $15 minimum wage (or $31,200) a year for full time) could go far in helping women and people of color make ends meet, closing persistent gender- and race-based pay and wealth gaps, and improving educational and health outcomes for children. All labor has dignity, but when workers bring home paychecks that don't pay for basic necessities, it's hard to find the dignity in being working poor.
Read the full article here.
Read more on the history of the struggle for justice here
Read more Breaking News here.
GRIOT: Richard Prestor, Milwaukee, Wisconsin
An article in the Milwaukee Journal Sentinel announced the opening date of a new museum; America's Black Holocaust Museum. "What is that about?" I wondered, "And what is a Black Holocaust?" There was something written about lynching. Lynching? I was not sure that word had ever been said aloud by any teacher in all my grade school or high school years. Now this Mr. Cameron says that he actually survived being lynched. I had to meet him and see his museum. A few weeks later, in July 1988, I arrived at the museum. The building's address was on Wright Street, just a few yards west of N. Doctor M.L. King Drive. A sign identified the building as the Sultan Muhammad Islamic Center. I saw no sign for the museum. After knocking on the Wright street door, a young man opened it and slowly looked me up and down as I asked him if the Black Holocaust Museum was there. He simply nodded and pointed me up a set of stairs a few feet away.
The stairway opened into an expansive, open, second-floor room, with large windows facing east. Across the old hardwood floor, an elderly, gentle-looking man was walking toward me. His was not the broadly smiling approach of a public attraction manager, but rather, Mr. Cameron came forward with the easy, amiable walk of someone greeting a recently-made friend. His smile was warm and welcoming.
I said, "Hi. I came to see your museum." He introduced himself as we shook hands, and he thanked me for coming. He asked how I had heard about his museum, and I told of the article, explaining that I knew nothing more about it. He nodded and asked if I had a little time to talk. "Sure," I replied.
I noticed that the large room had no other visitors and there were few exhibits. There were three or four big glass display cases, maybe six or seven feet tall [as I seem to remember them now], plus some poster sized photographs.
Mr. Cameron began telling me his story, pretty much from the beginning, as we slowly walked toward one of the display cases. He was not describing events, like a lecturer might; he was retelling personal memories, as if he was recounting old details and emotions with a friend.
Being a complete stranger to him, I felt a little awkward about that at first, but the more we walked and he talked, the more I became aware that he was not saying anything angry or bitter about his painful past. He was quietly happy to just have someone willing to listen and be supportive. He wanted people to learn and understand.
We never stopped at any particular display case to discuss items within. I asked only simple questions relating to his story. We drifted slowly around. He occasionally pointed to a photo or mentioned some item that related, but telling the story was all important.
Nearing the end, Mr. Cameron said he had written his story and published a book titled, A Time of Terror. Realizing that I'd already been visiting for over twenty minutes and would need to leave soon, I asked if I could buy his book right there. He smiled a Yes and went to get a copy.
Returning with it, he asked if he could sign it for me. He was a humble gentleman.
On the title page, he wrote,
I treasure my early visit with him, and I've kept his special book in a safe place ever since.
In today's water-is-wet news, Rep. Keith Ellison (D-Minn.)—arguably one of the realest to ever do it—told guests gathered at Netroots Nation conference Friday that the "Republican Party today is the party of racism" and former president Abraham Lincoln wouldn't kick it with these racists.
"You hear Republicans say, 'We're the party of Lincoln.' He wouldn't recognize these people," the Democratic National Committee deputy chairman said, CNN reports. "The fact is that the Republican Party today is the party of racism….
Ellison's told his truth during a panel discussion at Netroots Nation, an annual conference of Internet savvy political activists….
Ellison argued that while the Democratic Party has its faults it was still the best option for people of color who are interested in changing the nation.
"I'm going be with the people who are most likely to win and have policies that are saying we do believe America is a nation of immigrants, we are against racism, we believe in civil rights and we do believe that there ought to be a right to organize and we need to address climate," he said, adding, "You're not going to have perfection."
Read more Breaking News here.
Read full article here.
Read original article here.

By Lilly Workneh, huffingtonpost.com
Black Lives Matter leaders are all too familiar with the racism that breeds in America, leading many within the organization to see the hate expressed by white supremacists in Charlottesville, Virginia, on Saturday as no surprise.
"The white supremacist violence we are witnessing in Charlottesville is not new," the social justice organization wrote in a statement published to its Facebook page on Saturday. "Instead it is constant, ever-evolving and a staple of American culture and society."…
Saturday's demonstration saw hundreds of neo-Nazis, white supremacists and KKK members marching through Charlottesville's streets chanting out phrases in support of white power. The march was initially organized out of protest over the removal of a statue honoring Confederate Gen. Robert Lee. Violence quickly erupted as marchers met with counter-protesters and police in riot gear, leaving 32-year-old paralegal Heather Heyer dead and 19 others injured.
"In the face of hatred and vitriol from the Ku Klux Klan and white nationalists, we support the people of Charlottesville who are advocating against fascism and antiBlack racism," BLM's statement read….
"We live in a world where black people are targeted for death and destruction; and in a country where there are hundreds of statues and monuments … dedicated to the confederacy, we cannot be surprised when moments such as these happen," the statement says. "Charlottesville is a confirmation of the violence that black people must endure from day to day."…
"We call on everyone to pay attention to the ways white supremacy manifests in our workplaces, our schools, and our homes," the statement read. "We stand with the people of Charlottesville who are fighting for a world in which the inherent humanity of all people is honored."
Read the full article here.
Read more Breaking News here.
One thing that happens in a new relationship is that you start getting confused about who gets credit for what….
When it comes to politics, unlike relationships, cause and effect aren't so clear. Did 9/11 happen because President George W. Bush screwed up or because President Bill Clinton didn't kill Osama bin Laden when he had the chance? Did President Barack Obama have a weak economic recovery, or did Bush run out the back door, leaving him a dumpster fire?
Now that America is in a new relationship with a married man, President Donald Trump (it's not his first time), we are again trying to figure out who deserves credit for what. African-American unemployment numbers are historically low in Trump's first few months in office, but is that because Obama's economy is still humming along, or did Trump somehow accidentally, not on purpose, manage to do something good for black America? The numbers suggest that it might be a little bit of both.
Starting this spring into the summer, African-American unemployment under Trump dropped to the lowest levels in almost 20 years. As of the end of July, the black-vs.-white employment gap is the smallest it's been since April 2000, back when "Say My Name" was a new song, Dave Chappelle was just a skinny kid "Killing Them Softly," and BlackPlanet.com was peak social media. Mind you, the 7.4 percent black unemployment rate is still higher than the 3.8 percent white unemployment rate, but considering how bad things were throughout most of the Great Recession, this is good news….
So does this mean that campaign-trail Trump was right all along? Black folks had nothing to lose by voting for him? That Trump, with the help of Ben Carson and Omarosa, is saving African Americans from devastation and despair? Can Donald Trump really take credit for all this magical economic change occurring around the nation for black folks?
Not really.
Trump taking credit for this economy is akin to a man bragging that his mediocre back rubs loosened up your shoulders, when your ex taught you yoga, was certified in Reiki and worked at Massage Envy. Trump isn't necessarily screwing anything up, but this situation was already popping long before he showed up.
African-American unemployment was at 7.7 percent when Obama left office in January, a downward trend that had been moving along for the better part of 2016. Most economists would argue that no president really "owns" the economy until a good 12-18 months into his (or her) first term. Prior to that, you're just managing what the last person left you….
The fact that Trump is attempting to take credit for an Obama economy that he trashed just a few months ago should come as no surprise to anyone who's watched this man's behavior over the last two years. Trump will continue to show up to black America, claiming that we've never had it this good, at least as long as it suits him. Eventually the Obama effect is going to wear off, and Trump will have to stand on his own economic relationship with black America. Which will make it abundantly clear, as if we didn't already know, that Trump's stimulus package for black America will be found lacking.
Read the full article here.
Read more Breaking News here.
A woman in Canada who recently had her left leg amputated is having a difficult time accepting her new body.
Rahab Wanjau, 30, was born with a deformity on her left tibia (or shinbone). She told HuffPost that after five painful surgeries, which left her relying on crutches most of her life, doctors recommended she have her leg amputated.
In June, she had it removed at Regina General Hospital in Regina, Saskatchewan. After her surgery, Wanjau went to Regina's Wascana Rehabilitation Center to pick up a prosthetic leg and foot shell, or a cosmetic covering for a prosthetic foot.
She was shocked and disheartened to discover she only had two color options for a foot shell: one shade was way too light and another was too dark.
Wanjau said when she asked her prosthetist if she could customize the color, she was told she would have to pay out of pocket for it.
"We have lots of color options when buying house paints, models of cars and makeup foundations," Wanjau told HuffPost. "It would be great if I can pick a foot shell in my skin tone."
Out of frustration, Wanjau contacted Ottobock, the company that manufactures the foot, and learned that because of the prosthesis's material, only the company or an outside professional could permanently change the color. This too would have to be paid for out of pocket.
Read the full article here.
Read more Breaking News here.