This week five African-American students at Air Force Academy Prep School in Colorado found the words "Niggers Go Home" scrawled on the dry erase boards outside their dorm rooms.
Once the school became aware of the racial graffiti the school superintendent Lt. General Jay Silveria rattled off a statement to the press.
"I've said it before, the area of dignity and respect is my red line,"
"Let me be clear: it won't be crossed without significant repercussions. Diversity is a strength of our Academy and our Air Force. We are stronger when we take into account the views of those with different backgrounds and life experiences."
The students are all part of a 10 month program to help them acclimate to life at the Air Force Academy, so in a twisted sort of way this is part of their training. While their parents have expressed concern and an investigation has been launched none of that will change one basic fact: The United States military has a long, sordid, racist and violent history when it comes to the treatment of black soldiers. While this may be the first, it certainly won't be the last or the worst racial treatment these young people will receive should they choose to serve in the United States military.
Conservatives of all colors like to point to the military as one of the most integrated and racially harmonious parts of American society, which is fine if you're talking about Salvation Army or GI-Joe. The actual military? Not so much. Black soldiers, whether in training or veterans have been routinely targeted through American history for a special kind of violence as white supremacy quivers at the notion of black people being armed, trained and capable of arming themselves.
That's why black veterans were consistently denied the GI-Bill that built the American middle class. That's why lynching of black soldiers has been so common throughout U.S. history. That's why Richard Collins III, a recently commissioned officer two weeks from graduating college this spring was murdered by a white nationalist while the president barely said a peep.
That's why despite African American women making up over 40% of all women in the armed forces it wasn't until 2014 that President Obama was able to change racially biased hair standards for active duty women of color.
That's why a group of West Point cadets showing racial and American pride caused a firestorm last year.
These are just examples of how the American military to this day treats people of color, it continues to do a number on white Americans as well.
The issue isn't simply that a bunch of bigots wrote threatening words on the dorms of five cadets, that's almost to be expected. The issue is that the military despite the rhetoric has not adequately rooted out racist sentiments in the ranks yet still expects (and in fact depends) on large numbers of African Americans to join up and serve, even if that means facing an enemy on the field or in your barracks.
Read the full article here.
Read about how to help positively impact racial reconciliation here.
Read more Breaking News here.
Jemele Hill said what she said.
In a series of tweets stemming from an odd conversation about Kid Rock, the co-host of ESPN's "SC6" called President Donald Trump a "white supremacist who has largely surrounded himself w/ other white supremacists."
"Trump is the most ignorant, offensive president of my lifetime," she wrote. "His rise is the direct result of white supremacy. Period." She added that Trump's presidency had empowered other white supremacists and that his bid for the White House wouldn't have been successful if he weren't white.
Backlash to the tweets, helped along by people like former ESPN reporter Britt McHenry and Fox Sports Radio's Clay Travis ― who frequently says racist things ― led ESPN to release a statement saying Hill's views "do not represent the position" of the network. This made things worse.
Sarah Sanders, the White House press secretary, called Hill's tweets a "fireable offense." That same day, ESPN tried to prevent Hill from co-hosting "SC6" with Michael Smith. In a tweet, Hill said her "regret" was that her comments "painted ESPN in an unfair light." ESPN's public editor, Jim Brady, said Hill ― and the media at large ― should "let the reporting do its work, and resist more incendiary labels."
None of what Hill said in her initial volley of tweets was inaccurate. Trump voters were driven by racism, and white supremacists openly support him. His campaign rhetoric was a dog whistle for white supremacists. His attorney general has praised the Immigration Act of 1924, a law crafted by eugenicists and championed by people hoping to preserve a "distinct American type." After a violent white supremacist rally in Charlottesville, Virginia, Trump attributed the violence to "both sides," even though none of the counter-protesters killed anyone.
That Trump is a white supremacist is a straightforward conclusion that can be drawn from an abundance of available evidence.
But not all straightforward conclusions are admissible in mainstream American media, particularly on the subject of race, particularly when stated by a black woman.
To get a sense of the straitjackets placed on black media figures working in a predominantly white industry, where "white supremacy" is usually seen as a slur applicable only to Klansmen and Nazis, I convened three prominent black journalists: Greg Howard, a reporter at The New York Times; Elena Bergeron, former staff writer at ESPN The Magazine and current editor-in-chief of SB Nation; and a current ESPN employee who, for obvious reasons, wanted to remain anonymous.
Read the full interview here.
Read about the crucial role of black press here.
Read more Breaking News here.
Everybody is all about freedom of speech and expression until a black person (hey, Colin Kaepernick; hey, Jemele Hill) decides to exercise his or her right to do so. And in this particular case, a black sixth-grader out of Michigan says he was assaulted by his homeroom teacher all because he was exercising his rights and declined to stand for the Pledge of Allegiance.
Stone Chaney, who attends East Middle School in Farmington Hills, Mich.,told ClickOnDetroit that his teacher "violently" dragged him out of his chair and attempted to force him to stand for the pledge, leaving the young man confused and unwilling to return to that school.
"The teacher consultant comes up behind me and snatches me out of my chair violently," Stone told the news site. "I was so confused. I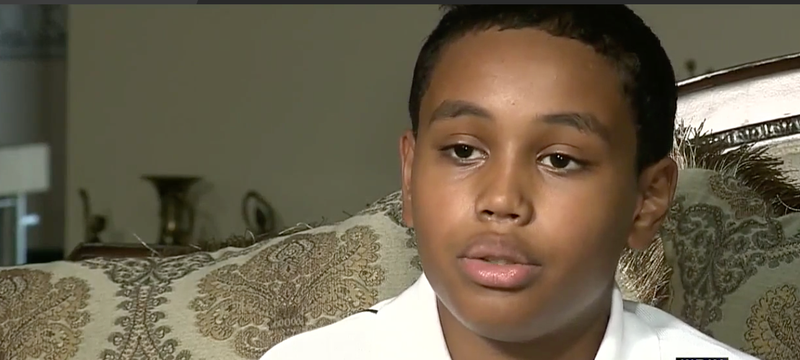 didn't know what was going on."
Note that Stone referred to the individual in question as the "teacher consultant." That means that the person who allegedly thought it was all right to snatch a child out of his seat trains other teachers. One would wonder what kind of training those other teachers are receiving.
"It's his choice to sit," Brian Chaney said. "I don't make him sit. And they should respect that."
The superintendent of Farmington Public Schools released a statement detailing that the district does support the right of students to opt out of the pledge, announcing that it was conducting an investigation and that the teacher involved has been placed on administrative leave pending the outcome.
Read the full article here.
Read about the history of black social movement and protest here.
Read more Breaking News here.
L'Oréal Paris has fired its first transgender model to join the brand just days after announcing the partnership.
L'Oréal released a statement on Twitter Friday morning saying the company "champions diversity" but decided to cut ties with Monroe Bergdorf, saying her comments calling out white America's racism in a recent Facebook post are "at odds" with their values.
Bergdorf received big buzz earlier this week after L'Oreal announced her inclusion in a YouTube video ad for L'Oréal Paris True Match Foundation. But Bergdorf's excitement was short-lived.
By Friday, the company had disavowed comments the model previously made on social media, which surfaced in a report the Daily Mail published on Thursday.
The damning piece blasted Bergdorf over her comments, claiming she wrote that "all white people are racist." Spectators highlighted how her words had been misrepresented and taken out of context, with some even suggesting that the story was a deliberate attempt to downplay Bergdorf entirely.
Bergdorf's comments, which call out systemic racism in America and how white people benefit from special privileges, have since been deleted from her Facebook page but have been published elsewhere in full.
"Honestly I don't have energy to talk about the racial violence of white people any more. Yes ALL white people," Bergdorf reportedly wrote, going on to address the privileges afforded to them. "Because most of ya'll don't even realise or refuse to acknowledge that your existence, privilege and success as a race is built on the backs, blood and death of people of colour. Your entire existence is drenched in racism. From micro-aggressions to terrorism, you guys built the blueprint for this s***."
"Come see me when you realize that racism isn't learned, it's inherited and consciously or unconsciously passed down through privilege," she added."Once white people begin to admit that their race is the most violent and oppressive force of nature on Earth… then we can talk."
On Friday morning in the U.K., many expressed outrage with L'Oréal's decision to denounce Bergdorf's message, saying it highlights the hypocrisy of the company claiming to be "champions of diversity" while only embracing inclusion for goals driven by profit and actively condemning Bergdorf, a black trans woman, for speaking out about racism ― an issue that impacts people of color most.
"If you truly want equality and diversity, you need to actively work to dismantle the source of what created this discrimination and division in the first place," she wrote. "You cannot just simply cash in because you've realised there's a hole in the market and that there is money to be made from people of colour who have darker skin tones."
Read the full article here.
Read about the history of race here.
Read more Breaking News here.
Philando Castile was known as a caring man at the St. Paul, Minn., school where he worked as a cafeteria supervisor. He cared so much for the children he served that he often paid for their lunches out of his own pocket when they were unable to, and now, thanks to a local college professor, that generosity will continue through a fund that has been created in Castile's name.
"No child goes hungry so we ensure that every student has breakfast and also lunch whether they can pay or not," Stacy Koppen, Nutritional Services Director for St. Paul Public Schools (SPPS), told WCCO. "Lunches just for one elementary student are about $400 a year."
Before Castile was killed last summer by former St. Anthony police officer Jeronimo Yanez during a traffic stop, he was always ready to help the students who were in need, Koppen told WCCO.
"When a student couldn't pay for their lunch, a lot of times (Castile) actually paid for their lunch out of his own pocket," Koppen said.
Inver Hills Community College professor Pam Fergus wants Castile's generosity and caring for the students to continue.
She told WCCO, "His death changed who I am."
Fergus normally assigns a service project to the students in her Diversity and Ethics class, but this time she came up with one of her own: Philando Feeds The Children.
The money raised through the YouCaring.com fundraiser will be used to help clear lunch debts at J.J. Hill.
As of Thursday night, more than $7,000 had been raised, and Castile's mother, Valerie, told WCCO and Fergus that she plans to match the full amount raised with her own donation.
Read the full article here.
Read about the importance of reconciliation here.
Read more Breaking News here.