Last week, Twitter said it was "pausing" to reconsider the process by which it bestows the blue checkmark denoting accounts that had been "verified," and on Wednesday the company announced it was yanking the designation from some users who occupy the neo-Nazi or nationalist bucket of grassroots white activism. The announcements came after many users, including The Root's Monique Judge, raised hell when Twitter gavea blue checkmark to Jason Kessler, a white nationalist who helped plan the pro-Confederacy march last August in Charlottesville, Va.
While Twitter CEO Jack Dorsey and his workers ruminated on the company's account verification policies, I decided it was a good time for us to pause and think about our relationship with Twitter and other social media and technology companies. We voluntarily "contribute" our creative insights, dollars and labor to the success of these companies by buying devices and apps, uploading memes, ideas and language that trends widely. Yet in terms of the vast wealth these companies hold, disburse to employees and generate for shareholders, we get little in return.
Think of the recent moment where top lawyers for Google and its parent company, Alphabet, along with Twitter and Facebook, were summoned to Capitol Hill to testify before Senate and House committees looking into the company's role in disseminating toxic content and ads during the 2016 presidential election cycle.
Anti-black messaging was the secret-sauce of many of the pro-Trump, nationalist memes and messages that flooded through the popular social media channels during the 2016 election cycle. Yet somehow, the gatekeepers at Facebook and Twitter didn't seem to notice the methodical manipulation of racial animus that already exists in America, specifically, some white Americans' negative opinions of blacks.
The leaders and staffs of Twitter, Facebook, and other popular social media platforms missed the Russian's exploitation of the black-white divide, an obliviousness that has precedent: black women users had long alerted Twitter officials to abusive conduct of other users, up to and including death threats. The hashtag #YourSlipIsShowing catalogs such experiences from black women dating back several years, and is readily available…at least to those interested in learning about and addressing these kind of user experiences.
But clearly, the tech company leaders were not inclined to pay attention to this area of user complaints, a strong indication that they also probably weren't interested in the views of the few blacks and Latinx workers at their companies, either. Just look at what happened to Leslie Miley, a black former engineer at Twitter. Miley revealed in a recent interview that he had flagged tons of dubious accounts in 2015, telling his bosses that he believed they were from Ukraine or Russia, and that they appeared to be part of a coordinated campaign.
Miley was told by his bosses at Twitter to "stay in his lane," a response that Miley says he took as a sign that the company leadership preferred to err on the side "growth numbers," rather than on any potential harm to audiences that the bots might pose.
Meanwhile, black users of Instagram, Facebook, Twitter and Google products infuse them with a deep coolness factor that resonates around the world. Our intellectual property and creativity is the lifeboat that floats these companies to revenue solvency, yet few of us share in the enormous economic wealth generated by these companies, not even after dozens of news stories, industry conferences, and activist's complaints forced the companies to pledge to improve hiring and retention.
Black Americans know when something smells rotten, including the kinds of scams and shady BS that can unfold at one's job. And, as usual, blacks and other marginalized communities have solutions. We have the brain-power, problem-solving acumen, and moral fortitude to right the ship of state.
The question is whether our concerns and advice will be heeded, and whether we can achieve full access to the genuine levers of power in the United States, including access to quality education, healthcare, voting and, most importantly in the context of the innovation ecosystem, investment capital.
Read the full article here.
It's not just the Tech industry, either. Read how one company is beginning to acknowledge its racist past here.
Read more Breaking News here.
The black protester who was caught on viral video hugging a squirming and uncomfortable neo-Nazi outside white supremacist dump truck Richard Spencer's speech at the University of Florida in Gainesville on Thursday is acknowledging that he could just as easily have hit the guy (an act in which someone else had earlier indulged) but decided to go a different route in order to bring about change in his own way.
"I could have hit him, I could have hurt him … but something in me said, 'You know what? He just needs love,'" Aaron Alex Courtney told the New York Daily News. "It's a step in the right direction. One hug can really change the world. It's really that simple."
The unidentified neo-Nazi was seen at Spencer's speech location wearing a T-shirt covered in swastikas. His not-so-subtle outfit obviously drew the attention of the crowd, which included protesters who screamed, punched and spat on him before Courtney wrapped his arms around him.
"Why don't you like me, dog?" the 31-year-old high school football coach out of Gainesville could be heard asking the man. "Give me a fucking hug."
Courtney could be seen attempting to get the man to hug him back, but the man just stood there, limp and uncomfortable, as Courtney embraced him.
Surprised to learn that Spencer was a person and not an impending hurricane, or that the notification wasn't about a kidnapping or something of the sort, Courtney started to do research.
"I found out about what kind of person he was, and that encouraged me, as an African American, to come out and protest. Because this is what we're trying to avoid. It's people like him who are increasing the distance … between people," Courtney told the Daily News.
Courtney gave about four hours of his time Thursday protesting and was getting ready to leave when he saw Mr. Nazi himself causing a commotion among the other protesters.
"I had the opportunity to talk to someone who hates my guts, and I wanted to know why. During our conversation, I asked him, 'Why do you hate me? What is it about me? Is it my skin color? My history? My dreadlocks?" Courtney recalled.
"After beating around the bush and avoiding my questions, I asked him, I pleaded with him, I almost broke out in tears, growing increasingly angry because I didn't understand," he said.
However, Courtney, whose father is a bishop, decided to take some of his father's teachings and offer the man a hug.
"Something in me said, 'You know what? He just needs love. Maybe he never met an African American like this," Courtney said.
It took some cajoling, but, Courtney said, "I reached over, and the third time, he wrapped his arms around me, and I heard God whisper in my ear, 'You changed his life.'"
Courtney then said he asked again, "Why do you hate me?"
The neo-Nazi's response, according to Courtney? "'I don't know.'"
"I believe that was his sincere answer. He really doesn't know," Courtney added.
The man was eventually escorted away by police, but not before taking a photo with Courtney's friend.
"I honestly feel that was a step in the right direction, for him to take a picture with a guy that he hated when he woke up this morning," Courtney said.
Read the full article here.
Read more about racial reconciliation here.
Read more Breaking News here.
If you took a look at the writers' room of some of your favorite television shows, you'd be hard-pressed to find a black person, and even harder pressed to find a black woman. But for the last decade, Angela Nissel has been leaving her mark behind the scenes on shows like Scrubs, The Boondocks and, now, The Jellies—Tyler, the Creator's Adult Swim show, which premieres Oct. 22.
Before Nissel's foray into scripted television, she was best-known as one of the creators of Okayplayer and for her two sidesplitting memoirs that captured the essence of her formative years, and of being broke and biracial. Both The Broke Diaries: The Completely True and Hilarious Misadventures of a Good Girl Gone Broke and Mixed: My Life in Black and Whitewere heralded by critics, as well as the likes of Oprah Winfrey and Halle Berry, and Nissel became the "it" woman of literature in the early 2000s.
It was those books that set the University of Pennsylvania grad (she graduated with a degree in medical anthropology) on her way to a career in TV. But, of course, Nissel's ascent into television writing wasn't easy, especially as a black woman. After being in the game for 15 years, she is still fighting her way into writers' rooms, and she made it into The Jellies'room even though she thought she hadn't landed the gig.
"Me being old enough to be Tyler's aunt, I said, 'I've heard of him,' but I don't really know him. And then I researched him. I was nervous in the meeting, but when Tyler came in, he just wanted to get to know about me. Ten minutes later, the meeting was over. I called my agent and was like, 'I'm pretty sure I didn't get that job; they thought I was a total nerd,'" Nissel says.
As luck talent would have it, Nissel landed the consulting-producer-and-writing gig on the series, and so her work began. And, yes, she was once again the only black woman in the writers' room. As Nissel segues back into animation (after lending her talents to The Boondocks), she notes that writing live action and books is totally different from writing for animation, especially when it comes to the fans.
The Jellies follows in the footsteps of cartoons like The Boondocks in that it is created by young black men. But as Nissel lends her comedy and writing expertise to yet another animated series, the question remains: Why is there still a lack of black people, particularly women, in Hollywood when it comes to writing? Veterans in the game, like Nissel, have paved the way for the Issa Raes out there, but it's still a drop in the bucket.
"I'm usually the only black woman in the writers' room. I remember I pitched a really shitty joke one time, but Tyler said, 'No, maybe women will understand the joke.' He was so good about listening to my point of view, where sometimes, in other writers' rooms, I would get shut down," Nissel says. "When you're immediately shut down, you don't feel like you ever have the space to speak up again. But he always gave me that space to feel free to speak my mind."
It's that aspect of being shut down that many writers have to deal with when they're in the minority. Earlier this year, Tyler quickly had to shut down a question from a fan during Comic-Con, when he decided to change Cornell, the main character in The Jellies, from a white teen to a black teen.
"How many f—— black cartoon characters is it on TV right now?" Tyler responded. "Name five. I'll give you time."
Nissel shares similar sentiments about Cornell's newfound blackness.
"If you don't like Cornell being black, color him another color in your head. What is wrong with people wanting to see the representation of themselves on-screen?" Nissel asks. "That's why I think their generation will do better, and hopefully build on what my old-ass generation wasn't able to do. Tyler is an outsider coming into this industry and wants Cornell to look like him. I don't understand how anyone can be upset with that."
With the success of this summer's blockbuster hit Girls Trip, the spotlight is now shining on funny black women in front of and behind the camera. And Nissel has some savory advice for the bigwigs in Hollywood.
"I wish more people realize that having one voice in the room sometimes isn't enough because you're only going to get one point of view. At the end of the day, I just wish people would go outside of the neighborhoods and make friends with people who aren't exactly like them, so they can bring that to the room if they don't have the budget to hire 25 women," Nissel says.
"I really want to create shows that show that women over the age of 40 still have lives, and they can be messy," she adds. "To talk about the imbalance of women and men, like my own personal story of paying alimony. I want to tell the richness of women of color over 40 because sometimes I look on TV and we're all dead, except for Oprah."
The Jellies premieres on Adult Swim at 12:15 a.m. Sunday, Oct. 22.
Read the full article here.
Read more about the importance of black-owned media here.
Read more Breaking News here.
By Michael Casey, The Grio/Associated Press
CLAREMONT, N.H. (AP) — In this struggling mill town in western New Hampshire, racism was never something people talked all that much about.
There were people who drove around Claremont with Confederate flag bumper stickers in the mostly white town of 14,000 and some instances of high schoolers using racial epithets during football games and on Facebook.
But for the most part, residents had other concerns.
That changed Aug. 28 after allegations surfaced that several teenagers had taunted a 9-year-old biracial boy with racial slurs and several days later pushed him off a picnic table with a rope tied around his neck. The family of the boy, who was treated for neck injuries and has been released, called it a hate crime while the parents of one of the teenagers told Newsweek it was a terrible accident.
The images of the boy's rope-singed neck were shared widely on social media, prompting an outpouring of support for the family and outrage against the teens. With prosecutors continuing to investigate the case as a potential hate crime, the city known for historic textile and paper mill buildings found itself associated with words like lynching and intolerance.
"Certainly people were shocked by the young age of everyone involved, especially the victim," said Allen Damren, the town's assistant mayor who also grew up in Claremont. "That certainly has an impact on people. When you use the word 'lynching,' that has all sorts of bad connotations to it."
"It happened in our hometown. People responded to that," he added.
The case has compelled city leaders to confront an issue that many had associated with bigger cities far away. Most insist Claremont isn't a racist place but say the town must consider how its white majority treats those who don't look like them. The families of the accused teens declined comment.
"This is an opportunity to take a very unfortunate event involving children and have some public discussions about how we treat each other," said Middleton McGoodwin, the superintendent of the school district that includes Claremont. "Just because you may have a different color skin or different color hair or wear certain clothing, that doesn't give me license to make you feel uncomfortable or make fun of you."
City and school officials have since met to discuss new strategies to counter racism, and McGoodwin said the district is developing a plan for elementary through high school that examines school culture, including how students treat each other and how staff respond to issues like bullying. Residents are planning to be outside the high school and middle school this week, holding signs calling for an end to violence and bullying.
"We are not going to say this was an event that took place in late August, wasn't in school and wasn't about us," McGoodwin said. "It definitely is about us."
Lorrie Slattery, the grandmother of the boy who was nearly hung who had lived in town for 14 years, attended a town discussion group at a nearby church. Slattery, who is white, grew emotional as she recounted how her family had never before felt racism in Claremont and how she would remain the city. The boy's mother declined to be interviewed.
"From the bottom of my heart, it doesn't change my views of Claremont," she said. "This is everywhere. We're not immune to anything. Things happen. This is something, as horrific as it was, that could be something positive for the future of the kids in this community. I think it's going to bring us to better places."
For the full article, read here.
For more Breaking News, read here.
For more information about the history of lynchings, please explore the ABHM galleries.
This week five African-American students at Air Force Academy Prep School in Colorado found the words "Niggers Go Home" scrawled on the dry erase boards outside their dorm rooms.
Once the school became aware of the racial graffiti the school superintendent Lt. General Jay Silveria rattled off a statement to the press.
"I've said it before, the area of dignity and respect is my red line,"
"Let me be clear: it won't be crossed without significant repercussions. Diversity is a strength of our Academy and our Air Force. We are stronger when we take into account the views of those with different backgrounds and life experiences."
The students are all part of a 10 month program to help them acclimate to life at the Air Force Academy, so in a twisted sort of way this is part of their training. While their parents have expressed concern and an investigation has been launched none of that will change one basic fact: The United States military has a long, sordid, racist and violent history when it comes to the treatment of black soldiers. While this may be the first, it certainly won't be the last or the worst racial treatment these young people will receive should they choose to serve in the United States military.
Conservatives of all colors like to point to the military as one of the most integrated and racially harmonious parts of American society, which is fine if you're talking about Salvation Army or GI-Joe. The actual military? Not so much. Black soldiers, whether in training or veterans have been routinely targeted through American history for a special kind of violence as white supremacy quivers at the notion of black people being armed, trained and capable of arming themselves.
That's why black veterans were consistently denied the GI-Bill that built the American middle class. That's why lynching of black soldiers has been so common throughout U.S. history. That's why Richard Collins III, a recently commissioned officer two weeks from graduating college this spring was murdered by a white nationalist while the president barely said a peep.
That's why despite African American women making up over 40% of all women in the armed forces it wasn't until 2014 that President Obama was able to change racially biased hair standards for active duty women of color.
That's why a group of West Point cadets showing racial and American pride caused a firestorm last year.
These are just examples of how the American military to this day treats people of color, it continues to do a number on white Americans as well.
The issue isn't simply that a bunch of bigots wrote threatening words on the dorms of five cadets, that's almost to be expected. The issue is that the military despite the rhetoric has not adequately rooted out racist sentiments in the ranks yet still expects (and in fact depends) on large numbers of African Americans to join up and serve, even if that means facing an enemy on the field or in your barracks.
Read the full article here.
Read about how to help positively impact racial reconciliation here.
Read more Breaking News here.
Everybody is all about freedom of speech and expression until a black person (hey, Colin Kaepernick; hey, Jemele Hill) decides to exercise his or her right to do so. And in this particular case, a black sixth-grader out of Michigan says he was assaulted by his homeroom teacher all because he was exercising his rights and declined to stand for the Pledge of Allegiance.
Stone Chaney, who attends East Middle School in Farmington Hills, Mich.,told ClickOnDetroit that his teacher "violently" dragged him out of his chair and attempted to force him to stand for the pledge, leaving the young man confused and unwilling to return to that school.
"The teacher consultant comes up behind me and snatches me out of my chair violently," Stone told the news site. "I was so confused. I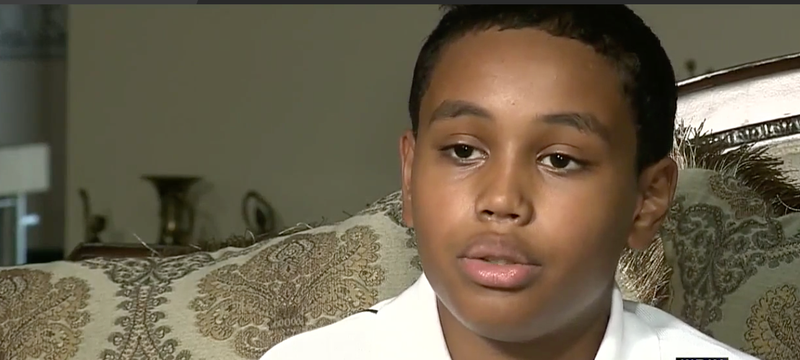 didn't know what was going on."
Note that Stone referred to the individual in question as the "teacher consultant." That means that the person who allegedly thought it was all right to snatch a child out of his seat trains other teachers. One would wonder what kind of training those other teachers are receiving.
"It's his choice to sit," Brian Chaney said. "I don't make him sit. And they should respect that."
The superintendent of Farmington Public Schools released a statement detailing that the district does support the right of students to opt out of the pledge, announcing that it was conducting an investigation and that the teacher involved has been placed on administrative leave pending the outcome.
Read the full article here.
Read about the history of black social movement and protest here.
Read more Breaking News here.
L'Oréal Paris has fired its first transgender model to join the brand just days after announcing the partnership.
L'Oréal released a statement on Twitter Friday morning saying the company "champions diversity" but decided to cut ties with Monroe Bergdorf, saying her comments calling out white America's racism in a recent Facebook post are "at odds" with their values.
Bergdorf received big buzz earlier this week after L'Oreal announced her inclusion in a YouTube video ad for L'Oréal Paris True Match Foundation. But Bergdorf's excitement was short-lived.
By Friday, the company had disavowed comments the model previously made on social media, which surfaced in a report the Daily Mail published on Thursday.
The damning piece blasted Bergdorf over her comments, claiming she wrote that "all white people are racist." Spectators highlighted how her words had been misrepresented and taken out of context, with some even suggesting that the story was a deliberate attempt to downplay Bergdorf entirely.
Bergdorf's comments, which call out systemic racism in America and how white people benefit from special privileges, have since been deleted from her Facebook page but have been published elsewhere in full.
"Honestly I don't have energy to talk about the racial violence of white people any more. Yes ALL white people," Bergdorf reportedly wrote, going on to address the privileges afforded to them. "Because most of ya'll don't even realise or refuse to acknowledge that your existence, privilege and success as a race is built on the backs, blood and death of people of colour. Your entire existence is drenched in racism. From micro-aggressions to terrorism, you guys built the blueprint for this s***."
"Come see me when you realize that racism isn't learned, it's inherited and consciously or unconsciously passed down through privilege," she added."Once white people begin to admit that their race is the most violent and oppressive force of nature on Earth… then we can talk."
On Friday morning in the U.K., many expressed outrage with L'Oréal's decision to denounce Bergdorf's message, saying it highlights the hypocrisy of the company claiming to be "champions of diversity" while only embracing inclusion for goals driven by profit and actively condemning Bergdorf, a black trans woman, for speaking out about racism ― an issue that impacts people of color most.
"If you truly want equality and diversity, you need to actively work to dismantle the source of what created this discrimination and division in the first place," she wrote. "You cannot just simply cash in because you've realised there's a hole in the market and that there is money to be made from people of colour who have darker skin tones."
Read the full article here.
Read about the history of race here.
Read more Breaking News here.
According to a new analysis by the New York Times, Black and Hispanic students are still more underrepresented at top colleges than they were 35 years ago, despite affirmative action policies.
The analysis found that, since 1980, when data for fall enrollment was first available from the National Center for Education Statistics, the share of Black freshmen has remained essentially unchanged….
The gap between college-age individuals and actual college students has grown from 3 points in 1980 to 9 points.
Terry Hartle, a senior vice president at the American Council on Education, noted that while minority students have certainly gained ground at institutes of higher learning, they have not done so at highly selective schools.
And while programs like affirmative action can certainly help to bolster minority numbers at schools, the truth of the matter is…
Minority students are often confronted with lack of access to better teachers, better resources, and advanced courses,…
"There's such a distinct disadvantage to begin with," said David Hawkins, an executive director at the National Association for College Admission Counseling. "A cascading set of obstacles all seem to contribute to a diminished representation of minority students in highly selective colleges."
Read more Breaking News here.
Read full article here.
When Patricia Stephens led a group of black college students to sit and order foot at a "white only" Woolworth's lunch counter in Tallahassee, Florida in 1960, they were told, "The South is not ready for that."
When Fannie Lou Hamer led a group of black neighbors to the courthouse in Indianola, Mississippi in 1963 to register to vote, they were told, "Mississippi is not ready for that."
When fast-food workers led primarily by black women walked off their jobs in 2012 to strike for $15 minimum wage and a union, they were told, "America is not ready for that."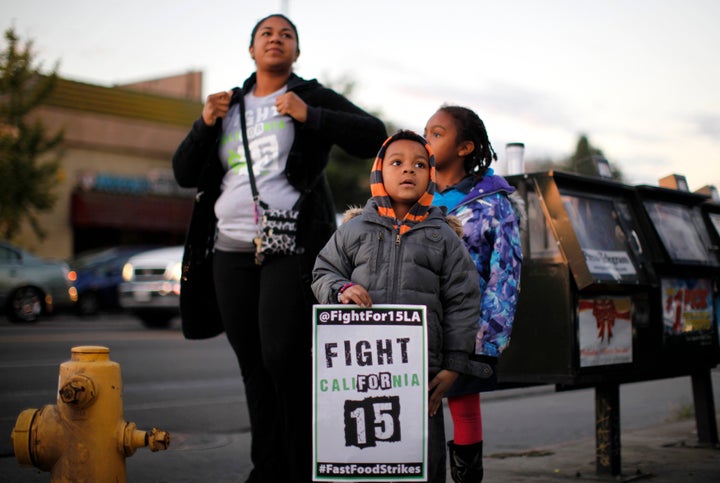 Time and again, women of color have changed the world through their resilience and fortitude to never settle for less than first-class citizenship, even if the forces against them said it's not yet time for progress.
The time has come for a minimum wage that meets the basic needs of workers in the 21st century. Raising the minimum wage would boost pay in low-wage jobs where millions of men and women now spend their careers. Low-wage occupations in food service, home health care, retail, and customer service are projected to see the most job growth over the next decade.
The typical worker struggling on less than $15 an hour is a woman over 30 who works full-time but still cannot make ends meet. While only one-third of white workers earn less than $15 an hour, most women of color do.
A $15 minimum wage (or $31,200) a year for full time) could go far in helping women and people of color make ends meet, closing persistent gender- and race-based pay and wealth gaps, and improving educational and health outcomes for children. All labor has dignity, but when workers bring home paychecks that don't pay for basic necessities, it's hard to find the dignity in being working poor.
Read the full article here.
Read more on the history of the struggle for justice here
Read more Breaking News here.
Over the past month, the Trump administration has been rolling out "theme weeks" as if America were one big dysfunctional high school and the homecoming game will fix everything.
In July there was Made in America Week to highlight business; American Heroes Week highlighted the military; and to kick off August, the administration launched "White Pride" Week to highlight the plight of the oppressed white American male….
This overtly hostile aggression from the federal government against black education, employment and lives is the perfect run-up to today's critical racial anniversary.
On Monday, Aug. 7, 1944, the Philadelphia transit strike—one of the most costly, violent and important battles for African-American rights in the last century—ended. The story of black struggle against brutal, self-destructive white hatred is a perfect reminder of just how far back in history the Trump administration wants to take us.
During World War II, Philadelphia was one of the most important supply cities for the Allied efforts….
All of this was made possible by the Philadelphia Transit Co.'s 11,000 employees, who managed trains, trollies and buses for almost 600,000 commuters in the City of Brotherly Love everyday….
In May 1943, however, President Franklin D. Roosevelt signed executive order No. 9346, which empowered the Fair Employment and Practices Commission to force companies with federal contracts to train, hire and promote African-Americans equally.
As the law began to trickle down to various cities across the country, the PTC was told by the federal government that it would have to start hiring and promoting black workers…
The company's solution was to promote eight black men to bus and trolley drivers….
In January 1944, over 1,700 white employees signed a petition stating, "We, the white employees of the Philadelphia Transit Corporation, refuse to work with Negroes as motormen, operators, and station trainmen."
When, after months of negotiations and insistence by the NAACP, the black workers were slated to begin training as drivers that August, white workers went on strike Tuesday, Aug. 1, 1944.
Despite being in violation of their union contract, as well as of federal law, the four white ringleaders of the strike said that nobody was getting back to work until the eight black rail workers were demoted.
James McMenamin, the leader of the strike,…was fired and charged with violating federal labor laws but got off a year later when a jury found the evidence against him "inconclusive."
There is a context to the pettiness of this strike that can't be overlooked in our current political environment. The United States was in the midst of a war against Nazis, and transit employees were crucial to keeping troops equipped for that war, but keeping black men from getting promoted was more important than fighting the Nazi threat.
Millions of pounds of munitions were lost that week, and the man hours lost amounted to the loss of five naval destroyers….
It is also estimated that thousands of American lives may have been lost in the European theater of World War II because of the strike. But that didn't matter, because stopping a few black guys was more important to a large swath of working-class white America.
It's important to remember that while all of this occurred 73 years ago, with a stroke of a pen, a tweet and a few white nationalists at 1600 Pennsylvania Avenue, the Trump administration wants to return America to those days of white grievance, violence and discrimination, no matter what legitimate challenges our nation faces.
Read full article here.
Read more Breaking News here.
Find out more here about this 100-year period of discrimination, segregation, and anti-black violence (known as the "Jim Crow Era" and "The Nadir of Race Relations").