An off-duty police officer who was just trying to help his colleagues after a car chase ended in a shootout near his home, ended up being shot by a fellow cop who did not recognize that they were on the same team.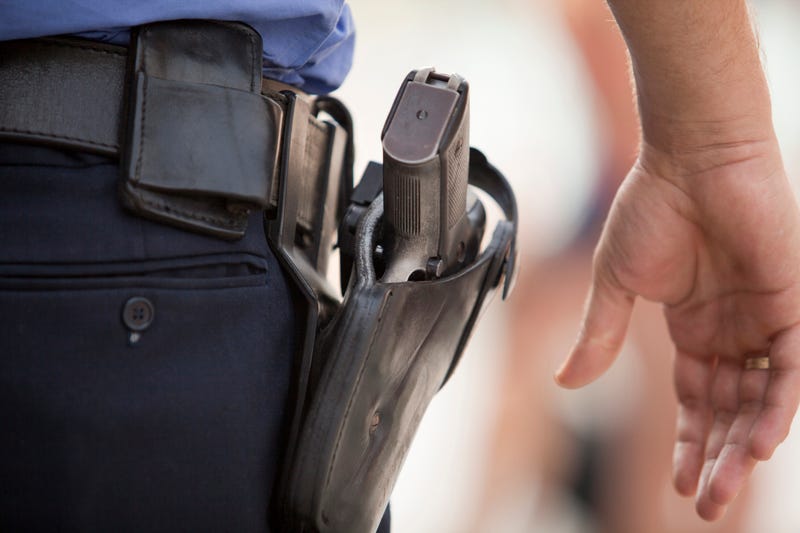 According to the report, two officers initially encountered the armed, off-duty officer and ordered him to the ground. The off-duty officer complied, but the other officers soon recognized him as one of their own and told him that he could stand up. Just then, however, another officer arrived on the scene, and saw the off-duty officer getting up and, not recognizing the man as an officer, fired his weapon, striking the off-duty officer in the arm.
The New York Daily News identifies the off-duty officer as black and the shooting officer as white.
The injured off-duty officer was treated at a hospital and released Thursday.
The 38-year-old officer who was injured has been with the St. Louis department for 11 years. The officer who shot him is 36, and had been with the department for just eight years. In total, seven officers who were involved with the incident were placed on administrative leave and the department's Force Investigative Unit is looking into the incident.
Read more on the incident here.
Read more Breaking News here.

Read about the history of race in America here.
We've all fantasized about what we'd do if a few million dollars just found its way into our lives. For the Smith family of Trenton, New Jersey, philanthropy was at the top of their list after they won a $429 million Powerball jackpot last year.
At a post-win press conference last May, the family, which consists of Pearlie Mae Smith and her seven children, said they planned to spend their earnings on their community ― and they meant it.
The eight-person Smith family chose to collect their winnings in a lump sum as opposed to yearly installments, with each receiving about $25 million after taxes. After paying off bills, student loans and taking care of other financial obligations, they invested their money in Trenton through the Smith Family Foundation.
"We want to fund programs that directly affect systems of poverty so we can help change the systems or change the dynamics that are causing people to be in poverty," family member and foundation program manager Harold Smith told NJ.com.
Read the full article here.
Read more about the importance of community reparation here.
…As kids throughout the country get out of school for the summer, it is a perfect time to reflect on all of the Black children who, over the course of the past semester, have been punished, disciplined or otherwise called out and singled out for wearing braids, locks, natural hair or any other culturally expressive hairstyle. Studying while Black, apparently, is a thing.
Consider some of the outrageous incidents that have taken place. In the Boston area, 15-year-old twin sisters faced detention and suspension for wearing braids, which their charter school claimed was a violation of the dress code. Mya and Deanna Cook, sophomores at Mystic Valley Regional Charter School in Malden, Mass., were banned from the prom and stripped of their extracurricular activities and sports team privileges for violating the school's prohibition on wearing extensions.
…[In] 2009, a white Milwaukee teacher cut off the braid of Lamya Cannon, 7, because the girl was playing with her hair. After cutting off Lamya's hair in front of the class, the teacher sent the girl back to her desk. Would this ever happen to a white girl with pigtails? And could we ever envision a Black teacher doing this to said white girl?…
These days, when some in white America claim they are taking their country back, all the way up to the White House, it is no accident that Black children are punished for their Blackness. We know the studies about the disproportionate discipline against Black children, and black girls in particular. This is part of the school-to-prison pipeline, a regime of punishment following kids through adulthood. Most of all, it is an effort to monitor their bodies, not unlike the Black Codes established during Jim Crow to restrict the activities and labor of Black people and maintain white supremacy….
These codes, like the so-called dress codes in place at some schools today, serve the same purpose–to normalize whiteness and criminalize Blackness. When schools tell Black children the hair God gave them is an issue of bad hygiene and grooming, what they mean is they think Black people and their hair are less desirable. Some things never change. Institutional racism, not the hair, must change.
Read David A. Love's article for TheGrio.com in its entirety here.
Read about how Black people are disproportionately punished in other institutions here.
Read about the Five Pillars of Jim Crow here.
Read about the education of Black children in the Jim Crow South here.
Read more Breaking News here.
Michael Bennett is one of the NFL's good guys, explains columnist Jordan Schultz in his article for the Huffington Post.
This is why it's surprising to see how Bennett has drawn the ire of prominent sports journalists, including ESPN's Stephen A. Smith, as well as a local sports columnist. It's unfair that his name was dragged through the mud. Bennett is a unique person and by all accounts a great person ― and he has done nothing wrong.
In an article published two weeks ago in The Seattle Times, Matt Calkins heavily criticized the Seattle Seahawks star defensive end for lashing out at a local TV reporter who was questioning him after a game. Calkins didn't contact the TV reporter before publishing his column. If he had, he would have found out Bennett had privately apologized to him. Calkins penned an apology when he realized his mistake ― but the damage was done.
Bennett, who plays one of the league's most violent positions, is one of its most gentle and caring people. The former undrafted free agent is a highly dedicated member of the community and one of the team's most respected members.
In March, the 31-year-old Bennett announced that he would donate 100 percent of his endorsements to helping minority communities and empowering women of color. Additionally, he will also donate half of his jersey sales to inner-city garden projects.
Bennett's honesty and conviction might scare people, but sports fans ― even those who disagree with his opinions ― should be promoting it. What matters is that Bennett doesn't merely have an opinion, but he believes in it strongly enough to stand up for himself.
For more on Michael Bennett and his work within the community, read the full article here.
To learn about how race can negatively impact perception, and why its important for news media (including sports) to start supporting outspoken black influencers like Michael Bennett here.
Read about the crucial role that Black press has in our society here.
Read more Breaking News here.
By
Nytimes.com
It has shown up on Irish trivia Facebook pages, in Scientific American magazine, and on white nationalist message boards: the little-known story of the Irish slaves who built America, who are sometimes said to have outnumbered and been treated worse than slaves from Africa.
But it's not true.
Historians say the idea of Irish slaves is based on a misreading of history and that the distortion is often politically motivated. Far-right memes have taken off online and are used as racist barbs against African-Americans. "The Irish were slaves, too," the memes often say. "We got over it, so why can't you?"
A small group of Irish and American scholars has spent years pushing back on the false history. Last year, 82 Irish scholars and writers signed an open letter denouncing the Irish slave myth and asking publications to stop mentioning it. Some complied, removing or revising articles that referenced the false claims, but the letter's impact was limited.
Read the entire article here
Read more Breaking News here
Recently, Google announced the beginning of a new program partnered with Howard University. The new program is part of an effort to recruit more young black minds and promote greater diversity in the engineering industry.
As The Grio writes in their article, "Howard has opened a campus at the Googleplex, called Howard West, 'a physical space on campus where Howard students and Googlers can grow together,' and hopefully will encourage diversity in a field that sorely needs it."from Google/Justin Sullivan via Good Black News
This program stands as a step in the right direction, advancing the diversification of Silicon Valley while investing in the futures of young black men and women. Google has hopes to expand the program to other Historically Black Colleges and Universities.

To read more about the program, or for more information on Howard University and Google's new partnership, head here.
Read more about the importance of community diversification and understanding past-to-present racial segregation here.
From: The Huffington Post: Black Voices 
Authored By: Shakirah Simley
In the article "A More Abundant Share – The Future Of Food Is Black," Shakirah Simley explains how food symbolizes deep cultural connections, generational ties to family, and acts as a symbol of power. The good food movement is the idea that, "In a very real sense, the future of food is people. And that future looks a lot like me: a young, black woman, hungry for change."
According to Simley, the food industry can be found at the root of many issues in society: "When Black and Native American farmers faced decades of systemic bias in access to capital and credit and land loss from the USDA – it's a food problem." Simley describes how the "good food movement" has been ignored and pushed away for years because, "our national good food obsession can curate Instagrams of oozing sandwich stacks higher than black folks' restaurant wages." However, this movement goes hand in hand with the, "understanding that food injustice parallels racial injustice."

Efforts have begun to counter this issue, Simley says, "We're unapologetically disrupting white-dominated artisan food industries and leading our own kitchens." This article works to repair the food system that for too long has been focused on white based communities.

Read more Breaking News from ABHM here!
To read the full article, check out Huffington Post: Black Voices!

The Black Arts Think Tank in Milwaukee, Wisconsin, presents Black Nativity, a musical by renown poet Langston Hughes, at the Marcus Center for the Performing Arts, December 10-12, 2015. 
Tickets are available in person at the Marcus Center Box Office at 929 North Water St, Milwaukee or by phone at 414-273-7206.
Groups 10+ SAVE! Call 414-273-7121 ext. 210.
Black Nativity is a retelling of the classic Nativity story with an entirely black cast. Traditional Christmas carols are sung in gospel style, with a few songs created specifically for the show. Originally written by Langston Hughes, the show was first performed Off-Broadway on December 11, 1961, and was one of the first plays written by an African American to be staged there. The show had a successful tour of Europe in 1962, one of its appearances being at the Spoleto Festival of Two Worlds in Italy. Black Nativity is a holiday favorite around the country. It has been performed annually in Boston, Massachusetts, since 1969 and since 1998 in Seattle, Washington.
Milwaukee's production is co-presented by the Marcus Center and the Black Arts Think Tank (a coalition of the Ko-Thi Dance Company, African American Children's Theater, and Hansberry-Sands Theatre Company).
For a taste of the upcoming production, watch rehearsals and meet the actors below:
These 11 African Americans are leaders in their STEM fields, from video game technology to space exploration, setting an example for the kind of professional achievement that is possible.
By Nigel Roberts, The Root
1. African Americans are missing out on the tech boom. Job creation in science, technology, engineering and math—known as STEM—career fields is expected to significantly outpace (pdf) that of non-STEM jobs well into the future. But black students are earning just a handful of STEM-related degrees. The reasons they lag behind include a mix of "self-doubt, stereotypes, discouragement and economics." With another school year under way, we need to emphasize math and science as an academic foundation to guarantee good jobs for these students. While some of the job titles may sound daunting, the faces behind those titles prove that our young people have plenty of role models.
2. Edward Tunstel, Robotics Engineer
3. Kamilah Taylor, Software Developer
Read the full article here.
Read more Breaking News here.
Griot: Reggie Jackson
Photo Editor: Fran Kaplan
Most Americans learn that slavery was a southern institution, but in fact, many enslaved Africans were held and worked in the North. Many northern industries and businesses–shipbuilding, ports, banks, insurance companies, textile mills–were dependent on slave labor in both the North and South. Northern consumers were dependent on the products of this slave labor for food, clothing, and amenities like ivory piano keys.
In this exhibit, you will learn about the significant complicity of the northern states in the slave trade, slave labor, and slave-made products in the history of the United States.
For a brief introduction, you can watch the trailer for Traces of the Trade: A Story of the Deep North. The movie traces the journey by members of DeWolf family to explore the origins of their family's wealth. The DeWolf family owned the largest slave trading business in the country, headquartered in Rhode Island. The full documentary can be obtained here.
Here you can hear a full public lecture by the authors of the book Complicity: How The North Promoted, Prolonged, And Profited From Slavery.