Over the past month, the Trump administration has been rolling out "theme weeks" as if America were one big dysfunctional high school and the homecoming game will fix everything.
In July there was Made in America Week to highlight business; American Heroes Week highlighted the military; and to kick off August, the administration launched "White Pride" Week to highlight the plight of the oppressed white American male….
This overtly hostile aggression from the federal government against black education, employment and lives is the perfect run-up to today's critical racial anniversary.
On Monday, Aug. 7, 1944, the Philadelphia transit strike—one of the most costly, violent and important battles for African-American rights in the last century—ended. The story of black struggle against brutal, self-destructive white hatred is a perfect reminder of just how far back in history the Trump administration wants to take us.
During World War II, Philadelphia was one of the most important supply cities for the Allied efforts….
All of this was made possible by the Philadelphia Transit Co.'s 11,000 employees, who managed trains, trollies and buses for almost 600,000 commuters in the City of Brotherly Love everyday….
In May 1943, however, President Franklin D. Roosevelt signed executive order No. 9346, which empowered the Fair Employment and Practices Commission to force companies with federal contracts to train, hire and promote African-Americans equally.
As the law began to trickle down to various cities across the country, the PTC was told by the federal government that it would have to start hiring and promoting black workers…
The company's solution was to promote eight black men to bus and trolley drivers….
In January 1944, over 1,700 white employees signed a petition stating, "We, the white employees of the Philadelphia Transit Corporation, refuse to work with Negroes as motormen, operators, and station trainmen."
When, after months of negotiations and insistence by the NAACP, the black workers were slated to begin training as drivers that August, white workers went on strike Tuesday, Aug. 1, 1944.
Despite being in violation of their union contract, as well as of federal law, the four white ringleaders of the strike said that nobody was getting back to work until the eight black rail workers were demoted.
James McMenamin, the leader of the strike,…was fired and charged with violating federal labor laws but got off a year later when a jury found the evidence against him "inconclusive."
There is a context to the pettiness of this strike that can't be overlooked in our current political environment. The United States was in the midst of a war against Nazis, and transit employees were crucial to keeping troops equipped for that war, but keeping black men from getting promoted was more important than fighting the Nazi threat.
Millions of pounds of munitions were lost that week, and the man hours lost amounted to the loss of five naval destroyers….
It is also estimated that thousands of American lives may have been lost in the European theater of World War II because of the strike. But that didn't matter, because stopping a few black guys was more important to a large swath of working-class white America.
It's important to remember that while all of this occurred 73 years ago, with a stroke of a pen, a tweet and a few white nationalists at 1600 Pennsylvania Avenue, the Trump administration wants to return America to those days of white grievance, violence and discrimination, no matter what legitimate challenges our nation faces.
Read full article here.
Read more Breaking News here.
Find out more here about this 100-year period of discrimination, segregation, and anti-black violence (known as the "Jim Crow Era" and "The Nadir of Race Relations").
Will Packer, the man behind the hit comedy "Girls Trip," is bringing a new show to Amazon that might give HBO a run for its money.
According to the Hollywood Reporter, Packer is teaming up "Boondocks" creator Aaron McGruder on "Black America," a drama set in an alternate history in which freed African American slaves have been given control of Louisiana, Mississippi, and Alabama as reparations following the Civil War.
Set in the present-day, the show will imagine a sovereign African-American nation called "New Colonia," rapidly emerging as one of the leading industrialized nations in the world.
The announcement of "Black America" comes just days after HBO sparked controversy with the announcement of its own alternate history drama, "Confederate," from the creators of "Game of Thrones," which is set in an alternate reality in which the South had won the Civil War and slavery remains in present day.
Read the full article and reactions to the show's announcement here.
Read about the importance of Black-owned, Black-run media here.
Read more Breaking News here.
Sen. Kamala Harris (D-Ca.) is seeking some major criminal justice reform, starting with bail.
Along with Sen. Rand Paul (R-Ky.), Harris has introduced a bipartisan bill which calls for states to "reform or replace the practice of money bail, the requirement that individuals awaiting trial remain in jail unless they pay for their release."
Titled the Pretrial Integrity and Safety Act of 2017, the bill would authorize a $10 million grant over three years to encourage states to reform or replace the ineffective money bail system that requires people who haven't been convicted of a crime to be detained pretrial unless they can afford to bail themselves out.
Harris and Paul's bill also asks states to give individualized, pretrial assessments with risk-based decision-making in order to do away with the inaccurate risk-assessments currently given that lead to unwarranted disparities.
"This is such an important conversation and it does not ever receive the kind of attention it deserves, based just on the prevalence of it in terms of the number of people that are impacted," Harris, who visited Central California Women's Facility prior to her speech, said.
"And also, and I say this with a strong sense of optimism, that there is just so much that we can actually do to fix what is broken. And it's not going to require us to be that creative," she continued. "The solutions, some of them, are pretty obvious, and the more attention we give to the issue, I think, the more obvious they will be to a larger number of people."
Read the full article here.
Read more ABHM Breaking News here.
A civil rights landmark in Mississippi that commemorates the death of Emmett Till has been vandalized, The Associated Press reported Monday.
The sign, which has been defaced before, was scraped so badly that information and photos about Till's brutal death have been obliterated.
Students from Cultural Leadership, a St. Louis-based nonprofit that teaches young adults how to become civil rights leaders, were present at the site after the sign was vandalized and were disheartened by the destruction.
Dani Gottlieb, a 16-year-old from Cultural Leadership, told HuffPost that she was expecting to see "flowers growing in Emmett Till's honor" at the landmark, "not a torn-down marker."
She and her peers decided as a group to take action. They covered the scraped-off information with hand-drawn pictures of Till, messages of hope and information about his killing.
Read the article in its entirety here.
Read in depth about the struggle for justice and equal rights here.

Read more Breaking News here.
An off-duty police officer who was just trying to help his colleagues after a car chase ended in a shootout near his home, ended up being shot by a fellow cop who did not recognize that they were on the same team.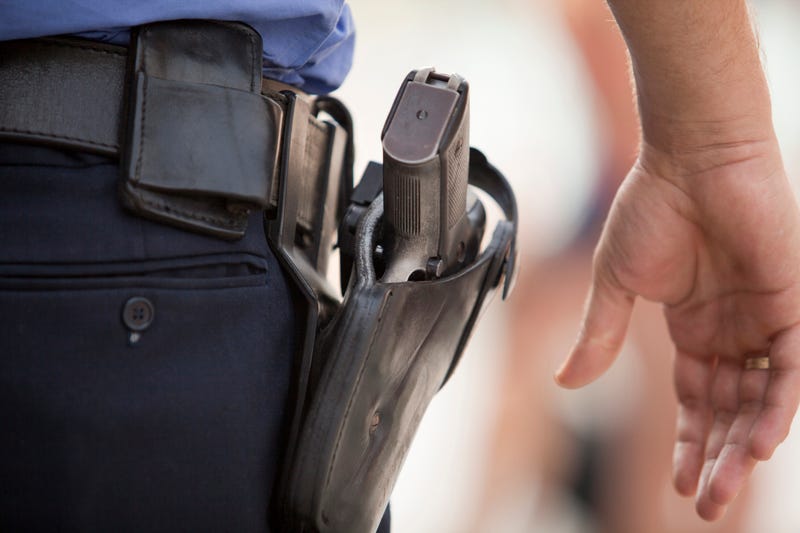 According to the report, two officers initially encountered the armed, off-duty officer and ordered him to the ground. The off-duty officer complied, but the other officers soon recognized him as one of their own and told him that he could stand up. Just then, however, another officer arrived on the scene, and saw the off-duty officer getting up and, not recognizing the man as an officer, fired his weapon, striking the off-duty officer in the arm.
The New York Daily News identifies the off-duty officer as black and the shooting officer as white.
The injured off-duty officer was treated at a hospital and released Thursday.
The 38-year-old officer who was injured has been with the St. Louis department for 11 years. The officer who shot him is 36, and had been with the department for just eight years. In total, seven officers who were involved with the incident were placed on administrative leave and the department's Force Investigative Unit is looking into the incident.
Read more on the incident here.
Read more Breaking News here.

Read about the history of race in America here.
We've all fantasized about what we'd do if a few million dollars just found its way into our lives. For the Smith family of Trenton, New Jersey, philanthropy was at the top of their list after they won a $429 million Powerball jackpot last year.
At a post-win press conference last May, the family, which consists of Pearlie Mae Smith and her seven children, said they planned to spend their earnings on their community ― and they meant it.
The eight-person Smith family chose to collect their winnings in a lump sum as opposed to yearly installments, with each receiving about $25 million after taxes. After paying off bills, student loans and taking care of other financial obligations, they invested their money in Trenton through the Smith Family Foundation.
"We want to fund programs that directly affect systems of poverty so we can help change the systems or change the dynamics that are causing people to be in poverty," family member and foundation program manager Harold Smith told NJ.com.
Read the full article here.
Read more about the importance of community reparation here.
…As kids throughout the country get out of school for the summer, it is a perfect time to reflect on all of the Black children who, over the course of the past semester, have been punished, disciplined or otherwise called out and singled out for wearing braids, locks, natural hair or any other culturally expressive hairstyle. Studying while Black, apparently, is a thing.
Consider some of the outrageous incidents that have taken place. In the Boston area, 15-year-old twin sisters faced detention and suspension for wearing braids, which their charter school claimed was a violation of the dress code. Mya and Deanna Cook, sophomores at Mystic Valley Regional Charter School in Malden, Mass., were banned from the prom and stripped of their extracurricular activities and sports team privileges for violating the school's prohibition on wearing extensions.
…[In] 2009, a white Milwaukee teacher cut off the braid of Lamya Cannon, 7, because the girl was playing with her hair. After cutting off Lamya's hair in front of the class, the teacher sent the girl back to her desk. Would this ever happen to a white girl with pigtails? And could we ever envision a Black teacher doing this to said white girl?…
These days, when some in white America claim they are taking their country back, all the way up to the White House, it is no accident that Black children are punished for their Blackness. We know the studies about the disproportionate discipline against Black children, and black girls in particular. This is part of the school-to-prison pipeline, a regime of punishment following kids through adulthood. Most of all, it is an effort to monitor their bodies, not unlike the Black Codes established during Jim Crow to restrict the activities and labor of Black people and maintain white supremacy….
These codes, like the so-called dress codes in place at some schools today, serve the same purpose–to normalize whiteness and criminalize Blackness. When schools tell Black children the hair God gave them is an issue of bad hygiene and grooming, what they mean is they think Black people and their hair are less desirable. Some things never change. Institutional racism, not the hair, must change.
Read David A. Love's article for TheGrio.com in its entirety here.
Read about how Black people are disproportionately punished in other institutions here.
Read about the Five Pillars of Jim Crow here.
Read about the education of Black children in the Jim Crow South here.
Read more Breaking News here.
Michael Bennett is one of the NFL's good guys, explains columnist Jordan Schultz in his article for the Huffington Post.
This is why it's surprising to see how Bennett has drawn the ire of prominent sports journalists, including ESPN's Stephen A. Smith, as well as a local sports columnist. It's unfair that his name was dragged through the mud. Bennett is a unique person and by all accounts a great person ― and he has done nothing wrong.
In an article published two weeks ago in The Seattle Times, Matt Calkins heavily criticized the Seattle Seahawks star defensive end for lashing out at a local TV reporter who was questioning him after a game. Calkins didn't contact the TV reporter before publishing his column. If he had, he would have found out Bennett had privately apologized to him. Calkins penned an apology when he realized his mistake ― but the damage was done.
Bennett, who plays one of the league's most violent positions, is one of its most gentle and caring people. The former undrafted free agent is a highly dedicated member of the community and one of the team's most respected members.
In March, the 31-year-old Bennett announced that he would donate 100 percent of his endorsements to helping minority communities and empowering women of color. Additionally, he will also donate half of his jersey sales to inner-city garden projects.
Bennett's honesty and conviction might scare people, but sports fans ― even those who disagree with his opinions ― should be promoting it. What matters is that Bennett doesn't merely have an opinion, but he believes in it strongly enough to stand up for himself.
For more on Michael Bennett and his work within the community, read the full article here.
To learn about how race can negatively impact perception, and why its important for news media (including sports) to start supporting outspoken black influencers like Michael Bennett here.
Read about the crucial role that Black press has in our society here.
Read more Breaking News here.
By
Nytimes.com
It has shown up on Irish trivia Facebook pages, in Scientific American magazine, and on white nationalist message boards: the little-known story of the Irish slaves who built America, who are sometimes said to have outnumbered and been treated worse than slaves from Africa.
But it's not true.
Historians say the idea of Irish slaves is based on a misreading of history and that the distortion is often politically motivated. Far-right memes have taken off online and are used as racist barbs against African-Americans. "The Irish were slaves, too," the memes often say. "We got over it, so why can't you?"
A small group of Irish and American scholars has spent years pushing back on the false history. Last year, 82 Irish scholars and writers signed an open letter denouncing the Irish slave myth and asking publications to stop mentioning it. Some complied, removing or revising articles that referenced the false claims, but the letter's impact was limited.
Read the entire article here
Read more Breaking News here
Recently, Google announced the beginning of a new program partnered with Howard University. The new program is part of an effort to recruit more young black minds and promote greater diversity in the engineering industry.
As The Grio writes in their article, "Howard has opened a campus at the Googleplex, called Howard West, 'a physical space on campus where Howard students and Googlers can grow together,' and hopefully will encourage diversity in a field that sorely needs it."from Google/Justin Sullivan via Good Black News
This program stands as a step in the right direction, advancing the diversification of Silicon Valley while investing in the futures of young black men and women. Google has hopes to expand the program to other Historically Black Colleges and Universities.

To read more about the program, or for more information on Howard University and Google's new partnership, head here.
Read more about the importance of community diversification and understanding past-to-present racial segregation here.