Philando Castile was known as a caring man at the St. Paul, Minn., school where he worked as a cafeteria supervisor. He cared so much for the children he served that he often paid for their lunches out of his own pocket when they were unable to, and now, thanks to a local college professor, that generosity will continue through a fund that has been created in Castile's name.
"No child goes hungry so we ensure that every student has breakfast and also lunch whether they can pay or not," Stacy Koppen, Nutritional Services Director for St. Paul Public Schools (SPPS), told WCCO. "Lunches just for one elementary student are about $400 a year."
Before Castile was killed last summer by former St. Anthony police officer Jeronimo Yanez during a traffic stop, he was always ready to help the students who were in need, Koppen told WCCO.
"When a student couldn't pay for their lunch, a lot of times (Castile) actually paid for their lunch out of his own pocket," Koppen said.
Inver Hills Community College professor Pam Fergus wants Castile's generosity and caring for the students to continue.
She told WCCO, "His death changed who I am."
Fergus normally assigns a service project to the students in her Diversity and Ethics class, but this time she came up with one of her own: Philando Feeds The Children.
The money raised through the YouCaring.com fundraiser will be used to help clear lunch debts at J.J. Hill.
As of Thursday night, more than $7,000 had been raised, and Castile's mother, Valerie, told WCCO and Fergus that she plans to match the full amount raised with her own donation.
Read the full article here.
Read about the importance of reconciliation here.
Read more Breaking News here.
When Patricia Stephens led a group of black college students to sit and order foot at a "white only" Woolworth's lunch counter in Tallahassee, Florida in 1960, they were told, "The South is not ready for that."
When Fannie Lou Hamer led a group of black neighbors to the courthouse in Indianola, Mississippi in 1963 to register to vote, they were told, "Mississippi is not ready for that."
When fast-food workers led primarily by black women walked off their jobs in 2012 to strike for $15 minimum wage and a union, they were told, "America is not ready for that."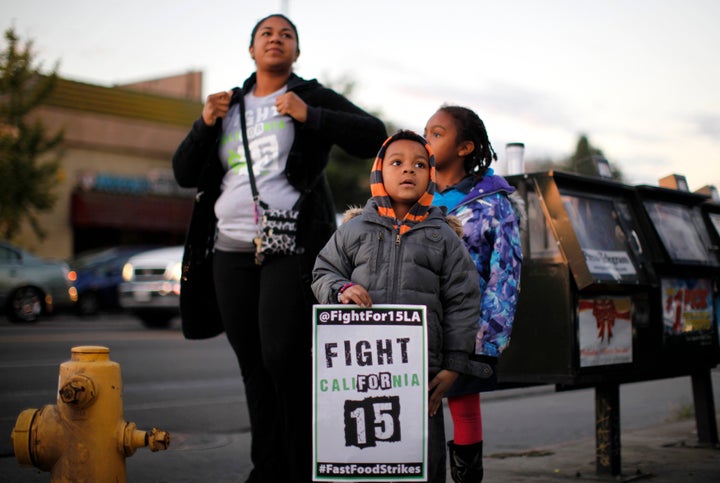 Time and again, women of color have changed the world through their resilience and fortitude to never settle for less than first-class citizenship, even if the forces against them said it's not yet time for progress.
The time has come for a minimum wage that meets the basic needs of workers in the 21st century. Raising the minimum wage would boost pay in low-wage jobs where millions of men and women now spend their careers. Low-wage occupations in food service, home health care, retail, and customer service are projected to see the most job growth over the next decade.
The typical worker struggling on less than $15 an hour is a woman over 30 who works full-time but still cannot make ends meet. While only one-third of white workers earn less than $15 an hour, most women of color do.
A $15 minimum wage (or $31,200) a year for full time) could go far in helping women and people of color make ends meet, closing persistent gender- and race-based pay and wealth gaps, and improving educational and health outcomes for children. All labor has dignity, but when workers bring home paychecks that don't pay for basic necessities, it's hard to find the dignity in being working poor.
Read the full article here.
Read more on the history of the struggle for justice here
Read more Breaking News here.
On this date in 1856, Booker T. Washington was born. He was a Black activist and educator, who urged Blacks to gain equality through education and economic advancement.
Committing himself to the idea that education would raise him and his people to equality in this country, Washington became a teacher. He first taught in his hometown, and then at the Hampton Institute, and then in 1881, he became the first leader of Tuskegee Institute in Alabama. As head of the Institute, he traveled constantly to raise funds from Blacks and Whites both.
Read more about Booker T. Washington here.