Sway Calloway knows firsthand the life lessons kids receive while learning to play instruments.
Mastering the song flute, clarinet and alto saxophone fostered a love for music that he eventually turned into a career as one of the most well-known hip-hop journalists today.
"What I learned from music is a lot about melody and that's how I communicate," the Oakland native told HuffPost, citing his interview strategy. "I learned a lot about rhythm and as I got older, I learned how to make that translate into social skills, how to communicate with people, how to talk to folks, when you talk to folks, when you jump out, when you interject."
He may not professionally play an instrument today, but music education opened up doors for Calloway ― whose family was on public assistance when he was younger ― that he may not have found otherwise. Music programs in schools have been proven to keep students engaged in the classroom; improve early cognitive development, math and reading skills; develop critical thinking skills; and foster confidence among students, according to the National Association of Music Merchants.
But despite the lasting impact music education has on students, many children in low-income communities still don't have access to it. That's why Calloway and the board members and team behind VH1 Save The Music Foundation have been working to bring music programs to underserved schools.
Since the nonprofit was founded in 1997, VH1 Save The Music Foundation has allotted grants to more than 2,000 public schools in 42 states, Washington, D.C., and Puerto Rico. These grants have benefited more than 2 million kids. Recently, students in Newark, New Jersey, and Berkeley and Jefferson Counties in West Virginia received $45,000 worth of musical equipment from the program.
Chiho Feindler, senior director of programs and policy, said the foundation has not only benefitted students and their communities by bringing marching bands and orchestras to their cities, but also by improving graduation rates and reducing absenteeism.
″[Rewards vary from] a student telling us that in his home life, it's just such a chaos that being able to play flute on his stoop for his young siblings just brings a peace into his home to better graduation rates to the student who's now interning to go to college studying music education," Feindler said. "Stuff like that and just … giving them the reasons to thrive."
Learn more about VH1 Save The Music Foundation by visiting its website.
Read the full article here.
Read more Breaking News here.
If you took a look at the writers' room of some of your favorite television shows, you'd be hard-pressed to find a black person, and even harder pressed to find a black woman. But for the last decade, Angela Nissel has been leaving her mark behind the scenes on shows like Scrubs, The Boondocks and, now, The Jellies—Tyler, the Creator's Adult Swim show, which premieres Oct. 22.
Before Nissel's foray into scripted television, she was best-known as one of the creators of Okayplayer and for her two sidesplitting memoirs that captured the essence of her formative years, and of being broke and biracial. Both The Broke Diaries: The Completely True and Hilarious Misadventures of a Good Girl Gone Broke and Mixed: My Life in Black and Whitewere heralded by critics, as well as the likes of Oprah Winfrey and Halle Berry, and Nissel became the "it" woman of literature in the early 2000s.
It was those books that set the University of Pennsylvania grad (she graduated with a degree in medical anthropology) on her way to a career in TV. But, of course, Nissel's ascent into television writing wasn't easy, especially as a black woman. After being in the game for 15 years, she is still fighting her way into writers' rooms, and she made it into The Jellies'room even though she thought she hadn't landed the gig.
"Me being old enough to be Tyler's aunt, I said, 'I've heard of him,' but I don't really know him. And then I researched him. I was nervous in the meeting, but when Tyler came in, he just wanted to get to know about me. Ten minutes later, the meeting was over. I called my agent and was like, 'I'm pretty sure I didn't get that job; they thought I was a total nerd,'" Nissel says.
As luck talent would have it, Nissel landed the consulting-producer-and-writing gig on the series, and so her work began. And, yes, she was once again the only black woman in the writers' room. As Nissel segues back into animation (after lending her talents to The Boondocks), she notes that writing live action and books is totally different from writing for animation, especially when it comes to the fans.
The Jellies follows in the footsteps of cartoons like The Boondocks in that it is created by young black men. But as Nissel lends her comedy and writing expertise to yet another animated series, the question remains: Why is there still a lack of black people, particularly women, in Hollywood when it comes to writing? Veterans in the game, like Nissel, have paved the way for the Issa Raes out there, but it's still a drop in the bucket.
"I'm usually the only black woman in the writers' room. I remember I pitched a really shitty joke one time, but Tyler said, 'No, maybe women will understand the joke.' He was so good about listening to my point of view, where sometimes, in other writers' rooms, I would get shut down," Nissel says. "When you're immediately shut down, you don't feel like you ever have the space to speak up again. But he always gave me that space to feel free to speak my mind."
It's that aspect of being shut down that many writers have to deal with when they're in the minority. Earlier this year, Tyler quickly had to shut down a question from a fan during Comic-Con, when he decided to change Cornell, the main character in The Jellies, from a white teen to a black teen.
"How many f—— black cartoon characters is it on TV right now?" Tyler responded. "Name five. I'll give you time."
Nissel shares similar sentiments about Cornell's newfound blackness.
"If you don't like Cornell being black, color him another color in your head. What is wrong with people wanting to see the representation of themselves on-screen?" Nissel asks. "That's why I think their generation will do better, and hopefully build on what my old-ass generation wasn't able to do. Tyler is an outsider coming into this industry and wants Cornell to look like him. I don't understand how anyone can be upset with that."
With the success of this summer's blockbuster hit Girls Trip, the spotlight is now shining on funny black women in front of and behind the camera. And Nissel has some savory advice for the bigwigs in Hollywood.
"I wish more people realize that having one voice in the room sometimes isn't enough because you're only going to get one point of view. At the end of the day, I just wish people would go outside of the neighborhoods and make friends with people who aren't exactly like them, so they can bring that to the room if they don't have the budget to hire 25 women," Nissel says.
"I really want to create shows that show that women over the age of 40 still have lives, and they can be messy," she adds. "To talk about the imbalance of women and men, like my own personal story of paying alimony. I want to tell the richness of women of color over 40 because sometimes I look on TV and we're all dead, except for Oprah."
The Jellies premieres on Adult Swim at 12:15 a.m. Sunday, Oct. 22.
Read the full article here.
Read more about the importance of black-owned media here.
Read more Breaking News here.
Everybody is all about freedom of speech and expression until a black person (hey, Colin Kaepernick; hey, Jemele Hill) decides to exercise his or her right to do so. And in this particular case, a black sixth-grader out of Michigan says he was assaulted by his homeroom teacher all because he was exercising his rights and declined to stand for the Pledge of Allegiance.
Stone Chaney, who attends East Middle School in Farmington Hills, Mich.,told ClickOnDetroit that his teacher "violently" dragged him out of his chair and attempted to force him to stand for the pledge, leaving the young man confused and unwilling to return to that school.
"The teacher consultant comes up behind me and snatches me out of my chair violently," Stone told the news site. "I was so confused. I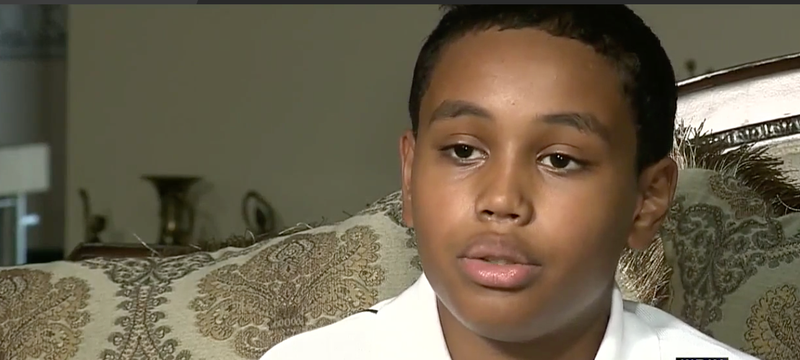 didn't know what was going on."
Note that Stone referred to the individual in question as the "teacher consultant." That means that the person who allegedly thought it was all right to snatch a child out of his seat trains other teachers. One would wonder what kind of training those other teachers are receiving.
"It's his choice to sit," Brian Chaney said. "I don't make him sit. And they should respect that."
The superintendent of Farmington Public Schools released a statement detailing that the district does support the right of students to opt out of the pledge, announcing that it was conducting an investigation and that the teacher involved has been placed on administrative leave pending the outcome.
Read the full article here.
Read about the history of black social movement and protest here.
Read more Breaking News here.
A civil rights landmark in Mississippi that commemorates the death of Emmett Till has been vandalized, The Associated Press reported Monday.
The sign, which has been defaced before, was scraped so badly that information and photos about Till's brutal death have been obliterated.
Students from Cultural Leadership, a St. Louis-based nonprofit that teaches young adults how to become civil rights leaders, were present at the site after the sign was vandalized and were disheartened by the destruction.
Dani Gottlieb, a 16-year-old from Cultural Leadership, told HuffPost that she was expecting to see "flowers growing in Emmett Till's honor" at the landmark, "not a torn-down marker."
She and her peers decided as a group to take action. They covered the scraped-off information with hand-drawn pictures of Till, messages of hope and information about his killing.
Read the article in its entirety here.
Read in depth about the struggle for justice and equal rights here.

Read more Breaking News here.
By 
In the past week alone, there was the 4-year-old girl in Falcon Heights, Minn., who was captured on video consoling her mother after they watched a police officer shoot the mother's boyfriend through the window of a car. And there was the 15-year-old boy in Baton Rouge, La., who sobbed uncontrollably in front of television cameras after the similar shooting death of his father.
Then there were the four brothers, ages 12 to 17, whose mother was shot by the sniper who opened fire on officers in Dallas on Thursday night while the family was protesting police violence against blacks. The mother, who survived, threw herself atop one boy, as the others ran for their lives.
Again and again, children are finding themselves enmeshed in the country's roiling debate over police treatment of African-Americans. The close-up views of violence, obviously traumatizing, are giving rise to a generation of young people who distrust authority, grow up well before their time and suffer nightmares that seem too real.
"As a mother, I have now been forced to raise a son who is going to remember what happened to his father," said Quinyetta McMillon, the mother of the boy in Louisiana who sobbed over the death of his father, Alton Sterling. "That I can't take away from him."
While adults around them protest and demand criminal justice reform, young witnesses of the carnage are reeling from their losses and harboring pent-up depression that often comes pouring out in panic attacks and breakdowns, relatives say.
The list of young people burdened by these tumultuous times includes Tamir Rice's teenage sister, who lost 50 pounds after watching the police shoot him in 2014; the daughter of Oscar Grant III, killed by a transit officer while lying down on a California train platform in 2009, who as a 5-year-old would ask playmates to duck when she saw the police; and the 9-year-old nephew of Sandra Bland, who began sleeping in his mother's room after Ms. Bland's death last year in a jail cell.
"They are aware of what's going in the world, of how you can leave your house and you can very well end up in a body bag," said a sister of Ms. Bland's, Shante Needham, whose four children continue to struggle with the death of their aunt. "They watch the news. They see all the stuff going on on Facebook. And it's sad that kids even have to think like that, that if I get stopped by the police, I may not make it home."…
Read the full article here.
More Breaking News here.
From the Grio.com
A pig-tailed girl whose favorite accessory is a pink stethoscope has become a symbol of pride and hope for black women in medicine and the daughters they want to inspire.
Doc McStuffins, the African-American title character of an animated TV series for children, dreams of becoming an M.D. and, for now, runs a cheerful home clinic for stuffed animals and dolls.
"I haven't lost a toy yet!" Doc exclaims as she hugs a blue dinosaur in need of attention.
For Dr. Myiesha Taylor, who watches Disney Channel's "Doc McStuffins" with her 4-year-old, Hana, the show sends a much-needed message to minority girls about how big their ambitions can be.
"It's so nice to see this child of color in a starring role, not just in the supporting cast. It's all about her," Taylor said. "And she's an aspiring intellectual professional, not a singer or dancer or athlete."
So Taylor sent a message back, creating an online collage featuring an image of the buoyant Doc encircled by photos of 131 black women who are Doc's real life-counterparts, most garbed in their scrubs or doctor's coats.
"We are trailblazers," Taylor proclaimed on her website. "We are women of color. We are physicians. We ARE role-models. We are Doc McStuffins all grown up!"
For black women whose own wish to practice medicine came true, the show is welcome affirmation. The doctors shown in the collage are graduates of schools including Harvard, Yale and Stanford and work in a range of specialties such as neurosurgery, orthopedic surgery and psychiatry. Taylor is a board-certified emergency room physician.
According to the American Medical Association's "Physician Characteristics and Distribution in the U.S., 2012 Edition," there were 18,533 black female physicians in 2010, or less than 2 percent of a total of 985,375 U.S. doctors, including nearly 300,000 female physicians. According to the 2010 U.S. Census, blacks make up 12.3 percent of the population at about 40 million, with more than half of them women.
"When we made her an African-American girl, we hoped it would be a positive role model that wasn't really out there and would be great for little girls," said series creator Chris Nee, who said she was encouraged by Disney from the start to create Doc as a minority character. "What has been surprising is the strength of the reaction and that it's from adults."
She hopes the series resonates with all the girls who watch it, she added, citing worrisome studies that females start to develop negative attitudes about science at a young age.
Read more of the story here.
The discussion of race is never a black and white issue, and recent "AC360°" and CNN.com reports about young children's attitudes on race became one of the most discussed stories on the site, eliciting more than 4,500 comments.
In the study, white children had an overwhelming bias toward white, and black children also had a bias toward white, but it was not nearly as strong as the bias shown by the white children.
Read more of the story, watch videos of parents' reactions, and look into how the study was done here.
Singer John Legend joins the discussion as AC360's" special coverage "Black or White: Kids on race," continues tonight at 10pm ET