When Patricia Stephens led a group of black college students to sit and order foot at a "white only" Woolworth's lunch counter in Tallahassee, Florida in 1960, they were told, "The South is not ready for that."
When Fannie Lou Hamer led a group of black neighbors to the courthouse in Indianola, Mississippi in 1963 to register to vote, they were told, "Mississippi is not ready for that."
When fast-food workers led primarily by black women walked off their jobs in 2012 to strike for $15 minimum wage and a union, they were told, "America is not ready for that."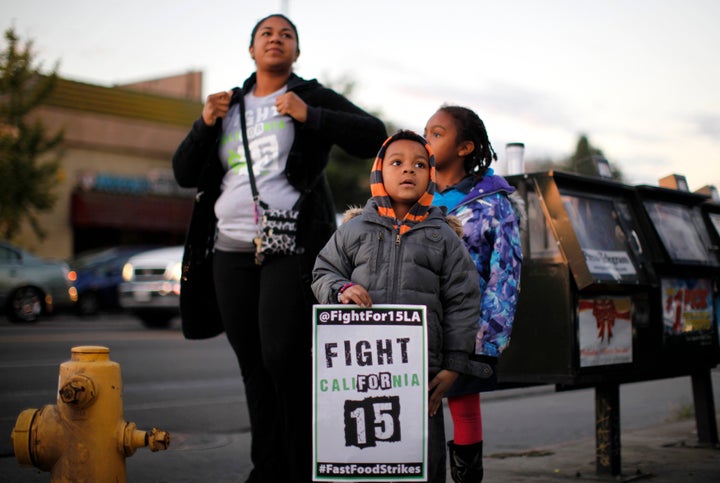 Time and again, women of color have changed the world through their resilience and fortitude to never settle for less than first-class citizenship, even if the forces against them said it's not yet time for progress.
The time has come for a minimum wage that meets the basic needs of workers in the 21st century. Raising the minimum wage would boost pay in low-wage jobs where millions of men and women now spend their careers. Low-wage occupations in food service, home health care, retail, and customer service are projected to see the most job growth over the next decade.
The typical worker struggling on less than $15 an hour is a woman over 30 who works full-time but still cannot make ends meet. While only one-third of white workers earn less than $15 an hour, most women of color do.
A $15 minimum wage (or $31,200) a year for full time) could go far in helping women and people of color make ends meet, closing persistent gender- and race-based pay and wealth gaps, and improving educational and health outcomes for children. All labor has dignity, but when workers bring home paychecks that don't pay for basic necessities, it's hard to find the dignity in being working poor.
Read the full article here.
Read more on the history of the struggle for justice here
Read more Breaking News here.
Days after New York City police officers choked an unarmed Black man to death in the summer of 2014, ForHarriet.com founder and editor Kimberly Foster declared she would "not march for Eric Garner." Foster described "watching Black men show up for Garner after seeing so many derail conversations about Black women's well-being leaves me with little more than a sinking feeling of despair."
The perception that sympathy and political mobilization are unequally reserved for Black males has been gaining traction for well over a decade in intellectual circles. 
Sociologist L'Heureux Lewis
 and others describe this as "Black male privilege." Lewis and others don't suggest Black males are on the brink or world domination, but they do posit that in relation to Black females, Black males often enjoy greater access to resources and/or attention to their accomplishments and grievances. Speaking with journalist Michel Martin, Lewis, a Black man, explained, "There are actually spaces where Black men are advantaged and often sometimes dominate a dialogue," often to the detriment of Black women.
In a 2016 report, Lewis corroborates the disparities that pained Foster, adding that when we seriously access the problems facing Black people, we "are most commonly raised and framed in terms of the crisis of Black males." Using our framework of mass incarceration to demonstrate, Lewis observes Black males are the default representation of the prison's consumption of Black bodies. This helps conceal the rising number Black female incarceration….Curry submits that the gawking and attention to Black males, framed by some as "Black male privilege," are often little more than dehumanizing stares at Black corpses. After the dying moments of Eric Garner and Philando Castile accumulate millions of views, Curry writes, "Black men are rarely thought of beyond their dead bodies." Recognizing the humanity of Black males and seeing that no more Castiles or Garners meet the same fate has proven impossible.
The title of sociologist Becky Pettit's 2012 book "Invisible Men: Mass Incarceration and the Myth of Black Progress" challenges multiple facets of the view that Black males hog the attention related to racism. Because the prison system is disproportionately Black and male, Pettit believes large numbers of Black males are unseen. If these ignored inmates were included in our overall assessment of African-American advances, Pettit senses celebrations of Black progress would be greatly muted. With more than two million U.S. inmates at the time of Obama's 2008 election, Pettit writes turning a blind eye to this large population of Black males distorts "the establishment of social facts" and "conceals inequality."…
Curry asks: "If the effect of racism is such that the alleged advantages of men disappear in most of the things that we value, like work or life expectancy or home ownership, why make the leap" to insist Black males benefit from or exercise privilege?
Legions of Black males and a growing number of Black women are incarcerated because of white power, not Black privilege. Searching for "privileged" Black people can sidetrack Black males and females from producing the Black power needed to establish justice.
Read the full story here.
Read more Breaking News here.