When Patricia Stephens led a group of black college students to sit and order foot at a "white only" Woolworth's lunch counter in Tallahassee, Florida in 1960, they were told, "The South is not ready for that."
When Fannie Lou Hamer led a group of black neighbors to the courthouse in Indianola, Mississippi in 1963 to register to vote, they were told, "Mississippi is not ready for that."
When fast-food workers led primarily by black women walked off their jobs in 2012 to strike for $15 minimum wage and a union, they were told, "America is not ready for that."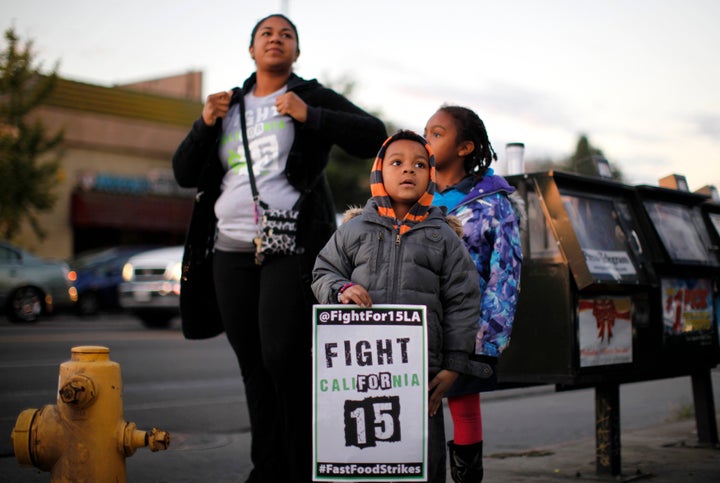 Time and again, women of color have changed the world through their resilience and fortitude to never settle for less than first-class citizenship, even if the forces against them said it's not yet time for progress.
The time has come for a minimum wage that meets the basic needs of workers in the 21st century. Raising the minimum wage would boost pay in low-wage jobs where millions of men and women now spend their careers. Low-wage occupations in food service, home health care, retail, and customer service are projected to see the most job growth over the next decade.
The typical worker struggling on less than $15 an hour is a woman over 30 who works full-time but still cannot make ends meet. While only one-third of white workers earn less than $15 an hour, most women of color do.
A $15 minimum wage (or $31,200) a year for full time) could go far in helping women and people of color make ends meet, closing persistent gender- and race-based pay and wealth gaps, and improving educational and health outcomes for children. All labor has dignity, but when workers bring home paychecks that don't pay for basic necessities, it's hard to find the dignity in being working poor.
Read the full article here.
Read more on the history of the struggle for justice here
Read more Breaking News here.
On the last day to sign up for Obamacare, evidence appears to be mounting that what started as a disaster may turn out a success. Monday is the deadline to enroll in health insurance for 2014 via the health insurance exchanges created by President Barack Obama's Affordable Care Act, and it's clear that many waited until the last minute. The looming deadline and fear of the penalty for not getting covered has driven millions of people to the exchange websites, enrollment events and health insurance companies over the past few days.
HealthCare.gov and some state-run health insurance exchanges suffered software glitches and buckled under heavy demand Monday.
The final rush could push the total number of private insurance enrollments well past the 6 million figure touted by the Obama administration last week. Obamacare sign-ups may wind up closer to the 7 million originally predicted for the first year. (. . .)
Signing up the healthy and the young is critical to the health of the healthcare law. And based on anecdotal accounts from health insurance companies, the surge is also bringing along young adults in greater numbers.
"We're definitely seeing some younger consumers, as our average age of an applicant is going down," said Kurt Kossen, the vice president for retail marketing at Chicago-based Health Care Service Corp., which operates Blue Cross and Blue Shield companies in Illinois, Montana, New Mexico, Oklahoma and Texas. Online insurance broker eHealth reported a similar trend last week. 
In order to make premiums affordable in future years, insurers need healthier people to offset the high medical costs of older, sicker people who now have guaranteed access to coverage. Adults 18 to 34 years old made up one-quarter of nationwide enrollments through March 1, according to the Department of Health and Human Services, a proportion lower than the roughly 40 percent the White House is seeking.
Not everyone is so pleased with their new health plans. Households with incomes above four times the poverty limit, or about $95,400 for a family of four, don't qualify for financial assistance and can face hundreds of dollars in premiums every month for even basic coverage. And many people who previously purchased their own coverage directly from insurance companies saw their policies canceled last year because they didn't meet ACA standards, and had to replace them with plans that are often costlier because the mandated benefits are more generous. (. . .)
HealthCare.gov also drew record demand Monday when 1.2 million users visited the website by noon Eastern Time. First-time users of the website weren't able to create accounts for about an hour Monday afternoon and administrators twice activated the site's "virtual waiting room" when the number of people trying to log in surpassed its capacity, which is estimated at 100,000 users at once. State-run exchange websites in places like California and Maryland also experienced some difficulties. Telephone call centers for the exchanges were swamped by consumers seeking help, as well.
Although Monday is the nominal deadline for anyone who doesn't have health coverage to get insured this year, enrollments will continue through the coming weeks, since the Obama administration and most state-run health insurance exchanges are leaving the systems open for those who already started their applications but have not completed them by the end of the day. (. . .)
Read the full article.
Read more breaking news.
by Caryn Freeman of the Grio.com
The growing obesity epidemic is impacting Americans in ways they may not yet be aware of. The costs associated with taking care of the transportation, health and safety of America's consistently growing obese population are all being passed on to taxpayers. A new substructure to accommodate obese Americans in public places is yet another costly expense. Because these costs are not reported as much as the impact of obesity on health care, some Americans aren't fully aware of the financial burden they are bearing.
Reuters reports that there are already costly overhauls taking place in hospitals and within the public transposition sector. "U.S. hospitals are ripping out wall-mounted toilets and replacing them with floor models to better support obese patients. The Federal Transit Administration wants buses to be tested for the impact of heavier riders on steering and braking. In addition to those expenditures, it's been revealed that, "cars are burning nearly a billion gallons of gasoline more a year than if passengers weighed what they did in 1960."
Some are comparing the startling cost of the obesity epidemic to costs associated with smoking related illnesses. It wasn't until Americans became aware of the damage cigarette smoking had on one's health and until the public and legislators became aware of the devastating impact of second hand smoke. Eventually, Congress passed legislation to restrict smoking in public facilities.
Health advocates are hoping that creating greater public awareness of the costs related to obesity will spark the same type of response.
How can Black America get healthier? What are your thoughts?