Last week, Twitter said it was "pausing" to reconsider the process by which it bestows the blue checkmark denoting accounts that had been "verified," and on Wednesday the company announced it was yanking the designation from some users who occupy the neo-Nazi or nationalist bucket of grassroots white activism. The announcements came after many users, including The Root's Monique Judge, raised hell when Twitter gavea blue checkmark to Jason Kessler, a white nationalist who helped plan the pro-Confederacy march last August in Charlottesville, Va.
While Twitter CEO Jack Dorsey and his workers ruminated on the company's account verification policies, I decided it was a good time for us to pause and think about our relationship with Twitter and other social media and technology companies. We voluntarily "contribute" our creative insights, dollars and labor to the success of these companies by buying devices and apps, uploading memes, ideas and language that trends widely. Yet in terms of the vast wealth these companies hold, disburse to employees and generate for shareholders, we get little in return.
Think of the recent moment where top lawyers for Google and its parent company, Alphabet, along with Twitter and Facebook, were summoned to Capitol Hill to testify before Senate and House committees looking into the company's role in disseminating toxic content and ads during the 2016 presidential election cycle.
Anti-black messaging was the secret-sauce of many of the pro-Trump, nationalist memes and messages that flooded through the popular social media channels during the 2016 election cycle. Yet somehow, the gatekeepers at Facebook and Twitter didn't seem to notice the methodical manipulation of racial animus that already exists in America, specifically, some white Americans' negative opinions of blacks.
The leaders and staffs of Twitter, Facebook, and other popular social media platforms missed the Russian's exploitation of the black-white divide, an obliviousness that has precedent: black women users had long alerted Twitter officials to abusive conduct of other users, up to and including death threats. The hashtag #YourSlipIsShowing catalogs such experiences from black women dating back several years, and is readily available…at least to those interested in learning about and addressing these kind of user experiences.
But clearly, the tech company leaders were not inclined to pay attention to this area of user complaints, a strong indication that they also probably weren't interested in the views of the few blacks and Latinx workers at their companies, either. Just look at what happened to Leslie Miley, a black former engineer at Twitter. Miley revealed in a recent interview that he had flagged tons of dubious accounts in 2015, telling his bosses that he believed they were from Ukraine or Russia, and that they appeared to be part of a coordinated campaign.
Miley was told by his bosses at Twitter to "stay in his lane," a response that Miley says he took as a sign that the company leadership preferred to err on the side "growth numbers," rather than on any potential harm to audiences that the bots might pose.
Meanwhile, black users of Instagram, Facebook, Twitter and Google products infuse them with a deep coolness factor that resonates around the world. Our intellectual property and creativity is the lifeboat that floats these companies to revenue solvency, yet few of us share in the enormous economic wealth generated by these companies, not even after dozens of news stories, industry conferences, and activist's complaints forced the companies to pledge to improve hiring and retention.
Black Americans know when something smells rotten, including the kinds of scams and shady BS that can unfold at one's job. And, as usual, blacks and other marginalized communities have solutions. We have the brain-power, problem-solving acumen, and moral fortitude to right the ship of state.
The question is whether our concerns and advice will be heeded, and whether we can achieve full access to the genuine levers of power in the United States, including access to quality education, healthcare, voting and, most importantly in the context of the innovation ecosystem, investment capital.
Read the full article here.
It's not just the Tech industry, either. Read how one company is beginning to acknowledge its racist past here.
Read more Breaking News here.
On Oct. 23, 12 Oakland County, Mich., communities spent roughly nine days without water after a major water main break. Almost 305,000 people were affected by the break.
Oakland County and the Great Lakes Water Authority worked nearly around the clock to ensure that the residents in those communities had safe, potable water. Water stations in various communities were set up. Businesses and residences alike were given access to the scarce commodity.
It directly affected my mother, and as a native Detroiter and former resident of Oakland County, I should've been ecstatic to hear how well this situation was handled. So what's the issue, you ask?
Residents in the Genesee County city of Flint, Mich., have been without potable, usable water since 2014. Government officials—locally and statewide—blatantly lied about the water supply being safe for human consumption. Fertilizers, pesticides, built-up bacteria and lead have contaminated the Flint River (the city's primary source) for decades. Their half-assed attempt to "clean up the water" never ensured that the city's folks would remain healthy.
It's been three whole years, and citizens still can't drink the water. Water stations were set up (some years later), and as of this past summer, many of the stations were closed following Flint's lead levels being under the federal limit. Why is there such a disparity between Oakland County and Genesee County in their response to each crisis?
Race and class.
Oakland County is one of the wealthiest counties in Michigan. It used to be the wealthiest, but some argue that Livingston may have snatched the "coveted" honor. The median income in Oakland County is roughly $70,000. The county's population is a whopping 72.8 percent white, which is a glaring contrast to Flint's 60 percent black population. The median income in Genesee County is about $44,000, but the surprise is that the 72 percent white population of Genesee is typically lower-class and poor.
The water crisis in Flint was not just a "black problem." It was a class problem. Poor whites have been brainwashed to think that they receive the same consideration as well-to-do whites, and that's simply not true. Because there are more poor whites, they give the advantage of numbers for rich whites with agendas to use them time and time again. And because skin color matters, they never see they are being consistently shit on.
Businesses and civilians from various counties throughout Michigan sent batches of water to the good folks of Flint. However, their assistance wasn't enough to mitigate the long-term damage. Fetal deaths spiked, pregnancy rates lowered, 12 people died from Legionnaires' disease and lead poisoning debilitated many more people in the city. Given the already high infant mortality and morbidity rates in the city, Flint residents never had a chance.
Apparently, money will always talk, and black lives will always be expendable.
Read the full article here.
Read about what the Black Holocaust is here.
Read more Breaking News here.
The black protester who was caught on viral video hugging a squirming and uncomfortable neo-Nazi outside white supremacist dump truck Richard Spencer's speech at the University of Florida in Gainesville on Thursday is acknowledging that he could just as easily have hit the guy (an act in which someone else had earlier indulged) but decided to go a different route in order to bring about change in his own way.
"I could have hit him, I could have hurt him … but something in me said, 'You know what? He just needs love,'" Aaron Alex Courtney told the New York Daily News. "It's a step in the right direction. One hug can really change the world. It's really that simple."
The unidentified neo-Nazi was seen at Spencer's speech location wearing a T-shirt covered in swastikas. His not-so-subtle outfit obviously drew the attention of the crowd, which included protesters who screamed, punched and spat on him before Courtney wrapped his arms around him.
"Why don't you like me, dog?" the 31-year-old high school football coach out of Gainesville could be heard asking the man. "Give me a fucking hug."
Courtney could be seen attempting to get the man to hug him back, but the man just stood there, limp and uncomfortable, as Courtney embraced him.
Surprised to learn that Spencer was a person and not an impending hurricane, or that the notification wasn't about a kidnapping or something of the sort, Courtney started to do research.
"I found out about what kind of person he was, and that encouraged me, as an African American, to come out and protest. Because this is what we're trying to avoid. It's people like him who are increasing the distance … between people," Courtney told the Daily News.
Courtney gave about four hours of his time Thursday protesting and was getting ready to leave when he saw Mr. Nazi himself causing a commotion among the other protesters.
"I had the opportunity to talk to someone who hates my guts, and I wanted to know why. During our conversation, I asked him, 'Why do you hate me? What is it about me? Is it my skin color? My history? My dreadlocks?" Courtney recalled.
"After beating around the bush and avoiding my questions, I asked him, I pleaded with him, I almost broke out in tears, growing increasingly angry because I didn't understand," he said.
However, Courtney, whose father is a bishop, decided to take some of his father's teachings and offer the man a hug.
"Something in me said, 'You know what? He just needs love. Maybe he never met an African American like this," Courtney said.
It took some cajoling, but, Courtney said, "I reached over, and the third time, he wrapped his arms around me, and I heard God whisper in my ear, 'You changed his life.'"
Courtney then said he asked again, "Why do you hate me?"
The neo-Nazi's response, according to Courtney? "'I don't know.'"
"I believe that was his sincere answer. He really doesn't know," Courtney added.
The man was eventually escorted away by police, but not before taking a photo with Courtney's friend.
"I honestly feel that was a step in the right direction, for him to take a picture with a guy that he hated when he woke up this morning," Courtney said.
Read the full article here.
Read more about racial reconciliation here.
Read more Breaking News here.
Everybody is all about freedom of speech and expression until a black person (hey, Colin Kaepernick; hey, Jemele Hill) decides to exercise his or her right to do so. And in this particular case, a black sixth-grader out of Michigan says he was assaulted by his homeroom teacher all because he was exercising his rights and declined to stand for the Pledge of Allegiance.
Stone Chaney, who attends East Middle School in Farmington Hills, Mich.,told ClickOnDetroit that his teacher "violently" dragged him out of his chair and attempted to force him to stand for the pledge, leaving the young man confused and unwilling to return to that school.
"The teacher consultant comes up behind me and snatches me out of my chair violently," Stone told the news site. "I was so confused. I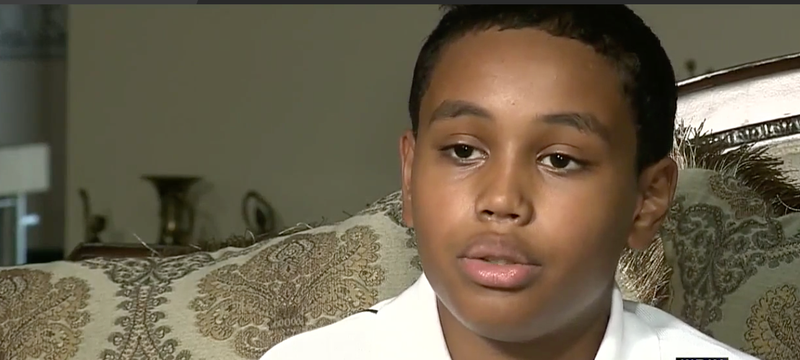 didn't know what was going on."
Note that Stone referred to the individual in question as the "teacher consultant." That means that the person who allegedly thought it was all right to snatch a child out of his seat trains other teachers. One would wonder what kind of training those other teachers are receiving.
"It's his choice to sit," Brian Chaney said. "I don't make him sit. And they should respect that."
The superintendent of Farmington Public Schools released a statement detailing that the district does support the right of students to opt out of the pledge, announcing that it was conducting an investigation and that the teacher involved has been placed on administrative leave pending the outcome.
Read the full article here.
Read about the history of black social movement and protest here.
Read more Breaking News here.
Philando Castile was known as a caring man at the St. Paul, Minn., school where he worked as a cafeteria supervisor. He cared so much for the children he served that he often paid for their lunches out of his own pocket when they were unable to, and now, thanks to a local college professor, that generosity will continue through a fund that has been created in Castile's name.
"No child goes hungry so we ensure that every student has breakfast and also lunch whether they can pay or not," Stacy Koppen, Nutritional Services Director for St. Paul Public Schools (SPPS), told WCCO. "Lunches just for one elementary student are about $400 a year."
Before Castile was killed last summer by former St. Anthony police officer Jeronimo Yanez during a traffic stop, he was always ready to help the students who were in need, Koppen told WCCO.
"When a student couldn't pay for their lunch, a lot of times (Castile) actually paid for their lunch out of his own pocket," Koppen said.
Inver Hills Community College professor Pam Fergus wants Castile's generosity and caring for the students to continue.
She told WCCO, "His death changed who I am."
Fergus normally assigns a service project to the students in her Diversity and Ethics class, but this time she came up with one of her own: Philando Feeds The Children.
The money raised through the YouCaring.com fundraiser will be used to help clear lunch debts at J.J. Hill.
As of Thursday night, more than $7,000 had been raised, and Castile's mother, Valerie, told WCCO and Fergus that she plans to match the full amount raised with her own donation.
Read the full article here.
Read about the importance of reconciliation here.
Read more Breaking News here.
By Lilly Workneh, huffingtonpost.com
Black Lives Matter leaders are all too familiar with the racism that breeds in America, leading many within the organization to see the hate expressed by white supremacists in Charlottesville, Virginia, on Saturday as no surprise.
"The white supremacist violence we are witnessing in Charlottesville is not new," the social justice organization wrote in a statement published to its Facebook page on Saturday. "Instead it is constant, ever-evolving and a staple of American culture and society."…
Saturday's demonstration saw hundreds of neo-Nazis, white supremacists and KKK members marching through Charlottesville's streets chanting out phrases in support of white power. The march was initially organized out of protest over the removal of a statue honoring Confederate Gen. Robert Lee. Violence quickly erupted as marchers met with counter-protesters and police in riot gear, leaving 32-year-old paralegal Heather Heyer dead and 19 others injured.
"In the face of hatred and vitriol from the Ku Klux Klan and white nationalists, we support the people of Charlottesville who are advocating against fascism and antiBlack racism," BLM's statement read….
"We live in a world where black people are targeted for death and destruction; and in a country where there are hundreds of statues and monuments … dedicated to the confederacy, we cannot be surprised when moments such as these happen," the statement says. "Charlottesville is a confirmation of the violence that black people must endure from day to day."…
"We call on everyone to pay attention to the ways white supremacy manifests in our workplaces, our schools, and our homes," the statement read. "We stand with the people of Charlottesville who are fighting for a world in which the inherent humanity of all people is honored."
Read the full article here.
Read more Breaking News here.
How did police end up fatally shooting a blonde, 40-year-old yoga teacher from Australia, as she stood in her pajamas outside her home in an affluent, predominantly white Minneapolis neighborhood?
That question has been focal point since Minneapolis Police Officer Mohamed Noor killed Justine Damond on July 15, after she called to report a possible sexual assault near her home. It's not clear what happened between the time Damond called 911 and when the officers arrived. Officer Matthew Harrity, Noor's partner, says he heard a loud noise before Noor fired a single shot into Damond's stomach from the passenger seat of the police cruiser….
Many of the questions surrounding Damond's death look familiar, because they've been asked before in the wake of numerous high-profile shootings, often involving black civilians. But the near-universal demand for answers, driven by a shared sense of outrage and shock across the political divide over Damond's death, is not. Something is different about Damond.
Robert Bennett, the Minneapolis lawyer hired to represent Damond's family, unintentionally touched on the well-known concept of a "perfect" victim in an interview earlier this month, when he referred to Damond in an off-the-cuff remark as "the most innocent victim" of any police shooting he's heard of….
"I don't remember any reporter, any headlines, any news stories announcing or identifying Philando Castile in terms of his marital status the way that they immediately have been identifying Justine Damond by her marital status," Brentin Mock, a writer for CityLab, told WBEZ, a Chicago NPR affiliate.
"It's almost to suggest that, yes, there should be some extra sympathy — some extra empathy — for the killing of this white woman because she was about to get married," he continued. "But there was no such sympathy extended to Mr. Castile, an African-American, despite that he was about to get married."…
Oftentimes after a police shooting, law enforcement, the media and suspicious public opinion work together to shift the liability for police shootings onto the victim ― at least whenever the victim is black. Shooting victim, Tamir Rice's "size made him look much older," evn though he was only 12 years old. Freddie Gray was "intentionally trying to injure himself," even though he was even though he was handcuffed and not seat-belted in the back of a moving police van. Rekia Boyd, 22, made the officer who shot her "feel threatened," even as he was walking away….
It seems many of Damond's family, friends and neighbors have come together with the realization that America needs to make drastic changes to its policing system. But the response from those who have traditionally stood behind the violence of police officers and eagerly demonized their victims suggests this outrage and empathy may continue to be selective to only the "most innocent" or "perfect" victims.
By: Shannon Cofrin Gaggero Huffingtonpost.com
A few months ago, I placed this yellow, intersectional Black Lives Matter sign created by Matice M. Moore. A Black artist and activist located in Arizona, in a front window of our house in Atlanta, Georgia….
I'm a white, cisgender, heterosexual woman with class privilege. My husband is also white, cisgender and heterosexual and our children are white.
After the Charleston massacre, I was propelled into action and for the past two years I've been laser focused on how I can show up as a parent and a person for racial and social justice….
While I'm certainly trying more than ever before, I do not pretend to be a perfect, anti-racist white person by any stretch of the imagination….
We live on a high-traffic street in Atlanta, Georgia, in a predominately white, affluent community. Despite Atlanta's reputation as the liberal oasis of the South, we witness racism often, primarily via our neighborhood listserves. Black men, in particular, but also black women and children are racially profiled, "see something, say something" is pushed as a way of life, and gentrification is celebrated. Our neighborhood is obsessed with crime; many of my neighbors believe we are under attack and unsafe. The data does not support this mindset….
I knew my husband's hesitation to display the Black Lives Matter sign was the same as my own. We were scared. We were scared of a negative reaction from neighbors or random people walking by. We didn't want to risk physical harm to ourselves, our children, or our home. Even though we supported Black Lives Matter in many ways in our lives, our whiteness afforded us the option to keep that support hidden and stay protected when we wanted to be. It was a privilege we weren't quick to give up….
I'm ashamed to admit that I needed a Trump presidency to push me beyond this fear and to be fully out about where I stand….
I decided to again bring up the Black Lives Matter yard sign with my husband after wearing the pin for a couple of weeks. At first, my husband doubled down and stated he still felt uncomfortable displaying a sign….
Since our original conversation about the sign, a post I had written had gone pseudo-viral and I received a lot of online harassment and threats of violence….
My husband remained scared…
I primarily felt sad because our argument was a clear example of how whiteness works.
Being white affords us very real, physical and emotional protections in the communities we spend time in.
We were mitigating our risk at outwardly stating Black Lives Matter. We were admitting we expected backlash from our white neighbors. We were debating remaining hidden as people who strongly believe Black Lives Matter because we were scared. We were not used to taking risks as individuals or as a family. We were not used to being on the receiving end of negative, hateful interactions. This was whiteness….
If we remained silent, we had to consider ourselves active participants to injustice. Putting up a sign was a small action, to be sure, but it mattered….
We had the privilege of a breather.
After the New Year, my husband came around and supported putting up the sign, but asked we display it in our front window due to the fact we live on a busy street and to avoid the sign vandalization our friend had experienced. It was a compromise and that's where the sign currently lives….
For better or for worse, this is our truth…. Moreover, we've come to fully understand that silence is ultimately as harmful as violence….
The first few months of Donald Trump's presidency have done nothing but solidify the reality that we all need to dig deep and take new, bold and continuous actions, big and small, in order to protect the most vulnerable in our communities.
What about you? Are you up for the challenge? What actions will you take?
Read full Article here.
Read more Breaking News here.
A civil rights landmark in Mississippi that commemorates the death of Emmett Till has been vandalized, The Associated Press reported Monday.
The sign, which has been defaced before, was scraped so badly that information and photos about Till's brutal death have been obliterated.
Students from Cultural Leadership, a St. Louis-based nonprofit that teaches young adults how to become civil rights leaders, were present at the site after the sign was vandalized and were disheartened by the destruction.
Dani Gottlieb, a 16-year-old from Cultural Leadership, told HuffPost that she was expecting to see "flowers growing in Emmett Till's honor" at the landmark, "not a torn-down marker."
She and her peers decided as a group to take action. They covered the scraped-off information with hand-drawn pictures of Till, messages of hope and information about his killing.
Read the article in its entirety here.
Read in depth about the struggle for justice and equal rights here.

Read more Breaking News here.
Treva B. Lindsey, Ph.D., theroot.com
Last week, WGN America announced that it had canceled the critically acclaimed and riveting historical drama Underground. Allegedly moving in a more conservative, programming direction, the network is leaving behind a show that introduced millions of viewers to the relatively unknown network….
The push to find a new home for this show is largely due to its dynamism. The show is singular and remarkable in its approach to telling the stories about enslaved and freed black people in the 19th century. From its complex characters, stellar performances, breathtaking soundtrack and rich storytelling, each episode feels like a multitextured journey.
The liberties taken with historical accuracy do not compromise the integrity of truth telling and historical precision as it pertains to slavery and resistance. Pitting the notorious Patty Cannon against the Black Rose and one of the greatest heroines in American history, Harriet Tubman, was an incredible fictionalized remix of true stories of fugitive, formerly enslaved people and the inhumanity of slave catchers and owners. It's hard to imagine Wednesday nights without the resistive spirit and depths of ancestral pain that Underground has provided….
"She's come back to sort of give us the playbook on how to strategize, on how to pray, on how to be guided and how to prioritize what's necessary, and how to eventually take those selfless acts and be willing to die for the causes that are important to moving us forward," she continued.
Worth dying for, yes. Tubman believed that black lives, black bodies and black souls were worth fighting for—worth dying for and worth living for. "The General's" actual practice was #BlackLivesMatter, generations before the radical black women at the core of this movement would proclaim the same.
Underground is clear in its purpose: to expose the reality that when it comes to white supremacy—and the ways in which black people have always resisted oppression—past is often prologue. In many ways, Underground reminds us that the past is not even past. It encourages us to fight unrelentingly for radical black futures….
#SaveUnderground matters because the show's cast and crew were and are unapologetically committed to telling our stories. From an artistic standpoint, Underground is phenomenal. The show's commitment to a radical, black, freedom-fighting imagination, though, is what makes it invaluable.
Underground is the show, the freedom-dreaming experience, the ancestral battle cry, that we didn't know we needed.
Read the full article here.
Read more Breaking News here.