Sway Calloway knows firsthand the life lessons kids receive while learning to play instruments.
Mastering the song flute, clarinet and alto saxophone fostered a love for music that he eventually turned into a career as one of the most well-known hip-hop journalists today.
"What I learned from music is a lot about melody and that's how I communicate," the Oakland native told HuffPost, citing his interview strategy. "I learned a lot about rhythm and as I got older, I learned how to make that translate into social skills, how to communicate with people, how to talk to folks, when you talk to folks, when you jump out, when you interject."
He may not professionally play an instrument today, but music education opened up doors for Calloway ― whose family was on public assistance when he was younger ― that he may not have found otherwise. Music programs in schools have been proven to keep students engaged in the classroom; improve early cognitive development, math and reading skills; develop critical thinking skills; and foster confidence among students, according to the National Association of Music Merchants.
But despite the lasting impact music education has on students, many children in low-income communities still don't have access to it. That's why Calloway and the board members and team behind VH1 Save The Music Foundation have been working to bring music programs to underserved schools.
Since the nonprofit was founded in 1997, VH1 Save The Music Foundation has allotted grants to more than 2,000 public schools in 42 states, Washington, D.C., and Puerto Rico. These grants have benefited more than 2 million kids. Recently, students in Newark, New Jersey, and Berkeley and Jefferson Counties in West Virginia received $45,000 worth of musical equipment from the program.
Chiho Feindler, senior director of programs and policy, said the foundation has not only benefitted students and their communities by bringing marching bands and orchestras to their cities, but also by improving graduation rates and reducing absenteeism.
″[Rewards vary from] a student telling us that in his home life, it's just such a chaos that being able to play flute on his stoop for his young siblings just brings a peace into his home to better graduation rates to the student who's now interning to go to college studying music education," Feindler said. "Stuff like that and just … giving them the reasons to thrive."
Learn more about VH1 Save The Music Foundation by visiting its website.
Read the full article here.
Read more Breaking News here.
The black protester who was caught on viral video hugging a squirming and uncomfortable neo-Nazi outside white supremacist dump truck Richard Spencer's speech at the University of Florida in Gainesville on Thursday is acknowledging that he could just as easily have hit the guy (an act in which someone else had earlier indulged) but decided to go a different route in order to bring about change in his own way.
"I could have hit him, I could have hurt him … but something in me said, 'You know what? He just needs love,'" Aaron Alex Courtney told the New York Daily News. "It's a step in the right direction. One hug can really change the world. It's really that simple."
The unidentified neo-Nazi was seen at Spencer's speech location wearing a T-shirt covered in swastikas. His not-so-subtle outfit obviously drew the attention of the crowd, which included protesters who screamed, punched and spat on him before Courtney wrapped his arms around him.
"Why don't you like me, dog?" the 31-year-old high school football coach out of Gainesville could be heard asking the man. "Give me a fucking hug."
Courtney could be seen attempting to get the man to hug him back, but the man just stood there, limp and uncomfortable, as Courtney embraced him.
Surprised to learn that Spencer was a person and not an impending hurricane, or that the notification wasn't about a kidnapping or something of the sort, Courtney started to do research.
"I found out about what kind of person he was, and that encouraged me, as an African American, to come out and protest. Because this is what we're trying to avoid. It's people like him who are increasing the distance … between people," Courtney told the Daily News.
Courtney gave about four hours of his time Thursday protesting and was getting ready to leave when he saw Mr. Nazi himself causing a commotion among the other protesters.
"I had the opportunity to talk to someone who hates my guts, and I wanted to know why. During our conversation, I asked him, 'Why do you hate me? What is it about me? Is it my skin color? My history? My dreadlocks?" Courtney recalled.
"After beating around the bush and avoiding my questions, I asked him, I pleaded with him, I almost broke out in tears, growing increasingly angry because I didn't understand," he said.
However, Courtney, whose father is a bishop, decided to take some of his father's teachings and offer the man a hug.
"Something in me said, 'You know what? He just needs love. Maybe he never met an African American like this," Courtney said.
It took some cajoling, but, Courtney said, "I reached over, and the third time, he wrapped his arms around me, and I heard God whisper in my ear, 'You changed his life.'"
Courtney then said he asked again, "Why do you hate me?"
The neo-Nazi's response, according to Courtney? "'I don't know.'"
"I believe that was his sincere answer. He really doesn't know," Courtney added.
The man was eventually escorted away by police, but not before taking a photo with Courtney's friend.
"I honestly feel that was a step in the right direction, for him to take a picture with a guy that he hated when he woke up this morning," Courtney said.
Read the full article here.
Read more about racial reconciliation here.
Read more Breaking News here.
This week five African-American students at Air Force Academy Prep School in Colorado found the words "Niggers Go Home" scrawled on the dry erase boards outside their dorm rooms.
Once the school became aware of the racial graffiti the school superintendent Lt. General Jay Silveria rattled off a statement to the press.
"I've said it before, the area of dignity and respect is my red line,"
"Let me be clear: it won't be crossed without significant repercussions. Diversity is a strength of our Academy and our Air Force. We are stronger when we take into account the views of those with different backgrounds and life experiences."
The students are all part of a 10 month program to help them acclimate to life at the Air Force Academy, so in a twisted sort of way this is part of their training. While their parents have expressed concern and an investigation has been launched none of that will change one basic fact: The United States military has a long, sordid, racist and violent history when it comes to the treatment of black soldiers. While this may be the first, it certainly won't be the last or the worst racial treatment these young people will receive should they choose to serve in the United States military.
Conservatives of all colors like to point to the military as one of the most integrated and racially harmonious parts of American society, which is fine if you're talking about Salvation Army or GI-Joe. The actual military? Not so much. Black soldiers, whether in training or veterans have been routinely targeted through American history for a special kind of violence as white supremacy quivers at the notion of black people being armed, trained and capable of arming themselves.
That's why black veterans were consistently denied the GI-Bill that built the American middle class. That's why lynching of black soldiers has been so common throughout U.S. history. That's why Richard Collins III, a recently commissioned officer two weeks from graduating college this spring was murdered by a white nationalist while the president barely said a peep.
That's why despite African American women making up over 40% of all women in the armed forces it wasn't until 2014 that President Obama was able to change racially biased hair standards for active duty women of color.
That's why a group of West Point cadets showing racial and American pride caused a firestorm last year.
These are just examples of how the American military to this day treats people of color, it continues to do a number on white Americans as well.
The issue isn't simply that a bunch of bigots wrote threatening words on the dorms of five cadets, that's almost to be expected. The issue is that the military despite the rhetoric has not adequately rooted out racist sentiments in the ranks yet still expects (and in fact depends) on large numbers of African Americans to join up and serve, even if that means facing an enemy on the field or in your barracks.
Read the full article here.
Read about how to help positively impact racial reconciliation here.
Read more Breaking News here.
Everybody is all about freedom of speech and expression until a black person (hey, Colin Kaepernick; hey, Jemele Hill) decides to exercise his or her right to do so. And in this particular case, a black sixth-grader out of Michigan says he was assaulted by his homeroom teacher all because he was exercising his rights and declined to stand for the Pledge of Allegiance.
Stone Chaney, who attends East Middle School in Farmington Hills, Mich.,told ClickOnDetroit that his teacher "violently" dragged him out of his chair and attempted to force him to stand for the pledge, leaving the young man confused and unwilling to return to that school.
"The teacher consultant comes up behind me and snatches me out of my chair violently," Stone told the news site. "I was so confused. I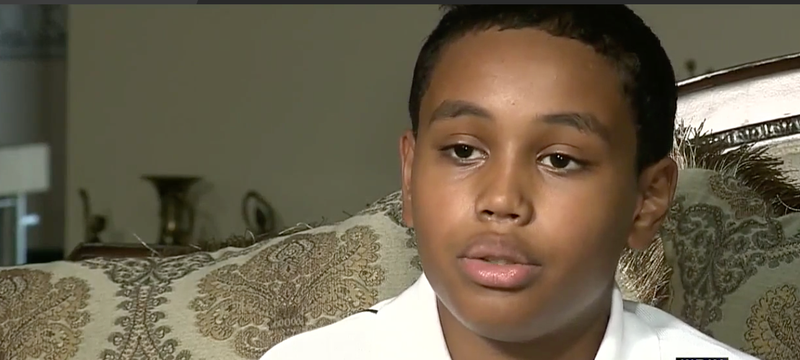 didn't know what was going on."
Note that Stone referred to the individual in question as the "teacher consultant." That means that the person who allegedly thought it was all right to snatch a child out of his seat trains other teachers. One would wonder what kind of training those other teachers are receiving.
"It's his choice to sit," Brian Chaney said. "I don't make him sit. And they should respect that."
The superintendent of Farmington Public Schools released a statement detailing that the district does support the right of students to opt out of the pledge, announcing that it was conducting an investigation and that the teacher involved has been placed on administrative leave pending the outcome.
Read the full article here.
Read about the history of black social movement and protest here.
Read more Breaking News here.
Philando Castile was known as a caring man at the St. Paul, Minn., school where he worked as a cafeteria supervisor. He cared so much for the children he served that he often paid for their lunches out of his own pocket when they were unable to, and now, thanks to a local college professor, that generosity will continue through a fund that has been created in Castile's name.
"No child goes hungry so we ensure that every student has breakfast and also lunch whether they can pay or not," Stacy Koppen, Nutritional Services Director for St. Paul Public Schools (SPPS), told WCCO. "Lunches just for one elementary student are about $400 a year."
Before Castile was killed last summer by former St. Anthony police officer Jeronimo Yanez during a traffic stop, he was always ready to help the students who were in need, Koppen told WCCO.
"When a student couldn't pay for their lunch, a lot of times (Castile) actually paid for their lunch out of his own pocket," Koppen said.
Inver Hills Community College professor Pam Fergus wants Castile's generosity and caring for the students to continue.
She told WCCO, "His death changed who I am."
Fergus normally assigns a service project to the students in her Diversity and Ethics class, but this time she came up with one of her own: Philando Feeds The Children.
The money raised through the YouCaring.com fundraiser will be used to help clear lunch debts at J.J. Hill.
As of Thursday night, more than $7,000 had been raised, and Castile's mother, Valerie, told WCCO and Fergus that she plans to match the full amount raised with her own donation.
Read the full article here.
Read about the importance of reconciliation here.
Read more Breaking News here.
Will Packer, the man behind the hit comedy "Girls Trip," is bringing a new show to Amazon that might give HBO a run for its money.
According to the Hollywood Reporter, Packer is teaming up "Boondocks" creator Aaron McGruder on "Black America," a drama set in an alternate history in which freed African American slaves have been given control of Louisiana, Mississippi, and Alabama as reparations following the Civil War.
Set in the present-day, the show will imagine a sovereign African-American nation called "New Colonia," rapidly emerging as one of the leading industrialized nations in the world.
The announcement of "Black America" comes just days after HBO sparked controversy with the announcement of its own alternate history drama, "Confederate," from the creators of "Game of Thrones," which is set in an alternate reality in which the South had won the Civil War and slavery remains in present day.
Read the full article and reactions to the show's announcement here.
Read about the importance of Black-owned, Black-run media here.
Read more Breaking News here.
An off-duty police officer who was just trying to help his colleagues after a car chase ended in a shootout near his home, ended up being shot by a fellow cop who did not recognize that they were on the same team.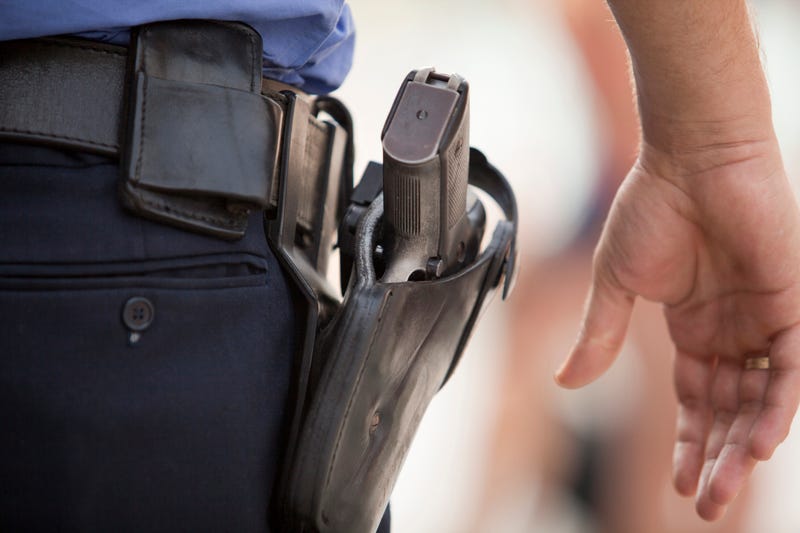 According to the report, two officers initially encountered the armed, off-duty officer and ordered him to the ground. The off-duty officer complied, but the other officers soon recognized him as one of their own and told him that he could stand up. Just then, however, another officer arrived on the scene, and saw the off-duty officer getting up and, not recognizing the man as an officer, fired his weapon, striking the off-duty officer in the arm.
The New York Daily News identifies the off-duty officer as black and the shooting officer as white.
The injured off-duty officer was treated at a hospital and released Thursday.
The 38-year-old officer who was injured has been with the St. Louis department for 11 years. The officer who shot him is 36, and had been with the department for just eight years. In total, seven officers who were involved with the incident were placed on administrative leave and the department's Force Investigative Unit is looking into the incident.
Read more on the incident here.
Read more Breaking News here.

Read about the history of race in America here.
From: Huffington Post Black Voices
Written By: Carla Herreria
Herreria writes:
"'Get Out,' a psychological thriller about racism written and directed by Peele, earned a coveted 100-percent score on the film review aggregation website Rotten Tomatoes."
In a recent post, "Horror Film About Racism Earns Coveted 100 Percent On Rotten Tomatoes," Carla Herreria expresses critics' reviews in a newly released horror film titled Get Out that frames racism as the central plot.  
The author also quotes Jordan Peele:
"It just seemed to be a very taboo piece of the discussion to talk about something so horrific as racism in any type of genre other than a film about slavery or something."
Finally, she quotes Variety critic Peter Debruge's review:
"[The film] delivers 'a gloriously twisted thriller that simultaneously has so much to say about the state of affairs in post-Obama America.'"
Read the full article here.
Read more Breaking News here.
Chance The Rapper received the Grammy for Best Rap Performance with the track "No Problem." The win marks the 23-year-old Chicago native's first Grammy award win in his young, prominent career, in only his first year of Grammy eligibility.

As Lilly Workneh writes in her article, Chance used his second win of the night to give an impassioned speech:
"'Glory be to God. I claim this victory in the name of the Lord,' he said onstage accepting the award for Best New Artist. The rapper also acknowledged what the accomplishment means to him as an independent artist. 'I know that people think independence means you do it by yourself but independence means freedom. I do it with these folks right here' he said."
Chance went on to win three Grammys over the course of the night. Read more about Chance's historic evening in the full article here.
Read about hip-hop as a gateway to black poetry here.
Read more Breaking News here.
From: The Root (February 6, 2017)
Written By: Kirsten West Savali
In a recent post, "Attending College Doesn't Close Wage Gap and Other Myths Exposed in New Report," Kirsten West Savali exposes the sad truths from a study published titled, "Asset Value of Whiteness" that unravels the relationship between race, class, and education.
She writes:

"Demos and the Institute on Assets and Social Policy take a deep dive into the intrinsic link between racism and capitalism; specifically, how whiteness infests the so-called American dream and renders it inaccessible to anyone who doesn't meet the pre-selected criteria."
Savali quotes Amy Traub, who is the co-author of the report:
"For centuries, white households enjoyed wealth-building opportunities that were systematically denied to people of color. Today our policies continue to impede efforts by African-American and Latino households to obtain equal access to economic security."
Read the full article here.
While more covert, this sort of "asset value" mirrors the Jim Crow Laws. For an historical, yet contemporary look at discrimination, visit here.
Read more Breaking News here