Sway Calloway knows firsthand the life lessons kids receive while learning to play instruments.
Mastering the song flute, clarinet and alto saxophone fostered a love for music that he eventually turned into a career as one of the most well-known hip-hop journalists today.
"What I learned from music is a lot about melody and that's how I communicate," the Oakland native told HuffPost, citing his interview strategy. "I learned a lot about rhythm and as I got older, I learned how to make that translate into social skills, how to communicate with people, how to talk to folks, when you talk to folks, when you jump out, when you interject."
He may not professionally play an instrument today, but music education opened up doors for Calloway ― whose family was on public assistance when he was younger ― that he may not have found otherwise. Music programs in schools have been proven to keep students engaged in the classroom; improve early cognitive development, math and reading skills; develop critical thinking skills; and foster confidence among students, according to the National Association of Music Merchants.
But despite the lasting impact music education has on students, many children in low-income communities still don't have access to it. That's why Calloway and the board members and team behind VH1 Save The Music Foundation have been working to bring music programs to underserved schools.
Since the nonprofit was founded in 1997, VH1 Save The Music Foundation has allotted grants to more than 2,000 public schools in 42 states, Washington, D.C., and Puerto Rico. These grants have benefited more than 2 million kids. Recently, students in Newark, New Jersey, and Berkeley and Jefferson Counties in West Virginia received $45,000 worth of musical equipment from the program.
Chiho Feindler, senior director of programs and policy, said the foundation has not only benefitted students and their communities by bringing marching bands and orchestras to their cities, but also by improving graduation rates and reducing absenteeism.
″[Rewards vary from] a student telling us that in his home life, it's just such a chaos that being able to play flute on his stoop for his young siblings just brings a peace into his home to better graduation rates to the student who's now interning to go to college studying music education," Feindler said. "Stuff like that and just … giving them the reasons to thrive."
Learn more about VH1 Save The Music Foundation by visiting its website.
Read the full article here.
Read more Breaking News here.
By Michael Casey, The Grio/Associated Press
CLAREMONT, N.H. (AP) — In this struggling mill town in western New Hampshire, racism was never something people talked all that much about.
There were people who drove around Claremont with Confederate flag bumper stickers in the mostly white town of 14,000 and some instances of high schoolers using racial epithets during football games and on Facebook.
But for the most part, residents had other concerns.
That changed Aug. 28 after allegations surfaced that several teenagers had taunted a 9-year-old biracial boy with racial slurs and several days later pushed him off a picnic table with a rope tied around his neck. The family of the boy, who was treated for neck injuries and has been released, called it a hate crime while the parents of one of the teenagers told Newsweek it was a terrible accident.
The images of the boy's rope-singed neck were shared widely on social media, prompting an outpouring of support for the family and outrage against the teens. With prosecutors continuing to investigate the case as a potential hate crime, the city known for historic textile and paper mill buildings found itself associated with words like lynching and intolerance.
"Certainly people were shocked by the young age of everyone involved, especially the victim," said Allen Damren, the town's assistant mayor who also grew up in Claremont. "That certainly has an impact on people. When you use the word 'lynching,' that has all sorts of bad connotations to it."
"It happened in our hometown. People responded to that," he added.
The case has compelled city leaders to confront an issue that many had associated with bigger cities far away. Most insist Claremont isn't a racist place but say the town must consider how its white majority treats those who don't look like them. The families of the accused teens declined comment.
"This is an opportunity to take a very unfortunate event involving children and have some public discussions about how we treat each other," said Middleton McGoodwin, the superintendent of the school district that includes Claremont. "Just because you may have a different color skin or different color hair or wear certain clothing, that doesn't give me license to make you feel uncomfortable or make fun of you."
City and school officials have since met to discuss new strategies to counter racism, and McGoodwin said the district is developing a plan for elementary through high school that examines school culture, including how students treat each other and how staff respond to issues like bullying. Residents are planning to be outside the high school and middle school this week, holding signs calling for an end to violence and bullying.
"We are not going to say this was an event that took place in late August, wasn't in school and wasn't about us," McGoodwin said. "It definitely is about us."
Lorrie Slattery, the grandmother of the boy who was nearly hung who had lived in town for 14 years, attended a town discussion group at a nearby church. Slattery, who is white, grew emotional as she recounted how her family had never before felt racism in Claremont and how she would remain the city. The boy's mother declined to be interviewed.
"From the bottom of my heart, it doesn't change my views of Claremont," she said. "This is everywhere. We're not immune to anything. Things happen. This is something, as horrific as it was, that could be something positive for the future of the kids in this community. I think it's going to bring us to better places."
For the full article, read here.
For more Breaking News, read here.
For more information about the history of lynchings, please explore the ABHM galleries.
Everybody is all about freedom of speech and expression until a black person (hey, Colin Kaepernick; hey, Jemele Hill) decides to exercise his or her right to do so. And in this particular case, a black sixth-grader out of Michigan says he was assaulted by his homeroom teacher all because he was exercising his rights and declined to stand for the Pledge of Allegiance.
Stone Chaney, who attends East Middle School in Farmington Hills, Mich.,told ClickOnDetroit that his teacher "violently" dragged him out of his chair and attempted to force him to stand for the pledge, leaving the young man confused and unwilling to return to that school.
"The teacher consultant comes up behind me and snatches me out of my chair violently," Stone told the news site. "I was so confused. I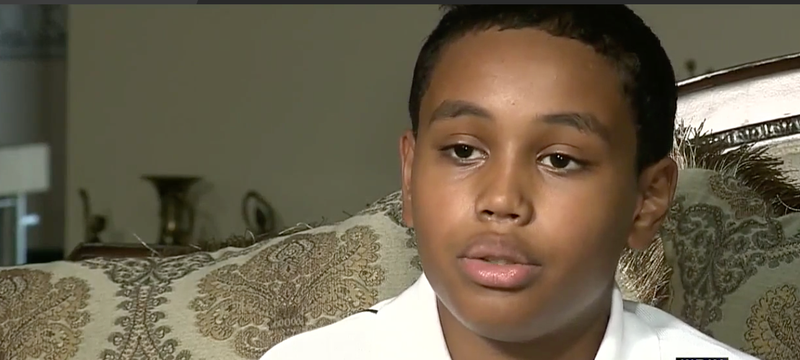 didn't know what was going on."
Note that Stone referred to the individual in question as the "teacher consultant." That means that the person who allegedly thought it was all right to snatch a child out of his seat trains other teachers. One would wonder what kind of training those other teachers are receiving.
"It's his choice to sit," Brian Chaney said. "I don't make him sit. And they should respect that."
The superintendent of Farmington Public Schools released a statement detailing that the district does support the right of students to opt out of the pledge, announcing that it was conducting an investigation and that the teacher involved has been placed on administrative leave pending the outcome.
Read the full article here.
Read about the history of black social movement and protest here.
Read more Breaking News here.
A civil rights landmark in Mississippi that commemorates the death of Emmett Till has been vandalized, The Associated Press reported Monday.
The sign, which has been defaced before, was scraped so badly that information and photos about Till's brutal death have been obliterated.
Students from Cultural Leadership, a St. Louis-based nonprofit that teaches young adults how to become civil rights leaders, were present at the site after the sign was vandalized and were disheartened by the destruction.
Dani Gottlieb, a 16-year-old from Cultural Leadership, told HuffPost that she was expecting to see "flowers growing in Emmett Till's honor" at the landmark, "not a torn-down marker."
She and her peers decided as a group to take action. They covered the scraped-off information with hand-drawn pictures of Till, messages of hope and information about his killing.
Read the article in its entirety here.
Read in depth about the struggle for justice and equal rights here.

Read more Breaking News here.
By Taryn Finley
Huffington Post Black Voices
Black students at Harvard University are getting their kente cloth stoles ready for a special graduation ceremony: an all-black commencement.
Two days before the general university graduation, black students will celebrate the obstacles they've overcome and the accomplishments they've made despite racial issues they face at their Ivy League. More than 170 students and 530 guests have confirmed their attendance to the May 23 celebration, according to The Boston Globe.
Though black students have held separate graduations at predominantly white institutions before, Black Commencement 2017 will be Harvard's first university-wide graduation ceremony honoring students of the African diaspora. Student organizers raised more than $27,000 to pay for the ceremony and reception. Though this year's celebration includes mostly graduate students, organizers hope to expand the event to include undergraduates next year.
At a time when students are pressuring Harvard to reckon with its role in slavery and address current racial issues on campus, they see a separate ceremony as a way to reaffirm and uplift their community.
Read the entire article here
Read more Breaking News here
On Thursday a lawyer for the 16-year-old South Carolina teen who was assaulted by a Spring Valley High School resource officer spoke with radio host Joe Madison.
On Thursday a lawyer for the South Carolina teen who was violently assaulted by a school resource officer appeared on activist Joe Madison's radio show on Sirius to clarify remarks posted about the teen and the incident.
On Monday, video of the incident between Spring Valley High School resource officer Ben Fields and the teen went viral. The footage showed the officer slamming the teen out of her seat and then tossing her across the room. Since the release of the footage, Fields has been fired from the Richland County Sheriff's Department, and the FBI and U.S. Justice Department are investigating the incident to determine whether the former senior deputy will face charges.
In a New York Daily News article posted Wednesday, attorney Todd Rutherford was quoted as saying that the 16-year-old girl was an orphan who recently lost her mother and grandmother. In the interview with Madison, Rutherford stated that the girl's biological mother and grandmother were alive.
The Daily News corrected the story but noted that the child is in foster care. The lawyer for the girl, however, refused to state whether this is true. When asked directly whether the girl is in foster care, the lawyer replied, "I can tell you that her mother and her grandmother are not dead and that I met with her at 5:30 in the morning with the mother and the child."
Rutherford noted that several people have attempted to create fake crowdfunding pages, making it difficult for the family to set up an actual page to help cover legal costs. "We are trying to set up a GoFundMe page; it's difficult because I think so many people are fraudulently trying to set them up, so GoFundMe has stopped it," he said. "We are working with them trying to do that, and we should have that up and running today"…
Read the full article here.
Read more Breaking News here.
By Rhonesha Byng, HuffingtonPost.com
In an emotional video released earlier this week, students at the UCLA School of Law gathered to share their stories of being among the few black students on campus as part of an awareness campaign simply titled "33."
According to the video, out of roughly 1,100 students, 33 of them are black, that's three percent of the school's student population. Official statistics reveal there are a total of 994 students enrolled getting their Juris Doctor, however, an official from the school says the video's 1,100 figure likely includes students receiving their LL.M. (Master of Laws). (. . .)
The students expanded upon their feelings of isolation, and feeling like they have to represent their entire community.
"It's a constant burden of pressure. I'm constantly policing myself, just being aware of what I say and how it can be interpreted because I essentially am the representation of the black community."
One woman felt she had been automatically characterized as an "angry black woman" after she disagreed with the views of a particular professor and openly vocalized her thoughts.
"The fact that I was a black woman played a lot into why people stopped listening to me. I felt like if there were maybe more black women in the class, maybe just five of us, people could have seen more of a variation in our responses to what was going on in class and what I felt like was sexism in the classroom." (. . .)
Read the full article.
Read more breaking news.
By: Lynette Holloway of theroot.com
On Tuesday the U.S. Department of Education released the Civil Rights Data Collection sample, which found that public school educators unfairly punish minority students. The Associated Press had previously reported on a preliminary release of the report.
The survey of 7,000 school districts and 72,000 schools was conducted during the 2009-2010 school year. It also found that African-American children were less likely to be exposed to high-level curriculums and experienced teachers.
 African-American children represent 18 percent of the sample in the study, they represent 35 percent of the number of students suspended once, 46 percent of those suspended more than once and 39 percent of all students expelled, the report shows.
Findings also show that more than 70 percent of students involved in school-related arrests or referred to law enforcement were Latino or African American.
Read more of the story here.