L'Oréal Paris has fired its first transgender model to join the brand just days after announcing the partnership.
L'Oréal released a statement on Twitter Friday morning saying the company "champions diversity" but decided to cut ties with Monroe Bergdorf, saying her comments calling out white America's racism in a recent Facebook post are "at odds" with their values.
Bergdorf received big buzz earlier this week after L'Oreal announced her inclusion in a YouTube video ad for L'Oréal Paris True Match Foundation. But Bergdorf's excitement was short-lived.
By Friday, the company had disavowed comments the model previously made on social media, which surfaced in a report the Daily Mail published on Thursday.
The damning piece blasted Bergdorf over her comments, claiming she wrote that "all white people are racist." Spectators highlighted how her words had been misrepresented and taken out of context, with some even suggesting that the story was a deliberate attempt to downplay Bergdorf entirely.
Bergdorf's comments, which call out systemic racism in America and how white people benefit from special privileges, have since been deleted from her Facebook page but have been published elsewhere in full.
"Honestly I don't have energy to talk about the racial violence of white people any more. Yes ALL white people," Bergdorf reportedly wrote, going on to address the privileges afforded to them. "Because most of ya'll don't even realise or refuse to acknowledge that your existence, privilege and success as a race is built on the backs, blood and death of people of colour. Your entire existence is drenched in racism. From micro-aggressions to terrorism, you guys built the blueprint for this s***."
"Come see me when you realize that racism isn't learned, it's inherited and consciously or unconsciously passed down through privilege," she added."Once white people begin to admit that their race is the most violent and oppressive force of nature on Earth… then we can talk."
On Friday morning in the U.K., many expressed outrage with L'Oréal's decision to denounce Bergdorf's message, saying it highlights the hypocrisy of the company claiming to be "champions of diversity" while only embracing inclusion for goals driven by profit and actively condemning Bergdorf, a black trans woman, for speaking out about racism ― an issue that impacts people of color most.
"If you truly want equality and diversity, you need to actively work to dismantle the source of what created this discrimination and division in the first place," she wrote. "You cannot just simply cash in because you've realised there's a hole in the market and that there is money to be made from people of colour who have darker skin tones."
Read the full article here.
Read about the history of race here.
Read more Breaking News here.
When Patricia Stephens led a group of black college students to sit and order foot at a "white only" Woolworth's lunch counter in Tallahassee, Florida in 1960, they were told, "The South is not ready for that."
When Fannie Lou Hamer led a group of black neighbors to the courthouse in Indianola, Mississippi in 1963 to register to vote, they were told, "Mississippi is not ready for that."
When fast-food workers led primarily by black women walked off their jobs in 2012 to strike for $15 minimum wage and a union, they were told, "America is not ready for that."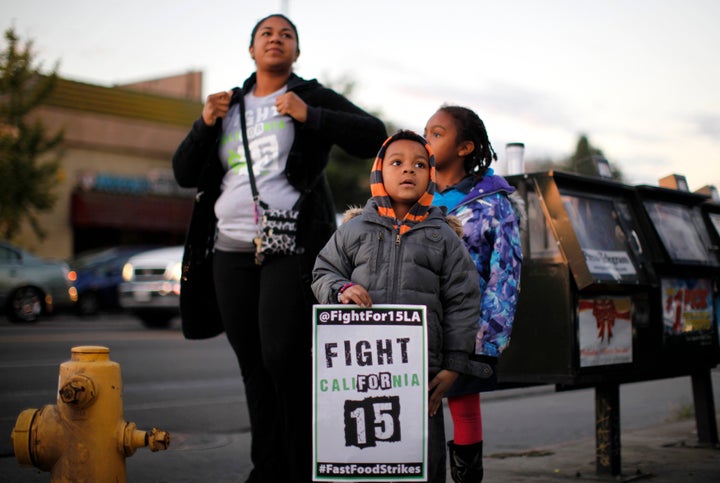 Time and again, women of color have changed the world through their resilience and fortitude to never settle for less than first-class citizenship, even if the forces against them said it's not yet time for progress.
The time has come for a minimum wage that meets the basic needs of workers in the 21st century. Raising the minimum wage would boost pay in low-wage jobs where millions of men and women now spend their careers. Low-wage occupations in food service, home health care, retail, and customer service are projected to see the most job growth over the next decade.
The typical worker struggling on less than $15 an hour is a woman over 30 who works full-time but still cannot make ends meet. While only one-third of white workers earn less than $15 an hour, most women of color do.
A $15 minimum wage (or $31,200) a year for full time) could go far in helping women and people of color make ends meet, closing persistent gender- and race-based pay and wealth gaps, and improving educational and health outcomes for children. All labor has dignity, but when workers bring home paychecks that don't pay for basic necessities, it's hard to find the dignity in being working poor.
Read the full article here.
Read more on the history of the struggle for justice here
Read more Breaking News here.
Will Packer, the man behind the hit comedy "Girls Trip," is bringing a new show to Amazon that might give HBO a run for its money.
According to the Hollywood Reporter, Packer is teaming up "Boondocks" creator Aaron McGruder on "Black America," a drama set in an alternate history in which freed African American slaves have been given control of Louisiana, Mississippi, and Alabama as reparations following the Civil War.
Set in the present-day, the show will imagine a sovereign African-American nation called "New Colonia," rapidly emerging as one of the leading industrialized nations in the world.
The announcement of "Black America" comes just days after HBO sparked controversy with the announcement of its own alternate history drama, "Confederate," from the creators of "Game of Thrones," which is set in an alternate reality in which the South had won the Civil War and slavery remains in present day.
Read the full article and reactions to the show's announcement here.
Read about the importance of Black-owned, Black-run media here.
Read more Breaking News here.
By: Taryn Finley
Taryn Finley reports in a recent article published in Huff Post Black Voices that "U.S. Secretary of Education Betsy DeVos is set to deliver the commencement speech at Bethune-Cookman University in Daytona Beach, Florida, the school announced on Monday."
Finley quotes Preident Edison O. Jackson's statement in a press release:
"The legacy of Dr. Bethune is that she was not constrained by political ideology, but worked across all parties to support B-CU."
Finley also shares BCU graduate Domininik Whitehead's Change.org petition to prevent DeVos from speaking at the ceremony that is to be held May 10th:
"Having DeVos speak at the commencement ceremony is an insult to the BCU graduating class, students, alumni, family, friends, and Dr. Mary McLeod Bethune's legacy. We, the proud alumni of Bethune-Cookman University, do not want Betsy DeVos to have a seat at our table. Please rescind her invitation to speak at the graduation ceremony."
According to Finley, the petition has more than 4,500 signatures as of Tuesday morning, more than five-hundred short of the goal.
Read the full article here
Read more Breaking News Articles here