If you took a look at the writers' room of some of your favorite television shows, you'd be hard-pressed to find a black person, and even harder pressed to find a black woman. But for the last decade, Angela Nissel has been leaving her mark behind the scenes on shows like Scrubs, The Boondocks and, now, The Jellies—Tyler, the Creator's Adult Swim show, which premieres Oct. 22.
Before Nissel's foray into scripted television, she was best-known as one of the creators of Okayplayer and for her two sidesplitting memoirs that captured the essence of her formative years, and of being broke and biracial. Both The Broke Diaries: The Completely True and Hilarious Misadventures of a Good Girl Gone Broke and Mixed: My Life in Black and Whitewere heralded by critics, as well as the likes of Oprah Winfrey and Halle Berry, and Nissel became the "it" woman of literature in the early 2000s.
It was those books that set the University of Pennsylvania grad (she graduated with a degree in medical anthropology) on her way to a career in TV. But, of course, Nissel's ascent into television writing wasn't easy, especially as a black woman. After being in the game for 15 years, she is still fighting her way into writers' rooms, and she made it into The Jellies'room even though she thought she hadn't landed the gig.
"Me being old enough to be Tyler's aunt, I said, 'I've heard of him,' but I don't really know him. And then I researched him. I was nervous in the meeting, but when Tyler came in, he just wanted to get to know about me. Ten minutes later, the meeting was over. I called my agent and was like, 'I'm pretty sure I didn't get that job; they thought I was a total nerd,'" Nissel says.
As luck talent would have it, Nissel landed the consulting-producer-and-writing gig on the series, and so her work began. And, yes, she was once again the only black woman in the writers' room. As Nissel segues back into animation (after lending her talents to The Boondocks), she notes that writing live action and books is totally different from writing for animation, especially when it comes to the fans.
The Jellies follows in the footsteps of cartoons like The Boondocks in that it is created by young black men. But as Nissel lends her comedy and writing expertise to yet another animated series, the question remains: Why is there still a lack of black people, particularly women, in Hollywood when it comes to writing? Veterans in the game, like Nissel, have paved the way for the Issa Raes out there, but it's still a drop in the bucket.
"I'm usually the only black woman in the writers' room. I remember I pitched a really shitty joke one time, but Tyler said, 'No, maybe women will understand the joke.' He was so good about listening to my point of view, where sometimes, in other writers' rooms, I would get shut down," Nissel says. "When you're immediately shut down, you don't feel like you ever have the space to speak up again. But he always gave me that space to feel free to speak my mind."
It's that aspect of being shut down that many writers have to deal with when they're in the minority. Earlier this year, Tyler quickly had to shut down a question from a fan during Comic-Con, when he decided to change Cornell, the main character in The Jellies, from a white teen to a black teen.
"How many f—— black cartoon characters is it on TV right now?" Tyler responded. "Name five. I'll give you time."
Nissel shares similar sentiments about Cornell's newfound blackness.
"If you don't like Cornell being black, color him another color in your head. What is wrong with people wanting to see the representation of themselves on-screen?" Nissel asks. "That's why I think their generation will do better, and hopefully build on what my old-ass generation wasn't able to do. Tyler is an outsider coming into this industry and wants Cornell to look like him. I don't understand how anyone can be upset with that."
With the success of this summer's blockbuster hit Girls Trip, the spotlight is now shining on funny black women in front of and behind the camera. And Nissel has some savory advice for the bigwigs in Hollywood.
"I wish more people realize that having one voice in the room sometimes isn't enough because you're only going to get one point of view. At the end of the day, I just wish people would go outside of the neighborhoods and make friends with people who aren't exactly like them, so they can bring that to the room if they don't have the budget to hire 25 women," Nissel says.
"I really want to create shows that show that women over the age of 40 still have lives, and they can be messy," she adds. "To talk about the imbalance of women and men, like my own personal story of paying alimony. I want to tell the richness of women of color over 40 because sometimes I look on TV and we're all dead, except for Oprah."
The Jellies premieres on Adult Swim at 12:15 a.m. Sunday, Oct. 22.
Read the full article here.
Read more about the importance of black-owned media here.
Read more Breaking News here.
This week five African-American students at Air Force Academy Prep School in Colorado found the words "Niggers Go Home" scrawled on the dry erase boards outside their dorm rooms.
Once the school became aware of the racial graffiti the school superintendent Lt. General Jay Silveria rattled off a statement to the press.
"I've said it before, the area of dignity and respect is my red line,"
"Let me be clear: it won't be crossed without significant repercussions. Diversity is a strength of our Academy and our Air Force. We are stronger when we take into account the views of those with different backgrounds and life experiences."
The students are all part of a 10 month program to help them acclimate to life at the Air Force Academy, so in a twisted sort of way this is part of their training. While their parents have expressed concern and an investigation has been launched none of that will change one basic fact: The United States military has a long, sordid, racist and violent history when it comes to the treatment of black soldiers. While this may be the first, it certainly won't be the last or the worst racial treatment these young people will receive should they choose to serve in the United States military.
Conservatives of all colors like to point to the military as one of the most integrated and racially harmonious parts of American society, which is fine if you're talking about Salvation Army or GI-Joe. The actual military? Not so much. Black soldiers, whether in training or veterans have been routinely targeted through American history for a special kind of violence as white supremacy quivers at the notion of black people being armed, trained and capable of arming themselves.
That's why black veterans were consistently denied the GI-Bill that built the American middle class. That's why lynching of black soldiers has been so common throughout U.S. history. That's why Richard Collins III, a recently commissioned officer two weeks from graduating college this spring was murdered by a white nationalist while the president barely said a peep.
That's why despite African American women making up over 40% of all women in the armed forces it wasn't until 2014 that President Obama was able to change racially biased hair standards for active duty women of color.
That's why a group of West Point cadets showing racial and American pride caused a firestorm last year.
These are just examples of how the American military to this day treats people of color, it continues to do a number on white Americans as well.
The issue isn't simply that a bunch of bigots wrote threatening words on the dorms of five cadets, that's almost to be expected. The issue is that the military despite the rhetoric has not adequately rooted out racist sentiments in the ranks yet still expects (and in fact depends) on large numbers of African Americans to join up and serve, even if that means facing an enemy on the field or in your barracks.
Read the full article here.
Read about how to help positively impact racial reconciliation here.
Read more Breaking News here.
Jemele Hill said what she said.
In a series of tweets stemming from an odd conversation about Kid Rock, the co-host of ESPN's "SC6" called President Donald Trump a "white supremacist who has largely surrounded himself w/ other white supremacists."
"Trump is the most ignorant, offensive president of my lifetime," she wrote. "His rise is the direct result of white supremacy. Period." She added that Trump's presidency had empowered other white supremacists and that his bid for the White House wouldn't have been successful if he weren't white.
Backlash to the tweets, helped along by people like former ESPN reporter Britt McHenry and Fox Sports Radio's Clay Travis ― who frequently says racist things ― led ESPN to release a statement saying Hill's views "do not represent the position" of the network. This made things worse.
Sarah Sanders, the White House press secretary, called Hill's tweets a "fireable offense." That same day, ESPN tried to prevent Hill from co-hosting "SC6" with Michael Smith. In a tweet, Hill said her "regret" was that her comments "painted ESPN in an unfair light." ESPN's public editor, Jim Brady, said Hill ― and the media at large ― should "let the reporting do its work, and resist more incendiary labels."
None of what Hill said in her initial volley of tweets was inaccurate. Trump voters were driven by racism, and white supremacists openly support him. His campaign rhetoric was a dog whistle for white supremacists. His attorney general has praised the Immigration Act of 1924, a law crafted by eugenicists and championed by people hoping to preserve a "distinct American type." After a violent white supremacist rally in Charlottesville, Virginia, Trump attributed the violence to "both sides," even though none of the counter-protesters killed anyone.
That Trump is a white supremacist is a straightforward conclusion that can be drawn from an abundance of available evidence.
But not all straightforward conclusions are admissible in mainstream American media, particularly on the subject of race, particularly when stated by a black woman.
To get a sense of the straitjackets placed on black media figures working in a predominantly white industry, where "white supremacy" is usually seen as a slur applicable only to Klansmen and Nazis, I convened three prominent black journalists: Greg Howard, a reporter at The New York Times; Elena Bergeron, former staff writer at ESPN The Magazine and current editor-in-chief of SB Nation; and a current ESPN employee who, for obvious reasons, wanted to remain anonymous.
Read the full interview here.
Read about the crucial role of black press here.
Read more Breaking News here.
L'Oréal Paris has fired its first transgender model to join the brand just days after announcing the partnership.
L'Oréal released a statement on Twitter Friday morning saying the company "champions diversity" but decided to cut ties with Monroe Bergdorf, saying her comments calling out white America's racism in a recent Facebook post are "at odds" with their values.
Bergdorf received big buzz earlier this week after L'Oreal announced her inclusion in a YouTube video ad for L'Oréal Paris True Match Foundation. But Bergdorf's excitement was short-lived.
By Friday, the company had disavowed comments the model previously made on social media, which surfaced in a report the Daily Mail published on Thursday.
The damning piece blasted Bergdorf over her comments, claiming she wrote that "all white people are racist." Spectators highlighted how her words had been misrepresented and taken out of context, with some even suggesting that the story was a deliberate attempt to downplay Bergdorf entirely.
Bergdorf's comments, which call out systemic racism in America and how white people benefit from special privileges, have since been deleted from her Facebook page but have been published elsewhere in full.
"Honestly I don't have energy to talk about the racial violence of white people any more. Yes ALL white people," Bergdorf reportedly wrote, going on to address the privileges afforded to them. "Because most of ya'll don't even realise or refuse to acknowledge that your existence, privilege and success as a race is built on the backs, blood and death of people of colour. Your entire existence is drenched in racism. From micro-aggressions to terrorism, you guys built the blueprint for this s***."
"Come see me when you realize that racism isn't learned, it's inherited and consciously or unconsciously passed down through privilege," she added."Once white people begin to admit that their race is the most violent and oppressive force of nature on Earth… then we can talk."
On Friday morning in the U.K., many expressed outrage with L'Oréal's decision to denounce Bergdorf's message, saying it highlights the hypocrisy of the company claiming to be "champions of diversity" while only embracing inclusion for goals driven by profit and actively condemning Bergdorf, a black trans woman, for speaking out about racism ― an issue that impacts people of color most.
"If you truly want equality and diversity, you need to actively work to dismantle the source of what created this discrimination and division in the first place," she wrote. "You cannot just simply cash in because you've realised there's a hole in the market and that there is money to be made from people of colour who have darker skin tones."
Read the full article here.
Read about the history of race here.
Read more Breaking News here.
When Patricia Stephens led a group of black college students to sit and order foot at a "white only" Woolworth's lunch counter in Tallahassee, Florida in 1960, they were told, "The South is not ready for that."
When Fannie Lou Hamer led a group of black neighbors to the courthouse in Indianola, Mississippi in 1963 to register to vote, they were told, "Mississippi is not ready for that."
When fast-food workers led primarily by black women walked off their jobs in 2012 to strike for $15 minimum wage and a union, they were told, "America is not ready for that."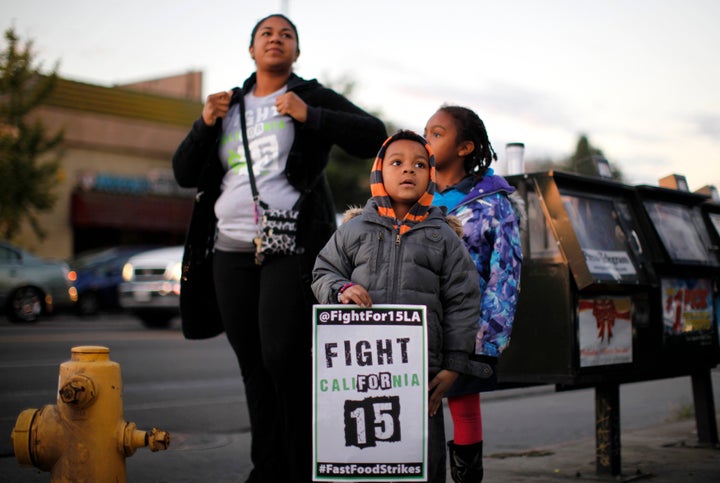 Time and again, women of color have changed the world through their resilience and fortitude to never settle for less than first-class citizenship, even if the forces against them said it's not yet time for progress.
The time has come for a minimum wage that meets the basic needs of workers in the 21st century. Raising the minimum wage would boost pay in low-wage jobs where millions of men and women now spend their careers. Low-wage occupations in food service, home health care, retail, and customer service are projected to see the most job growth over the next decade.
The typical worker struggling on less than $15 an hour is a woman over 30 who works full-time but still cannot make ends meet. While only one-third of white workers earn less than $15 an hour, most women of color do.
A $15 minimum wage (or $31,200) a year for full time) could go far in helping women and people of color make ends meet, closing persistent gender- and race-based pay and wealth gaps, and improving educational and health outcomes for children. All labor has dignity, but when workers bring home paychecks that don't pay for basic necessities, it's hard to find the dignity in being working poor.
Read the full article here.
Read more on the history of the struggle for justice here
Read more Breaking News here.
A woman in Canada who recently had her left leg amputated is having a difficult time accepting her new body.
Rahab Wanjau, 30, was born with a deformity on her left tibia (or shinbone). She told HuffPost that after five painful surgeries, which left her relying on crutches most of her life, doctors recommended she have her leg amputated.
In June, she had it removed at Regina General Hospital in Regina, Saskatchewan. After her surgery, Wanjau went to Regina's Wascana Rehabilitation Center to pick up a prosthetic leg and foot shell, or a cosmetic covering for a prosthetic foot.
She was shocked and disheartened to discover she only had two color options for a foot shell: one shade was way too light and another was too dark.
Wanjau said when she asked her prosthetist if she could customize the color, she was told she would have to pay out of pocket for it.
"We have lots of color options when buying house paints, models of cars and makeup foundations," Wanjau told HuffPost. "It would be great if I can pick a foot shell in my skin tone."
Out of frustration, Wanjau contacted Ottobock, the company that manufactures the foot, and learned that because of the prosthesis's material, only the company or an outside professional could permanently change the color. This too would have to be paid for out of pocket.
Read the full article here.
Read more Breaking News here.
Sen. Kamala Harris (D-Ca.) is seeking some major criminal justice reform, starting with bail.
Along with Sen. Rand Paul (R-Ky.), Harris has introduced a bipartisan bill which calls for states to "reform or replace the practice of money bail, the requirement that individuals awaiting trial remain in jail unless they pay for their release."
Titled the Pretrial Integrity and Safety Act of 2017, the bill would authorize a $10 million grant over three years to encourage states to reform or replace the ineffective money bail system that requires people who haven't been convicted of a crime to be detained pretrial unless they can afford to bail themselves out.
Harris and Paul's bill also asks states to give individualized, pretrial assessments with risk-based decision-making in order to do away with the inaccurate risk-assessments currently given that lead to unwarranted disparities.
"This is such an important conversation and it does not ever receive the kind of attention it deserves, based just on the prevalence of it in terms of the number of people that are impacted," Harris, who visited Central California Women's Facility prior to her speech, said.
"And also, and I say this with a strong sense of optimism, that there is just so much that we can actually do to fix what is broken. And it's not going to require us to be that creative," she continued. "The solutions, some of them, are pretty obvious, and the more attention we give to the issue, I think, the more obvious they will be to a larger number of people."
Read the full article here.
Read more ABHM Breaking News here.
We've all fantasized about what we'd do if a few million dollars just found its way into our lives. For the Smith family of Trenton, New Jersey, philanthropy was at the top of their list after they won a $429 million Powerball jackpot last year.
At a post-win press conference last May, the family, which consists of Pearlie Mae Smith and her seven children, said they planned to spend their earnings on their community ― and they meant it.
The eight-person Smith family chose to collect their winnings in a lump sum as opposed to yearly installments, with each receiving about $25 million after taxes. After paying off bills, student loans and taking care of other financial obligations, they invested their money in Trenton through the Smith Family Foundation.
"We want to fund programs that directly affect systems of poverty so we can help change the systems or change the dynamics that are causing people to be in poverty," family member and foundation program manager Harold Smith told NJ.com.
Read the full article here.
Read more about the importance of community reparation here.
Zahara Hill reports backlash of a black feminist event— the Nyansapo Festival— scheduled to commence July 28 in Paris by the city's mayor, Anne Hidalgo.
Organized by the Mwasi Collective, the festival was "to be a safe space for black feminists to curate sociopolitical strategies to overcome marginalization and oppression." Unfortunately, the event caused controversy with "far right and anti-racism organizations calling foul after it came out that most of the event's activities would occur in racially exclusive spaces."
Hill quotes an interpretation of the mayor's tweet:
"A translated tweet from Hidalgo on Sunday revealed she took issue with the festival being "forbidden to whites" and that she would even consider prosecuting the event organizers for discrimination."
However, after a discussion with the Mwasi Collective the mayor came to a solution, as revealed in a later tweet:
"The festival organized in a public place will be open to all. Non-mixed workshops will be held elsewhere, in a strictly private setting…"
Controversy ensued when the Mwasi Collective claimed that the "set-up didn't change as a result of a conversation with Hidalgo; they'd already intended for the "non-mixed" workshops to take place on private property…"
According to Hill, the Nyansapo festival will proceed, and so will the continuation of white fragility in the City of Lights.
Read the full article here
Read more Breaking News here
By Danielle Dorsey
Atlanta Black Star
After nearly a year of being dragged through the criminal justice system, it appears there might finally be some good news in the Bresha Meadows case. The 15-year-old was arrested and charged last year with the murder of her father, but her defense claims she was acting in self-defense after witnessing abuse toward her mother and being subjected to similar abuse for much of her life.
Bresha has been incarcerated in a juvenile detention center for the past nine months, but a preliminary plea deal, offered at her pre-trial hearing on May 8 may allow her to fulfill the the remainder of her 18-month sentence at a mental treatment facility and seal her criminal record as of her 18th birthday.
Bresha's case has garnered worldwide support and highlighted how our justice system's treatment of domestic violence victims causes Black women and girls to disproportionately suffer. Through this case and others like it, activists hope to enact systemic change that will allow for more compassionate rulings instead of further criminalizing victims.
Many times, reporting domestic violence can lead to mothers being investigated by child protective services. Until 2014, mothers in Chicago who reported domestic violence could be charged with neglect, and in many places across the country, women who report intimate partner violence face a domino effect of consequences, including eviction from housing under nuisance ordinances. A 2012 study from the American Sociological Association analyzed every nuisance citation in Milwaukee and found that Black households received a disproportionate amount of nuisance complaints and that nearly a third of all citations were generated by domestic violence. A Milwaukee Domestic Violence Experiment study found that arresting abusers isn't always the solution either, and for African-American victims, arrest increased mortality by 98 percent, compared to a 9 percent mortality increase among white victims.
Read the entire article here
Read more about Bresha Meadows here
Catch up on more Breaking News here