Last week, Twitter said it was "pausing" to reconsider the process by which it bestows the blue checkmark denoting accounts that had been "verified," and on Wednesday the company announced it was yanking the designation from some users who occupy the neo-Nazi or nationalist bucket of grassroots white activism. The announcements came after many users, including The Root's Monique Judge, raised hell when Twitter gavea blue checkmark to Jason Kessler, a white nationalist who helped plan the pro-Confederacy march last August in Charlottesville, Va.
While Twitter CEO Jack Dorsey and his workers ruminated on the company's account verification policies, I decided it was a good time for us to pause and think about our relationship with Twitter and other social media and technology companies. We voluntarily "contribute" our creative insights, dollars and labor to the success of these companies by buying devices and apps, uploading memes, ideas and language that trends widely. Yet in terms of the vast wealth these companies hold, disburse to employees and generate for shareholders, we get little in return.
Think of the recent moment where top lawyers for Google and its parent company, Alphabet, along with Twitter and Facebook, were summoned to Capitol Hill to testify before Senate and House committees looking into the company's role in disseminating toxic content and ads during the 2016 presidential election cycle.
Anti-black messaging was the secret-sauce of many of the pro-Trump, nationalist memes and messages that flooded through the popular social media channels during the 2016 election cycle. Yet somehow, the gatekeepers at Facebook and Twitter didn't seem to notice the methodical manipulation of racial animus that already exists in America, specifically, some white Americans' negative opinions of blacks.
The leaders and staffs of Twitter, Facebook, and other popular social media platforms missed the Russian's exploitation of the black-white divide, an obliviousness that has precedent: black women users had long alerted Twitter officials to abusive conduct of other users, up to and including death threats. The hashtag #YourSlipIsShowing catalogs such experiences from black women dating back several years, and is readily available…at least to those interested in learning about and addressing these kind of user experiences.
But clearly, the tech company leaders were not inclined to pay attention to this area of user complaints, a strong indication that they also probably weren't interested in the views of the few blacks and Latinx workers at their companies, either. Just look at what happened to Leslie Miley, a black former engineer at Twitter. Miley revealed in a recent interview that he had flagged tons of dubious accounts in 2015, telling his bosses that he believed they were from Ukraine or Russia, and that they appeared to be part of a coordinated campaign.
Miley was told by his bosses at Twitter to "stay in his lane," a response that Miley says he took as a sign that the company leadership preferred to err on the side "growth numbers," rather than on any potential harm to audiences that the bots might pose.
Meanwhile, black users of Instagram, Facebook, Twitter and Google products infuse them with a deep coolness factor that resonates around the world. Our intellectual property and creativity is the lifeboat that floats these companies to revenue solvency, yet few of us share in the enormous economic wealth generated by these companies, not even after dozens of news stories, industry conferences, and activist's complaints forced the companies to pledge to improve hiring and retention.
Black Americans know when something smells rotten, including the kinds of scams and shady BS that can unfold at one's job. And, as usual, blacks and other marginalized communities have solutions. We have the brain-power, problem-solving acumen, and moral fortitude to right the ship of state.
The question is whether our concerns and advice will be heeded, and whether we can achieve full access to the genuine levers of power in the United States, including access to quality education, healthcare, voting and, most importantly in the context of the innovation ecosystem, investment capital.
Read the full article here.
It's not just the Tech industry, either. Read how one company is beginning to acknowledge its racist past here.
Read more Breaking News here.
The black protester who was caught on viral video hugging a squirming and uncomfortable neo-Nazi outside white supremacist dump truck Richard Spencer's speech at the University of Florida in Gainesville on Thursday is acknowledging that he could just as easily have hit the guy (an act in which someone else had earlier indulged) but decided to go a different route in order to bring about change in his own way.
"I could have hit him, I could have hurt him … but something in me said, 'You know what? He just needs love,'" Aaron Alex Courtney told the New York Daily News. "It's a step in the right direction. One hug can really change the world. It's really that simple."
The unidentified neo-Nazi was seen at Spencer's speech location wearing a T-shirt covered in swastikas. His not-so-subtle outfit obviously drew the attention of the crowd, which included protesters who screamed, punched and spat on him before Courtney wrapped his arms around him.
"Why don't you like me, dog?" the 31-year-old high school football coach out of Gainesville could be heard asking the man. "Give me a fucking hug."
Courtney could be seen attempting to get the man to hug him back, but the man just stood there, limp and uncomfortable, as Courtney embraced him.
Surprised to learn that Spencer was a person and not an impending hurricane, or that the notification wasn't about a kidnapping or something of the sort, Courtney started to do research.
"I found out about what kind of person he was, and that encouraged me, as an African American, to come out and protest. Because this is what we're trying to avoid. It's people like him who are increasing the distance … between people," Courtney told the Daily News.
Courtney gave about four hours of his time Thursday protesting and was getting ready to leave when he saw Mr. Nazi himself causing a commotion among the other protesters.
"I had the opportunity to talk to someone who hates my guts, and I wanted to know why. During our conversation, I asked him, 'Why do you hate me? What is it about me? Is it my skin color? My history? My dreadlocks?" Courtney recalled.
"After beating around the bush and avoiding my questions, I asked him, I pleaded with him, I almost broke out in tears, growing increasingly angry because I didn't understand," he said.
However, Courtney, whose father is a bishop, decided to take some of his father's teachings and offer the man a hug.
"Something in me said, 'You know what? He just needs love. Maybe he never met an African American like this," Courtney said.
It took some cajoling, but, Courtney said, "I reached over, and the third time, he wrapped his arms around me, and I heard God whisper in my ear, 'You changed his life.'"
Courtney then said he asked again, "Why do you hate me?"
The neo-Nazi's response, according to Courtney? "'I don't know.'"
"I believe that was his sincere answer. He really doesn't know," Courtney added.
The man was eventually escorted away by police, but not before taking a photo with Courtney's friend.
"I honestly feel that was a step in the right direction, for him to take a picture with a guy that he hated when he woke up this morning," Courtney said.
Read the full article here.
Read more about racial reconciliation here.
Read more Breaking News here.
If you took a look at the writers' room of some of your favorite television shows, you'd be hard-pressed to find a black person, and even harder pressed to find a black woman. But for the last decade, Angela Nissel has been leaving her mark behind the scenes on shows like Scrubs, The Boondocks and, now, The Jellies—Tyler, the Creator's Adult Swim show, which premieres Oct. 22.
Before Nissel's foray into scripted television, she was best-known as one of the creators of Okayplayer and for her two sidesplitting memoirs that captured the essence of her formative years, and of being broke and biracial. Both The Broke Diaries: The Completely True and Hilarious Misadventures of a Good Girl Gone Broke and Mixed: My Life in Black and Whitewere heralded by critics, as well as the likes of Oprah Winfrey and Halle Berry, and Nissel became the "it" woman of literature in the early 2000s.
It was those books that set the University of Pennsylvania grad (she graduated with a degree in medical anthropology) on her way to a career in TV. But, of course, Nissel's ascent into television writing wasn't easy, especially as a black woman. After being in the game for 15 years, she is still fighting her way into writers' rooms, and she made it into The Jellies'room even though she thought she hadn't landed the gig.
"Me being old enough to be Tyler's aunt, I said, 'I've heard of him,' but I don't really know him. And then I researched him. I was nervous in the meeting, but when Tyler came in, he just wanted to get to know about me. Ten minutes later, the meeting was over. I called my agent and was like, 'I'm pretty sure I didn't get that job; they thought I was a total nerd,'" Nissel says.
As luck talent would have it, Nissel landed the consulting-producer-and-writing gig on the series, and so her work began. And, yes, she was once again the only black woman in the writers' room. As Nissel segues back into animation (after lending her talents to The Boondocks), she notes that writing live action and books is totally different from writing for animation, especially when it comes to the fans.
The Jellies follows in the footsteps of cartoons like The Boondocks in that it is created by young black men. But as Nissel lends her comedy and writing expertise to yet another animated series, the question remains: Why is there still a lack of black people, particularly women, in Hollywood when it comes to writing? Veterans in the game, like Nissel, have paved the way for the Issa Raes out there, but it's still a drop in the bucket.
"I'm usually the only black woman in the writers' room. I remember I pitched a really shitty joke one time, but Tyler said, 'No, maybe women will understand the joke.' He was so good about listening to my point of view, where sometimes, in other writers' rooms, I would get shut down," Nissel says. "When you're immediately shut down, you don't feel like you ever have the space to speak up again. But he always gave me that space to feel free to speak my mind."
It's that aspect of being shut down that many writers have to deal with when they're in the minority. Earlier this year, Tyler quickly had to shut down a question from a fan during Comic-Con, when he decided to change Cornell, the main character in The Jellies, from a white teen to a black teen.
"How many f—— black cartoon characters is it on TV right now?" Tyler responded. "Name five. I'll give you time."
Nissel shares similar sentiments about Cornell's newfound blackness.
"If you don't like Cornell being black, color him another color in your head. What is wrong with people wanting to see the representation of themselves on-screen?" Nissel asks. "That's why I think their generation will do better, and hopefully build on what my old-ass generation wasn't able to do. Tyler is an outsider coming into this industry and wants Cornell to look like him. I don't understand how anyone can be upset with that."
With the success of this summer's blockbuster hit Girls Trip, the spotlight is now shining on funny black women in front of and behind the camera. And Nissel has some savory advice for the bigwigs in Hollywood.
"I wish more people realize that having one voice in the room sometimes isn't enough because you're only going to get one point of view. At the end of the day, I just wish people would go outside of the neighborhoods and make friends with people who aren't exactly like them, so they can bring that to the room if they don't have the budget to hire 25 women," Nissel says.
"I really want to create shows that show that women over the age of 40 still have lives, and they can be messy," she adds. "To talk about the imbalance of women and men, like my own personal story of paying alimony. I want to tell the richness of women of color over 40 because sometimes I look on TV and we're all dead, except for Oprah."
The Jellies premieres on Adult Swim at 12:15 a.m. Sunday, Oct. 22.
Read the full article here.
Read more about the importance of black-owned media here.
Read more Breaking News here.
This week five African-American students at Air Force Academy Prep School in Colorado found the words "Niggers Go Home" scrawled on the dry erase boards outside their dorm rooms.
Once the school became aware of the racial graffiti the school superintendent Lt. General Jay Silveria rattled off a statement to the press.
"I've said it before, the area of dignity and respect is my red line,"
"Let me be clear: it won't be crossed without significant repercussions. Diversity is a strength of our Academy and our Air Force. We are stronger when we take into account the views of those with different backgrounds and life experiences."
The students are all part of a 10 month program to help them acclimate to life at the Air Force Academy, so in a twisted sort of way this is part of their training. While their parents have expressed concern and an investigation has been launched none of that will change one basic fact: The United States military has a long, sordid, racist and violent history when it comes to the treatment of black soldiers. While this may be the first, it certainly won't be the last or the worst racial treatment these young people will receive should they choose to serve in the United States military.
Conservatives of all colors like to point to the military as one of the most integrated and racially harmonious parts of American society, which is fine if you're talking about Salvation Army or GI-Joe. The actual military? Not so much. Black soldiers, whether in training or veterans have been routinely targeted through American history for a special kind of violence as white supremacy quivers at the notion of black people being armed, trained and capable of arming themselves.
That's why black veterans were consistently denied the GI-Bill that built the American middle class. That's why lynching of black soldiers has been so common throughout U.S. history. That's why Richard Collins III, a recently commissioned officer two weeks from graduating college this spring was murdered by a white nationalist while the president barely said a peep.
That's why despite African American women making up over 40% of all women in the armed forces it wasn't until 2014 that President Obama was able to change racially biased hair standards for active duty women of color.
That's why a group of West Point cadets showing racial and American pride caused a firestorm last year.
These are just examples of how the American military to this day treats people of color, it continues to do a number on white Americans as well.
The issue isn't simply that a bunch of bigots wrote threatening words on the dorms of five cadets, that's almost to be expected. The issue is that the military despite the rhetoric has not adequately rooted out racist sentiments in the ranks yet still expects (and in fact depends) on large numbers of African Americans to join up and serve, even if that means facing an enemy on the field or in your barracks.
Read the full article here.
Read about how to help positively impact racial reconciliation here.
Read more Breaking News here.
Jemele Hill said what she said.
In a series of tweets stemming from an odd conversation about Kid Rock, the co-host of ESPN's "SC6" called President Donald Trump a "white supremacist who has largely surrounded himself w/ other white supremacists."
"Trump is the most ignorant, offensive president of my lifetime," she wrote. "His rise is the direct result of white supremacy. Period." She added that Trump's presidency had empowered other white supremacists and that his bid for the White House wouldn't have been successful if he weren't white.
Backlash to the tweets, helped along by people like former ESPN reporter Britt McHenry and Fox Sports Radio's Clay Travis ― who frequently says racist things ― led ESPN to release a statement saying Hill's views "do not represent the position" of the network. This made things worse.
Sarah Sanders, the White House press secretary, called Hill's tweets a "fireable offense." That same day, ESPN tried to prevent Hill from co-hosting "SC6" with Michael Smith. In a tweet, Hill said her "regret" was that her comments "painted ESPN in an unfair light." ESPN's public editor, Jim Brady, said Hill ― and the media at large ― should "let the reporting do its work, and resist more incendiary labels."
None of what Hill said in her initial volley of tweets was inaccurate. Trump voters were driven by racism, and white supremacists openly support him. His campaign rhetoric was a dog whistle for white supremacists. His attorney general has praised the Immigration Act of 1924, a law crafted by eugenicists and championed by people hoping to preserve a "distinct American type." After a violent white supremacist rally in Charlottesville, Virginia, Trump attributed the violence to "both sides," even though none of the counter-protesters killed anyone.
That Trump is a white supremacist is a straightforward conclusion that can be drawn from an abundance of available evidence.
But not all straightforward conclusions are admissible in mainstream American media, particularly on the subject of race, particularly when stated by a black woman.
To get a sense of the straitjackets placed on black media figures working in a predominantly white industry, where "white supremacy" is usually seen as a slur applicable only to Klansmen and Nazis, I convened three prominent black journalists: Greg Howard, a reporter at The New York Times; Elena Bergeron, former staff writer at ESPN The Magazine and current editor-in-chief of SB Nation; and a current ESPN employee who, for obvious reasons, wanted to remain anonymous.
Read the full interview here.
Read about the crucial role of black press here.
Read more Breaking News here.
Everybody is all about freedom of speech and expression until a black person (hey, Colin Kaepernick; hey, Jemele Hill) decides to exercise his or her right to do so. And in this particular case, a black sixth-grader out of Michigan says he was assaulted by his homeroom teacher all because he was exercising his rights and declined to stand for the Pledge of Allegiance.
Stone Chaney, who attends East Middle School in Farmington Hills, Mich.,told ClickOnDetroit that his teacher "violently" dragged him out of his chair and attempted to force him to stand for the pledge, leaving the young man confused and unwilling to return to that school.
"The teacher consultant comes up behind me and snatches me out of my chair violently," Stone told the news site. "I was so confused. I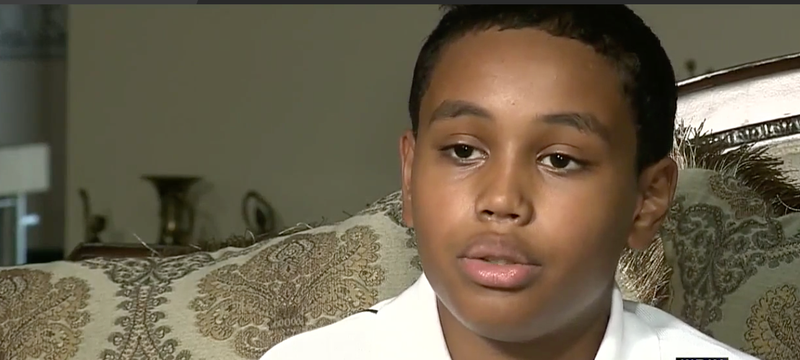 didn't know what was going on."
Note that Stone referred to the individual in question as the "teacher consultant." That means that the person who allegedly thought it was all right to snatch a child out of his seat trains other teachers. One would wonder what kind of training those other teachers are receiving.
"It's his choice to sit," Brian Chaney said. "I don't make him sit. And they should respect that."
The superintendent of Farmington Public Schools released a statement detailing that the district does support the right of students to opt out of the pledge, announcing that it was conducting an investigation and that the teacher involved has been placed on administrative leave pending the outcome.
Read the full article here.
Read about the history of black social movement and protest here.
Read more Breaking News here.
Philando Castile was known as a caring man at the St. Paul, Minn., school where he worked as a cafeteria supervisor. He cared so much for the children he served that he often paid for their lunches out of his own pocket when they were unable to, and now, thanks to a local college professor, that generosity will continue through a fund that has been created in Castile's name.
"No child goes hungry so we ensure that every student has breakfast and also lunch whether they can pay or not," Stacy Koppen, Nutritional Services Director for St. Paul Public Schools (SPPS), told WCCO. "Lunches just for one elementary student are about $400 a year."
Before Castile was killed last summer by former St. Anthony police officer Jeronimo Yanez during a traffic stop, he was always ready to help the students who were in need, Koppen told WCCO.
"When a student couldn't pay for their lunch, a lot of times (Castile) actually paid for their lunch out of his own pocket," Koppen said.
Inver Hills Community College professor Pam Fergus wants Castile's generosity and caring for the students to continue.
She told WCCO, "His death changed who I am."
Fergus normally assigns a service project to the students in her Diversity and Ethics class, but this time she came up with one of her own: Philando Feeds The Children.
The money raised through the YouCaring.com fundraiser will be used to help clear lunch debts at J.J. Hill.
As of Thursday night, more than $7,000 had been raised, and Castile's mother, Valerie, told WCCO and Fergus that she plans to match the full amount raised with her own donation.
Read the full article here.
Read about the importance of reconciliation here.
Read more Breaking News here.
A woman in Canada who recently had her left leg amputated is having a difficult time accepting her new body.
Rahab Wanjau, 30, was born with a deformity on her left tibia (or shinbone). She told HuffPost that after five painful surgeries, which left her relying on crutches most of her life, doctors recommended she have her leg amputated.
In June, she had it removed at Regina General Hospital in Regina, Saskatchewan. After her surgery, Wanjau went to Regina's Wascana Rehabilitation Center to pick up a prosthetic leg and foot shell, or a cosmetic covering for a prosthetic foot.
She was shocked and disheartened to discover she only had two color options for a foot shell: one shade was way too light and another was too dark.
Wanjau said when she asked her prosthetist if she could customize the color, she was told she would have to pay out of pocket for it.
"We have lots of color options when buying house paints, models of cars and makeup foundations," Wanjau told HuffPost. "It would be great if I can pick a foot shell in my skin tone."
Out of frustration, Wanjau contacted Ottobock, the company that manufactures the foot, and learned that because of the prosthesis's material, only the company or an outside professional could permanently change the color. This too would have to be paid for out of pocket.
Read the full article here.
Read more Breaking News here.
Will Packer, the man behind the hit comedy "Girls Trip," is bringing a new show to Amazon that might give HBO a run for its money.
According to the Hollywood Reporter, Packer is teaming up "Boondocks" creator Aaron McGruder on "Black America," a drama set in an alternate history in which freed African American slaves have been given control of Louisiana, Mississippi, and Alabama as reparations following the Civil War.
Set in the present-day, the show will imagine a sovereign African-American nation called "New Colonia," rapidly emerging as one of the leading industrialized nations in the world.
The announcement of "Black America" comes just days after HBO sparked controversy with the announcement of its own alternate history drama, "Confederate," from the creators of "Game of Thrones," which is set in an alternate reality in which the South had won the Civil War and slavery remains in present day.
Read the full article and reactions to the show's announcement here.
Read about the importance of Black-owned, Black-run media here.
Read more Breaking News here.
…As kids throughout the country get out of school for the summer, it is a perfect time to reflect on all of the Black children who, over the course of the past semester, have been punished, disciplined or otherwise called out and singled out for wearing braids, locks, natural hair or any other culturally expressive hairstyle. Studying while Black, apparently, is a thing.
Consider some of the outrageous incidents that have taken place. In the Boston area, 15-year-old twin sisters faced detention and suspension for wearing braids, which their charter school claimed was a violation of the dress code. Mya and Deanna Cook, sophomores at Mystic Valley Regional Charter School in Malden, Mass., were banned from the prom and stripped of their extracurricular activities and sports team privileges for violating the school's prohibition on wearing extensions.
…[In] 2009, a white Milwaukee teacher cut off the braid of Lamya Cannon, 7, because the girl was playing with her hair. After cutting off Lamya's hair in front of the class, the teacher sent the girl back to her desk. Would this ever happen to a white girl with pigtails? And could we ever envision a Black teacher doing this to said white girl?…
These days, when some in white America claim they are taking their country back, all the way up to the White House, it is no accident that Black children are punished for their Blackness. We know the studies about the disproportionate discipline against Black children, and black girls in particular. This is part of the school-to-prison pipeline, a regime of punishment following kids through adulthood. Most of all, it is an effort to monitor their bodies, not unlike the Black Codes established during Jim Crow to restrict the activities and labor of Black people and maintain white supremacy….
These codes, like the so-called dress codes in place at some schools today, serve the same purpose–to normalize whiteness and criminalize Blackness. When schools tell Black children the hair God gave them is an issue of bad hygiene and grooming, what they mean is they think Black people and their hair are less desirable. Some things never change. Institutional racism, not the hair, must change.
Read David A. Love's article for TheGrio.com in its entirety here.
Read about how Black people are disproportionately punished in other institutions here.
Read about the Five Pillars of Jim Crow here.
Read about the education of Black children in the Jim Crow South here.
Read more Breaking News here.