The state of Missouri has earned the dubious distinction of being the first-ever state to have a travel advisory issued against it by the NAACP, the warning issued because of a recent string of both directly and indirectly state-sanctioned racist and discriminatory incidents….
State NAACP leaders told the Star that the decision to issue the advisory was made after recent legislation passed in the state that makes it harder to win discrimination suits; the longtime and continued racial disparities in traffic enforcement; and a number of incidents that exemplify harm coming to both minority residents and minority visitors to the state….
"You have violations of civil rights that are happening to people. They're being pulled over because of their skin color, they're being beaten up or killed," Chapel added. "We are hearing complaints at a rate we haven't heard before."
According to the Star, national delegates from the NAACP voted to adopt the advisory, and the national board will ratify it in October.
"The advisory is for people to be aware, and warn their families and friends and co-workers of what could happen in Missouri," Chapel said. "People need to be ready, whether it's bringing bail money with them or letting relatives know they are traveling through the state."
Read full article here.
Read more Breaking News here.
Read entire article here.
By Tanasia Kenney
Atlanta Black Star
California's traffic fines are some of the steepest in the country, and a new report shows that the state's current policies for those unable to pay are disproportionately affecting Blacks and Latinos.
The report, published by the Lawyers Committee for Civil Rights last week, covers the most recent information on California's traffic court system and highlights how its policies unfairly impact residents of low-income, nonwhite communities.
The consequences are often harsher for Californians who can't afford to pay their traffic fines, including license suspension, arrest, jail time, wage garnishment, towing of their vehicles and even job loss, according to the report. In the end, affected drivers are forced to ante up even more cash just for being poor. Meanwhile, those who can afford to pay are let off with a slap on the wrist for the same minor traffic offenses.
"In Bay Area counties, the burden of the current policies fall heavily on people of color," wrote authors of the new LCCR study, "Paying More for Being Poor: Bias and Disparity in California's Traffic Court System. "African-American residents are four-to-16 times more likely to be booked into jail on a failure-to-pay-related charge. This rate is higher than the [disproportion] found in initial traffic stops.
Read the entire article here
Read more Breaking News here
From:Huffington Post- Black Voices
Written By: Kristina Puga
Writer and activist Eugene Ethelbert Miller discussed his love for writing and history by stating:
"I wanted to be involved in every aspect of writing about it," says Miller about the politically-charged time, as sharply and energetically as if it were just yesterday. "It was just like now – with the Woman's March and Black Lives Matter…"
Miller, who goes by "Ethelbert" spent his college years immersed in black history.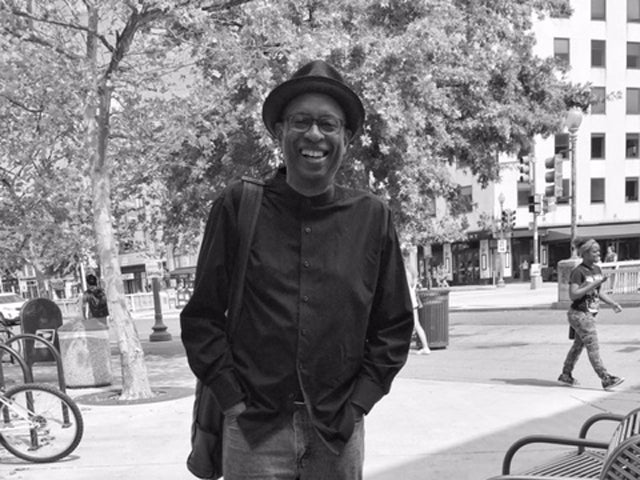 He attended college (Howard University) in the same year that Martin Luther King, Jr. was assassinated. This, among other events (such as the assassination of Robert Kennedy, and the Vietnam war) led him to began a career as a poet. He explained:  "I wrote many love poems," says Miller. "I wanted to leave behind poems that were similar to Pablo Neruda's work."
Millers' family consisted of a postal working Father, and a seamstress mother. He explained that college was "a strain financially." Therefore announcing that he would be a writer to his parents was a bit of a misunderstanding. He later explained all of the different opportunities his writings afforded him: "When I look back on my writing, it took me to places that I couldn't have gone otherwise," says the poet, mentioning the U.S. State Department sponsored some of his trips. "I went to Iraq, Saudi Arabia, people would send me to all sorts of places."
Miller continues with more inspiring anecdotes for writers of all backgrounds leaving us with this piece of life advice:
"I think what I've learned now are two things: We have to practice deep listening. We have to understand what [people] are afraid of, what they're suffering from. Then the next level is compassion."  
Read the full article here
Follow Miller's work here
Read more Breaking News here
From: HuffPost Black Voices
Written by: Zahara Hill
In a recent post, "School Tries To Censor BLM Article. These Students Had The Final Say" Zahara Hill sheds light on young black voices taking a stand for racial injustice when two high school students'–Vanessa Mewborn and Ariana Coleman– yearbook article titled "Celebrating being American: Clarity on Black Lives Matter" was stripped of anything remotely related to Black Lives Matter.
She writes:
"The article was titled "Celebrating being American: Clarity on Black
Lives Matter" and led with the question: "How do you feel about the Black Lives Matter movement?" The article included a picture of Mewborn, Coleman and two other young women with their fists raised as a message of black power."
After submitting the a claim to  American Civil Liberties Union of Northern California, the girls received news that the principles' actions would be overridden. Hill quotes Mewborn and Coleman:
"It's a reflection of who I am and who our ancestors have fought for us to be, to never give up, and to fight for what is right. There is nothing wrong with being proud of who I am and where I come from so yes, black lives matter. All lives matter. My voice matters."
Read the full article here
Read more breaking news here
In "My Black History: The Case for Black Art in an Anti-Presidential Era", Maiysha Kai explains the power black art holds in the current political state of the United States.
She explains how, "The Black Arts Movement that followed was a direct response to the loss of our most prominent leaders of the 1960s, as well as our subsequent rejection of the desire to assimilate into any American culture invested in our marginalization. Even hip-hop has origins in the response of black and brown youths to a society that simultaneously disenfranchised and criminalized them en masse, the tenor of which would come to a head in the turbulent rise of "gangsta rap" in the 1990s." 
Kai explains how African American's are empowered through their art; letting their art speak social change by being an "expression of resistance but also a visible and visceral expression of the human experience."
With the loss of an African American President, there is widespread "post-black"  and "post-racial" which in turn is leading to the "rise of black art in America."
Read more Breaking News from ABHM here!
To read the full article, check out The Root!
In the recent blog post "Chicago Violence Requires A Real Commitment, Not A Passing Presidential Tweet," Reverend Al Sharpton reflects on gun violence in Chicago and the need for real commitment to address this problem.
Sharpton explains:
"Donald Trump recently met with some supporters and appointees who he misled the press into believing was a meeting with African-American leaders, ostensibly as a form of outreach to our community."
He continues:
"…it is abundantly clear that Trump is not reaching out to us appropriately, nor getting the correct input on our concerns. We need a real commitment—not a passing presidential tweet."
See a video clip here.
Read more about "Chicago's Grim Era of Police Torture."
Read more about the relationships among gun violence, power, privilege, and the politics of gun ownership here.
Visit our Breaking News Page here.
Because America's Black Holocaust Museum (ABHM) is based in Milwaukee, Wisconsin, visitors to ABHM online have inquired about our response to the recent unrest in a predominantly black neighborhood in our city. Though not immediately apparent on the ABHM website, our museum's principal spokesperson has been helping local, national, and international press explain these events by supplying interviews and articles. (See links to several of these below.)
For twenty-eight years, ABHM has provided a safe place where people of all backgrounds can learn about America's racial history and talk straightforwardly about race and racism. Online, our museum tells many of the stories seldom told in American history books and documents how that history affects our society today. Offline, we present frequent talks and facilitate interracial dialogs in this community and beyond.
When a group of young people took out their anger and frustrations with local policing and poverty by setting fire to a police car and three businesses, many people seemed surprised. We were not. This was a combustible situation. That car and those establishments represented the complex set of debilitating conditions that have hurt Milwaukee's African American community for generations. During the 1960's struggle for civil rights here, there were calls to find remedies for institutional discrimination. Fifty years later, those remedies remain largely unimplemented.
The UN General Assembly proclaimed 2015-2024 as the International Decade for People of African Descent with the goal of achieving "recognition, justice and development." Can we achieve these in the USA? We believe that ABHM can be part of the solution.
Our museum's founder, Dr. James Cameron, worked all his life to educate Americans about the ways that ongoing racial injustice prevents America from living up to its stated ideals of liberty and justice for all. Despite being lynched as a teenager, he always dreamed that Americans would come together to form "one single and sacred nationality."
ABHM is a Site of Conscience, member of a coalition of memorial museums and sites in active and post-conflict zones around the world. As such, we help our compatriots understand how America's racial history affects our country today and how, together, we can create a bright and fair tomorrow for all America's children.
If you would like to further understand the issues that sparked the fires of August 13, 2016, please follow links below – and then explore seldom-told stories in American history in ABHM's galleries.
"Milwaukee Shooting: Curfew Imposed in Hopes of Restoring Calm" by Madison Park, Holly Yan and Ray Sanchez, CNN
"Evidence of Things Unknown" by Reggie Jackson, Milwaukee Independent
"Complex Issues Contributed to Recent Milwaukee Unrest" – Central Time Show on Wisconsin Public – Radio Interview with ABHM Head Griot Reggie Jackson
"What It's Like to Be Black in Milwaukee" by Ray Sanchez, CNN
"After decades of segregation, anger boils over in Milwaukee" by Brendan O'Brien, Reuters
"Why Sherman Park Media Coverage Was Out of Focus" by Reggie Jackson, Milwaukee Independent
"Community Leaders Reject WEDC's Jobs Claims for Sherman Park Area" by Matthew Brusky, Milwaukee Independent
"Teenage girl stands as park peacemaker despite any tensions" by Shateria Wiley, YouthRise Milwaukee
"This can't be the land of the free and home of the brave only for some."
Black voices should never be silenced. This was April Wells' message in her poem "Loud Voices," which she performed at the Get Lit Classic Slam in Southern California. The teen shunned the notion that black people are better off biting their tongues than addressing injustices.
"I didn't understand why silence was in my blood but just because my ancestors couldn't say anything didn't mean I wouldn't speak up for myself," the teen said, referencing black slaves.  "They say black people are meant to be loud and that's OK because I have something to say; this voice has the ability to move mountains."
Wells urges her audience that it's time to speak up, mentioning Eric Garner, Michael Brown and other black people who've been killed by racial injustice in America. She offers using your voice as a solution.
"There is no excuse to take away one more voice," she said. "This can't be the land of the free and home of the brave only for some."
Read the full article here. 
Read more Breaking News here. 
Black women from all over Brazil, of different backgrounds, education and socioeconomic status, came together to protest widespread inequality.
They were lawyers, feminists, Christians, transgender women, domestic workers, militants, favela dwellers, politicians, students and many more. Despite their differences in beliefs, education and income, on Wednesday they came together behind the one thing they had in common: being a black woman in Brazil. On that day, more than 10,000 black women from all over the country gathered in…Brasilia, for the first national black women's march—Marcha das Mulheres Negras. The march's tagline was, "Against racism and violence and for the well-being."
"This is the first time black women coming from all parts of the country came to Brasilia with the same message," said Ivana Braga…"It doesn't matter if a black woman is in Congress, is a civil servant, in academia or is a domestic worker; their skin color will continue to play a part in how their rights are denied."
Braga, 38, marched alongside her 63-year-old mother, Maria dos Rosana Moraes. "It was important for me to bring my mother because she has been a domestic servant since she was 13 years old," said Braga, who promotes women's rights in Maranhão and is a Fulbright scholar. "She was denied rights her entire life.
"This isn't just my fight or her fight. It comes from generations of women who were denied their rights," Braga added.
Statistics show that black Brazilian women suffer some of the highest rates of violence and poverty in Brazil. A study…found that violence against black women in Brazil increased 54 percent between 2003 and 2013. In 2013…more than 2,800 black women died from violence. Violence against white women in the same 10-year period decreased 18 percent.
Black women are also losing their…family members to violence. Of the 60,000 homicides in Brazil each year, more 40,000 of the victims are blacks. From 2002 until 2012, the number of black victims of homicide increased from 29,656 to 41,127. Black women even suffer in the workplace…On average, they earn $364 per month, which is about 44 percent of the average pay for white men, 75 percent of the pay for black men and 60 percent of the pay for white women.
National organizers planned the march for almost two years. It had been originally scheduled for…May 13, the day millions of slaves were freed in Brazil in 1888. But organizers changed the date to Nov. 18 to coincide with the National Week of Black Consciousness in Brazil. During this week, Afro-Brazilians celebrate the life of Zumbi dos Palmares, the leader of a community of escaped slaves in Brazil that existed more than 300 years ago. Nov. 20 is the Day of Black Consciousness in Brazil…
Volunteer organizers in…Brazil worked closely with local communities for more than a year to promote the event and to raise money to bring thousands of women to Brasilia. Organizers in Niteroi sold feijoada dinners and T-shirts. Rio de Janeiro organizers even held a local premarch…July 26 to celebrate the Day of the Black Woman in Latin America and the Caribbean.
As a regional organizer, Braga spent months visiting local communities of black women to talk to them about racism, violence and socioeconomic issues…Five busloads of women departed from São Luis on the Monday before the march and arrived in Brasilia Wednesday in the early-morning hours. The marchers slept in a local stadium, and by 11 a.m. the same day, they started to march.
Priestesses of Candomblé, an Afro-Brazilian religion, led the marchers…toward Brazil's congressional building. Along the way, the women…sang, chanted and danced to inspirational music.
"I cried when I was marching," said Jamille Sepol, vice president of the Justiça Negra collective. "But I was crying because I was happy to experience this moment for black people, black women, the black movement, for black youth and children. We needed this pride, and this day was a day to be proud of…"
Shortly after the march, a group of black women met with the president and Nilma Lino Gomes, Brazil's minister of women, racial equality and human rights. The goal of the march was to amplify the voice of black women in Brazil, and activists say they have no doubt that they succeeded.
By Brendan O'Brien, Milwaukee Neighborhood News Service
Johnny Ruffin reached into his wallet and pulled out $35…defiantly displaying most of the money he had to his name for anyone to see.
About 10 minutes earlier, Ruffin explained his financial plight to a Milwaukee Municipal Court judge who had none of it, telling him that he must pay $120, the last of the $1,200 in fines and fees that he had amassed over the last decade for various minor traffic and drug offenses.
"Tickets have just built up. I have been paying since 2005 and I still can't believe I'm not caught up… every time I pay $60, $60, $60," he said, adding that he doesn't know how he'll find $120.
The 35-year-old black man is no saint. But the two-time felon has been trying to make amends by working a full-time job at a gun factory and routinely making payments to the court system to avoid jail time, despite claiming that the amount he was told he still owed is inaccurate.
"A lot of the stuff they got me on wasn't even me…" he said. "I'm locked into the system until I can get it all cleaned up. I'm going to be stuck for awhile. I'm chalking it up to the system."
Ruffin's situation is emblematic of the financial entanglement many poor black men have gotten themselves into with the city's municipal judicial system, according to local experts who say the system criminalizes poverty by levying monetary penalties, driver's license suspensions and ultimately jail time on defendants who do not have the means to pay their citations.
"This is a part of the cycle of poverty," said John Pawasarat, director of the Employment and Training Institute at the University of Wisconsin-Milwaukee.
"It's a pretty irresponsible way to do business if you're a public body dealing with the citizens in your city. These people are on the fringe and this is the last thing they need," said Pawasarat…
Despite the rampant poverty that grips Milwaukee's inner city, citations that carry a relatively hefty fine are one of the city's methods of choice to punish offenders for non-criminal infractions.
For instance, a disorderly conduct citation carries a fine of at least $200, which could amount to two-thirds of a weekly pay check for an individual who earns $7.25 an hour, the minimum wage for a full-time job. Defendants who are found guilty must pay a fine or face a suspended driver's license or jail time.
According to court data obtained by NNS…the Milwaukee Police Department writes a disproportionate number of citations in some of the city's poorest areas. Although only 12 percent of Milwaukee residents live in two of the city's poorest ZIP codes…people in those ZIP codes received 17 percent of the 430,000 tickets written from 2011 to 2014.
The disparity in citations by income is also illustrated by comparing the number of tickets written in the 53206 ZIP code, where half the residents live in poverty, to the number written in the 53215 ZIP code, a predominantly Hispanic neighborhood where about a third of residents live in poverty, the same as the citywide average. Police wrote about one ticket for every four people in 53206 compared to one ticket for every 11 people in 53215 in 2014.
A typical day at the Milwaukee Municipal Court…begins when dozens of defendants…travel up to the courtrooms. Once on the second floor, they file through a security checkpoint, where they place their metal items into a plastic bin and walk through a metal detector…
Moments later those assembled in the Branch 2 courtroom rise to their feet as Judge Derek Mosley strolls in and takes his seat in front and high above the court. For several hours, he and two other judges work their way through a long docket of cases, hearing the constant drumbeat of financial despair on the part of many defendants.
"I get it. I get it," Mosley said, back in his chamber… "It starts with jobs. The problem we have is that the individuals getting cited probably wouldn't be getting cited if they had employment… and were stakeholders in the community…"
With this in mind, judges try to incentivize employment by waiving fines for defendants who come back to court with proof that they got a job or enrolled in school.
"The court is not going to get any money, but who cares?" Mosley said. "It reduces recidivism because (employed defendants) don't come back. I have no control over bringing businesses to Milwaukee…but I can try to get people to jobs to better themselves."
Some violations directly involve victims…while others are victimless crimes… Mosley said he tries to strike a fine balance between fairness for poor defendants and justice for victims, many of whom are also poor and minority.
"When I get an assault and battery from the 53206 ZIP code, the defendant and the victim look exactly the same," Mosley said. "I look at the back of the ticket and look at the victim (many of whom) are black or Mexican and poor. It's hard for me to tell the victim of an assault and battery that (the defendant) lives in the 06 zip code and I have to help them out."

Even if defendants do not plan to fight their cases, Mosley implores them to come to court, where they can make arrangements to pay their obligations and where he can reduce fines and demerit points…
He said, however, that defendants typically fear the court system and believe that if they show up, they will be taken into custody if they have a municipal warrant against them.
"We have a policy in municipal court that if you walk in, you will walk out," Mosley said, noting that judges will lift all warrants against individuals if they pay $20 toward their fines, regardless of how much they owe…
Police and local lawmakers have begun to address some of the city's citation practices for minor, nonviolent infractions. Police officials have said they've made a concerted effort not to ticket for minor traffic offenses over the last few years, decreasing the overall number of tickets written by 46 percent from 2011 to 2014. In addition, the Milwaukee Common Council significantly slashed the fine for possessing a small amount of marijuana.
"One of the issues that continues to come up is the injustice many people feel who live in communities that are overly policed and where ordinances and laws are stringently enforced," said Ald. Ashanti Hamilton… "We have pretty much criminalized where you live and what you look like."
The intersection between race, poverty and the local judicial system has been a concern of the Justice Initiatives Institute…which recently published a report examining defendants who were jailed after they failed to appear in court and pay their fines.
The report examined the economic and demographic characteristics of defendants processed through a courtroom in the county jail separate from the main court facility in the Milwaukee Police Department, from 2008 to 2013. It studied 26,000 defendants, most of whom were arrested on a municipal warrant after not paying a citation and spending two or three days in jail on each occasion, earning time served, which reduces the amount of money owed for a fine.
The study found about 85 percent never paid anything on their citations; about two-thirds of those jailed did not have a job. Of those who were employed, 40 percent worked low-paying jobs. Black men had seven times as many cases associated with citations as white men.
"The trends in the unemployment rates in Milwaukee mirrored the trends in how people were appearing in our study. When the unemployment rates went up, the number of people in our study…was going up. So it's linked to poverty," said Marilyn Walczak…
According to court officials, the city's jailing policy changed in May 2012. Before the change, defendants for the most part were eligible to be released on a recognizance bond when the first warrant was issued for not paying their fines. When subsequent warrants were issued, they were held until they paid a cash bond. Now defendants are eligible for a signature bond the first three times they are taken into custody on a warrant for not paying their fines…
The city spent more than $10 million to jail the 26,000 defendants for not paying about $5.7 million they owed from 2008 to 2013…
The court itself earns a profit each year, according to a cost-benefit document drafted by the city's budget office in November 2014. The document showed that the court earned a net of between $1.5 and $2.8 million each year from 2009 to 2013, although that does not take into account several direct and indirect costs such as expenses associated with paying for collections, bailiffs and city attorneys.
"Our revenue goes into the city's general fund," Islo said, noting that the money from citations helps fund city departments that do not generate revenue on their own.
The city's Judiciary and Legislation Committee recently passed a resolution asking for the State of Wisconsin to allow the city to apply a surcharge on each municipal fine. The funds would pay to store data from police-worn body cameras, which officials expect to cost $1.7 million.
"The people you are taking the money from… very often do not have the financial resources to pay their fines," said Chris Ahmuty, executive director of the American Civil Liberties Union of Wisconsin…
State law allows for defendants to apply for an indigence determination and makes available community service and alternative sanctions rather than monetary penalties to those who cannot pay.
But very few defendants take advantage of these alternatives. In the impoverished 53206 ZIP code, only 723 defendants who received 41,900 citations from 2011 to 2014 were offered and agreed to alternative sanctions…
"I have seen instances in Milwaukee where people are not advised and…no effort is made to communicate with them about their ability to pay or alternatives [available] to them if they can't pay," said James Gramling, a former Milwaukee Municipal Court judge…
Another sign that defendants do not know their rights is that only 994 of 434,463 citations written were adjudicated in a court trial from 2011 to 2014. Part of the reason for this may be the wording on the citation itself…
The citation doesn't make it clear that defendants have the right to appear to contest the charge against them, added Walczak…
"When you are first given a ticket, it says that you don't have to appear," she said. "But what that means is that if you want to admit you're wrong and pay the ticket, you don't have to appear and you can just send your money in. But I don't think people understand that."
Walczak also blames the fact that there is no online form designated solely for defendants who want to apply for an indigence determination. There is a form to apply to make installment payments. In addition, an informational pamphlet available in court makes no mention of alternative sanctions for people who are indigent, although a third of the city's residents live in poverty.
Court officials "don't take time to fairly and aggressively determine ability to pay. They put the burden of that on the defendant," she said. "If the (defendant) doesn't bring it up in court, they don't bring it up."
Read the full article here.
Read more Breaking News here.