Last week, Twitter said it was "pausing" to reconsider the process by which it bestows the blue checkmark denoting accounts that had been "verified," and on Wednesday the company announced it was yanking the designation from some users who occupy the neo-Nazi or nationalist bucket of grassroots white activism. The announcements came after many users, including The Root's Monique Judge, raised hell when Twitter gavea blue checkmark to Jason Kessler, a white nationalist who helped plan the pro-Confederacy march last August in Charlottesville, Va.
While Twitter CEO Jack Dorsey and his workers ruminated on the company's account verification policies, I decided it was a good time for us to pause and think about our relationship with Twitter and other social media and technology companies. We voluntarily "contribute" our creative insights, dollars and labor to the success of these companies by buying devices and apps, uploading memes, ideas and language that trends widely. Yet in terms of the vast wealth these companies hold, disburse to employees and generate for shareholders, we get little in return.
Think of the recent moment where top lawyers for Google and its parent company, Alphabet, along with Twitter and Facebook, were summoned to Capitol Hill to testify before Senate and House committees looking into the company's role in disseminating toxic content and ads during the 2016 presidential election cycle.
Anti-black messaging was the secret-sauce of many of the pro-Trump, nationalist memes and messages that flooded through the popular social media channels during the 2016 election cycle. Yet somehow, the gatekeepers at Facebook and Twitter didn't seem to notice the methodical manipulation of racial animus that already exists in America, specifically, some white Americans' negative opinions of blacks.
The leaders and staffs of Twitter, Facebook, and other popular social media platforms missed the Russian's exploitation of the black-white divide, an obliviousness that has precedent: black women users had long alerted Twitter officials to abusive conduct of other users, up to and including death threats. The hashtag #YourSlipIsShowing catalogs such experiences from black women dating back several years, and is readily available…at least to those interested in learning about and addressing these kind of user experiences.
But clearly, the tech company leaders were not inclined to pay attention to this area of user complaints, a strong indication that they also probably weren't interested in the views of the few blacks and Latinx workers at their companies, either. Just look at what happened to Leslie Miley, a black former engineer at Twitter. Miley revealed in a recent interview that he had flagged tons of dubious accounts in 2015, telling his bosses that he believed they were from Ukraine or Russia, and that they appeared to be part of a coordinated campaign.
Miley was told by his bosses at Twitter to "stay in his lane," a response that Miley says he took as a sign that the company leadership preferred to err on the side "growth numbers," rather than on any potential harm to audiences that the bots might pose.
Meanwhile, black users of Instagram, Facebook, Twitter and Google products infuse them with a deep coolness factor that resonates around the world. Our intellectual property and creativity is the lifeboat that floats these companies to revenue solvency, yet few of us share in the enormous economic wealth generated by these companies, not even after dozens of news stories, industry conferences, and activist's complaints forced the companies to pledge to improve hiring and retention.
Black Americans know when something smells rotten, including the kinds of scams and shady BS that can unfold at one's job. And, as usual, blacks and other marginalized communities have solutions. We have the brain-power, problem-solving acumen, and moral fortitude to right the ship of state.
The question is whether our concerns and advice will be heeded, and whether we can achieve full access to the genuine levers of power in the United States, including access to quality education, healthcare, voting and, most importantly in the context of the innovation ecosystem, investment capital.
Read the full article here.
It's not just the Tech industry, either. Read how one company is beginning to acknowledge its racist past here.
Read more Breaking News here.
On Oct. 23, 12 Oakland County, Mich., communities spent roughly nine days without water after a major water main break. Almost 305,000 people were affected by the break.
Oakland County and the Great Lakes Water Authority worked nearly around the clock to ensure that the residents in those communities had safe, potable water. Water stations in various communities were set up. Businesses and residences alike were given access to the scarce commodity.
It directly affected my mother, and as a native Detroiter and former resident of Oakland County, I should've been ecstatic to hear how well this situation was handled. So what's the issue, you ask?
Residents in the Genesee County city of Flint, Mich., have been without potable, usable water since 2014. Government officials—locally and statewide—blatantly lied about the water supply being safe for human consumption. Fertilizers, pesticides, built-up bacteria and lead have contaminated the Flint River (the city's primary source) for decades. Their half-assed attempt to "clean up the water" never ensured that the city's folks would remain healthy.
It's been three whole years, and citizens still can't drink the water. Water stations were set up (some years later), and as of this past summer, many of the stations were closed following Flint's lead levels being under the federal limit. Why is there such a disparity between Oakland County and Genesee County in their response to each crisis?
Race and class.
Oakland County is one of the wealthiest counties in Michigan. It used to be the wealthiest, but some argue that Livingston may have snatched the "coveted" honor. The median income in Oakland County is roughly $70,000. The county's population is a whopping 72.8 percent white, which is a glaring contrast to Flint's 60 percent black population. The median income in Genesee County is about $44,000, but the surprise is that the 72 percent white population of Genesee is typically lower-class and poor.
The water crisis in Flint was not just a "black problem." It was a class problem. Poor whites have been brainwashed to think that they receive the same consideration as well-to-do whites, and that's simply not true. Because there are more poor whites, they give the advantage of numbers for rich whites with agendas to use them time and time again. And because skin color matters, they never see they are being consistently shit on.
Businesses and civilians from various counties throughout Michigan sent batches of water to the good folks of Flint. However, their assistance wasn't enough to mitigate the long-term damage. Fetal deaths spiked, pregnancy rates lowered, 12 people died from Legionnaires' disease and lead poisoning debilitated many more people in the city. Given the already high infant mortality and morbidity rates in the city, Flint residents never had a chance.
Apparently, money will always talk, and black lives will always be expendable.
Read the full article here.
Read about what the Black Holocaust is here.
Read more Breaking News here.
This week five African-American students at Air Force Academy Prep School in Colorado found the words "Niggers Go Home" scrawled on the dry erase boards outside their dorm rooms.
Once the school became aware of the racial graffiti the school superintendent Lt. General Jay Silveria rattled off a statement to the press.
"I've said it before, the area of dignity and respect is my red line,"
"Let me be clear: it won't be crossed without significant repercussions. Diversity is a strength of our Academy and our Air Force. We are stronger when we take into account the views of those with different backgrounds and life experiences."
The students are all part of a 10 month program to help them acclimate to life at the Air Force Academy, so in a twisted sort of way this is part of their training. While their parents have expressed concern and an investigation has been launched none of that will change one basic fact: The United States military has a long, sordid, racist and violent history when it comes to the treatment of black soldiers. While this may be the first, it certainly won't be the last or the worst racial treatment these young people will receive should they choose to serve in the United States military.
Conservatives of all colors like to point to the military as one of the most integrated and racially harmonious parts of American society, which is fine if you're talking about Salvation Army or GI-Joe. The actual military? Not so much. Black soldiers, whether in training or veterans have been routinely targeted through American history for a special kind of violence as white supremacy quivers at the notion of black people being armed, trained and capable of arming themselves.
That's why black veterans were consistently denied the GI-Bill that built the American middle class. That's why lynching of black soldiers has been so common throughout U.S. history. That's why Richard Collins III, a recently commissioned officer two weeks from graduating college this spring was murdered by a white nationalist while the president barely said a peep.
That's why despite African American women making up over 40% of all women in the armed forces it wasn't until 2014 that President Obama was able to change racially biased hair standards for active duty women of color.
That's why a group of West Point cadets showing racial and American pride caused a firestorm last year.
These are just examples of how the American military to this day treats people of color, it continues to do a number on white Americans as well.
The issue isn't simply that a bunch of bigots wrote threatening words on the dorms of five cadets, that's almost to be expected. The issue is that the military despite the rhetoric has not adequately rooted out racist sentiments in the ranks yet still expects (and in fact depends) on large numbers of African Americans to join up and serve, even if that means facing an enemy on the field or in your barracks.
Read the full article here.
Read about how to help positively impact racial reconciliation here.
Read more Breaking News here.
Jemele Hill said what she said.
In a series of tweets stemming from an odd conversation about Kid Rock, the co-host of ESPN's "SC6" called President Donald Trump a "white supremacist who has largely surrounded himself w/ other white supremacists."
"Trump is the most ignorant, offensive president of my lifetime," she wrote. "His rise is the direct result of white supremacy. Period." She added that Trump's presidency had empowered other white supremacists and that his bid for the White House wouldn't have been successful if he weren't white.
Backlash to the tweets, helped along by people like former ESPN reporter Britt McHenry and Fox Sports Radio's Clay Travis ― who frequently says racist things ― led ESPN to release a statement saying Hill's views "do not represent the position" of the network. This made things worse.
Sarah Sanders, the White House press secretary, called Hill's tweets a "fireable offense." That same day, ESPN tried to prevent Hill from co-hosting "SC6" with Michael Smith. In a tweet, Hill said her "regret" was that her comments "painted ESPN in an unfair light." ESPN's public editor, Jim Brady, said Hill ― and the media at large ― should "let the reporting do its work, and resist more incendiary labels."
None of what Hill said in her initial volley of tweets was inaccurate. Trump voters were driven by racism, and white supremacists openly support him. His campaign rhetoric was a dog whistle for white supremacists. His attorney general has praised the Immigration Act of 1924, a law crafted by eugenicists and championed by people hoping to preserve a "distinct American type." After a violent white supremacist rally in Charlottesville, Virginia, Trump attributed the violence to "both sides," even though none of the counter-protesters killed anyone.
That Trump is a white supremacist is a straightforward conclusion that can be drawn from an abundance of available evidence.
But not all straightforward conclusions are admissible in mainstream American media, particularly on the subject of race, particularly when stated by a black woman.
To get a sense of the straitjackets placed on black media figures working in a predominantly white industry, where "white supremacy" is usually seen as a slur applicable only to Klansmen and Nazis, I convened three prominent black journalists: Greg Howard, a reporter at The New York Times; Elena Bergeron, former staff writer at ESPN The Magazine and current editor-in-chief of SB Nation; and a current ESPN employee who, for obvious reasons, wanted to remain anonymous.
Read the full interview here.
Read about the crucial role of black press here.
Read more Breaking News here.
L'Oréal Paris has fired its first transgender model to join the brand just days after announcing the partnership.
L'Oréal released a statement on Twitter Friday morning saying the company "champions diversity" but decided to cut ties with Monroe Bergdorf, saying her comments calling out white America's racism in a recent Facebook post are "at odds" with their values.
Bergdorf received big buzz earlier this week after L'Oreal announced her inclusion in a YouTube video ad for L'Oréal Paris True Match Foundation. But Bergdorf's excitement was short-lived.
By Friday, the company had disavowed comments the model previously made on social media, which surfaced in a report the Daily Mail published on Thursday.
The damning piece blasted Bergdorf over her comments, claiming she wrote that "all white people are racist." Spectators highlighted how her words had been misrepresented and taken out of context, with some even suggesting that the story was a deliberate attempt to downplay Bergdorf entirely.
Bergdorf's comments, which call out systemic racism in America and how white people benefit from special privileges, have since been deleted from her Facebook page but have been published elsewhere in full.
"Honestly I don't have energy to talk about the racial violence of white people any more. Yes ALL white people," Bergdorf reportedly wrote, going on to address the privileges afforded to them. "Because most of ya'll don't even realise or refuse to acknowledge that your existence, privilege and success as a race is built on the backs, blood and death of people of colour. Your entire existence is drenched in racism. From micro-aggressions to terrorism, you guys built the blueprint for this s***."
"Come see me when you realize that racism isn't learned, it's inherited and consciously or unconsciously passed down through privilege," she added."Once white people begin to admit that their race is the most violent and oppressive force of nature on Earth… then we can talk."
On Friday morning in the U.K., many expressed outrage with L'Oréal's decision to denounce Bergdorf's message, saying it highlights the hypocrisy of the company claiming to be "champions of diversity" while only embracing inclusion for goals driven by profit and actively condemning Bergdorf, a black trans woman, for speaking out about racism ― an issue that impacts people of color most.
"If you truly want equality and diversity, you need to actively work to dismantle the source of what created this discrimination and division in the first place," she wrote. "You cannot just simply cash in because you've realised there's a hole in the market and that there is money to be made from people of colour who have darker skin tones."
Read the full article here.
Read about the history of race here.
Read more Breaking News here.
A woman in Canada who recently had her left leg amputated is having a difficult time accepting her new body.
Rahab Wanjau, 30, was born with a deformity on her left tibia (or shinbone). She told HuffPost that after five painful surgeries, which left her relying on crutches most of her life, doctors recommended she have her leg amputated.
In June, she had it removed at Regina General Hospital in Regina, Saskatchewan. After her surgery, Wanjau went to Regina's Wascana Rehabilitation Center to pick up a prosthetic leg and foot shell, or a cosmetic covering for a prosthetic foot.
She was shocked and disheartened to discover she only had two color options for a foot shell: one shade was way too light and another was too dark.
Wanjau said when she asked her prosthetist if she could customize the color, she was told she would have to pay out of pocket for it.
"We have lots of color options when buying house paints, models of cars and makeup foundations," Wanjau told HuffPost. "It would be great if I can pick a foot shell in my skin tone."
Out of frustration, Wanjau contacted Ottobock, the company that manufactures the foot, and learned that because of the prosthesis's material, only the company or an outside professional could permanently change the color. This too would have to be paid for out of pocket.
Read the full article here.
Read more Breaking News here.
Over the past month, the Trump administration has been rolling out "theme weeks" as if America were one big dysfunctional high school and the homecoming game will fix everything.
In July there was Made in America Week to highlight business; American Heroes Week highlighted the military; and to kick off August, the administration launched "White Pride" Week to highlight the plight of the oppressed white American male….
This overtly hostile aggression from the federal government against black education, employment and lives is the perfect run-up to today's critical racial anniversary.
On Monday, Aug. 7, 1944, the Philadelphia transit strike—one of the most costly, violent and important battles for African-American rights in the last century—ended. The story of black struggle against brutal, self-destructive white hatred is a perfect reminder of just how far back in history the Trump administration wants to take us.
During World War II, Philadelphia was one of the most important supply cities for the Allied efforts….
All of this was made possible by the Philadelphia Transit Co.'s 11,000 employees, who managed trains, trollies and buses for almost 600,000 commuters in the City of Brotherly Love everyday….
In May 1943, however, President Franklin D. Roosevelt signed executive order No. 9346, which empowered the Fair Employment and Practices Commission to force companies with federal contracts to train, hire and promote African-Americans equally.
As the law began to trickle down to various cities across the country, the PTC was told by the federal government that it would have to start hiring and promoting black workers…
The company's solution was to promote eight black men to bus and trolley drivers….
In January 1944, over 1,700 white employees signed a petition stating, "We, the white employees of the Philadelphia Transit Corporation, refuse to work with Negroes as motormen, operators, and station trainmen."
When, after months of negotiations and insistence by the NAACP, the black workers were slated to begin training as drivers that August, white workers went on strike Tuesday, Aug. 1, 1944.
Despite being in violation of their union contract, as well as of federal law, the four white ringleaders of the strike said that nobody was getting back to work until the eight black rail workers were demoted.
James McMenamin, the leader of the strike,…was fired and charged with violating federal labor laws but got off a year later when a jury found the evidence against him "inconclusive."
There is a context to the pettiness of this strike that can't be overlooked in our current political environment. The United States was in the midst of a war against Nazis, and transit employees were crucial to keeping troops equipped for that war, but keeping black men from getting promoted was more important than fighting the Nazi threat.
Millions of pounds of munitions were lost that week, and the man hours lost amounted to the loss of five naval destroyers….
It is also estimated that thousands of American lives may have been lost in the European theater of World War II because of the strike. But that didn't matter, because stopping a few black guys was more important to a large swath of working-class white America.
It's important to remember that while all of this occurred 73 years ago, with a stroke of a pen, a tweet and a few white nationalists at 1600 Pennsylvania Avenue, the Trump administration wants to return America to those days of white grievance, violence and discrimination, no matter what legitimate challenges our nation faces.
Read full article here.
Read more Breaking News here.
Find out more here about this 100-year period of discrimination, segregation, and anti-black violence (known as the "Jim Crow Era" and "The Nadir of Race Relations").
An off-duty police officer who was just trying to help his colleagues after a car chase ended in a shootout near his home, ended up being shot by a fellow cop who did not recognize that they were on the same team.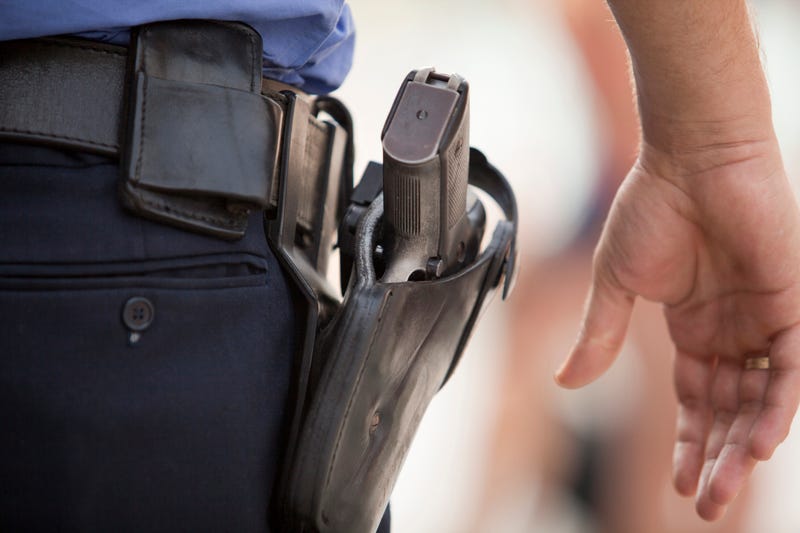 According to the report, two officers initially encountered the armed, off-duty officer and ordered him to the ground. The off-duty officer complied, but the other officers soon recognized him as one of their own and told him that he could stand up. Just then, however, another officer arrived on the scene, and saw the off-duty officer getting up and, not recognizing the man as an officer, fired his weapon, striking the off-duty officer in the arm.
The New York Daily News identifies the off-duty officer as black and the shooting officer as white.
The injured off-duty officer was treated at a hospital and released Thursday.
The 38-year-old officer who was injured has been with the St. Louis department for 11 years. The officer who shot him is 36, and had been with the department for just eight years. In total, seven officers who were involved with the incident were placed on administrative leave and the department's Force Investigative Unit is looking into the incident.
Read more on the incident here.
Read more Breaking News here.

Read about the history of race in America here.
…As kids throughout the country get out of school for the summer, it is a perfect time to reflect on all of the Black children who, over the course of the past semester, have been punished, disciplined or otherwise called out and singled out for wearing braids, locks, natural hair or any other culturally expressive hairstyle. Studying while Black, apparently, is a thing.
Consider some of the outrageous incidents that have taken place. In the Boston area, 15-year-old twin sisters faced detention and suspension for wearing braids, which their charter school claimed was a violation of the dress code. Mya and Deanna Cook, sophomores at Mystic Valley Regional Charter School in Malden, Mass., were banned from the prom and stripped of their extracurricular activities and sports team privileges for violating the school's prohibition on wearing extensions.
…[In] 2009, a white Milwaukee teacher cut off the braid of Lamya Cannon, 7, because the girl was playing with her hair. After cutting off Lamya's hair in front of the class, the teacher sent the girl back to her desk. Would this ever happen to a white girl with pigtails? And could we ever envision a Black teacher doing this to said white girl?…
These days, when some in white America claim they are taking their country back, all the way up to the White House, it is no accident that Black children are punished for their Blackness. We know the studies about the disproportionate discipline against Black children, and black girls in particular. This is part of the school-to-prison pipeline, a regime of punishment following kids through adulthood. Most of all, it is an effort to monitor their bodies, not unlike the Black Codes established during Jim Crow to restrict the activities and labor of Black people and maintain white supremacy….
These codes, like the so-called dress codes in place at some schools today, serve the same purpose–to normalize whiteness and criminalize Blackness. When schools tell Black children the hair God gave them is an issue of bad hygiene and grooming, what they mean is they think Black people and their hair are less desirable. Some things never change. Institutional racism, not the hair, must change.
Read David A. Love's article for TheGrio.com in its entirety here.
Read about how Black people are disproportionately punished in other institutions here.
Read about the Five Pillars of Jim Crow here.
Read about the education of Black children in the Jim Crow South here.
Read more Breaking News here.
Zahara Hill reports backlash of a black feminist event— the Nyansapo Festival— scheduled to commence July 28 in Paris by the city's mayor, Anne Hidalgo.
Organized by the Mwasi Collective, the festival was "to be a safe space for black feminists to curate sociopolitical strategies to overcome marginalization and oppression." Unfortunately, the event caused controversy with "far right and anti-racism organizations calling foul after it came out that most of the event's activities would occur in racially exclusive spaces."
Hill quotes an interpretation of the mayor's tweet:
"A translated tweet from Hidalgo on Sunday revealed she took issue with the festival being "forbidden to whites" and that she would even consider prosecuting the event organizers for discrimination."
However, after a discussion with the Mwasi Collective the mayor came to a solution, as revealed in a later tweet:
"The festival organized in a public place will be open to all. Non-mixed workshops will be held elsewhere, in a strictly private setting…"
Controversy ensued when the Mwasi Collective claimed that the "set-up didn't change as a result of a conversation with Hidalgo; they'd already intended for the "non-mixed" workshops to take place on private property…"
According to Hill, the Nyansapo festival will proceed, and so will the continuation of white fragility in the City of Lights.