by Priscilla Frank, HuffPost Black Voices
One of the most recent additions to the halls of New York's Museum of Modern Art is a red San Francisco 49ers jersey. The same jersey worn by Colin Kaepernick between 2011 and 2016.
Kaepernick's sports jersey hangs with four others featured in the ongoing MoMA exhibition "Items: Is Fashion Modern?", which explores the impact of 111 carefully curated items of clothing and accessories on the 20th and 21st centuries.
The jersey is a unique item of clothing in that its uniform design conjures an almost immediate sense of power, promise and camaraderie. As MoMA curator Paola Antonelli and her curatorial team expressed in an email to HuffPost, "Children around the world look up to sports heroes as role models; for them, the jersey embodies a dream or aspiration."
Kaepernick's jersey, the San Francisco 49ers' number seven, became the best-selling jersey in the NFL's official shop website in 2016 and remains one of the top selling items to this day. The stats are especially noteworthy seeing as Kaepernick no longer plays for the 49ers, or any other NFL team at present. The popularity of the uniform, then, illuminates the quarterback's status not only as a star athlete but a contemporary icon of civil rights.
Kaepernick first sat down during the national anthem ahead a preseason game in August 2016, lowering himself in silent protest of the racial injustice plaguing the nation. "I am not going to stand up to show pride in a flag for a country that oppresses black people and people of color," he told NFL Media of his decision. "To me, this is bigger than football and it would be selfish on my part to look the other way. There are bodies in the street and people getting paid leave and getting away with murder."
In September 2016, Kaepernick took a knee instead of a seat, and has continued to do so ever since. The protest has been an unremitting source of inspiration, controversy and debate since its inception. Just last month, President Donald Trump criticized the gesture, while public figures including fellow NFL players, Stevie Wonder and former CIA director John Brennan expressed their unwavering support for Kaepernick and his demonstration.
After the 2016 season came to a close, Kaepernick opted out of his 49ers contract and has been a free agent ever since. Nonetheless, his red jersey continues to sell in massive quantities, a testament to the influence Kaepernick holds off the field as well as on it. His jersey embodies so much of the ongoing political conversation in this country today ― what America stands for, and what it kneels for.
"We hope that visitors to 'Items′ will see in these sports jerseys not only the blood, sweat and tears of their original wearers but also the complex synthesis of aesthetics, personal choice, collective style, politics, business, race, gender, marketing, labor and technologythat are embodied by their reproductions," Antonelli and her team wrote.
The other jerseys in the exhibition are Pelé's 1958 FIFA World Cup Brazilian national soccer team jersey, Michael Jordan's Chicago Bulls basketball jersey and the Black Ferns women's rugby national team jersey. Athletic gear aside, the MoMA show will also feature garments including a little black dress, a keffiyeh, a pearl necklace and Levi's 501 jeans.
Philando Castile was known as a caring man at the St. Paul, Minn., school where he worked as a cafeteria supervisor. He cared so much for the children he served that he often paid for their lunches out of his own pocket when they were unable to, and now, thanks to a local college professor, that generosity will continue through a fund that has been created in Castile's name.
"No child goes hungry so we ensure that every student has breakfast and also lunch whether they can pay or not," Stacy Koppen, Nutritional Services Director for St. Paul Public Schools (SPPS), told WCCO. "Lunches just for one elementary student are about $400 a year."
Before Castile was killed last summer by former St. Anthony police officer Jeronimo Yanez during a traffic stop, he was always ready to help the students who were in need, Koppen told WCCO.
"When a student couldn't pay for their lunch, a lot of times (Castile) actually paid for their lunch out of his own pocket," Koppen said.
Inver Hills Community College professor Pam Fergus wants Castile's generosity and caring for the students to continue.
She told WCCO, "His death changed who I am."
Fergus normally assigns a service project to the students in her Diversity and Ethics class, but this time she came up with one of her own: Philando Feeds The Children.
The money raised through the YouCaring.com fundraiser will be used to help clear lunch debts at J.J. Hill.
As of Thursday night, more than $7,000 had been raised, and Castile's mother, Valerie, told WCCO and Fergus that she plans to match the full amount raised with her own donation.
Read the full article here.
Read about the importance of reconciliation here.
Read more Breaking News here.
How did police end up fatally shooting a blonde, 40-year-old yoga teacher from Australia, as she stood in her pajamas outside her home in an affluent, predominantly white Minneapolis neighborhood?
That question has been focal point since Minneapolis Police Officer Mohamed Noor killed Justine Damond on July 15, after she called to report a possible sexual assault near her home. It's not clear what happened between the time Damond called 911 and when the officers arrived. Officer Matthew Harrity, Noor's partner, says he heard a loud noise before Noor fired a single shot into Damond's stomach from the passenger seat of the police cruiser….
Many of the questions surrounding Damond's death look familiar, because they've been asked before in the wake of numerous high-profile shootings, often involving black civilians. But the near-universal demand for answers, driven by a shared sense of outrage and shock across the political divide over Damond's death, is not. Something is different about Damond.
Robert Bennett, the Minneapolis lawyer hired to represent Damond's family, unintentionally touched on the well-known concept of a "perfect" victim in an interview earlier this month, when he referred to Damond in an off-the-cuff remark as "the most innocent victim" of any police shooting he's heard of….
"I don't remember any reporter, any headlines, any news stories announcing or identifying Philando Castile in terms of his marital status the way that they immediately have been identifying Justine Damond by her marital status," Brentin Mock, a writer for CityLab, told WBEZ, a Chicago NPR affiliate.
"It's almost to suggest that, yes, there should be some extra sympathy — some extra empathy — for the killing of this white woman because she was about to get married," he continued. "But there was no such sympathy extended to Mr. Castile, an African-American, despite that he was about to get married."…
Oftentimes after a police shooting, law enforcement, the media and suspicious public opinion work together to shift the liability for police shootings onto the victim ― at least whenever the victim is black. Shooting victim, Tamir Rice's "size made him look much older," evn though he was only 12 years old. Freddie Gray was "intentionally trying to injure himself," even though he was even though he was handcuffed and not seat-belted in the back of a moving police van. Rekia Boyd, 22, made the officer who shot her "feel threatened," even as he was walking away….
It seems many of Damond's family, friends and neighbors have come together with the realization that America needs to make drastic changes to its policing system. But the response from those who have traditionally stood behind the violence of police officers and eagerly demonized their victims suggests this outrage and empathy may continue to be selective to only the "most innocent" or "perfect" victims.
An off-duty police officer who was just trying to help his colleagues after a car chase ended in a shootout near his home, ended up being shot by a fellow cop who did not recognize that they were on the same team.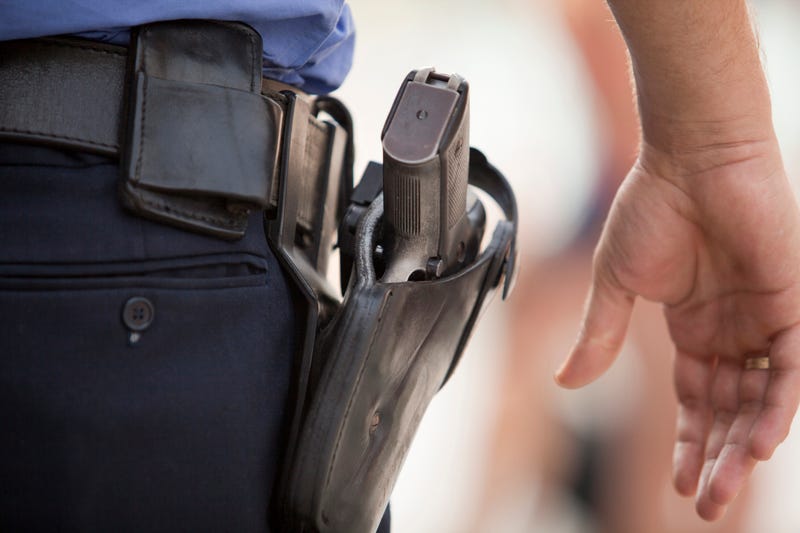 According to the report, two officers initially encountered the armed, off-duty officer and ordered him to the ground. The off-duty officer complied, but the other officers soon recognized him as one of their own and told him that he could stand up. Just then, however, another officer arrived on the scene, and saw the off-duty officer getting up and, not recognizing the man as an officer, fired his weapon, striking the off-duty officer in the arm.
The New York Daily News identifies the off-duty officer as black and the shooting officer as white.
The injured off-duty officer was treated at a hospital and released Thursday.
The 38-year-old officer who was injured has been with the St. Louis department for 11 years. The officer who shot him is 36, and had been with the department for just eight years. In total, seven officers who were involved with the incident were placed on administrative leave and the department's Force Investigative Unit is looking into the incident.
Read more on the incident here.
Read more Breaking News here.

Read about the history of race in America here.
By Nick Wing
Huffington Post Black Voices
The sheriff's department of Madison County, Mississippi, methodically and often brutally targets black residents with a coordinated system of checkpoints and unconstitutional searches, the American Civil Liberties Union alleged in a federal lawsuit filed Monday.
These alleged tactics have left the black community of Madison "under a permanent state of siege," the suit says.
In an 86-page complaint, the ACLU of Mississippi and the law firm Simpson Thacher & Bartlett LLP accuse the Madison County Sheriff's Department of abusing its power to uphold racial segregation and oppression in Mississippi's wealthiest county.
"For Black residents, Madison County is a Constitution-free zone where their right to equal protection under the law and against unreasonable searches and seizures is nonexistent," Jennifer Riley-Collins, executive director of the ACLU of Mississippi, said in a statement.
Madison County is approximately 57 percent white and 38 percent black, according to the 2010 Census. The population remains starkly divided along both racial and economic lines, however, with "predominantly Black towns, neighborhoods, and business districts and predominantly white towns, neighborhoods, and business districts," according to the suit.
Read the entire article here
Read the full ACLU suit here
Read more Breaking News here
By The Editorial Board, New York Times
Americans who think of officially sanctioned torture as something that happens in other countries will be shaken when they confront the grim holdings of the Chicago Torture Archive, an online research repository set to open early next year. The archive — which includes testimony and documents from criminal trials and civil rights cases — was collected by the People's Law Office, which represented numerous survivors of police torture. The trove will give researchers chilling insight into the grisly period from the 1970s to the 1990s when the Chicago Police Department's infamous torture crew rounded up more than 100 African-American men who were shocked with cattle prods, beaten with telephone books and suffocated with plastic bags until many confessed to crimes.
The materials, made available by the Pozen Family Center for Human Rights at the University of Chicago, contain nightmarish stories, like that of Darrell Cannon. In 1983, three Chicago police officers arrested Mr. Cannon in connection with a murder case, drove him to a desolate area and tortured a confession out of him. Mr. Cannon explains in court documents that he refused to confess after the officers forced the barrel of a shotgun into his mouth and repeatedly pulled the trigger. He finally gave in, he said, after they shocked his genitals with a cattle prod….
Mr. Cannon served 24 hellish years in prison — nine of them at a supermax facility. But by the time state prosecutors finally dismissed his criminal case, it had become clear that his torture story was no exaggeration and that a cover-up had been undertaken to hide this period of police abuse from view.
By then, Jon Burge, the commander who had overseen the torture squad, had been fired after he was connected to a torture case. But statutes of limitation shielded him from prosecution for the abuses themselves.By then, Jon Burge, the commander who had overseen the torture squad, had been fired after he was connected to a torture case. But statutes of limitation shielded him from prosecution for the abuses themselves….
The Chicago City Council confronted the torture era head-on last year when it approved a measure that has paid reparations to scores of police torture victims. The legislation also provides substance abuse treatment, counseling and other services to victims and their immediate family members, as well as free tuition at city colleges. A memorial will be built and this history will be taught in city public schools…
Read the full article here.
More Breaking News here.
By 
In the past week alone, there was the 4-year-old girl in Falcon Heights, Minn., who was captured on video consoling her mother after they watched a police officer shoot the mother's boyfriend through the window of a car. And there was the 15-year-old boy in Baton Rouge, La., who sobbed uncontrollably in front of television cameras after the similar shooting death of his father.
Then there were the four brothers, ages 12 to 17, whose mother was shot by the sniper who opened fire on officers in Dallas on Thursday night while the family was protesting police violence against blacks. The mother, who survived, threw herself atop one boy, as the others ran for their lives.
Again and again, children are finding themselves enmeshed in the country's roiling debate over police treatment of African-Americans. The close-up views of violence, obviously traumatizing, are giving rise to a generation of young people who distrust authority, grow up well before their time and suffer nightmares that seem too real.
"As a mother, I have now been forced to raise a son who is going to remember what happened to his father," said Quinyetta McMillon, the mother of the boy in Louisiana who sobbed over the death of his father, Alton Sterling. "That I can't take away from him."
While adults around them protest and demand criminal justice reform, young witnesses of the carnage are reeling from their losses and harboring pent-up depression that often comes pouring out in panic attacks and breakdowns, relatives say.
The list of young people burdened by these tumultuous times includes Tamir Rice's teenage sister, who lost 50 pounds after watching the police shoot him in 2014; the daughter of Oscar Grant III, killed by a transit officer while lying down on a California train platform in 2009, who as a 5-year-old would ask playmates to duck when she saw the police; and the 9-year-old nephew of Sandra Bland, who began sleeping in his mother's room after Ms. Bland's death last year in a jail cell.
"They are aware of what's going in the world, of how you can leave your house and you can very well end up in a body bag," said a sister of Ms. Bland's, Shante Needham, whose four children continue to struggle with the death of their aunt. "They watch the news. They see all the stuff going on on Facebook. And it's sad that kids even have to think like that, that if I get stopped by the police, I may not make it home."…
Read the full article here.
More Breaking News here.
BY 
Cpl. Eric Casebolt will not face criminal charges after a controversial video showed him aggressively tossing a 15-year-old girl in a bathing suit to the ground at a pool party and then pinning her to the ground with his knees.
A Texas grand jury declined to indict a McKinney, Texas, police officer who was seen on video slamming a teenage girl to the ground outside a pool party last year, WFAA reports.
Now-former Police Cpl. Eric Casebolt was thrust into the spotlight in June 2015 after seven minutes of video showed the officer aggressively tossing the 15-year-old girl to the ground before pinning her with his knees. Casebolt also pulled his gun on two other youths who came running to help the girl.
A Collin County grand jury ruled Thursday that there was not enough evidence to press criminal charges against Casebolt, WFAA reports.
"We're glad that the system worked in his favor in this case," Casebolt's attorney, Tom Mills, said of the decision, according to the Dallas Morning News.
Casebolt resigned four days after the incident.
Following the decision, the family of the teenage girl Casebolt slammed to the ground said they will sue Casebolt, the Morning News notes.
"We currently live in a time in which the public servants who are hired to protect and serve are not required to uphold the very law they are sworn to enforce," attorney Kim T. Cole said in a prepared statement. "The message is clear.  Police are above the law.  This must change."
According to the Morning News, following the grand jury's decision, McKinney police will be hosting a forum Monday evening titled, "Moving Forward, Strengthening Police and Community Relationships."
Read more here.
More Breaking News here.
Mizzou seems to have catalyzed years of tension over inequality and race.
"It doesn't matter what color we are, I felt that she really understand where we are coming from," Rice's mother said.
Hillary Clinton held a private meeting in Chicago on Monday with the families of prominent victims of recent gun violence.
The mothers of Trayvon Martin, Jordan Davis, Michael Brown and Tamir Rice were all present at the meeting with the former secretary of state.
The women discussed racial inequality, criminal justice reform, and gun control…
"She is a mother and she is a woman and I felt she understood where we were coming from," said Samaria Rice… "It doesn't matter what color we are, I felt that she really understand where we are coming from."
Rice's son, Tamir, was the 12-year-old Ohio boy fatally shot by police last year for wielding what later turned out to be a BB gun. Brown, 18, was shot and killed by police officer Darren Wilson last year in Ferguson, Missouri.. In 2012, Martin, 17, was shot and killed by George Zimmerman…for appearing "suspicious." Davis, also 17, was shot and killed after an argument…with Florida resident Michael David Dunn…
Clinton has been vocally supportive of the Black Lives Matter movement for racial justice, which gained prominence following Martin's death.
"We all have a responsibility to face these hard truths about race and justice honestly and directly," she said in a July speech.
When Clinton met with Black Lives Matter activists during a campaign stop in August, she offered tips on how to best get their message across.
Her outreach efforts have paid off. The former first lady and New York senator is leading with black voters in recent 2016 Democratic polls.
Read the full article here.
Read more Breaking News here.