When Patricia Stephens led a group of black college students to sit and order foot at a "white only" Woolworth's lunch counter in Tallahassee, Florida in 1960, they were told, "The South is not ready for that."
When Fannie Lou Hamer led a group of black neighbors to the courthouse in Indianola, Mississippi in 1963 to register to vote, they were told, "Mississippi is not ready for that."
When fast-food workers led primarily by black women walked off their jobs in 2012 to strike for $15 minimum wage and a union, they were told, "America is not ready for that."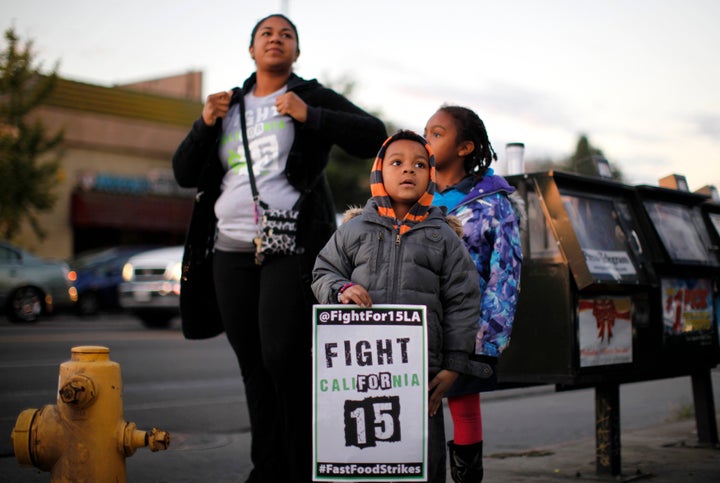 Time and again, women of color have changed the world through their resilience and fortitude to never settle for less than first-class citizenship, even if the forces against them said it's not yet time for progress.
The time has come for a minimum wage that meets the basic needs of workers in the 21st century. Raising the minimum wage would boost pay in low-wage jobs where millions of men and women now spend their careers. Low-wage occupations in food service, home health care, retail, and customer service are projected to see the most job growth over the next decade.
The typical worker struggling on less than $15 an hour is a woman over 30 who works full-time but still cannot make ends meet. While only one-third of white workers earn less than $15 an hour, most women of color do.
A $15 minimum wage (or $31,200) a year for full time) could go far in helping women and people of color make ends meet, closing persistent gender- and race-based pay and wealth gaps, and improving educational and health outcomes for children. All labor has dignity, but when workers bring home paychecks that don't pay for basic necessities, it's hard to find the dignity in being working poor.
Read the full article here.
Read more on the history of the struggle for justice here
Read more Breaking News here.
Black women from all over Brazil, of different backgrounds, education and socioeconomic status, came together to protest widespread inequality.
They were lawyers, feminists, Christians, transgender women, domestic workers, militants, favela dwellers, politicians, students and many more. Despite their differences in beliefs, education and income, on Wednesday they came together behind the one thing they had in common: being a black woman in Brazil. On that day, more than 10,000 black women from all over the country gathered in…Brasilia, for the first national black women's march—Marcha das Mulheres Negras. The march's tagline was, "Against racism and violence and for the well-being."
"This is the first time black women coming from all parts of the country came to Brasilia with the same message," said Ivana Braga…"It doesn't matter if a black woman is in Congress, is a civil servant, in academia or is a domestic worker; their skin color will continue to play a part in how their rights are denied."
Braga, 38, marched alongside her 63-year-old mother, Maria dos Rosana Moraes. "It was important for me to bring my mother because she has been a domestic servant since she was 13 years old," said Braga, who promotes women's rights in Maranhão and is a Fulbright scholar. "She was denied rights her entire life.
"This isn't just my fight or her fight. It comes from generations of women who were denied their rights," Braga added.
Statistics show that black Brazilian women suffer some of the highest rates of violence and poverty in Brazil. A study…found that violence against black women in Brazil increased 54 percent between 2003 and 2013. In 2013…more than 2,800 black women died from violence. Violence against white women in the same 10-year period decreased 18 percent.
Black women are also losing their…family members to violence. Of the 60,000 homicides in Brazil each year, more 40,000 of the victims are blacks. From 2002 until 2012, the number of black victims of homicide increased from 29,656 to 41,127. Black women even suffer in the workplace…On average, they earn $364 per month, which is about 44 percent of the average pay for white men, 75 percent of the pay for black men and 60 percent of the pay for white women.
National organizers planned the march for almost two years. It had been originally scheduled for…May 13, the day millions of slaves were freed in Brazil in 1888. But organizers changed the date to Nov. 18 to coincide with the National Week of Black Consciousness in Brazil. During this week, Afro-Brazilians celebrate the life of Zumbi dos Palmares, the leader of a community of escaped slaves in Brazil that existed more than 300 years ago. Nov. 20 is the Day of Black Consciousness in Brazil…
Volunteer organizers in…Brazil worked closely with local communities for more than a year to promote the event and to raise money to bring thousands of women to Brasilia. Organizers in Niteroi sold feijoada dinners and T-shirts. Rio de Janeiro organizers even held a local premarch…July 26 to celebrate the Day of the Black Woman in Latin America and the Caribbean.
As a regional organizer, Braga spent months visiting local communities of black women to talk to them about racism, violence and socioeconomic issues…Five busloads of women departed from São Luis on the Monday before the march and arrived in Brasilia Wednesday in the early-morning hours. The marchers slept in a local stadium, and by 11 a.m. the same day, they started to march.
Priestesses of Candomblé, an Afro-Brazilian religion, led the marchers…toward Brazil's congressional building. Along the way, the women…sang, chanted and danced to inspirational music.
"I cried when I was marching," said Jamille Sepol, vice president of the Justiça Negra collective. "But I was crying because I was happy to experience this moment for black people, black women, the black movement, for black youth and children. We needed this pride, and this day was a day to be proud of…"
Shortly after the march, a group of black women met with the president and Nilma Lino Gomes, Brazil's minister of women, racial equality and human rights. The goal of the march was to amplify the voice of black women in Brazil, and activists say they have no doubt that they succeeded.
By Brendan O'Brien, Milwaukee Neighborhood News Service
Johnny Ruffin reached into his wallet and pulled out $35…defiantly displaying most of the money he had to his name for anyone to see.
About 10 minutes earlier, Ruffin explained his financial plight to a Milwaukee Municipal Court judge who had none of it, telling him that he must pay $120, the last of the $1,200 in fines and fees that he had amassed over the last decade for various minor traffic and drug offenses.
"Tickets have just built up. I have been paying since 2005 and I still can't believe I'm not caught up… every time I pay $60, $60, $60," he said, adding that he doesn't know how he'll find $120.
The 35-year-old black man is no saint. But the two-time felon has been trying to make amends by working a full-time job at a gun factory and routinely making payments to the court system to avoid jail time, despite claiming that the amount he was told he still owed is inaccurate.
"A lot of the stuff they got me on wasn't even me…" he said. "I'm locked into the system until I can get it all cleaned up. I'm going to be stuck for awhile. I'm chalking it up to the system."
Ruffin's situation is emblematic of the financial entanglement many poor black men have gotten themselves into with the city's municipal judicial system, according to local experts who say the system criminalizes poverty by levying monetary penalties, driver's license suspensions and ultimately jail time on defendants who do not have the means to pay their citations.
"This is a part of the cycle of poverty," said John Pawasarat, director of the Employment and Training Institute at the University of Wisconsin-Milwaukee.
"It's a pretty irresponsible way to do business if you're a public body dealing with the citizens in your city. These people are on the fringe and this is the last thing they need," said Pawasarat…
Despite the rampant poverty that grips Milwaukee's inner city, citations that carry a relatively hefty fine are one of the city's methods of choice to punish offenders for non-criminal infractions.
For instance, a disorderly conduct citation carries a fine of at least $200, which could amount to two-thirds of a weekly pay check for an individual who earns $7.25 an hour, the minimum wage for a full-time job. Defendants who are found guilty must pay a fine or face a suspended driver's license or jail time.
According to court data obtained by NNS…the Milwaukee Police Department writes a disproportionate number of citations in some of the city's poorest areas. Although only 12 percent of Milwaukee residents live in two of the city's poorest ZIP codes…people in those ZIP codes received 17 percent of the 430,000 tickets written from 2011 to 2014.
The disparity in citations by income is also illustrated by comparing the number of tickets written in the 53206 ZIP code, where half the residents live in poverty, to the number written in the 53215 ZIP code, a predominantly Hispanic neighborhood where about a third of residents live in poverty, the same as the citywide average. Police wrote about one ticket for every four people in 53206 compared to one ticket for every 11 people in 53215 in 2014.
A typical day at the Milwaukee Municipal Court…begins when dozens of defendants…travel up to the courtrooms. Once on the second floor, they file through a security checkpoint, where they place their metal items into a plastic bin and walk through a metal detector…
Moments later those assembled in the Branch 2 courtroom rise to their feet as Judge Derek Mosley strolls in and takes his seat in front and high above the court. For several hours, he and two other judges work their way through a long docket of cases, hearing the constant drumbeat of financial despair on the part of many defendants.
"I get it. I get it," Mosley said, back in his chamber… "It starts with jobs. The problem we have is that the individuals getting cited probably wouldn't be getting cited if they had employment… and were stakeholders in the community…"
With this in mind, judges try to incentivize employment by waiving fines for defendants who come back to court with proof that they got a job or enrolled in school.
"The court is not going to get any money, but who cares?" Mosley said. "It reduces recidivism because (employed defendants) don't come back. I have no control over bringing businesses to Milwaukee…but I can try to get people to jobs to better themselves."
Some violations directly involve victims…while others are victimless crimes… Mosley said he tries to strike a fine balance between fairness for poor defendants and justice for victims, many of whom are also poor and minority.
"When I get an assault and battery from the 53206 ZIP code, the defendant and the victim look exactly the same," Mosley said. "I look at the back of the ticket and look at the victim (many of whom) are black or Mexican and poor. It's hard for me to tell the victim of an assault and battery that (the defendant) lives in the 06 zip code and I have to help them out."

Even if defendants do not plan to fight their cases, Mosley implores them to come to court, where they can make arrangements to pay their obligations and where he can reduce fines and demerit points…
He said, however, that defendants typically fear the court system and believe that if they show up, they will be taken into custody if they have a municipal warrant against them.
"We have a policy in municipal court that if you walk in, you will walk out," Mosley said, noting that judges will lift all warrants against individuals if they pay $20 toward their fines, regardless of how much they owe…
Police and local lawmakers have begun to address some of the city's citation practices for minor, nonviolent infractions. Police officials have said they've made a concerted effort not to ticket for minor traffic offenses over the last few years, decreasing the overall number of tickets written by 46 percent from 2011 to 2014. In addition, the Milwaukee Common Council significantly slashed the fine for possessing a small amount of marijuana.
"One of the issues that continues to come up is the injustice many people feel who live in communities that are overly policed and where ordinances and laws are stringently enforced," said Ald. Ashanti Hamilton… "We have pretty much criminalized where you live and what you look like."
The intersection between race, poverty and the local judicial system has been a concern of the Justice Initiatives Institute…which recently published a report examining defendants who were jailed after they failed to appear in court and pay their fines.
The report examined the economic and demographic characteristics of defendants processed through a courtroom in the county jail separate from the main court facility in the Milwaukee Police Department, from 2008 to 2013. It studied 26,000 defendants, most of whom were arrested on a municipal warrant after not paying a citation and spending two or three days in jail on each occasion, earning time served, which reduces the amount of money owed for a fine.
The study found about 85 percent never paid anything on their citations; about two-thirds of those jailed did not have a job. Of those who were employed, 40 percent worked low-paying jobs. Black men had seven times as many cases associated with citations as white men.
"The trends in the unemployment rates in Milwaukee mirrored the trends in how people were appearing in our study. When the unemployment rates went up, the number of people in our study…was going up. So it's linked to poverty," said Marilyn Walczak…
According to court officials, the city's jailing policy changed in May 2012. Before the change, defendants for the most part were eligible to be released on a recognizance bond when the first warrant was issued for not paying their fines. When subsequent warrants were issued, they were held until they paid a cash bond. Now defendants are eligible for a signature bond the first three times they are taken into custody on a warrant for not paying their fines…
The city spent more than $10 million to jail the 26,000 defendants for not paying about $5.7 million they owed from 2008 to 2013…
The court itself earns a profit each year, according to a cost-benefit document drafted by the city's budget office in November 2014. The document showed that the court earned a net of between $1.5 and $2.8 million each year from 2009 to 2013, although that does not take into account several direct and indirect costs such as expenses associated with paying for collections, bailiffs and city attorneys.
"Our revenue goes into the city's general fund," Islo said, noting that the money from citations helps fund city departments that do not generate revenue on their own.
The city's Judiciary and Legislation Committee recently passed a resolution asking for the State of Wisconsin to allow the city to apply a surcharge on each municipal fine. The funds would pay to store data from police-worn body cameras, which officials expect to cost $1.7 million.
"The people you are taking the money from… very often do not have the financial resources to pay their fines," said Chris Ahmuty, executive director of the American Civil Liberties Union of Wisconsin…
State law allows for defendants to apply for an indigence determination and makes available community service and alternative sanctions rather than monetary penalties to those who cannot pay.
But very few defendants take advantage of these alternatives. In the impoverished 53206 ZIP code, only 723 defendants who received 41,900 citations from 2011 to 2014 were offered and agreed to alternative sanctions…
"I have seen instances in Milwaukee where people are not advised and…no effort is made to communicate with them about their ability to pay or alternatives [available] to them if they can't pay," said James Gramling, a former Milwaukee Municipal Court judge…
Another sign that defendants do not know their rights is that only 994 of 434,463 citations written were adjudicated in a court trial from 2011 to 2014. Part of the reason for this may be the wording on the citation itself…
The citation doesn't make it clear that defendants have the right to appear to contest the charge against them, added Walczak…
"When you are first given a ticket, it says that you don't have to appear," she said. "But what that means is that if you want to admit you're wrong and pay the ticket, you don't have to appear and you can just send your money in. But I don't think people understand that."
Walczak also blames the fact that there is no online form designated solely for defendants who want to apply for an indigence determination. There is a form to apply to make installment payments. In addition, an informational pamphlet available in court makes no mention of alternative sanctions for people who are indigent, although a third of the city's residents live in poverty.
Court officials "don't take time to fairly and aggressively determine ability to pay. They put the burden of that on the defendant," she said. "If the (defendant) doesn't bring it up in court, they don't bring it up."
Read the full article here.
Read more Breaking News here.
By 
NEW ORLEANS — Late at night, after the lawyers had gone home, Alana Cain washed the floors at a downtown firm. One morning, a ring disappeared; Ms. Cain, 26, was charged and eventually pleaded guilty. The judge ordered her to pay $1,800 in restitution. He also imposed roughly $950 on top of that in court fines and fees.
She paid in installments, coming to the collections office with $50 every two weeks for more than a year. Once, after too long a jobless spell, she was late with her payment. She phoned the court collections officer and told him she was getting the money. It was in her pocket when the police pulled over the car in which she was riding, citing a broken taillight. There was already a warrant; she spent a week in jail before she could see a judge.
On Thursday, Ms. Cain joined five other plaintiffs in a class-action lawsuit against the criminal district court here, among others, alleging that judges and court officials have been running an "illegal scheme" in which poor people are indefinitely jailed if they fall behind on payments of court fines, fees and assessments. The suit describes how fees are imposed with no hearing about a person's ability to pay, and how nearly all components of the local criminal justice system — the judges, the prosecutors, the public defenders — benefit financially to some degree.
"The extent to which every actor in the local New Orleans legal system depends on this money for their own survival is shocking," said Alec Karakatsanis, a founder of Equal Justice Under Law, a civil rights group, and one of the lawyers who filed the suit….
…[I]n general, said Mr. Karakatsanis, who filed a similar suit in Ferguson, Mo., in February and helped force changes to jailing policies in Montgomery, Ala., last year, "the effort to fund local court systems on the backs of the very poor is not an aberration."…
The fees can begin accumulating immediately after an arrest, as soon as a bond is set. While a federal court in 1991 struck down a state law allowing New Orleans judges to take a percentage of each bond, a subsequent law mostly reinstituted this arrangement — but split up the percentage among the other actors in the criminal justice system.
Read the full article here.
Read more Breaking News here.