Everybody is all about freedom of speech and expression until a black person (hey, Colin Kaepernick; hey, Jemele Hill) decides to exercise his or her right to do so. And in this particular case, a black sixth-grader out of Michigan says he was assaulted by his homeroom teacher all because he was exercising his rights and declined to stand for the Pledge of Allegiance.
Stone Chaney, who attends East Middle School in Farmington Hills, Mich.,told ClickOnDetroit that his teacher "violently" dragged him out of his chair and attempted to force him to stand for the pledge, leaving the young man confused and unwilling to return to that school.
"The teacher consultant comes up behind me and snatches me out of my chair violently," Stone told the news site. "I was so confused. I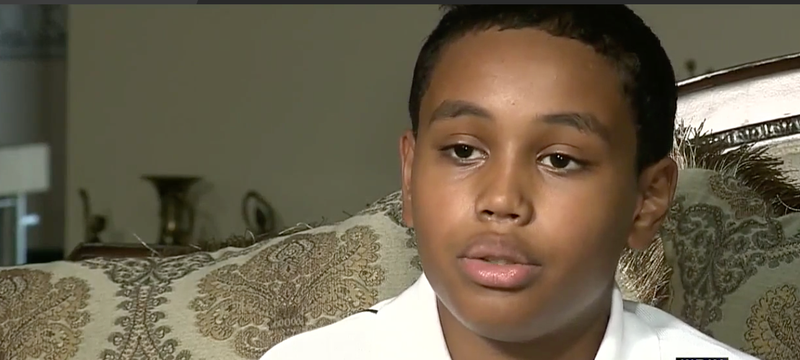 didn't know what was going on."
Note that Stone referred to the individual in question as the "teacher consultant." That means that the person who allegedly thought it was all right to snatch a child out of his seat trains other teachers. One would wonder what kind of training those other teachers are receiving.
"It's his choice to sit," Brian Chaney said. "I don't make him sit. And they should respect that."
The superintendent of Farmington Public Schools released a statement detailing that the district does support the right of students to opt out of the pledge, announcing that it was conducting an investigation and that the teacher involved has been placed on administrative leave pending the outcome.
Read the full article here.
Read about the history of black social movement and protest here.
Read more Breaking News here.
By Bridgett Henwood, Vox.com
"We don't believe you, 'cause we the people / Are still here in the rear, ayo, we don't need you," Q-Tip raps on A Tribe Called Quests's 2016 track "We The People," an opening verse aimed straight at a flawed America. As the song goes on, it calls out specific social problems in the US — discrimination, unequal pay, deportation. It's a protest song through and through.
The tradition goes back to the country's founding. "Free America" was one of the nascent US's first protest songs, a Revolutionary War call to action song by minuteman Joseph Warren. "Yankee Doodle," now popular as a children's song, was actually written by British soldiers mocking their American counterparts during the Revolutionary War, but Americans took up the tune ironically to toss it back in the Brits' faces….
Nowhere was this more apparent than in Billie Holiday's 1939 song "Strange Fruit." As music journalist Dorian Lynskey writes in his book 33 Revolutions Per Minute: A History of Protest Songs, From Billie Holiday to Green Day, Holiday's tune was the first of its kind, bringing protest songs into the popular music realm. "Up until this point, protest songs functioned as propaganda, but 'Strange Fruit' proved they could be art," Lynskey writes. [Editor's note: "Strange Fruit" is actually about a northern lynching.]
Unlike the protest songs of the Civil War era, "Strange Fruit" wasn't a chant or a call to arms. It was a harrowing commentary on the state of the country, designed to make people sit up and pay attention….
Sam Cooke set a different tone with 1964's "A Change Is Gonna Come," a track that expressed less anger and more melancholy hopefulness. "What's Going On" by Marvin Gaye, an early 1970s protest song, could be applied to a number of different grievances. "It alluded to all of these changes in society and all of these struggles," says Roberts, "but he keeps coming back to this statement, sometimes a question. It can be directed toward multiple people and institutions."
These songs quickly faded into the political past with the election of Barack Obama in 2008. With a Democrat in the White House for the first time in eight years, and the first black president at that, liberal musicians took up a different songwriting mantle: the empowerment song….
Take Beyoncé's "Formation," which she surprise-debuted by uploading the video to her YouTube page the day before she was set to perform at the 2016 Super Bowl. The video features shots of post–Hurricane Katrina New Orleans, cops in riot gear, and references to Black Lives Matter, and set the stage for her Black Panther–inspired halftime show. Within hours, the hashtag #Formation was trending, giving people a space to talk about the video, the artist who made it, and the issues it presented.
Read the full article here.
More Breaking News here.
Read more about Billie Holiday here.
Read more Breaking News here.