Sway Calloway knows firsthand the life lessons kids receive while learning to play instruments.
Mastering the song flute, clarinet and alto saxophone fostered a love for music that he eventually turned into a career as one of the most well-known hip-hop journalists today.
"What I learned from music is a lot about melody and that's how I communicate," the Oakland native told HuffPost, citing his interview strategy. "I learned a lot about rhythm and as I got older, I learned how to make that translate into social skills, how to communicate with people, how to talk to folks, when you talk to folks, when you jump out, when you interject."
He may not professionally play an instrument today, but music education opened up doors for Calloway ― whose family was on public assistance when he was younger ― that he may not have found otherwise. Music programs in schools have been proven to keep students engaged in the classroom; improve early cognitive development, math and reading skills; develop critical thinking skills; and foster confidence among students, according to the National Association of Music Merchants.
But despite the lasting impact music education has on students, many children in low-income communities still don't have access to it. That's why Calloway and the board members and team behind VH1 Save The Music Foundation have been working to bring music programs to underserved schools.
Since the nonprofit was founded in 1997, VH1 Save The Music Foundation has allotted grants to more than 2,000 public schools in 42 states, Washington, D.C., and Puerto Rico. These grants have benefited more than 2 million kids. Recently, students in Newark, New Jersey, and Berkeley and Jefferson Counties in West Virginia received $45,000 worth of musical equipment from the program.
Chiho Feindler, senior director of programs and policy, said the foundation has not only benefitted students and their communities by bringing marching bands and orchestras to their cities, but also by improving graduation rates and reducing absenteeism.
″[Rewards vary from] a student telling us that in his home life, it's just such a chaos that being able to play flute on his stoop for his young siblings just brings a peace into his home to better graduation rates to the student who's now interning to go to college studying music education," Feindler said. "Stuff like that and just … giving them the reasons to thrive."
Learn more about VH1 Save The Music Foundation by visiting its website.
Read the full article here.
Read more Breaking News here.
Everybody is all about freedom of speech and expression until a black person (hey, Colin Kaepernick; hey, Jemele Hill) decides to exercise his or her right to do so. And in this particular case, a black sixth-grader out of Michigan says he was assaulted by his homeroom teacher all because he was exercising his rights and declined to stand for the Pledge of Allegiance.
Stone Chaney, who attends East Middle School in Farmington Hills, Mich.,told ClickOnDetroit that his teacher "violently" dragged him out of his chair and attempted to force him to stand for the pledge, leaving the young man confused and unwilling to return to that school.
"The teacher consultant comes up behind me and snatches me out of my chair violently," Stone told the news site. "I was so confused. I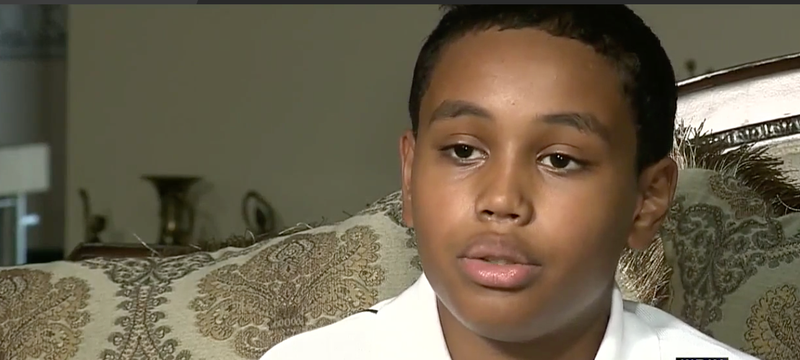 didn't know what was going on."
Note that Stone referred to the individual in question as the "teacher consultant." That means that the person who allegedly thought it was all right to snatch a child out of his seat trains other teachers. One would wonder what kind of training those other teachers are receiving.
"It's his choice to sit," Brian Chaney said. "I don't make him sit. And they should respect that."
The superintendent of Farmington Public Schools released a statement detailing that the district does support the right of students to opt out of the pledge, announcing that it was conducting an investigation and that the teacher involved has been placed on administrative leave pending the outcome.
Read the full article here.
Read about the history of black social movement and protest here.
Read more Breaking News here.
Marian Wright Edelman, President of the Children's Defense Fund, argues that children of color still do not recieve quality and equal education. In her opinion piece for the Huffington Post, Edelman states that:
"Millions of children in America are denied the opportunity to receive a fair and high quality education. In March, the U.S. Department of Education released new information showing that children of color face harsher discipline, have less access to rigorous course offerings, and are more often taught by lower paid and less experienced teachers.
Inequities in funding and educational resources place poor children in low-performing schools with inadequate facilities and often ineffective teachers. Practices such as tracking, grade retention, out-of-school suspensions, expulsions, and one-size-fits-all zero tolerance policies continue to contribute to the discouragement, disengagement, and eventual dropout of countless children in America to their detriment and to all of us who need a competitive future workforce. Instead of serving as "the great equalizer," American public education is serving as a portal to the cradle-to-prison pipeline for millions of poor children of color, stunting their lives by school dropouts, arrests, and incarceration."
What are your thoughts? Read more of the story here.