Last week, Twitter said it was "pausing" to reconsider the process by which it bestows the blue checkmark denoting accounts that had been "verified," and on Wednesday the company announced it was yanking the designation from some users who occupy the neo-Nazi or nationalist bucket of grassroots white activism. The announcements came after many users, including The Root's Monique Judge, raised hell when Twitter gavea blue checkmark to Jason Kessler, a white nationalist who helped plan the pro-Confederacy march last August in Charlottesville, Va.
While Twitter CEO Jack Dorsey and his workers ruminated on the company's account verification policies, I decided it was a good time for us to pause and think about our relationship with Twitter and other social media and technology companies. We voluntarily "contribute" our creative insights, dollars and labor to the success of these companies by buying devices and apps, uploading memes, ideas and language that trends widely. Yet in terms of the vast wealth these companies hold, disburse to employees and generate for shareholders, we get little in return.
Think of the recent moment where top lawyers for Google and its parent company, Alphabet, along with Twitter and Facebook, were summoned to Capitol Hill to testify before Senate and House committees looking into the company's role in disseminating toxic content and ads during the 2016 presidential election cycle.
Anti-black messaging was the secret-sauce of many of the pro-Trump, nationalist memes and messages that flooded through the popular social media channels during the 2016 election cycle. Yet somehow, the gatekeepers at Facebook and Twitter didn't seem to notice the methodical manipulation of racial animus that already exists in America, specifically, some white Americans' negative opinions of blacks.
The leaders and staffs of Twitter, Facebook, and other popular social media platforms missed the Russian's exploitation of the black-white divide, an obliviousness that has precedent: black women users had long alerted Twitter officials to abusive conduct of other users, up to and including death threats. The hashtag #YourSlipIsShowing catalogs such experiences from black women dating back several years, and is readily available…at least to those interested in learning about and addressing these kind of user experiences.
But clearly, the tech company leaders were not inclined to pay attention to this area of user complaints, a strong indication that they also probably weren't interested in the views of the few blacks and Latinx workers at their companies, either. Just look at what happened to Leslie Miley, a black former engineer at Twitter. Miley revealed in a recent interview that he had flagged tons of dubious accounts in 2015, telling his bosses that he believed they were from Ukraine or Russia, and that they appeared to be part of a coordinated campaign.
Miley was told by his bosses at Twitter to "stay in his lane," a response that Miley says he took as a sign that the company leadership preferred to err on the side "growth numbers," rather than on any potential harm to audiences that the bots might pose.
Meanwhile, black users of Instagram, Facebook, Twitter and Google products infuse them with a deep coolness factor that resonates around the world. Our intellectual property and creativity is the lifeboat that floats these companies to revenue solvency, yet few of us share in the enormous economic wealth generated by these companies, not even after dozens of news stories, industry conferences, and activist's complaints forced the companies to pledge to improve hiring and retention.
Black Americans know when something smells rotten, including the kinds of scams and shady BS that can unfold at one's job. And, as usual, blacks and other marginalized communities have solutions. We have the brain-power, problem-solving acumen, and moral fortitude to right the ship of state.
The question is whether our concerns and advice will be heeded, and whether we can achieve full access to the genuine levers of power in the United States, including access to quality education, healthcare, voting and, most importantly in the context of the innovation ecosystem, investment capital.
Read the full article here.
It's not just the Tech industry, either. Read how one company is beginning to acknowledge its racist past here.
Read more Breaking News here.
On Oct. 23, 12 Oakland County, Mich., communities spent roughly nine days without water after a major water main break. Almost 305,000 people were affected by the break.
Oakland County and the Great Lakes Water Authority worked nearly around the clock to ensure that the residents in those communities had safe, potable water. Water stations in various communities were set up. Businesses and residences alike were given access to the scarce commodity.
It directly affected my mother, and as a native Detroiter and former resident of Oakland County, I should've been ecstatic to hear how well this situation was handled. So what's the issue, you ask?
Residents in the Genesee County city of Flint, Mich., have been without potable, usable water since 2014. Government officials—locally and statewide—blatantly lied about the water supply being safe for human consumption. Fertilizers, pesticides, built-up bacteria and lead have contaminated the Flint River (the city's primary source) for decades. Their half-assed attempt to "clean up the water" never ensured that the city's folks would remain healthy.
It's been three whole years, and citizens still can't drink the water. Water stations were set up (some years later), and as of this past summer, many of the stations were closed following Flint's lead levels being under the federal limit. Why is there such a disparity between Oakland County and Genesee County in their response to each crisis?
Race and class.
Oakland County is one of the wealthiest counties in Michigan. It used to be the wealthiest, but some argue that Livingston may have snatched the "coveted" honor. The median income in Oakland County is roughly $70,000. The county's population is a whopping 72.8 percent white, which is a glaring contrast to Flint's 60 percent black population. The median income in Genesee County is about $44,000, but the surprise is that the 72 percent white population of Genesee is typically lower-class and poor.
The water crisis in Flint was not just a "black problem." It was a class problem. Poor whites have been brainwashed to think that they receive the same consideration as well-to-do whites, and that's simply not true. Because there are more poor whites, they give the advantage of numbers for rich whites with agendas to use them time and time again. And because skin color matters, they never see they are being consistently shit on.
Businesses and civilians from various counties throughout Michigan sent batches of water to the good folks of Flint. However, their assistance wasn't enough to mitigate the long-term damage. Fetal deaths spiked, pregnancy rates lowered, 12 people died from Legionnaires' disease and lead poisoning debilitated many more people in the city. Given the already high infant mortality and morbidity rates in the city, Flint residents never had a chance.
Apparently, money will always talk, and black lives will always be expendable.
Read the full article here.
Read about what the Black Holocaust is here.
Read more Breaking News here.
Jemele Hill said what she said.
In a series of tweets stemming from an odd conversation about Kid Rock, the co-host of ESPN's "SC6" called President Donald Trump a "white supremacist who has largely surrounded himself w/ other white supremacists."
"Trump is the most ignorant, offensive president of my lifetime," she wrote. "His rise is the direct result of white supremacy. Period." She added that Trump's presidency had empowered other white supremacists and that his bid for the White House wouldn't have been successful if he weren't white.
Backlash to the tweets, helped along by people like former ESPN reporter Britt McHenry and Fox Sports Radio's Clay Travis ― who frequently says racist things ― led ESPN to release a statement saying Hill's views "do not represent the position" of the network. This made things worse.
Sarah Sanders, the White House press secretary, called Hill's tweets a "fireable offense." That same day, ESPN tried to prevent Hill from co-hosting "SC6" with Michael Smith. In a tweet, Hill said her "regret" was that her comments "painted ESPN in an unfair light." ESPN's public editor, Jim Brady, said Hill ― and the media at large ― should "let the reporting do its work, and resist more incendiary labels."
None of what Hill said in her initial volley of tweets was inaccurate. Trump voters were driven by racism, and white supremacists openly support him. His campaign rhetoric was a dog whistle for white supremacists. His attorney general has praised the Immigration Act of 1924, a law crafted by eugenicists and championed by people hoping to preserve a "distinct American type." After a violent white supremacist rally in Charlottesville, Virginia, Trump attributed the violence to "both sides," even though none of the counter-protesters killed anyone.
That Trump is a white supremacist is a straightforward conclusion that can be drawn from an abundance of available evidence.
But not all straightforward conclusions are admissible in mainstream American media, particularly on the subject of race, particularly when stated by a black woman.
To get a sense of the straitjackets placed on black media figures working in a predominantly white industry, where "white supremacy" is usually seen as a slur applicable only to Klansmen and Nazis, I convened three prominent black journalists: Greg Howard, a reporter at The New York Times; Elena Bergeron, former staff writer at ESPN The Magazine and current editor-in-chief of SB Nation; and a current ESPN employee who, for obvious reasons, wanted to remain anonymous.
Read the full interview here.
Read about the crucial role of black press here.
Read more Breaking News here.
A woman in Canada who recently had her left leg amputated is having a difficult time accepting her new body.
Rahab Wanjau, 30, was born with a deformity on her left tibia (or shinbone). She told HuffPost that after five painful surgeries, which left her relying on crutches most of her life, doctors recommended she have her leg amputated.
In June, she had it removed at Regina General Hospital in Regina, Saskatchewan. After her surgery, Wanjau went to Regina's Wascana Rehabilitation Center to pick up a prosthetic leg and foot shell, or a cosmetic covering for a prosthetic foot.
She was shocked and disheartened to discover she only had two color options for a foot shell: one shade was way too light and another was too dark.
Wanjau said when she asked her prosthetist if she could customize the color, she was told she would have to pay out of pocket for it.
"We have lots of color options when buying house paints, models of cars and makeup foundations," Wanjau told HuffPost. "It would be great if I can pick a foot shell in my skin tone."
Out of frustration, Wanjau contacted Ottobock, the company that manufactures the foot, and learned that because of the prosthesis's material, only the company or an outside professional could permanently change the color. This too would have to be paid for out of pocket.
Read the full article here.
Read more Breaking News here.
Sen. Kamala Harris (D-Ca.) is seeking some major criminal justice reform, starting with bail.
Along with Sen. Rand Paul (R-Ky.), Harris has introduced a bipartisan bill which calls for states to "reform or replace the practice of money bail, the requirement that individuals awaiting trial remain in jail unless they pay for their release."
Titled the Pretrial Integrity and Safety Act of 2017, the bill would authorize a $10 million grant over three years to encourage states to reform or replace the ineffective money bail system that requires people who haven't been convicted of a crime to be detained pretrial unless they can afford to bail themselves out.
Harris and Paul's bill also asks states to give individualized, pretrial assessments with risk-based decision-making in order to do away with the inaccurate risk-assessments currently given that lead to unwarranted disparities.
"This is such an important conversation and it does not ever receive the kind of attention it deserves, based just on the prevalence of it in terms of the number of people that are impacted," Harris, who visited Central California Women's Facility prior to her speech, said.
"And also, and I say this with a strong sense of optimism, that there is just so much that we can actually do to fix what is broken. And it's not going to require us to be that creative," she continued. "The solutions, some of them, are pretty obvious, and the more attention we give to the issue, I think, the more obvious they will be to a larger number of people."
Read the full article here.
Read more ABHM Breaking News here.
An off-duty police officer who was just trying to help his colleagues after a car chase ended in a shootout near his home, ended up being shot by a fellow cop who did not recognize that they were on the same team.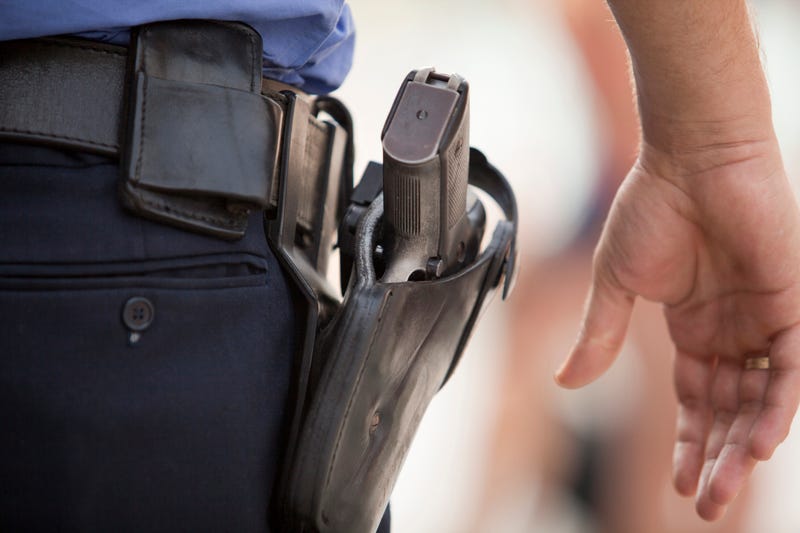 According to the report, two officers initially encountered the armed, off-duty officer and ordered him to the ground. The off-duty officer complied, but the other officers soon recognized him as one of their own and told him that he could stand up. Just then, however, another officer arrived on the scene, and saw the off-duty officer getting up and, not recognizing the man as an officer, fired his weapon, striking the off-duty officer in the arm.
The New York Daily News identifies the off-duty officer as black and the shooting officer as white.
The injured off-duty officer was treated at a hospital and released Thursday.
The 38-year-old officer who was injured has been with the St. Louis department for 11 years. The officer who shot him is 36, and had been with the department for just eight years. In total, seven officers who were involved with the incident were placed on administrative leave and the department's Force Investigative Unit is looking into the incident.
Read more on the incident here.
Read more Breaking News here.

Read about the history of race in America here.
By Tanasia Kenney
Atlanta Black Star
California's traffic fines are some of the steepest in the country, and a new report shows that the state's current policies for those unable to pay are disproportionately affecting Blacks and Latinos.
The report, published by the Lawyers Committee for Civil Rights last week, covers the most recent information on California's traffic court system and highlights how its policies unfairly impact residents of low-income, nonwhite communities.
The consequences are often harsher for Californians who can't afford to pay their traffic fines, including license suspension, arrest, jail time, wage garnishment, towing of their vehicles and even job loss, according to the report. In the end, affected drivers are forced to ante up even more cash just for being poor. Meanwhile, those who can afford to pay are let off with a slap on the wrist for the same minor traffic offenses.
"In Bay Area counties, the burden of the current policies fall heavily on people of color," wrote authors of the new LCCR study, "Paying More for Being Poor: Bias and Disparity in California's Traffic Court System. "African-American residents are four-to-16 times more likely to be booked into jail on a failure-to-pay-related charge. This rate is higher than the [disproportion] found in initial traffic stops.
Read the entire article here
Read more Breaking News here
By
In 2016, researchers stumbled on a radical tactic for reducing another person's bigotry: a frank, brief conversation.
The study, authored by David Broockman at Stanford University and Joshua Kalla at the University of California Berkeley, looked at how simple conversations can help combat anti-transgender attitudes. In the research, people canvassed the homes of more than 500 voters in South Florida. The canvassers, who could be trans or not, asked the voters to simply put themselves in the shoes of trans people — to understand their problems — through a 10-minute, non-confrontational conversation. The hope was that the brief discussion could lead people to reevaluate their biases.
It worked. The trial found not only that voters' anti-trans attitudes declined but that they remained lower three months later, showing an enduring result. And those voters' support for laws that protect trans people from discrimination increased, even when they were presented with counterarguments for such laws.
 …It is possible to reduce people's racial anxiety and prejudices. And the canvassing idea was regarded as very promising. But, researchers cautioned, the process of reducing people's racism will take time and, crucially, empathy… This will require conversations. Maybe it will be through canvassing by activists, much like the transgender study. Maybe churches and schools can take on public education campaigns. Maybe these and other civic institutions can facilitate public forums in which people can openly discuss these problems.
The key to these conversations, though, is empathy. And it will take a lot of empathy — not just for one conversation but many, many conversations in several settings over possibly many years. It won't be easy, but if we want to address some people's deeply entrenched racial attitudes, it may be the only way.
Read the full article here
Read more Breaking News here
By Jessica Cumberbatch Anderson for the Huffington Post
In a study published in a March issue of the American Journal of Public Health, researchers found that two-thirds of doctors harbored "unconscious" racial biases toward patients. When those biases were present, researchers found that doctors tended to dominate conversations with African-American patients, pay less attention to their personal and psychosocial needs and make patients feel less involved in making decisions about their health.
"It's been really extensively shown that minorities don't receive the same quality of health care as whites in the United States," said Lisa A. Cooper, M.D., M.P.H., a professor in the Division of General Internal Medicine at the Johns Hopkins University School of Medicine and lead author of the study. "I've been interested in the extent to which that is accounted for by the fact that a lot of minorities see physicians who are different from them culturally and racially, and that there might be some problems with cultural misunderstandings or miscommunication."
Read more about the study here.
The discussion of race is never a black and white issue, and recent "AC360°" and CNN.com reports about young children's attitudes on race became one of the most discussed stories on the site, eliciting more than 4,500 comments.
In the study, white children had an overwhelming bias toward white, and black children also had a bias toward white, but it was not nearly as strong as the bias shown by the white children.
Read more of the story, watch videos of parents' reactions, and look into how the study was done here.
Singer John Legend joins the discussion as AC360's" special coverage "Black or White: Kids on race," continues tonight at 10pm ET