When Patricia Stephens led a group of black college students to sit and order foot at a "white only" Woolworth's lunch counter in Tallahassee, Florida in 1960, they were told, "The South is not ready for that."
When Fannie Lou Hamer led a group of black neighbors to the courthouse in Indianola, Mississippi in 1963 to register to vote, they were told, "Mississippi is not ready for that."
When fast-food workers led primarily by black women walked off their jobs in 2012 to strike for $15 minimum wage and a union, they were told, "America is not ready for that."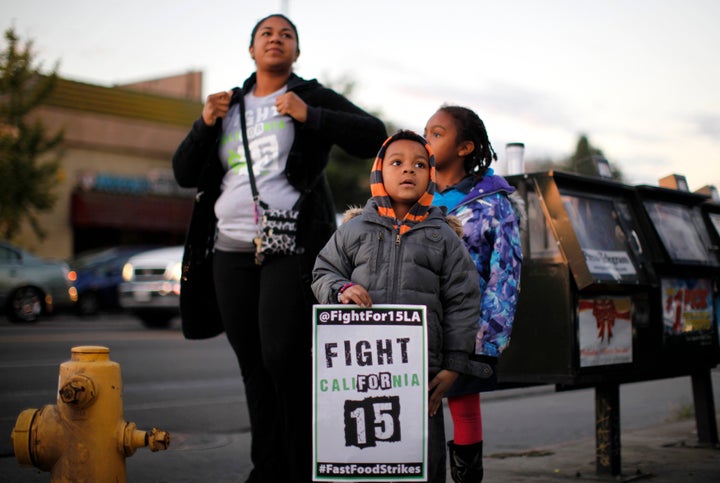 Time and again, women of color have changed the world through their resilience and fortitude to never settle for less than first-class citizenship, even if the forces against them said it's not yet time for progress.
The time has come for a minimum wage that meets the basic needs of workers in the 21st century. Raising the minimum wage would boost pay in low-wage jobs where millions of men and women now spend their careers. Low-wage occupations in food service, home health care, retail, and customer service are projected to see the most job growth over the next decade.
The typical worker struggling on less than $15 an hour is a woman over 30 who works full-time but still cannot make ends meet. While only one-third of white workers earn less than $15 an hour, most women of color do.
A $15 minimum wage (or $31,200) a year for full time) could go far in helping women and people of color make ends meet, closing persistent gender- and race-based pay and wealth gaps, and improving educational and health outcomes for children. All labor has dignity, but when workers bring home paychecks that don't pay for basic necessities, it's hard to find the dignity in being working poor.
Read the full article here.
Read more on the history of the struggle for justice here
Read more Breaking News here.
A woman in Canada who recently had her left leg amputated is having a difficult time accepting her new body.
Rahab Wanjau, 30, was born with a deformity on her left tibia (or shinbone). She told HuffPost that after five painful surgeries, which left her relying on crutches most of her life, doctors recommended she have her leg amputated.
In June, she had it removed at Regina General Hospital in Regina, Saskatchewan. After her surgery, Wanjau went to Regina's Wascana Rehabilitation Center to pick up a prosthetic leg and foot shell, or a cosmetic covering for a prosthetic foot.
She was shocked and disheartened to discover she only had two color options for a foot shell: one shade was way too light and another was too dark.
Wanjau said when she asked her prosthetist if she could customize the color, she was told she would have to pay out of pocket for it.
"We have lots of color options when buying house paints, models of cars and makeup foundations," Wanjau told HuffPost. "It would be great if I can pick a foot shell in my skin tone."
Out of frustration, Wanjau contacted Ottobock, the company that manufactures the foot, and learned that because of the prosthesis's material, only the company or an outside professional could permanently change the color. This too would have to be paid for out of pocket.
Read the full article here.
Read more Breaking News here.