An off-duty police officer who was just trying to help his colleagues after a car chase ended in a shootout near his home, ended up being shot by a fellow cop who did not recognize that they were on the same team.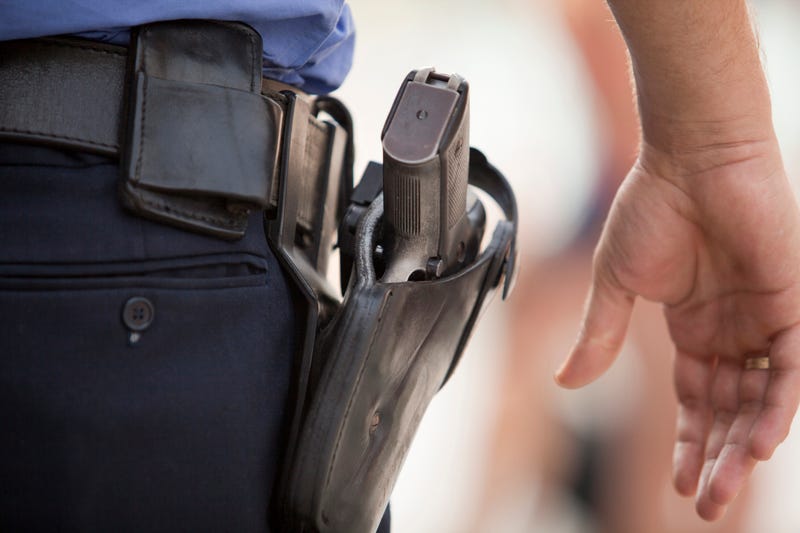 According to the report, two officers initially encountered the armed, off-duty officer and ordered him to the ground. The off-duty officer complied, but the other officers soon recognized him as one of their own and told him that he could stand up. Just then, however, another officer arrived on the scene, and saw the off-duty officer getting up and, not recognizing the man as an officer, fired his weapon, striking the off-duty officer in the arm.
The New York Daily News identifies the off-duty officer as black and the shooting officer as white.
The injured off-duty officer was treated at a hospital and released Thursday.
The 38-year-old officer who was injured has been with the St. Louis department for 11 years. The officer who shot him is 36, and had been with the department for just eight years. In total, seven officers who were involved with the incident were placed on administrative leave and the department's Force Investigative Unit is looking into the incident.
Read more on the incident here.
Read more Breaking News here.

Read about the history of race in America here.
From: Huffington Post Black Voices
Written By: Carla Herreria
Herreria writes:
"'Get Out,' a psychological thriller about racism written and directed by Peele, earned a coveted 100-percent score on the film review aggregation website Rotten Tomatoes."
In a recent post, "Horror Film About Racism Earns Coveted 100 Percent On Rotten Tomatoes," Carla Herreria expresses critics' reviews in a newly released horror film titled Get Out that frames racism as the central plot.  
The author also quotes Jordan Peele:
"It just seemed to be a very taboo piece of the discussion to talk about something so horrific as racism in any type of genre other than a film about slavery or something."
Finally, she quotes Variety critic Peter Debruge's review:
"[The film] delivers 'a gloriously twisted thriller that simultaneously has so much to say about the state of affairs in post-Obama America.'"
Read the full article here.
Read more Breaking News here.
Activists hailed the law, but police union leaders complained it would create more paperwork.
California police will have to publicly report race and other demographic characteristics of any person stopped by officers under a new law intended to respond to high-profile deaths of unarmed black men and charges of racial profiling.
The law… expands the state's formerly vague definition of racial profiling to include "identity profiling" based on gender, national origin or other characteristics protected against discrimination. The law requires law enforcement agencies to record the racial and identity characteristics of any person stopped or detained…
A recent string of deaths at the hands of police officers — from Michael Brown in Ferguson, Missouri, to Freddie Gray in Baltimore, to Eric Garner in New York — sparked unrest and national outcry about the need for police reform, especially in communities of color. Police unions blasted the new law as unnecessary, while reform activists hailed it as a critical tool to analyze police practices.
Lt. Steve James, president of the Long Beach Officers Association and the national trustee for the California Fraternal Order of Police…said the new legislation is "terrible." He said it would create more paperwork for officers, taking away time on the streets, and seeks to solve a problem he doesn't believe exists…
Data that the state attorney general already has access to reveals racial disparity in arrests and jailing across the state.  Seventeen percent of arrests and about 25 percent of deaths in custody involve blacks. Young black males are about 25 percent more likely than whites to be jailed in the state…
"They're of course exaggerating about the amount of paperwork that this will produce," Abdullah said. "But if that were a real consideration for them, then maybe they should only make stops that are really around keeping the community safe rather than then the harassment and intimidation of people of color…"
"For police to say that profiling doesn't happen so we don't even need to collect information about it is offensive," Bibring said. "We give police tremendous authority to stop people, to search them, to use force and potentially to shoot people. And in order to make sure that authority is being used correctly, we need transparency into what they are doing…"
Read the full article here.
Read more Breaking News here.
By Kate Abbey-Lambertz, Huffington Post
Artist Renda Writer wrote "Black Lives Matter" about 2,000 times last week on a wall in Detroit, the white text in his handwriting appearing both tiny, streaming over the black background, and huge, shouting its message to anyone who walks by.
Writer, a white painter and poet from Miami, was commissioned by Detroit's N'Namdi Center for Contemporary Art to create the mural. He worked on the piece for about 80 hours and finished earlier this week.
Gallery owner George N'Namdi said he wanted to spark dialogue and pay homage to the Black Lives Matter movement, which formed in response to police shootings of young black men and addresses racial inequality more broadly. But initially, he and the artist discussed incorporating the phrase "Lives Matter" or "All Lives Matter."
Though the obvious meaning of "all lives matter" doesn't contradict the assertion that black lives matter, some say changing the focus to "all lives" undermines the BLM movement and ignores its message that society doesn't value black and white lives equally.
"All Lives Matter" has been used to criticize the movement's tactics, appearing in Twitter fights, political speeches and more destructive scenarios. In July, a mural in Ottawa, Canada dedicated to a black woman who died in police custody was defaced, with the words "All Lives Matter" spray painted over her face. A Maryland church's Black Lives Matter sign was vandalized twice this summer, with someone cutting out the first word.
"'All Lives Matter' really is a way of co-opting the Black Lives Matter movement," N'Namdi told The Huffington Post. N'Namdi, who is black, ultimately decided that if Renda Writer included the words "All Lives Matter," it would take away from the mural's message.
"It really dawned on me, we're talking about a movement here, we're not talking about just a slogan," N'Namdi continued. "We're talking about something we're trying to change, and once you start diluting the movement and making it 'All Lives Matter' … What issue is 'All Lives Matter' confronting? None."
"I think 'Black Lives Matter' is a message of love," he [Writer] said. "This particular race needs a little more attention, a little more love."
Read the full article here.
Read more Breaking News here.
Griot: Fran Kaplan, EdD
The black press has played a vital role, both in advancing the ideals of American democracy and in supporting African American identity and culture.
The first newspaper owned and operated by African Americans, Freedom's Journal, was founded in New York City in 1827 by Reverend Peter Williams, Jr. and other free black men. They appointed community activists Samuel Cornish and John B. Russworm as editors. The goal of Freedom's Journal was to oppose New York newspapers that demeaned blacks and supported slavery. (New York state's economy depended on slavery, because its textile mills processed southern cotton, which accounted for half its exports.)
In the first issue of Freedom's Journal, Cornish and Russwurm declared, "Too long have others spoken for us, too long has the public been deceived by misrepresentations." Their second objective was to build a common African American identity through "the moral, religious, civil and literary improvement of our race."
Freedom's Journal had subscribers in eleven states and Washington D.C., and in Canada, Europe, and Haiti. The paper covered local, national, and international events. The paper also celebrated the achievements of African Americans. Its editorials spoke out against injustice and debated controversial issues such as the resettlement of free blacks from the U.S. in Liberia in West Africa.
This tradition of crusading journalism was continued by black abolitionists like David Walker (An Appeal to the Coloured Citizens of the World) and Frederick Douglass (North Star). Ida B. Wells, who was born a slave, became one of the first American women to own a newspaper (The Free Speech and Headlight, in Memphis, TN). She also wrote for other newspapers, both black and white-owned. Her investigative pamphlets that analyzed and fought against lynchings and Jim Crow are still used today (Southern Horrors: Lynch Law in All Its Phases and The Red Record).
One of the longest running black newspapers, the California Eagle was founded in 1879 by a former slave, John J. Neimore, for African American migrants arriving from the South. The paper would serve Los Angeles, California, for eighty-five years. Upon Neimore's death, his employee, Charlotta Bass, bought and ran the paper. Bass was an activist for social justice inside and outside of her newspaper. The pages of the Eagle campaigned for the abolition of enforced segregation though racial covenants, increased participation of African Americans in politics at all levels, and the patronizing of black businesses by blacks as a matter of principle under the slogan "Don't Buy Where You Can't Work."
Charlotta Bass also helped found and run such community institutions as Industrial Business Council to fight employment discrimination in such important companies as LA Rapid Transit, Southern Telephone, and the Boulder Dam. She served as co-president of the LA chapter of Marcus Garvey's Universal Negro Improvement Association, as director of the NAACP's Youth Movement, and national chair of the Sojourners for Truth and Justice (a black women's organization that protested racial violence). She was a pioneer of multiracial struggle, fighting for the release of Chicanos (Mexican Americans) convicted of murder by an all-white jury. In 1952, Bass became the first African-American woman to run for Vice President, as a candidate of the Progressive Party.
Racial discrimination in Indiana, Kansas, and Illinois prevented law school graduate Robert S. Abbott from practicing his profession, so in 1905 he founded The Chicago Defender. He built it into the most widely circulated, powerful, and successful black-owned newspaper of all time. Abbott employed talented writers, among them Gwendolyn Brooks, Walter White, and Langston Hughes. When white newspaper distributers refused to circulate The Defender in the South, he created his own clever "underground" network: African-American railroad porters who secretly carried his paper around the county  on trains.
The paper's slogan was "American race prejudice must be destroyed."  Abbott's other goals included the opening up of trade unions, government jobs, and police forces to African American workers. The Chicago Defender provided firsthand coverage of the series of white race riots known as the Red Summer Riots of 1919. The paper is credited with stimulating the Great Migration of African Americans from the South to northern cities by publishing migrants' stories, describing the North as a place of prosperity and justice, showing pictures of Chicago, and running classified ads for housing. The Chicago Defender continues to be published today at www.chicagodefender.com.
Many African American newspapers declined during the late 1950s and 1960s, during the Civil Rights and Black Power Movements, because white-owned papers had finally began to hire black journalists and compete for black readers. Today you can get a variety of African American news and views on such issues as anti-black violence or reparations from such outspoken journalists as Ta-Nehisi Coates (The Atlantic), Charles Blow (New York Times), and Melissa Harris-Perry (MSNBC) working in "mainstream" media.
The good news is that the black press is alive and well. It continues to play a crucial role in our racially divided society. Its vital discourse with the public–locally, nationally, and internationally–is conducted through print, broadcast, and online media. Whether they work in black-owned and operated media or in the black perspectives sections of white-owned media, African American journalists offer a corrective balance to how issues and images are commonly represented in white outlets.
Each week America's Black Holocaust Museum selects articles and broadcasts about current events from the outlets listed below and posts them to our Breaking News blog.
A Very Short List of National Black Press Outlets
Online
Ebony (also in print)
Essence (also in print)
In Print
Black News Directory (A listing of dozens of some of the 200+ black publications published in the USA – from the American Legacy Magazine to Hip Hop Weekly.)
National Newspaper Publishers Association (and links to member papers of the NNPA black press in each state)
Black Perspectives Sections within White-Owned/Operated Media
Shadow and Act (on Cinema of the African Diaspora)
Huffington Post Black Voices 
NY Times Black Culture and History section
National Radio:
Black Press in Milwaukee, Wisconsin
Newspapers
Television
Radio
Sources:
Vogel, Todd (editor). The Black Press: New Literary and Historical Essays. Rutgers University Press, 2001.
California Newsreel. Soldiers Without Swords: The Black Press feature-length documentary film. 
Public Broadcasting System. The Black Press (click Resources & Links for an extended bibliography)
Griot: Reggie Jackson
"The mood toward drugs is changing in this country, and the momentum is with us. We're making no excuses for drugs — hard, soft, or otherwise. Drugs are bad, and we're going after them. As I've said before, we've taken down the surrender flag and run up the battle flag. And we're going to win the war on drugs."  – President Ronald Reagan, October 2, 1982
With these words America's modern War on Drugs was launched. This war would have many casualties. The war would lead the United States down the path to incarcerate over two million people. State budgets would expand to pay the costs of hundreds of new prisons. The black and Latino communities would lose countless young men to incarceration. By 2015, the Federal government will spend over $25 billion annually to combat drugs.
Tulia, Texas: Watch this film about one small town's experience with the War on Drugs.
The irony of the War on Drugs being launched in the 1980s is that illicit drug use had been dropping for about a decade. We were essentially beginning to fight a war with an enemy that no one believed existed. In fact, less than 2 percent of the public viewed drugs as the most important issue facing the nation. Prior to this time the federal government played only a small role in crime control. Reagan's Attorney General, William French Smith recommended a policy shift to deploy a "strong federal law enforcement capacity" in what he called a "highly popular" manner.
This shift led Reagan to fulfill one of his campaign promises, to get tough on crime. He used coded racial language to convince whites to believe that a "human predator" existed. This predator would primarily be young black males. In 1970 Sidney Wilhelm wrote a book titled, Who Needs the Negro? He argued that black labor was no longer necessary to the American economy due to automation and de-industrialization. Blacks would become the enemy in the War on Drugs.
The Reagan Administration and Congress authorized $125 million to establish regional drug task forces employing over 1,000 FBI (Federal Bureau of Investigation) and DEA (Drug Enforcement Agency) agents along with new federal prosecutors. The FBI drug enforcement budget skyrocketed from $8 million in 1980 to over $95 million four years later. From 1981 until 1991 the DEA antidrug budget increased from $86 million to over a billion dollars. Alongside these increases federal allocations for education and treatment of drug abuse was decimated. The National Institute on Drug Abuse saw its funding slashed from $274 million in 1981 to only $57 million by 1984.
This new emphasis on criminal prosecution of the Drug War led to a huge increase in state and local law enforcement and prosecution. The enforcement of new, more harsh drug laws would be concentrated in poor black communities. These communities were already suffering tremendously due to the major recession of the early 1980's. Family supporting wages from manufacturing jobs, which drove many blacks into northern communities beginning in the 1950's, were being shifted overseas. Jobs were difficult to find and in some cases impossible to find. The jobs that were created during this time were mostly in the suburbs, and inaccessible to inner city residents.
An illicit drug market became the replacement labor force. Crack cocaine, became the tool by which this market expanded. In 1984 the Los Angeles Times first reported on the use of cocaine "rocks" in black and Latino neighborhoods. Crack was simply a mixture of powdered cocaine, water and baking soda that was "cooked" to produce smokable "rocks." By 1986 this new form of cocaine was only found in Los Angeles, New York, Miami and a handful of other big cities.
Two professional athletes, Len Bias of the Boston Celtics and Don Rogers of the Cleveland Browns died in June 1986 of what was referred to by the media as "crack related" incidents that were in reality powdered cocaine overdoses. News coverage increased overnight of police raiding "crack houses" and escorting black and Latino males away in handcuffs. In July 1986 the three major networks (ABC, NBC, CBS) showed seventy-four evening news segments on drugs, including over thirty stories on crack. Newspapers around the country produced about one thousand stories about crack leading up to the mid-term congressional elections in November 1986.
By mid 1986 Newsweek called crack the biggest story since Vietnam and Watergate. Time magazine called it the issue of the year. The "crack epidemic" or "crack plague" became the most common terms to describe the drug. The intense media coverage of crack led the DEA to issue a press release to correct the misperception of crack. They stated, "crack is currently the subject of considerable media attention…The result has been a distortion of the public perception of the extent of crack use as compared to the use of other drugs…it appears to be a secondary rather than primary problem in most areas."
One of the most incendiary stories related to crack was the so-called "crack babies." These were babies born to drug using mothers. The hysteria surrounding this phenomenon led to laws being passed to prosecute mothers who tested positive for cocaine. Crack and powdered cocaine are indistinguishable. Therefore there is no way to tell if the mother had used crack or powdered cocaine. Despite the fact that no data was available on supposedly "crack-addicted babies", the media ran hundreds of stories warning that these children would become menaces to society. Only later did studies prove this to be untrue. The media barely covered this new information.
The intense media scrutiny led Congress to pass the 1986 Anti-Drug Abuse Act. The bill introduced mandatory minimum sentences including a 5-year term for possession of five grams of crack cocaine, while mandating the same sentence for 500 grams of powdered cocaine, a 100:1 ratio. The crack scare died down after the election.
By 1988, crack became an issue again during the election cycle. ABC News reported that crack was a "plague…eating away at the fabric of America." The rhetoric about crack continued, and led Congress to pass the 1988 Anti-Drug Abuse Act, which enhanced drug penalties and led to the Comprehensive Community Substance Abuse Prevention Act of 1989. These Congressional acts led to huge increases in law enforcement budgets. As a result the prison population began to soar. In 1980 there were only 14,100 people in prison or jail for drug offenses. Today there are over a half-million, in increase of 1,100 percent.
The impact of the drug scare would continue during the Clinton administration with the passage of the Violent Crime Control and Law Enforcement Act of 1994, the largest crime bill in U.S. history. It placed an additional 100,000 new police officers on the street and provided nearly $10 billion funding for prisons. It also eliminated Pell grants for incarcerated prisoners to receive post secondary education, which had been available since 1965.
The increased funding, extra police officers and prosecutors led to the largest growth in prisoners in world history. The incarcerated population in the United States grew from a little over 500,000 in 1980 (319,598 in prison, 182,288 in jail) to over 2.3 million by 2013. The War on Drugs led to the imposition of crime policies which would put America in the position of having only 5% of the world's population and over 25% of the people incarcerated.
Sources:
Alexander, Michelle. The New Jim Crow: 
Mayer, Marc. Race To Incarcerate. The New Press, 2006.
Reinarman, Craig and Harry G. Levine, eds. Crack in America: Demon Drugs and Social Justice. University of California Press, 1997.
Walker, Samuel; Spohn, Cassia; and Miriam DeLone. The Color of Justice: Race, Ethnicity, and Crime in America. Wadsworth Publishing: 5 edition, 2012.
Reggie Jackson is Head Griot of America's Black Holocaust Museum and President of the Board of the Dr. James Cameron Legacy Foundation, ABHM's parent organization. Reggie is a frequent public speaker on topics relating to African American history and the black holocaust. He works as a teacher with the Milwaukee Public Schools.
This exhibit was made possible, in part, by a grant from the Wisconsin Humanities Council. Any views, finding, conclusions, or recommendations expressed in this project do not necessarily represent those of the national Endowment for the Humanities. The Wisconsin Humanities Council supports and creates programs that use history, culture, and discussion to strengthen community life for everyone in Wisconsin.
The myth of racial difference that was created to sustain American slavery persists today. Slavery did not end in 1865, it evolved.
Slavery to Mass Incarceration is part of the Race and Poverty project of the Equal Justice Initiative.
The EJI Race and Poverty Project explores racial history and uses innovative teaching tools to deepen our understanding of the legacy of racial injustice. By telling the truth about our past, EJI believes we can create a different, healthier discourse about race in America.
Charges were dropped against three African-American teenagers who said they were waiting for a school bus last week when they were arrested by police. "After reviewing the facts associated with these arrests, I have decided to dismiss the charges in the interest of justice," said District Attorney Sandra Doorley in a statement Tuesday. The basketball players said they were waiting for a bus in Rochester, N.Y., to take them to a scrimmage when police asked them to leave the area. When 17-year-old Deaquon Carelock and 16-year-olds Raliek Redd and Wan'Tauhjs Weathers pushed back against the officer's request, saying they were following instructions from their coach, police arrested them. The teens were later charged with two counts of disorderly conduct. (. . .)
"We tried to tell them that we were waiting for the bus," Weathers added. "We weren't catching a city bus, we were catching a yellow bus. He didn't care. He arrested us anyways." Police say the teens were obstructing pedestrian traffic and repeatedly ignored orders to disperse, according to a police report obtained by FOX station WROC. Police had been keeping an eye on the area after receiving complaints of loitering from a nearby store. The students' coach said he had no reason to think they were causing trouble."My guys were waiting for the bus like they normally do," Jacob Scott, the student's basketball coach, said. "I get to the scene after parking my car and three of my guys are handcuffed."  (. . .)
"One of the police officers actually told me, if he had a big enough caravan, he would take all of us downtown," Scott said, referring to himself and the other students waiting to attend the scrimmage on a day off from school.
"These young men were doing nothing wrong, nothing wrong," he said of the arrested players. "They did exactly what they were supposed to do." (. . .)
The teens posted bail, and the case is scheduled for disp(osition). "They are not bad kids," Raliek Redd's mother, Crystal Chapman, said. "They are awesome boys. They all have good grades in school. I don't want them to be profiled at all."
A teenage Oklahoma hip hop dancer is still shaken after her dream trip to a Texas dance studio ended up with her in handcuffs and taken to Child Protective Services and her guardians in police custody. "They had nothing on us," dance instructor Emmanuel Hurd told ABCNews.com. "Instead of going the route they should have went, they took her to CPS. The only reason someone gave me was we were black and Landry was white."
Landry Thompson, 13, has been dancing since she was 7. For the past few years, she has dreamed of traveling to Houston to dance with well-known hip hop dancer Chachi Gonzales at Planet Funk Academy. ( . . .)
The three spent the day at the dance academy and taking part in a video shoot. After wrapping and dinner, the exhausted trio stopped at a gas station around 3 a.m. to program their GPS to find their hotel, according to Hurd. He dozed off and awoke to find their car surrounded by police.
"Everything was going amazing. It was a beautiful day …. and then everything went bad," Hurd told ABCNews.com today.Hurd and Kelly were pulled out of the car and police told them not to worry, they weren't be arrested, just detained, Hurd said.
Hurd had forms from Landry's mother making him her guardian for the duration of the trip, her birth certificate and her insurance card, among other forms, which he said he tried to tell the officers. ( . . .)
Landry's mom, Destiny Thompson, said she wasn't surprised by the late-night call because rehearsals often go late into the night, but could tell something was wrong when she heard the commotion in the background and her daughter's upset voice.
A police officer eventually took Landry's phone and spoke to her mother.
"He got on the phone and he said, 'Are you aware your daughter is in Houston, Texas, with two black men?' And I said, 'Yes, I am aware of that,'" Destiny Thompson told ABCNews.com. "Then he started mumbling stuff about my parenting, why I would let her do that and then he proceeded to tell me the people she was with were intoxicated or on something." ( . . .)
"[Hurd] is somebody we know well," she said. "His wife and kids spent the night at my house last night. These are not people that we kind of know. These are close family friends that we trust explicitly with our children. They just happen to be black."
Hurd said he begged officers from the back of the police car to listen to him. He said one officer said to him, "Sir, you've got to understand, you two men are black and she's white." (. . .)
Read the full story.
Read more breaking news.