Last week, Twitter said it was "pausing" to reconsider the process by which it bestows the blue checkmark denoting accounts that had been "verified," and on Wednesday the company announced it was yanking the designation from some users who occupy the neo-Nazi or nationalist bucket of grassroots white activism. The announcements came after many users, including The Root's Monique Judge, raised hell when Twitter gavea blue checkmark to Jason Kessler, a white nationalist who helped plan the pro-Confederacy march last August in Charlottesville, Va.
While Twitter CEO Jack Dorsey and his workers ruminated on the company's account verification policies, I decided it was a good time for us to pause and think about our relationship with Twitter and other social media and technology companies. We voluntarily "contribute" our creative insights, dollars and labor to the success of these companies by buying devices and apps, uploading memes, ideas and language that trends widely. Yet in terms of the vast wealth these companies hold, disburse to employees and generate for shareholders, we get little in return.
Think of the recent moment where top lawyers for Google and its parent company, Alphabet, along with Twitter and Facebook, were summoned to Capitol Hill to testify before Senate and House committees looking into the company's role in disseminating toxic content and ads during the 2016 presidential election cycle.
Anti-black messaging was the secret-sauce of many of the pro-Trump, nationalist memes and messages that flooded through the popular social media channels during the 2016 election cycle. Yet somehow, the gatekeepers at Facebook and Twitter didn't seem to notice the methodical manipulation of racial animus that already exists in America, specifically, some white Americans' negative opinions of blacks.
The leaders and staffs of Twitter, Facebook, and other popular social media platforms missed the Russian's exploitation of the black-white divide, an obliviousness that has precedent: black women users had long alerted Twitter officials to abusive conduct of other users, up to and including death threats. The hashtag #YourSlipIsShowing catalogs such experiences from black women dating back several years, and is readily available…at least to those interested in learning about and addressing these kind of user experiences.
But clearly, the tech company leaders were not inclined to pay attention to this area of user complaints, a strong indication that they also probably weren't interested in the views of the few blacks and Latinx workers at their companies, either. Just look at what happened to Leslie Miley, a black former engineer at Twitter. Miley revealed in a recent interview that he had flagged tons of dubious accounts in 2015, telling his bosses that he believed they were from Ukraine or Russia, and that they appeared to be part of a coordinated campaign.
Miley was told by his bosses at Twitter to "stay in his lane," a response that Miley says he took as a sign that the company leadership preferred to err on the side "growth numbers," rather than on any potential harm to audiences that the bots might pose.
Meanwhile, black users of Instagram, Facebook, Twitter and Google products infuse them with a deep coolness factor that resonates around the world. Our intellectual property and creativity is the lifeboat that floats these companies to revenue solvency, yet few of us share in the enormous economic wealth generated by these companies, not even after dozens of news stories, industry conferences, and activist's complaints forced the companies to pledge to improve hiring and retention.
Black Americans know when something smells rotten, including the kinds of scams and shady BS that can unfold at one's job. And, as usual, blacks and other marginalized communities have solutions. We have the brain-power, problem-solving acumen, and moral fortitude to right the ship of state.
The question is whether our concerns and advice will be heeded, and whether we can achieve full access to the genuine levers of power in the United States, including access to quality education, healthcare, voting and, most importantly in the context of the innovation ecosystem, investment capital.
Read the full article here.
It's not just the Tech industry, either. Read how one company is beginning to acknowledge its racist past here.
Read more Breaking News here.
Some of the most impressive buildings and cities ever made by humans can be found in Africa: the ruined city of Great Zimbabwe, Mapungubwein South Africa, Kenya's Gedi Ruins and Meroe in Sudan. Perhaps the most awe-inspiring of these are the last remaining of the Seven Wonders of the Ancient World, the Great Pyramid of Giza, in Egypt….
Africa has an extensive archaeological record, extending as far back as 3.3 million years ago when the first-ever stone tool was made in what is today Kenya. The continent's cultural complexity and diversity is well established; it is home to the world's oldest-known pieces of art. And, of course, it is the birth place of modern humans' ancient ancestors, Homo sapiens.
Despite all this evidence, some people still refuse to believe that anyone from Africa…could possibly have created and constructed the Giza pyramids or other ancient masterpieces. Instead, they credit ancient astronauts, extraterrestrials or time travellers as the real builders….
Actually, there is great harm: firstly, these people try to prove their theories by travelling the world and desecrating ancient artefacts. Secondly, they perpetuate and give air to the racist notion that only Europeans – white people – ever were and ever will be capable of such architectural feats.
A threat to world heritage
In 2014 two German pseudo-scientists set out to "prove" that academics were concealing the Giza pyramids' "real" origin. To do so, they chiselled off a piece of one of the pyramids – of course, without authorisation, so they could "analyse" it.
And earlier in 2017 scientists from the World Congress on Mummy Studies in South America published a communique on their Facebook page to draw attention to the raiding of Nazca graves for a pseudo-scientific research programme called the Alien project. It insists that aliens rather than ancient Peruvians were responsible for the famous geoglyphs called the Nazca Lines, despite all the evidence to the contrary….
Racism and colonial attitudes
A series of stone circles in South Africa's Mpumalanga province provides an excellent example of the other problem with pseudo-archaeologists. Some people genuinely believe that these structures were designed by aliens. They scoff at scientific research that proves the stone circles were made by the Koni people using ropes, sticks and wood. They will not even entertain the notion that ancient African tribes could be responsible.
But the same people have no problem believing that medieval Europeans built the continent's magnificent cathedrals using only ropes, sticks and wood. They dismiss scientific research that overwhelmingly provesancient Africans' prowess,…
Why is it so hard for some to acknowledge that ancient non-European civilisations like the Aztecs, people from Easter Island, ancient Egyptians or Bantu-speakers from southern Africa could create intricate structures?
The answer is unfortunately as simple as it seems: it boils down to profound racism and a feeling of white superiority that emanates from the rotting corpse of colonialism…
They try to make others believe that scientists are hiding "the truth" about ancient monuments…. There is a risk that they will drown out quality knowledge and science with their colourful, outlandish theories.
At the same time, these theories can prevent awareness about Africa's rich heritage from developing. The heirs of the real builders may never learn about their ancestors' remarkable achievements.
Scientists have a crucial role to play in turning the tide on such harmful theories. Those of us who are doing ongoing research around the continent's architectural and fossil record should be sharing our findings in a way that engages ordinary people.
We must show them just how awe-inspiring structures like Great Zimbabwe, Meroe and the Giza Pyramids are – not because they were created by some alien race, but because they are living proof of ancient societies' ingenuity.
Read full article here.
Read more Breaking News here.
The black protester who was caught on viral video hugging a squirming and uncomfortable neo-Nazi outside white supremacist dump truck Richard Spencer's speech at the University of Florida in Gainesville on Thursday is acknowledging that he could just as easily have hit the guy (an act in which someone else had earlier indulged) but decided to go a different route in order to bring about change in his own way.
"I could have hit him, I could have hurt him … but something in me said, 'You know what? He just needs love,'" Aaron Alex Courtney told the New York Daily News. "It's a step in the right direction. One hug can really change the world. It's really that simple."
The unidentified neo-Nazi was seen at Spencer's speech location wearing a T-shirt covered in swastikas. His not-so-subtle outfit obviously drew the attention of the crowd, which included protesters who screamed, punched and spat on him before Courtney wrapped his arms around him.
"Why don't you like me, dog?" the 31-year-old high school football coach out of Gainesville could be heard asking the man. "Give me a fucking hug."
Courtney could be seen attempting to get the man to hug him back, but the man just stood there, limp and uncomfortable, as Courtney embraced him.
Surprised to learn that Spencer was a person and not an impending hurricane, or that the notification wasn't about a kidnapping or something of the sort, Courtney started to do research.
"I found out about what kind of person he was, and that encouraged me, as an African American, to come out and protest. Because this is what we're trying to avoid. It's people like him who are increasing the distance … between people," Courtney told the Daily News.
Courtney gave about four hours of his time Thursday protesting and was getting ready to leave when he saw Mr. Nazi himself causing a commotion among the other protesters.
"I had the opportunity to talk to someone who hates my guts, and I wanted to know why. During our conversation, I asked him, 'Why do you hate me? What is it about me? Is it my skin color? My history? My dreadlocks?" Courtney recalled.
"After beating around the bush and avoiding my questions, I asked him, I pleaded with him, I almost broke out in tears, growing increasingly angry because I didn't understand," he said.
However, Courtney, whose father is a bishop, decided to take some of his father's teachings and offer the man a hug.
"Something in me said, 'You know what? He just needs love. Maybe he never met an African American like this," Courtney said.
It took some cajoling, but, Courtney said, "I reached over, and the third time, he wrapped his arms around me, and I heard God whisper in my ear, 'You changed his life.'"
Courtney then said he asked again, "Why do you hate me?"
The neo-Nazi's response, according to Courtney? "'I don't know.'"
"I believe that was his sincere answer. He really doesn't know," Courtney added.
The man was eventually escorted away by police, but not before taking a photo with Courtney's friend.
"I honestly feel that was a step in the right direction, for him to take a picture with a guy that he hated when he woke up this morning," Courtney said.
Read the full article here.
Read more about racial reconciliation here.
Read more Breaking News here.
By Michael Casey, The Grio/Associated Press
CLAREMONT, N.H. (AP) — In this struggling mill town in western New Hampshire, racism was never something people talked all that much about.
There were people who drove around Claremont with Confederate flag bumper stickers in the mostly white town of 14,000 and some instances of high schoolers using racial epithets during football games and on Facebook.
But for the most part, residents had other concerns.
That changed Aug. 28 after allegations surfaced that several teenagers had taunted a 9-year-old biracial boy with racial slurs and several days later pushed him off a picnic table with a rope tied around his neck. The family of the boy, who was treated for neck injuries and has been released, called it a hate crime while the parents of one of the teenagers told Newsweek it was a terrible accident.
The images of the boy's rope-singed neck were shared widely on social media, prompting an outpouring of support for the family and outrage against the teens. With prosecutors continuing to investigate the case as a potential hate crime, the city known for historic textile and paper mill buildings found itself associated with words like lynching and intolerance.
"Certainly people were shocked by the young age of everyone involved, especially the victim," said Allen Damren, the town's assistant mayor who also grew up in Claremont. "That certainly has an impact on people. When you use the word 'lynching,' that has all sorts of bad connotations to it."
"It happened in our hometown. People responded to that," he added.
The case has compelled city leaders to confront an issue that many had associated with bigger cities far away. Most insist Claremont isn't a racist place but say the town must consider how its white majority treats those who don't look like them. The families of the accused teens declined comment.
"This is an opportunity to take a very unfortunate event involving children and have some public discussions about how we treat each other," said Middleton McGoodwin, the superintendent of the school district that includes Claremont. "Just because you may have a different color skin or different color hair or wear certain clothing, that doesn't give me license to make you feel uncomfortable or make fun of you."
City and school officials have since met to discuss new strategies to counter racism, and McGoodwin said the district is developing a plan for elementary through high school that examines school culture, including how students treat each other and how staff respond to issues like bullying. Residents are planning to be outside the high school and middle school this week, holding signs calling for an end to violence and bullying.
"We are not going to say this was an event that took place in late August, wasn't in school and wasn't about us," McGoodwin said. "It definitely is about us."
Lorrie Slattery, the grandmother of the boy who was nearly hung who had lived in town for 14 years, attended a town discussion group at a nearby church. Slattery, who is white, grew emotional as she recounted how her family had never before felt racism in Claremont and how she would remain the city. The boy's mother declined to be interviewed.
"From the bottom of my heart, it doesn't change my views of Claremont," she said. "This is everywhere. We're not immune to anything. Things happen. This is something, as horrific as it was, that could be something positive for the future of the kids in this community. I think it's going to bring us to better places."
For the full article, read here.
For more Breaking News, read here.
For more information about the history of lynchings, please explore the ABHM galleries.
This week five African-American students at Air Force Academy Prep School in Colorado found the words "Niggers Go Home" scrawled on the dry erase boards outside their dorm rooms.
Once the school became aware of the racial graffiti the school superintendent Lt. General Jay Silveria rattled off a statement to the press.
"I've said it before, the area of dignity and respect is my red line,"
"Let me be clear: it won't be crossed without significant repercussions. Diversity is a strength of our Academy and our Air Force. We are stronger when we take into account the views of those with different backgrounds and life experiences."
The students are all part of a 10 month program to help them acclimate to life at the Air Force Academy, so in a twisted sort of way this is part of their training. While their parents have expressed concern and an investigation has been launched none of that will change one basic fact: The United States military has a long, sordid, racist and violent history when it comes to the treatment of black soldiers. While this may be the first, it certainly won't be the last or the worst racial treatment these young people will receive should they choose to serve in the United States military.
Conservatives of all colors like to point to the military as one of the most integrated and racially harmonious parts of American society, which is fine if you're talking about Salvation Army or GI-Joe. The actual military? Not so much. Black soldiers, whether in training or veterans have been routinely targeted through American history for a special kind of violence as white supremacy quivers at the notion of black people being armed, trained and capable of arming themselves.
That's why black veterans were consistently denied the GI-Bill that built the American middle class. That's why lynching of black soldiers has been so common throughout U.S. history. That's why Richard Collins III, a recently commissioned officer two weeks from graduating college this spring was murdered by a white nationalist while the president barely said a peep.
That's why despite African American women making up over 40% of all women in the armed forces it wasn't until 2014 that President Obama was able to change racially biased hair standards for active duty women of color.
That's why a group of West Point cadets showing racial and American pride caused a firestorm last year.
These are just examples of how the American military to this day treats people of color, it continues to do a number on white Americans as well.
The issue isn't simply that a bunch of bigots wrote threatening words on the dorms of five cadets, that's almost to be expected. The issue is that the military despite the rhetoric has not adequately rooted out racist sentiments in the ranks yet still expects (and in fact depends) on large numbers of African Americans to join up and serve, even if that means facing an enemy on the field or in your barracks.
Read the full article here.
Read about how to help positively impact racial reconciliation here.
Read more Breaking News here.
Jemele Hill said what she said.
In a series of tweets stemming from an odd conversation about Kid Rock, the co-host of ESPN's "SC6" called President Donald Trump a "white supremacist who has largely surrounded himself w/ other white supremacists."
"Trump is the most ignorant, offensive president of my lifetime," she wrote. "His rise is the direct result of white supremacy. Period." She added that Trump's presidency had empowered other white supremacists and that his bid for the White House wouldn't have been successful if he weren't white.
Backlash to the tweets, helped along by people like former ESPN reporter Britt McHenry and Fox Sports Radio's Clay Travis ― who frequently says racist things ― led ESPN to release a statement saying Hill's views "do not represent the position" of the network. This made things worse.
Sarah Sanders, the White House press secretary, called Hill's tweets a "fireable offense." That same day, ESPN tried to prevent Hill from co-hosting "SC6" with Michael Smith. In a tweet, Hill said her "regret" was that her comments "painted ESPN in an unfair light." ESPN's public editor, Jim Brady, said Hill ― and the media at large ― should "let the reporting do its work, and resist more incendiary labels."
None of what Hill said in her initial volley of tweets was inaccurate. Trump voters were driven by racism, and white supremacists openly support him. His campaign rhetoric was a dog whistle for white supremacists. His attorney general has praised the Immigration Act of 1924, a law crafted by eugenicists and championed by people hoping to preserve a "distinct American type." After a violent white supremacist rally in Charlottesville, Virginia, Trump attributed the violence to "both sides," even though none of the counter-protesters killed anyone.
That Trump is a white supremacist is a straightforward conclusion that can be drawn from an abundance of available evidence.
But not all straightforward conclusions are admissible in mainstream American media, particularly on the subject of race, particularly when stated by a black woman.
To get a sense of the straitjackets placed on black media figures working in a predominantly white industry, where "white supremacy" is usually seen as a slur applicable only to Klansmen and Nazis, I convened three prominent black journalists: Greg Howard, a reporter at The New York Times; Elena Bergeron, former staff writer at ESPN The Magazine and current editor-in-chief of SB Nation; and a current ESPN employee who, for obvious reasons, wanted to remain anonymous.
Read the full interview here.
Read about the crucial role of black press here.
Read more Breaking News here.
Everybody is all about freedom of speech and expression until a black person (hey, Colin Kaepernick; hey, Jemele Hill) decides to exercise his or her right to do so. And in this particular case, a black sixth-grader out of Michigan says he was assaulted by his homeroom teacher all because he was exercising his rights and declined to stand for the Pledge of Allegiance.
Stone Chaney, who attends East Middle School in Farmington Hills, Mich.,told ClickOnDetroit that his teacher "violently" dragged him out of his chair and attempted to force him to stand for the pledge, leaving the young man confused and unwilling to return to that school.
"The teacher consultant comes up behind me and snatches me out of my chair violently," Stone told the news site. "I was so confused. I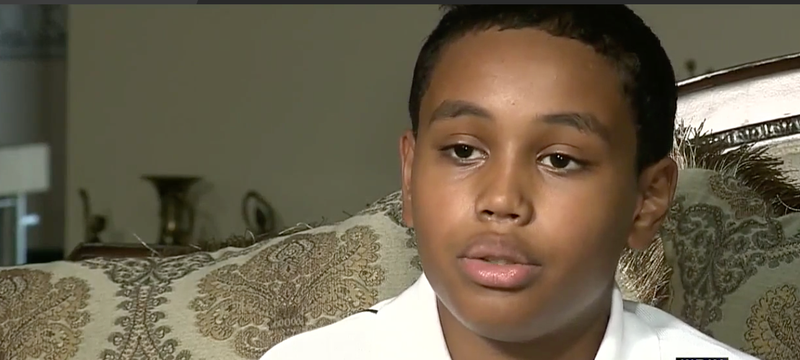 didn't know what was going on."
Note that Stone referred to the individual in question as the "teacher consultant." That means that the person who allegedly thought it was all right to snatch a child out of his seat trains other teachers. One would wonder what kind of training those other teachers are receiving.
"It's his choice to sit," Brian Chaney said. "I don't make him sit. And they should respect that."
The superintendent of Farmington Public Schools released a statement detailing that the district does support the right of students to opt out of the pledge, announcing that it was conducting an investigation and that the teacher involved has been placed on administrative leave pending the outcome.
Read the full article here.
Read about the history of black social movement and protest here.
Read more Breaking News here.
By Lilly Workneh, huffingtonpost.com
Black Lives Matter leaders are all too familiar with the racism that breeds in America, leading many within the organization to see the hate expressed by white supremacists in Charlottesville, Virginia, on Saturday as no surprise.
"The white supremacist violence we are witnessing in Charlottesville is not new," the social justice organization wrote in a statement published to its Facebook page on Saturday. "Instead it is constant, ever-evolving and a staple of American culture and society."…
Saturday's demonstration saw hundreds of neo-Nazis, white supremacists and KKK members marching through Charlottesville's streets chanting out phrases in support of white power. The march was initially organized out of protest over the removal of a statue honoring Confederate Gen. Robert Lee. Violence quickly erupted as marchers met with counter-protesters and police in riot gear, leaving 32-year-old paralegal Heather Heyer dead and 19 others injured.
"In the face of hatred and vitriol from the Ku Klux Klan and white nationalists, we support the people of Charlottesville who are advocating against fascism and antiBlack racism," BLM's statement read….
"We live in a world where black people are targeted for death and destruction; and in a country where there are hundreds of statues and monuments … dedicated to the confederacy, we cannot be surprised when moments such as these happen," the statement says. "Charlottesville is a confirmation of the violence that black people must endure from day to day."…
"We call on everyone to pay attention to the ways white supremacy manifests in our workplaces, our schools, and our homes," the statement read. "We stand with the people of Charlottesville who are fighting for a world in which the inherent humanity of all people is honored."
Read the full article here.
Read more Breaking News here.
By Lori S. Robinson, theroot.com
U.S. Rep. Hank Johnson (D-Ga.) had an authentic Afro-Colombian experience. "I was stopped in the airport and profiled, a case of racial profiling by police," he says. Two officers requested to see his ID and asked him about some luggage found at another airport. The activists accompanying Johnson, who doesn't speak Spanish, had to explain to the officers that they stopped the wrong black guy.
While this scene could easily have taken place in the United States, the history of racism in Colombia is quite different. The myth of racial democracy—a Latin American ideology that posits that inequality and discrimination exist because of class differences, not racism—persists. Still, the results of racism affect black people in similar ways…."In the United States, it was very clear you weren't wanted: 'No Blacks Allowed.' Here, you're left thinking, 'Why didn't they call me for a job interview?' The racism in Colombia isn't in-your-face," Vidal explains. "They don't tell you anything." That's true for everyday interactions as well as high-stakes politics….
Despite the disproportionate victimization of Afro-Colombians during the 52-year civil war, which ended last year, it wasn't until the last day of four years of peace negotiations that Colombian President Juan Manuel Santos permitted input from black organizations.
This exclusion communicated a strong message. Says PCN leader Charo Mina-Rojas, "This just is absolutely clear evidence of the racism of this country and the lack of political will of this government to really recognize and respect and promote, as is its obligation, the rights and lives and well-being of indigenous and Afro-descendant people."…
No matter what the government does, Afro-Colombian activists know what they will do. Despite being subjected to racism and violence, they will keep strategizing, building alliances and demanding their human rights.
Says William Mina, an activist in Buenaventura: "What motivates us to keep fighting is our culture, our tradition, the legacy that our ancestors have left us. We want to live for our children so they can live in tranquility."
Read the full story here.
Read more Breaking News here.
A civil rights landmark in Mississippi that commemorates the death of Emmett Till has been vandalized, The Associated Press reported Monday.
The sign, which has been defaced before, was scraped so badly that information and photos about Till's brutal death have been obliterated.
Students from Cultural Leadership, a St. Louis-based nonprofit that teaches young adults how to become civil rights leaders, were present at the site after the sign was vandalized and were disheartened by the destruction.
Dani Gottlieb, a 16-year-old from Cultural Leadership, told HuffPost that she was expecting to see "flowers growing in Emmett Till's honor" at the landmark, "not a torn-down marker."
She and her peers decided as a group to take action. They covered the scraped-off information with hand-drawn pictures of Till, messages of hope and information about his killing.
Read the article in its entirety here.
Read in depth about the struggle for justice and equal rights here.

Read more Breaking News here.