The black protester who was caught on viral video hugging a squirming and uncomfortable neo-Nazi outside white supremacist dump truck Richard Spencer's speech at the University of Florida in Gainesville on Thursday is acknowledging that he could just as easily have hit the guy (an act in which someone else had earlier indulged) but decided to go a different route in order to bring about change in his own way.
"I could have hit him, I could have hurt him … but something in me said, 'You know what? He just needs love,'" Aaron Alex Courtney told the New York Daily News. "It's a step in the right direction. One hug can really change the world. It's really that simple."
The unidentified neo-Nazi was seen at Spencer's speech location wearing a T-shirt covered in swastikas. His not-so-subtle outfit obviously drew the attention of the crowd, which included protesters who screamed, punched and spat on him before Courtney wrapped his arms around him.
"Why don't you like me, dog?" the 31-year-old high school football coach out of Gainesville could be heard asking the man. "Give me a fucking hug."
Courtney could be seen attempting to get the man to hug him back, but the man just stood there, limp and uncomfortable, as Courtney embraced him.
Surprised to learn that Spencer was a person and not an impending hurricane, or that the notification wasn't about a kidnapping or something of the sort, Courtney started to do research.
"I found out about what kind of person he was, and that encouraged me, as an African American, to come out and protest. Because this is what we're trying to avoid. It's people like him who are increasing the distance … between people," Courtney told the Daily News.
Courtney gave about four hours of his time Thursday protesting and was getting ready to leave when he saw Mr. Nazi himself causing a commotion among the other protesters.
"I had the opportunity to talk to someone who hates my guts, and I wanted to know why. During our conversation, I asked him, 'Why do you hate me? What is it about me? Is it my skin color? My history? My dreadlocks?" Courtney recalled.
"After beating around the bush and avoiding my questions, I asked him, I pleaded with him, I almost broke out in tears, growing increasingly angry because I didn't understand," he said.
However, Courtney, whose father is a bishop, decided to take some of his father's teachings and offer the man a hug.
"Something in me said, 'You know what? He just needs love. Maybe he never met an African American like this," Courtney said.
It took some cajoling, but, Courtney said, "I reached over, and the third time, he wrapped his arms around me, and I heard God whisper in my ear, 'You changed his life.'"
Courtney then said he asked again, "Why do you hate me?"
The neo-Nazi's response, according to Courtney? "'I don't know.'"
"I believe that was his sincere answer. He really doesn't know," Courtney added.
The man was eventually escorted away by police, but not before taking a photo with Courtney's friend.
"I honestly feel that was a step in the right direction, for him to take a picture with a guy that he hated when he woke up this morning," Courtney said.
Read the full article here.
Read more about racial reconciliation here.
Read more Breaking News here.
By Michael Casey, The Grio/Associated Press
CLAREMONT, N.H. (AP) — In this struggling mill town in western New Hampshire, racism was never something people talked all that much about.
There were people who drove around Claremont with Confederate flag bumper stickers in the mostly white town of 14,000 and some instances of high schoolers using racial epithets during football games and on Facebook.
But for the most part, residents had other concerns.
That changed Aug. 28 after allegations surfaced that several teenagers had taunted a 9-year-old biracial boy with racial slurs and several days later pushed him off a picnic table with a rope tied around his neck. The family of the boy, who was treated for neck injuries and has been released, called it a hate crime while the parents of one of the teenagers told Newsweek it was a terrible accident.
The images of the boy's rope-singed neck were shared widely on social media, prompting an outpouring of support for the family and outrage against the teens. With prosecutors continuing to investigate the case as a potential hate crime, the city known for historic textile and paper mill buildings found itself associated with words like lynching and intolerance.
"Certainly people were shocked by the young age of everyone involved, especially the victim," said Allen Damren, the town's assistant mayor who also grew up in Claremont. "That certainly has an impact on people. When you use the word 'lynching,' that has all sorts of bad connotations to it."
"It happened in our hometown. People responded to that," he added.
The case has compelled city leaders to confront an issue that many had associated with bigger cities far away. Most insist Claremont isn't a racist place but say the town must consider how its white majority treats those who don't look like them. The families of the accused teens declined comment.
"This is an opportunity to take a very unfortunate event involving children and have some public discussions about how we treat each other," said Middleton McGoodwin, the superintendent of the school district that includes Claremont. "Just because you may have a different color skin or different color hair or wear certain clothing, that doesn't give me license to make you feel uncomfortable or make fun of you."
City and school officials have since met to discuss new strategies to counter racism, and McGoodwin said the district is developing a plan for elementary through high school that examines school culture, including how students treat each other and how staff respond to issues like bullying. Residents are planning to be outside the high school and middle school this week, holding signs calling for an end to violence and bullying.
"We are not going to say this was an event that took place in late August, wasn't in school and wasn't about us," McGoodwin said. "It definitely is about us."
Lorrie Slattery, the grandmother of the boy who was nearly hung who had lived in town for 14 years, attended a town discussion group at a nearby church. Slattery, who is white, grew emotional as she recounted how her family had never before felt racism in Claremont and how she would remain the city. The boy's mother declined to be interviewed.
"From the bottom of my heart, it doesn't change my views of Claremont," she said. "This is everywhere. We're not immune to anything. Things happen. This is something, as horrific as it was, that could be something positive for the future of the kids in this community. I think it's going to bring us to better places."
For the full article, read here.
For more Breaking News, read here.
For more information about the history of lynchings, please explore the ABHM galleries.
From:Huffington Post- Black Voices
Written By: Kristina Puga
Writer and activist Eugene Ethelbert Miller discussed his love for writing and history by stating:
"I wanted to be involved in every aspect of writing about it," says Miller about the politically-charged time, as sharply and energetically as if it were just yesterday. "It was just like now – with the Woman's March and Black Lives Matter…"
Miller, who goes by "Ethelbert" spent his college years immersed in black history.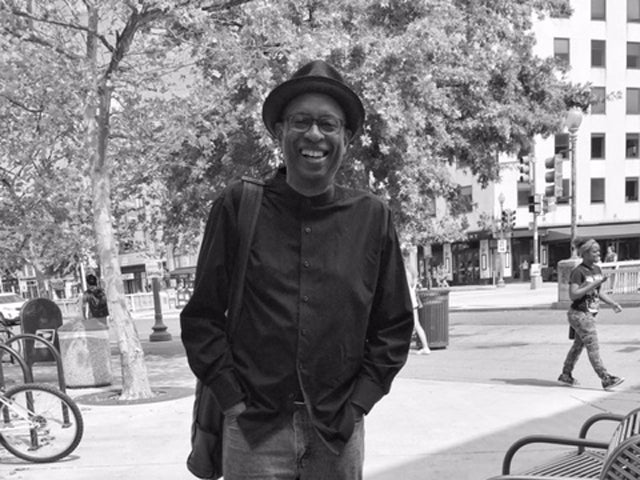 He attended college (Howard University) in the same year that Martin Luther King, Jr. was assassinated. This, among other events (such as the assassination of Robert Kennedy, and the Vietnam war) led him to began a career as a poet. He explained:  "I wrote many love poems," says Miller. "I wanted to leave behind poems that were similar to Pablo Neruda's work."
Millers' family consisted of a postal working Father, and a seamstress mother. He explained that college was "a strain financially." Therefore announcing that he would be a writer to his parents was a bit of a misunderstanding. He later explained all of the different opportunities his writings afforded him: "When I look back on my writing, it took me to places that I couldn't have gone otherwise," says the poet, mentioning the U.S. State Department sponsored some of his trips. "I went to Iraq, Saudi Arabia, people would send me to all sorts of places."
Miller continues with more inspiring anecdotes for writers of all backgrounds leaving us with this piece of life advice:
"I think what I've learned now are two things: We have to practice deep listening. We have to understand what [people] are afraid of, what they're suffering from. Then the next level is compassion."  
Read the full article here
Follow Miller's work here
Read more Breaking News here
America can heal from its troubled racial history.
Join us to learn how.
The Gathering for Racial Repair and Reconciliation
Our annual Gathering celebrates the legacy of America's Black Holocaust Museum founder, Dr. James Cameron. In his honor, we bring together people from all corners of Greater Milwaukee for learning, dialogue and fellowship.
Saturday, February 25, 2017
Centennial Hall • 733 N. 8th Street • Milwaukee WI

---
This year's topic:
Let's Face It: How Communities Remember and Repair Racial Trauma
We'll explore these questions:
How should America commemorate some of the most disturbing chapters of our racial history?
How might that commemoration help or hurt victims, perpetrators and bystanders.
What role should our museums and institutions play in the work of memory and racial healing?
•
MORNING SESSION

•
9:00 -11:30 am – Open to General Public & Sponsors. Tickets on sale here.
Introduction: Let's Face It!

Listen to a short talk by ABHM Head Griot Reggie Jackson about the importance of truth-telling, remembrance, and ABHM's role as a memorial museum in healing our city and nation.
Sneak Preview of a New Film, Always in Season
Experience a premiere preview of a new film that documents how lynching still impacts Americans to this day. It shows how descendants of victims and perpetrators in four communities are working to acknowledge the victims, repair the damage, and reconcile. View the film trailer here and the film website here.
Audience Talkback with Film Director and National Community Experts
Interact with film director Jacqueline Olive. Jackie creates documentary projects that tell stories underrepresented in mainstream media. She coordinated the production of the Emmy award-winning PBS series, Independent Lens, and the internationally-themed documentary series, Global Voices. She will be joined on stage by members of the communities represented in Always in Season. Additional experts from around the country and Greater Milwaukee will also introduce their restorative projects. All presenters will then take questions and comments from the audience. (See the list of additional national and local presenters below.)
In addition, there will be:
Live music
Book sales & author signings
•
AFTERNOON SESSION

•
12:15 – 4:15 pm – Open to Event Sponsors and their guests only.
(Organizations and individuals wishing to become Sponsors, please click here
for Sponsorship Opportunities, Benefits, and Response Form.)

Luncheon Keynote Address: Why Commemorate?

Listen to public historian Doria D. Johnson address the impact of remembering of racial trauma on victims and the ethics of doing such memory work. An expert in US and African American history, Doria's great-great-grandfather Anthony Crawford was lynched in 1916. In 2005 she successfully pressed the US Senate to apologize for failure to enact federal laws against lynching. A memorial to her grandfather was recently dedicated in the town where he was murdered.
Roundtables (Small Group Dialoguing and Networking)
Attend two different roundtable discussions of your choice during the afternoon. This is a chance to talk in depth with two of the expert presenters and to network with other attendees who share your interest in particular topics.
(Preview the presenter/topic list below.)
Action Plans and Closing Ceremony

We'll gather as a full group to reflect on:
what have we learned from other communities,
what might Greater Milwaukeeans do to as a result of this Gathering, and
how can we support each other in repairing and healing our community?
Our Roundtable Facilitators

Henry Banks (Duluth MN) – Mr. Banks co-founded the Clayton Jackson McGhie Memorial Project in Duluth, MN, the downtown memorial plaza built by this small city built to commemorate the infamous lynching of three circus workers. Henry is also the host of the regular weekly People of Color talk show on Wisconsin Public Radio.

Karen Branan (Washington DC) – Ms. Branan is the author of the Pulitzer Prize nominated memoir The Family Tree: A Lynching in Georgia, A Legacy of Secrets, and My Search for the Truth. Karen has long been active in Coming To The Table, a national organization that pairs descendants of lynching perpetrators and victims, as well as slaveholders and enslaved people, for the purpose of repair and reconciliation.
Randy Gamble (Memphis TN) – An anti-racism activist for many years, Mr. Gamble is a leader of the Lynching Sites Project of Memphis. LSP is part of Bryan Stevenson's Equal Justice Initiative to memorialize over 4,000 known lynchings in our country between 1877 and 1950 through local community remembrance projects and a new national lynching memorial. The Memphis lynching of three black men launched Ida B. Wells on her anti-lynching campaign; Randy and the Downtown Clergy Association are organizing a 125th anniversary commemoration of those victims.
Cassandra Greene (Atlanta GA) – Ms. Greene is Director of the Moore's Ford Bridge lynching re-enactment, which has, for the last seven years, commemorated the victims of that lynching in a small town in Georgia. That re-enactment is featured in the film Always in Season and can be seen in its trailer. Cassandra is also founder/CEO of the W.I.T.N.E.S.S. PROGRAM/ W.O.W.W. where she teaches communications and serves as a minister in Georgia's State and Federal prisons.
Pardeep Singh Kaleka (Franklin WI) – A former Milwaukee cop, after his father was killed by a white supremacist in the Sikh Temple massacre, Mr. Kaleka paired up with a former violent white power extremist to found Serve2Unite, which teaches schoolchildren peacemaking through the Sikh principles of Chardi Kala: fearless creative compassion, service to others, and relentless optimism in the face of adversity. Pardeep is also a psychotherapist at the D & L Healing Center, where he specializes in treating trauma.
Brad Lichtenstein (Milwaukee WI) – An award-winning documentary filmmaker, Mr. Lichtenstein is developing a feature film that digs into unsolved Klan murders of black men in Mississippi. Despite the 2007 Emmett Till Act giving the FBI $100 million to investigate these crimes, their families have no answers. The murderers walk free. The film explores whether and how the trauma of unresolved violence can be healed.
Erin
McCarthy and Colleen Perry (Greendale WI) – Middle school teachers in a white suburb of Milwaukee, Ms. McCarthy and Ms. Perry persuaded their principal and students' parents of the value of regularly teaching African American history as a part of – not a sidebar to – American history. Erin and Colleen present history as a complex story of complex people in America's complex society and teach it by building empathy, defining race and developing the whole child. Through their inquiry-based curriculum, they build responsible citizens and communities.
Warren Read (Seattle WA) – Author of the memoir, The Lyncher in Me: A Search for Redemption in the Face of History, Mr. Read offered public apologies to each of the families of the three circus workers lynched in Duluth on the occasion of the dedication of the memorial to them there. Warren is also an elementary school teacher and educational leader/administrator.
Maria Cunningham and Jordan Davis (Milwaukee WI) – Active volunteers with the Dr. James Cameron Legacy Foundation, Maria serves as the Foundation board's Vice-President and Jordan as a Public Programming Administrative Assistant. Milwaukee Public Library's Rare Books Librarian, Ms. Cunningham led the project to digitize the dozens of booklets on African American history and race relations by Dr. Cameron, and created and manages a traveling exhibit about his life and writings for the museum. Mr. Davis is a Distinguished Graduate Student Fellow at the University of Wisconsin-Milwaukee in the Master of Sustainable Peacebuilding program. His research interests center on public and local history, heritage resource management, and the museology of Africa and the African Diaspora.
---
EVENT SPONSORS
(as of 1/4/16)
VISIONARY SPONSOR
This event is funded in part by a grant from the Wisconsin Humanities Council, with funds from the National Endowment for the Humanities and the State of Wisconsin. Any views, findings, conclusions or recommendations expressed in this project do not necessarily represent those of the National Endowment for the Humanities. The Wisconsin Humanities Council supports and creates programs that use history, culture, and discussion to strengthen community life for everyone in Wisconsin.


HISTORY SCHOLAR SPONSOR
FREEDOM-LOVING SPONSOR:

BARBARA STEIN
WITNESS TO HISTORY SPONSORS

KEYNOTE SPONSOR
FILM SCREENING & AUDIENCE TALKBACK SPONSORS:


TABLE SPONSORS

:
Dr. Russell Brooker
Bev Colton
Marquette University's
Office of Community Engagement
Office of Diversity and Inclusion
For almost a century, tens of thousands of men, women, and children attended the lynchings of more than 4,000 African Americans that often included torture, mutilation and photography. This form of racial violence occurred in every state across the U.S. but four, and for reasons as arbitrary as sheer boredom. Lynchings were at times highly organized and akin to the sport of hunting, and blacks were "always in season."
Always in Season is a film with Danny Glover by ABHM friend and colleague Jacqueline Olive (producer/director). It will be shown on PBS (public television) channels around the country in early 2017.
Always in Season will be the centerpiece of ABHM's 2017 Founder's Day Gathering for Racial Repair and Reconciliation on February 25, 2017. Director Jackie Olive and representatives of the communities featured in the film  will show the movie and answer audience questions in a talkback. Then they and local activists doing similar work will meet with participants in small breakout groups to dialogue about the issues raised by their healing community projects to commemorate lynchings. For more info about this event, contact dr.fran@abhmuseum.org.
Why is it important to talk about lynching today?
Always in Season is a transmedia documentary project that ties the facts of lynching to the present with a feature film that encourages viewers to consider where their own family stories intersect with this difficult chapter in American history. With intimate stories of relatives of the perpetrators, victims, and others–along with the collection of photographs spectators took with the victims called Without Sanctuary: Lynching Photography in America—Always in Season shows how lynching still impacts Americans and follows the efforts of descendants and others in four communities who are seeking justice and healing as they work to acknowledge the victims, repair the damage, and reconcile.
In Laurens, SC, Rev. David Kennedy fights to shut down a KKK shop while seeking acknowledgement of the 1913 lynching there of his great uncle.
In Monroe, GA, Cassandra Greene helps organize an annual reenactment of a 1946 lynching with a multiracial group of amateur actors and works to bring the perpetrators, still living there, to justice.
In Duluth, MN, Warren Read unravels the secret of his great-grandfather's involvement in a 1920 lynching and seeks reconciliation with relatives of the victims and others, while reexamining his very identity and working to help heal the community.
And in Bladenboro, NC, the FBI is currently investigating the suspicious death of 17-year old Lennon Lacy, who had been dating a white woman before he was found hanging by a belt from a swingset in a white mobile home park on August 29, 2014.
These stories demonstrate the impact of past and current racial terrorism on our country today.
Ever wonder about the choices you'd make if you lived during this time in history?
Always in Season Island uses an immersive, role-playing virtual world environment to give users an experiential look at the choices and circumstances that brought 10,000 men, women and children out in Marion, Indiana to watch the 1930 lynching of Abe Smith, Thomas Shipp, and the 16-year old who narrowly escaped, James Cameron. Not only will this interactive 3D environment give visitors insights into the multiple perspectives of many of the people involved in the events in Marion, but they can also learn how their actions can contribute to or prevent racism and violence in a safe, facilitated virtual world space. To learn more about Always in Season Island, click here.
To fund the completion of  this project or to find out more, click here.
To read more Breaking News, click here.
Off the Cuff with Fran Kaplan