Last week, Twitter said it was "pausing" to reconsider the process by which it bestows the blue checkmark denoting accounts that had been "verified," and on Wednesday the company announced it was yanking the designation from some users who occupy the neo-Nazi or nationalist bucket of grassroots white activism. The announcements came after many users, including The Root's Monique Judge, raised hell when Twitter gavea blue checkmark to Jason Kessler, a white nationalist who helped plan the pro-Confederacy march last August in Charlottesville, Va.
While Twitter CEO Jack Dorsey and his workers ruminated on the company's account verification policies, I decided it was a good time for us to pause and think about our relationship with Twitter and other social media and technology companies. We voluntarily "contribute" our creative insights, dollars and labor to the success of these companies by buying devices and apps, uploading memes, ideas and language that trends widely. Yet in terms of the vast wealth these companies hold, disburse to employees and generate for shareholders, we get little in return.
Think of the recent moment where top lawyers for Google and its parent company, Alphabet, along with Twitter and Facebook, were summoned to Capitol Hill to testify before Senate and House committees looking into the company's role in disseminating toxic content and ads during the 2016 presidential election cycle.
Anti-black messaging was the secret-sauce of many of the pro-Trump, nationalist memes and messages that flooded through the popular social media channels during the 2016 election cycle. Yet somehow, the gatekeepers at Facebook and Twitter didn't seem to notice the methodical manipulation of racial animus that already exists in America, specifically, some white Americans' negative opinions of blacks.
The leaders and staffs of Twitter, Facebook, and other popular social media platforms missed the Russian's exploitation of the black-white divide, an obliviousness that has precedent: black women users had long alerted Twitter officials to abusive conduct of other users, up to and including death threats. The hashtag #YourSlipIsShowing catalogs such experiences from black women dating back several years, and is readily available…at least to those interested in learning about and addressing these kind of user experiences.
But clearly, the tech company leaders were not inclined to pay attention to this area of user complaints, a strong indication that they also probably weren't interested in the views of the few blacks and Latinx workers at their companies, either. Just look at what happened to Leslie Miley, a black former engineer at Twitter. Miley revealed in a recent interview that he had flagged tons of dubious accounts in 2015, telling his bosses that he believed they were from Ukraine or Russia, and that they appeared to be part of a coordinated campaign.
Miley was told by his bosses at Twitter to "stay in his lane," a response that Miley says he took as a sign that the company leadership preferred to err on the side "growth numbers," rather than on any potential harm to audiences that the bots might pose.
Meanwhile, black users of Instagram, Facebook, Twitter and Google products infuse them with a deep coolness factor that resonates around the world. Our intellectual property and creativity is the lifeboat that floats these companies to revenue solvency, yet few of us share in the enormous economic wealth generated by these companies, not even after dozens of news stories, industry conferences, and activist's complaints forced the companies to pledge to improve hiring and retention.
Black Americans know when something smells rotten, including the kinds of scams and shady BS that can unfold at one's job. And, as usual, blacks and other marginalized communities have solutions. We have the brain-power, problem-solving acumen, and moral fortitude to right the ship of state.
The question is whether our concerns and advice will be heeded, and whether we can achieve full access to the genuine levers of power in the United States, including access to quality education, healthcare, voting and, most importantly in the context of the innovation ecosystem, investment capital.
Read the full article here.
It's not just the Tech industry, either. Read how one company is beginning to acknowledge its racist past here.
Read more Breaking News here.
On Oct. 23, 12 Oakland County, Mich., communities spent roughly nine days without water after a major water main break. Almost 305,000 people were affected by the break.
Oakland County and the Great Lakes Water Authority worked nearly around the clock to ensure that the residents in those communities had safe, potable water. Water stations in various communities were set up. Businesses and residences alike were given access to the scarce commodity.
It directly affected my mother, and as a native Detroiter and former resident of Oakland County, I should've been ecstatic to hear how well this situation was handled. So what's the issue, you ask?
Residents in the Genesee County city of Flint, Mich., have been without potable, usable water since 2014. Government officials—locally and statewide—blatantly lied about the water supply being safe for human consumption. Fertilizers, pesticides, built-up bacteria and lead have contaminated the Flint River (the city's primary source) for decades. Their half-assed attempt to "clean up the water" never ensured that the city's folks would remain healthy.
It's been three whole years, and citizens still can't drink the water. Water stations were set up (some years later), and as of this past summer, many of the stations were closed following Flint's lead levels being under the federal limit. Why is there such a disparity between Oakland County and Genesee County in their response to each crisis?
Race and class.
Oakland County is one of the wealthiest counties in Michigan. It used to be the wealthiest, but some argue that Livingston may have snatched the "coveted" honor. The median income in Oakland County is roughly $70,000. The county's population is a whopping 72.8 percent white, which is a glaring contrast to Flint's 60 percent black population. The median income in Genesee County is about $44,000, but the surprise is that the 72 percent white population of Genesee is typically lower-class and poor.
The water crisis in Flint was not just a "black problem." It was a class problem. Poor whites have been brainwashed to think that they receive the same consideration as well-to-do whites, and that's simply not true. Because there are more poor whites, they give the advantage of numbers for rich whites with agendas to use them time and time again. And because skin color matters, they never see they are being consistently shit on.
Businesses and civilians from various counties throughout Michigan sent batches of water to the good folks of Flint. However, their assistance wasn't enough to mitigate the long-term damage. Fetal deaths spiked, pregnancy rates lowered, 12 people died from Legionnaires' disease and lead poisoning debilitated many more people in the city. Given the already high infant mortality and morbidity rates in the city, Flint residents never had a chance.
Apparently, money will always talk, and black lives will always be expendable.
Read the full article here.
Read about what the Black Holocaust is here.
Read more Breaking News here.
The black protester who was caught on viral video hugging a squirming and uncomfortable neo-Nazi outside white supremacist dump truck Richard Spencer's speech at the University of Florida in Gainesville on Thursday is acknowledging that he could just as easily have hit the guy (an act in which someone else had earlier indulged) but decided to go a different route in order to bring about change in his own way.
"I could have hit him, I could have hurt him … but something in me said, 'You know what? He just needs love,'" Aaron Alex Courtney told the New York Daily News. "It's a step in the right direction. One hug can really change the world. It's really that simple."
The unidentified neo-Nazi was seen at Spencer's speech location wearing a T-shirt covered in swastikas. His not-so-subtle outfit obviously drew the attention of the crowd, which included protesters who screamed, punched and spat on him before Courtney wrapped his arms around him.
"Why don't you like me, dog?" the 31-year-old high school football coach out of Gainesville could be heard asking the man. "Give me a fucking hug."
Courtney could be seen attempting to get the man to hug him back, but the man just stood there, limp and uncomfortable, as Courtney embraced him.
Surprised to learn that Spencer was a person and not an impending hurricane, or that the notification wasn't about a kidnapping or something of the sort, Courtney started to do research.
"I found out about what kind of person he was, and that encouraged me, as an African American, to come out and protest. Because this is what we're trying to avoid. It's people like him who are increasing the distance … between people," Courtney told the Daily News.
Courtney gave about four hours of his time Thursday protesting and was getting ready to leave when he saw Mr. Nazi himself causing a commotion among the other protesters.
"I had the opportunity to talk to someone who hates my guts, and I wanted to know why. During our conversation, I asked him, 'Why do you hate me? What is it about me? Is it my skin color? My history? My dreadlocks?" Courtney recalled.
"After beating around the bush and avoiding my questions, I asked him, I pleaded with him, I almost broke out in tears, growing increasingly angry because I didn't understand," he said.
However, Courtney, whose father is a bishop, decided to take some of his father's teachings and offer the man a hug.
"Something in me said, 'You know what? He just needs love. Maybe he never met an African American like this," Courtney said.
It took some cajoling, but, Courtney said, "I reached over, and the third time, he wrapped his arms around me, and I heard God whisper in my ear, 'You changed his life.'"
Courtney then said he asked again, "Why do you hate me?"
The neo-Nazi's response, according to Courtney? "'I don't know.'"
"I believe that was his sincere answer. He really doesn't know," Courtney added.
The man was eventually escorted away by police, but not before taking a photo with Courtney's friend.
"I honestly feel that was a step in the right direction, for him to take a picture with a guy that he hated when he woke up this morning," Courtney said.
Read the full article here.
Read more about racial reconciliation here.
Read more Breaking News here.
This week five African-American students at Air Force Academy Prep School in Colorado found the words "Niggers Go Home" scrawled on the dry erase boards outside their dorm rooms.
Once the school became aware of the racial graffiti the school superintendent Lt. General Jay Silveria rattled off a statement to the press.
"I've said it before, the area of dignity and respect is my red line,"
"Let me be clear: it won't be crossed without significant repercussions. Diversity is a strength of our Academy and our Air Force. We are stronger when we take into account the views of those with different backgrounds and life experiences."
The students are all part of a 10 month program to help them acclimate to life at the Air Force Academy, so in a twisted sort of way this is part of their training. While their parents have expressed concern and an investigation has been launched none of that will change one basic fact: The United States military has a long, sordid, racist and violent history when it comes to the treatment of black soldiers. While this may be the first, it certainly won't be the last or the worst racial treatment these young people will receive should they choose to serve in the United States military.
Conservatives of all colors like to point to the military as one of the most integrated and racially harmonious parts of American society, which is fine if you're talking about Salvation Army or GI-Joe. The actual military? Not so much. Black soldiers, whether in training or veterans have been routinely targeted through American history for a special kind of violence as white supremacy quivers at the notion of black people being armed, trained and capable of arming themselves.
That's why black veterans were consistently denied the GI-Bill that built the American middle class. That's why lynching of black soldiers has been so common throughout U.S. history. That's why Richard Collins III, a recently commissioned officer two weeks from graduating college this spring was murdered by a white nationalist while the president barely said a peep.
That's why despite African American women making up over 40% of all women in the armed forces it wasn't until 2014 that President Obama was able to change racially biased hair standards for active duty women of color.
That's why a group of West Point cadets showing racial and American pride caused a firestorm last year.
These are just examples of how the American military to this day treats people of color, it continues to do a number on white Americans as well.
The issue isn't simply that a bunch of bigots wrote threatening words on the dorms of five cadets, that's almost to be expected. The issue is that the military despite the rhetoric has not adequately rooted out racist sentiments in the ranks yet still expects (and in fact depends) on large numbers of African Americans to join up and serve, even if that means facing an enemy on the field or in your barracks.
Read the full article here.
Read about how to help positively impact racial reconciliation here.
Read more Breaking News here.
Jemele Hill said what she said.
In a series of tweets stemming from an odd conversation about Kid Rock, the co-host of ESPN's "SC6" called President Donald Trump a "white supremacist who has largely surrounded himself w/ other white supremacists."
"Trump is the most ignorant, offensive president of my lifetime," she wrote. "His rise is the direct result of white supremacy. Period." She added that Trump's presidency had empowered other white supremacists and that his bid for the White House wouldn't have been successful if he weren't white.
Backlash to the tweets, helped along by people like former ESPN reporter Britt McHenry and Fox Sports Radio's Clay Travis ― who frequently says racist things ― led ESPN to release a statement saying Hill's views "do not represent the position" of the network. This made things worse.
Sarah Sanders, the White House press secretary, called Hill's tweets a "fireable offense." That same day, ESPN tried to prevent Hill from co-hosting "SC6" with Michael Smith. In a tweet, Hill said her "regret" was that her comments "painted ESPN in an unfair light." ESPN's public editor, Jim Brady, said Hill ― and the media at large ― should "let the reporting do its work, and resist more incendiary labels."
None of what Hill said in her initial volley of tweets was inaccurate. Trump voters were driven by racism, and white supremacists openly support him. His campaign rhetoric was a dog whistle for white supremacists. His attorney general has praised the Immigration Act of 1924, a law crafted by eugenicists and championed by people hoping to preserve a "distinct American type." After a violent white supremacist rally in Charlottesville, Virginia, Trump attributed the violence to "both sides," even though none of the counter-protesters killed anyone.
That Trump is a white supremacist is a straightforward conclusion that can be drawn from an abundance of available evidence.
But not all straightforward conclusions are admissible in mainstream American media, particularly on the subject of race, particularly when stated by a black woman.
To get a sense of the straitjackets placed on black media figures working in a predominantly white industry, where "white supremacy" is usually seen as a slur applicable only to Klansmen and Nazis, I convened three prominent black journalists: Greg Howard, a reporter at The New York Times; Elena Bergeron, former staff writer at ESPN The Magazine and current editor-in-chief of SB Nation; and a current ESPN employee who, for obvious reasons, wanted to remain anonymous.
Read the full interview here.
Read about the crucial role of black press here.
Read more Breaking News here.
Everybody is all about freedom of speech and expression until a black person (hey, Colin Kaepernick; hey, Jemele Hill) decides to exercise his or her right to do so. And in this particular case, a black sixth-grader out of Michigan says he was assaulted by his homeroom teacher all because he was exercising his rights and declined to stand for the Pledge of Allegiance.
Stone Chaney, who attends East Middle School in Farmington Hills, Mich.,told ClickOnDetroit that his teacher "violently" dragged him out of his chair and attempted to force him to stand for the pledge, leaving the young man confused and unwilling to return to that school.
"The teacher consultant comes up behind me and snatches me out of my chair violently," Stone told the news site. "I was so confused. I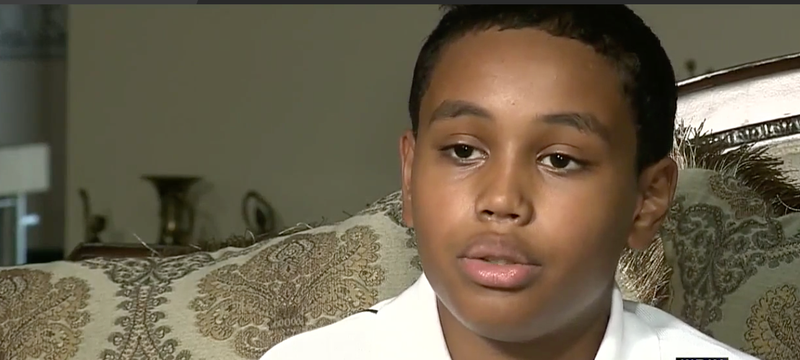 didn't know what was going on."
Note that Stone referred to the individual in question as the "teacher consultant." That means that the person who allegedly thought it was all right to snatch a child out of his seat trains other teachers. One would wonder what kind of training those other teachers are receiving.
"It's his choice to sit," Brian Chaney said. "I don't make him sit. And they should respect that."
The superintendent of Farmington Public Schools released a statement detailing that the district does support the right of students to opt out of the pledge, announcing that it was conducting an investigation and that the teacher involved has been placed on administrative leave pending the outcome.
Read the full article here.
Read about the history of black social movement and protest here.
Read more Breaking News here.
L'Oréal Paris has fired its first transgender model to join the brand just days after announcing the partnership.
L'Oréal released a statement on Twitter Friday morning saying the company "champions diversity" but decided to cut ties with Monroe Bergdorf, saying her comments calling out white America's racism in a recent Facebook post are "at odds" with their values.
Bergdorf received big buzz earlier this week after L'Oreal announced her inclusion in a YouTube video ad for L'Oréal Paris True Match Foundation. But Bergdorf's excitement was short-lived.
By Friday, the company had disavowed comments the model previously made on social media, which surfaced in a report the Daily Mail published on Thursday.
The damning piece blasted Bergdorf over her comments, claiming she wrote that "all white people are racist." Spectators highlighted how her words had been misrepresented and taken out of context, with some even suggesting that the story was a deliberate attempt to downplay Bergdorf entirely.
Bergdorf's comments, which call out systemic racism in America and how white people benefit from special privileges, have since been deleted from her Facebook page but have been published elsewhere in full.
"Honestly I don't have energy to talk about the racial violence of white people any more. Yes ALL white people," Bergdorf reportedly wrote, going on to address the privileges afforded to them. "Because most of ya'll don't even realise or refuse to acknowledge that your existence, privilege and success as a race is built on the backs, blood and death of people of colour. Your entire existence is drenched in racism. From micro-aggressions to terrorism, you guys built the blueprint for this s***."
"Come see me when you realize that racism isn't learned, it's inherited and consciously or unconsciously passed down through privilege," she added."Once white people begin to admit that their race is the most violent and oppressive force of nature on Earth… then we can talk."
On Friday morning in the U.K., many expressed outrage with L'Oréal's decision to denounce Bergdorf's message, saying it highlights the hypocrisy of the company claiming to be "champions of diversity" while only embracing inclusion for goals driven by profit and actively condemning Bergdorf, a black trans woman, for speaking out about racism ― an issue that impacts people of color most.
"If you truly want equality and diversity, you need to actively work to dismantle the source of what created this discrimination and division in the first place," she wrote. "You cannot just simply cash in because you've realised there's a hole in the market and that there is money to be made from people of colour who have darker skin tones."
Read the full article here.
Read about the history of race here.
Read more Breaking News here.
As millions of students return to school, the nation's Justice Department (DOJ) is beginning an investigation that could potentially sue universities over affirmative action admissions policies….
For Black people and other ethnic and racial minorities, this investigation seems like window-dressing to deny millions of students a quality education in the name of injustice.
Such actions also signal a more subtle message is to roll back to the progress achieved in broadly affording students of all races and ethnicities the benefits that higher education derives….
"The American Dream offers each new generation the opportunity to build on the successes of previous ones," wrote Nikitra Bailey, an executive vice president with the Center for Responsible Lending, in a related op-ed. "However, if you are African-American, the nation's history of enslavement and legal bigotry consistently requires each generation to start anew…."
"If it passes, we are announcing to the world that women and minorities will not be given an equal opportunity to succeed in business in our state," said Hillegonds. "This is the wrong message to send at a time when we are trying to attract new businesses and develop a talented, multicultural workforce ready to meet the demands of the 21st century economy."
State-approved bans on affirmative action in higher education also led to fewer Black students in the University of California system as well as at the University of Michigan at Ann Arbor.
Today the real difference between then and now is that the U.S. Justice Department is resuming a fight for the preservation of White privilege that is armed with resources and personnel that taxpayers of all colors provide.
The United States Supreme Court recently affirmed the use of affirmative action in admissions decisions in the "Fisher v. University of Texas" case. In that ruling, the importance of diversity as a compelling state interest was affirmed as settled law. The decision was also a victory for equal opportunity and recognized again that it is critical for schools to create diverse and inclusive student bodies.
As the cost of higher education tends to increase every year, students of color are the ones most likely to go into debt in search of a degree that will deliver a middle class standard of living. Even four years after graduation, Black college graduates earning a bachelor's degree owe almost double the debt of their White classmates, according to CRL research.
"The U.S. Justice Department must enforce inclusive educational policies as they open the doors of opportunity for all," said Bailey.
Read more Breaking News here.
Read the full article here.
Read more on Affirmative-Action here.
Read more about National Newspapers Publishers Association here.
Whenever anyone slips the words "white privilege" into a conversation, it immediately builds an impenetrable wall. For some white people, the words elicit an uneasy feeling because, for them, the term is accusatory without being specific. It is a nebulous concept that seemingly reduces the complex mishmash of history, racism and social phenomena to a nonspecific groupthink phrase.
But white privilege is real….
Imagine the entire history of the United States as a 500-year-old relay race, where whites began running as soon as the gun sounded, but blacks had to stay in the starting blocks until they were allowed to run. If the finish line is the same for everyone, then the time and distance advantage between the two runners is white privilege. Not only can we see it, but we can actually measure it. If we begin viewing it as an economic term—the same way we use "trickle-down economics"—then it might be debatable, but it becomes a real, definable thing that we can acknowledge, explain and work toward eliminating. Race might be a social construct, but white privilege is an economic theory that we should define as such:
White privilege: n. The quantitative advantage of whiteness
Read the full article here for four examples that explain white privilege in economic terms.
Read more Breaking News here.
Delve more deeply into white privilege in Peering Through White-Rimmed Glasses: A Letter to My Fellow White Americans here and in this annotated bibliography on whiteness.

GRIOT: Fran Kaplan, EdD
Dear White Folks,
Thanks for clicking on this exhibit. As a white person engaged for fifty years in working towards liberty and justice for all, I'm relieved that white Americans are increasingly eager to understand America's racial hierarchy and our part in it. Our 2016 presidential election has stimulated even more questions and concern.
Before I share my thoughts, though, I ask that you take a short quiz:
What

percentage

of the social network of white Americans is made up of white people?

18%
57%
91%?

What

percentage

of us white folks admire black folks?

5%
56%
73%

Deeply held cultural habits and traditions

seldom change

. True / False
Cultural change occurs

as a result of

:

New technologies
Contact with another culture
Changes in the environment (social, legal, or natural)
New knowledge and perceptions
All of the above.
To see the answers, hover your cursor over the dotted lines under the text above. I'll support the answers to these questions by briefly reviewing information and analyses from some recent studies and provide links so that you can examine these for yourself.
What is the White Racial Frame?
Over our lifetimes, we humans develop a frame of reference – a particular way of seeing the world. Our habits of seeing are based on the cultural norms we learn at our parents' knees, at school and work, from the media, and in the social circles where we spend the most time. Our personal frames shape how we behave, but they tend to operate outside of our awareness, without our having to think about them.
Sociologist Joe Feagin explains the continuing persistence of anti-black bias and discrimination in the US as the result of a "White Racial Frame." This frame of reference developed, beginning in the early 1600s, as European settlers justified their use of enslaved Africans as free labor and their stealing of land from the Native Americans to build a prosperous new country. The White Racial Frame became firmly embedded in white American culture during our nearly 250 years of slavery and the 100 years of brutal Jim Crow segregation and violence that followed it.
Consider what it means that sixteen generations of white children have grown up absorbing pro-white/anti-black habits of thought and action, and sixteen generations of black children have grown up struggling to overcome various degrees of subjugation and deprivation.
How Did We Get to "Us vs. Those People"?
Our White Racial Frame has two major parts: it is for white people and against non-white "others." White people looking through that frame generally believe those like themselves are more intelligent, harder working, more capable, organized, compassionate, cleaner, and well-spoken. Those "others" — especially blacks — are believed to be lazy, ignorant, poor thinkers, less feeling, chaotic, aggressive, dangerous, dirty, inarticulate. In the White Racial Frame, "white" is the norm, the gold standard to which "black" beauty, intelligence, effort, virtue, etc. can never truly rise.
This cultural frame is reinforced by our country's extreme racial separation. African Americans make up less than 13% of the US population. Due to social conditions and public policies, a substantial majority of blacks live in just fifteen of the fifty states. In most of those places, blacks and whites have historically lived in segregated neighborhoods — and still do today. White Americans' social networks are almost entirely (91%) white. Therefore, we rarely experience significant exposure to frames of reference beyond our White Racial Frame. Because the vast majority of us whites talk only to other whites, we are poorly informed about the racial discrimination and difficult life conditions that African Americans face today. In a recent survey white respondents were asked if they "often have sympathy for blacks" and if they "often feel admiration for blacks." Only 5 percent of whites said yes to both questions.
Do We See What We Look At?
Black and white Americans tend to live in very different realities and therefore view the country from different perspectives. To survive through centuries of subjugation, black people have always needed to be aware of how white people see things. We white people, as the dominant majority, have not felt the same need to attend to black people's views. With the recent introduction of camera phones and streaming social media, we are now privy to some of the anti-black violence that African Americans have experienced for years. Unfortunately, for some of us, our cultural frames of reference can be so strongly embedded that we are more likely to see what we already believe than to believe what we are actually seeing. Fortunately, that's not true for all of us.
Here's a quick look at the different realities black and white Americans experience:
What's Worse: A Bad Word or a Bad System?
When we do choose to examine racial problems, white Americans tend to focus most on the personal prejudice and actions of bigots (like calling someone the "N-word" or refusing care from a black nurse). It's easier to blame an individual than to acknowledge the profound unfairness and pervasive racial inequities built into our country's institutions. A few examples of such institutional inequities are:
Think about how racial slurs and racist systems would impact your life. What's more threatening: being called insulting names or being repeatedly denied the things you need in order to provide a decent life to your family (like a job, a home, or an education)? African Americans have shown incredible resilience and forbearance in the face of all this. Still, would you choose to wake up black in America?
Personal prejudice is psychologically painful to its victims — but pervasive systemic racial inequities are absolutely devastating, life-threatening, to individuals, families, and communities.
These systemic racial inequities are inhumane and unfair to African Americans and other people of color. That would be terrible enough, but that's not the end of it. These unfair systems poison our country's economy and social system from within. They destroy our democracy and deform our humanity.
What Can We Do to Change Our Racial Hierarchy?
Cultures and their practices – even deeply embedded ones – are constantly changing, sometimes slowly, sometimes quickly. Take cigarette smoking, for example. Humans have enjoyed inhaling smoke for thousands of years. In the USA, cigarettes became very popular right after the Civil War, when they started to be mass-produced. In WWI the army considered providing cigarettes to soldiers as critical for winning the war. Smoking came to be considered healthy, sophisticated, even sexy.
Then, in the 1950s, medical research began linking smoking to cancer. Cigarette sales immediately began declining, but in 1964 the Surgeon General's Report on smoking and health marked a turning point. Companies began worrying about the impact of employees' smoking on the cost of their health insurance. Local governments began passing laws to protect nonsmokers by restricting smoking in public places. The federal Center for Disease Control created dramatic ads showing smoking's dangers. New taxes on cigarettes made it more expensive to smoke. Today smoking lacks social acceptance, and the number of smokers has been very greatly reduced.
There are many white Americans who reject the dehumanizing stereotypes of black Americans and acknowledge the widespread discrimination in our institutions. Some of us have come to realize that we benefit each day from a racial hierarchy based on skin color. It is very uncomfortable for otherwise decent people to see ourselves –- and our country — in this light. But it is also very uncomfortable to live a lie.
So how can those of us who question the White Racial Frame live differently and change the racial hierarchy we inherited? I respectfully offer a few suggestions here. Others will have more to add:
Let's be willing to live with the discomfort of learning – and talking about – inconvenient truths. We'll make mistakes along the way. That is how we learn and grow.
Let's keep educating ourselves by looking through the frames of others. How? By reading autobiographies and novels, watching films and tv shows, and tuning into media outlets by and for people of color. By really listening.
Let's prioritize fairness to and inclusion of others over our privilege when we make choices about where to live, work, send our children to school. When we make hiring decisions, donate money, fight to improve our schools and communities. When we vote.
Whew! does all that sound uncomfortable, scary even? Changing our minds, hearts, and — especially — behaviors may be hard work, but — consider the alternative and…
Let's work together to make America a place where our children — all America's children — will thrive and live in peace.
---
Some other steps you can take, right here and right now:
Find out more about the White Frame and Counter-Frames by looking through our extensive annotated bibliography here.
Learn more about the African American experience as part of American history and culture. Click on many other of the 2900+ exhibits in this online museum. Start with the navigation bar at the top of this page, visit the Galleries page to chart your course through the centuries, or check out current events as reported in the black media and others.
Take a pledge to stand against hatred and injustice and put your name on our Freedom-Lovers' Roll Call Wall.
Finally, have a little fun and shake up your Netflix algorithm tonight by choosing a movie by an African American filmmaker.