The black protester who was caught on viral video hugging a squirming and uncomfortable neo-Nazi outside white supremacist dump truck Richard Spencer's speech at the University of Florida in Gainesville on Thursday is acknowledging that he could just as easily have hit the guy (an act in which someone else had earlier indulged) but decided to go a different route in order to bring about change in his own way.
"I could have hit him, I could have hurt him … but something in me said, 'You know what? He just needs love,'" Aaron Alex Courtney told the New York Daily News. "It's a step in the right direction. One hug can really change the world. It's really that simple."
The unidentified neo-Nazi was seen at Spencer's speech location wearing a T-shirt covered in swastikas. His not-so-subtle outfit obviously drew the attention of the crowd, which included protesters who screamed, punched and spat on him before Courtney wrapped his arms around him.
"Why don't you like me, dog?" the 31-year-old high school football coach out of Gainesville could be heard asking the man. "Give me a fucking hug."
Courtney could be seen attempting to get the man to hug him back, but the man just stood there, limp and uncomfortable, as Courtney embraced him.
Surprised to learn that Spencer was a person and not an impending hurricane, or that the notification wasn't about a kidnapping or something of the sort, Courtney started to do research.
"I found out about what kind of person he was, and that encouraged me, as an African American, to come out and protest. Because this is what we're trying to avoid. It's people like him who are increasing the distance … between people," Courtney told the Daily News.
Courtney gave about four hours of his time Thursday protesting and was getting ready to leave when he saw Mr. Nazi himself causing a commotion among the other protesters.
"I had the opportunity to talk to someone who hates my guts, and I wanted to know why. During our conversation, I asked him, 'Why do you hate me? What is it about me? Is it my skin color? My history? My dreadlocks?" Courtney recalled.
"After beating around the bush and avoiding my questions, I asked him, I pleaded with him, I almost broke out in tears, growing increasingly angry because I didn't understand," he said.
However, Courtney, whose father is a bishop, decided to take some of his father's teachings and offer the man a hug.
"Something in me said, 'You know what? He just needs love. Maybe he never met an African American like this," Courtney said.
It took some cajoling, but, Courtney said, "I reached over, and the third time, he wrapped his arms around me, and I heard God whisper in my ear, 'You changed his life.'"
Courtney then said he asked again, "Why do you hate me?"
The neo-Nazi's response, according to Courtney? "'I don't know.'"
"I believe that was his sincere answer. He really doesn't know," Courtney added.
The man was eventually escorted away by police, but not before taking a photo with Courtney's friend.
"I honestly feel that was a step in the right direction, for him to take a picture with a guy that he hated when he woke up this morning," Courtney said.
Read the full article here.
Read more about racial reconciliation here.
Read more Breaking News here.
This week five African-American students at Air Force Academy Prep School in Colorado found the words "Niggers Go Home" scrawled on the dry erase boards outside their dorm rooms.
Once the school became aware of the racial graffiti the school superintendent Lt. General Jay Silveria rattled off a statement to the press.
"I've said it before, the area of dignity and respect is my red line,"
"Let me be clear: it won't be crossed without significant repercussions. Diversity is a strength of our Academy and our Air Force. We are stronger when we take into account the views of those with different backgrounds and life experiences."
The students are all part of a 10 month program to help them acclimate to life at the Air Force Academy, so in a twisted sort of way this is part of their training. While their parents have expressed concern and an investigation has been launched none of that will change one basic fact: The United States military has a long, sordid, racist and violent history when it comes to the treatment of black soldiers. While this may be the first, it certainly won't be the last or the worst racial treatment these young people will receive should they choose to serve in the United States military.
Conservatives of all colors like to point to the military as one of the most integrated and racially harmonious parts of American society, which is fine if you're talking about Salvation Army or GI-Joe. The actual military? Not so much. Black soldiers, whether in training or veterans have been routinely targeted through American history for a special kind of violence as white supremacy quivers at the notion of black people being armed, trained and capable of arming themselves.
That's why black veterans were consistently denied the GI-Bill that built the American middle class. That's why lynching of black soldiers has been so common throughout U.S. history. That's why Richard Collins III, a recently commissioned officer two weeks from graduating college this spring was murdered by a white nationalist while the president barely said a peep.
That's why despite African American women making up over 40% of all women in the armed forces it wasn't until 2014 that President Obama was able to change racially biased hair standards for active duty women of color.
That's why a group of West Point cadets showing racial and American pride caused a firestorm last year.
These are just examples of how the American military to this day treats people of color, it continues to do a number on white Americans as well.
The issue isn't simply that a bunch of bigots wrote threatening words on the dorms of five cadets, that's almost to be expected. The issue is that the military despite the rhetoric has not adequately rooted out racist sentiments in the ranks yet still expects (and in fact depends) on large numbers of African Americans to join up and serve, even if that means facing an enemy on the field or in your barracks.
Read the full article here.
Read about how to help positively impact racial reconciliation here.
Read more Breaking News here.
Jemele Hill said what she said.
In a series of tweets stemming from an odd conversation about Kid Rock, the co-host of ESPN's "SC6" called President Donald Trump a "white supremacist who has largely surrounded himself w/ other white supremacists."
"Trump is the most ignorant, offensive president of my lifetime," she wrote. "His rise is the direct result of white supremacy. Period." She added that Trump's presidency had empowered other white supremacists and that his bid for the White House wouldn't have been successful if he weren't white.
Backlash to the tweets, helped along by people like former ESPN reporter Britt McHenry and Fox Sports Radio's Clay Travis ― who frequently says racist things ― led ESPN to release a statement saying Hill's views "do not represent the position" of the network. This made things worse.
Sarah Sanders, the White House press secretary, called Hill's tweets a "fireable offense." That same day, ESPN tried to prevent Hill from co-hosting "SC6" with Michael Smith. In a tweet, Hill said her "regret" was that her comments "painted ESPN in an unfair light." ESPN's public editor, Jim Brady, said Hill ― and the media at large ― should "let the reporting do its work, and resist more incendiary labels."
None of what Hill said in her initial volley of tweets was inaccurate. Trump voters were driven by racism, and white supremacists openly support him. His campaign rhetoric was a dog whistle for white supremacists. His attorney general has praised the Immigration Act of 1924, a law crafted by eugenicists and championed by people hoping to preserve a "distinct American type." After a violent white supremacist rally in Charlottesville, Virginia, Trump attributed the violence to "both sides," even though none of the counter-protesters killed anyone.
That Trump is a white supremacist is a straightforward conclusion that can be drawn from an abundance of available evidence.
But not all straightforward conclusions are admissible in mainstream American media, particularly on the subject of race, particularly when stated by a black woman.
To get a sense of the straitjackets placed on black media figures working in a predominantly white industry, where "white supremacy" is usually seen as a slur applicable only to Klansmen and Nazis, I convened three prominent black journalists: Greg Howard, a reporter at The New York Times; Elena Bergeron, former staff writer at ESPN The Magazine and current editor-in-chief of SB Nation; and a current ESPN employee who, for obvious reasons, wanted to remain anonymous.
Read the full interview here.
Read about the crucial role of black press here.
Read more Breaking News here.
Everybody is all about freedom of speech and expression until a black person (hey, Colin Kaepernick; hey, Jemele Hill) decides to exercise his or her right to do so. And in this particular case, a black sixth-grader out of Michigan says he was assaulted by his homeroom teacher all because he was exercising his rights and declined to stand for the Pledge of Allegiance.
Stone Chaney, who attends East Middle School in Farmington Hills, Mich.,told ClickOnDetroit that his teacher "violently" dragged him out of his chair and attempted to force him to stand for the pledge, leaving the young man confused and unwilling to return to that school.
"The teacher consultant comes up behind me and snatches me out of my chair violently," Stone told the news site. "I was so confused. I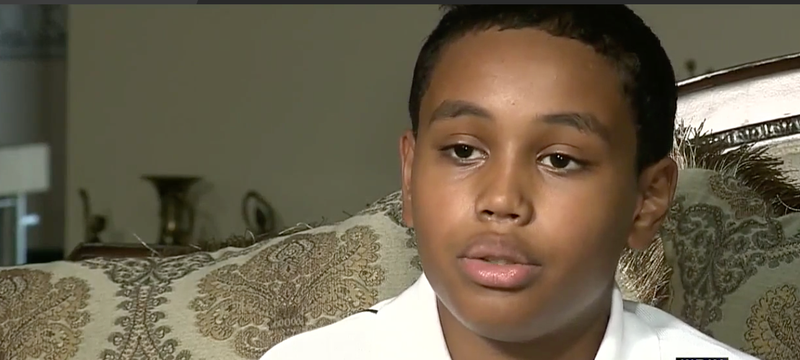 didn't know what was going on."
Note that Stone referred to the individual in question as the "teacher consultant." That means that the person who allegedly thought it was all right to snatch a child out of his seat trains other teachers. One would wonder what kind of training those other teachers are receiving.
"It's his choice to sit," Brian Chaney said. "I don't make him sit. And they should respect that."
The superintendent of Farmington Public Schools released a statement detailing that the district does support the right of students to opt out of the pledge, announcing that it was conducting an investigation and that the teacher involved has been placed on administrative leave pending the outcome.
Read the full article here.
Read about the history of black social movement and protest here.
Read more Breaking News here.
Griot: Anna Strong
"But life itself compels an optimism. It does not seem reasonable that the majority of the peoples of the world should finally, lose joy, and rational justice as a global experiment to be pursued and fiercely protected. It seems unreasonable that more than 400 million people, right now, struggle against hunger and starvation, even while there is an arable earth aplenty to feed and nourish every one of us. It does not seem reasonable that the color of your skin should curse and condemn all of your days and the days of your children. It seems preposterous that gender, that being a woman, anywhere in the world, should elicit contempt, or fear, or ridicule, and serious deprivation of rights to be, to become, to embrace whatever you choose…"[1]
This quote exemplifies the life that June Jordan led and just how much of herself she put into all of her work, from her shortest poems to her longest books. She was an activist to say the least and she believed that the best way to address the social and political climate of her time was through her writing. Her writing changed the way that people read poetry, the way that they looked at the events happening in the world around them, and the way that they viewed Jordan an author. The quote above hints at some of the topics that she often discussed within her pieces of literature, but even still there was so much more and that is exactly what this exhibit is dedicated to; the life and work of June Jordan.
Jordan's Early Life and "Double Struggles"

She was born in Bedford-Stuyvesant, New York on July 9, 1936 to two Jamaican immigrant parents. Due to this she did not have what some would describe as a "traditional upbringing". It was for this reason that she began to write at a very young age, using her writing as an outlet. Her parents were not like most at the time, as they were stricter and more demanding of her, especially her father.
This is evident in her work. In her poem, Poem about My Rights, she wrote, "Before that /it was my father saying I was wrong saying that /I should have been a boy because he wanted one/a /boy and that I should have been lighter skinned and /that I should have had straighter hair and that /I should not be so boy crazy but instead I should /just be one/a boy…"[2]
Through this poem, readers were able to gather an understanding of the problems that Jordan faced within her own home, as if the problems that she faced when she walked outside into the world weren't enough. Jordan had what many have come to know as a "double struggle". This means that she struggled twice as much as the average American because not only was she black, but she was also a female and she felt it even in the confines of her own home.
Resilience In the Face of Trauma
Jordan at one point said that she had encountered many bullies throughout her life due to her Jamaican background, and the fact that she was small and short, however, she named her father as one the first regular bullies in her life (Jordan, Civil Wars: Selected Essays). In another one of her books, Soldier: A Poet's Childhood, she even wrote about the times that he had beaten her: "Like a growling beast, the roll-away mahogany doors rumble open, and the light snaps on and a fist smashes into the side of my head and I am screaming awake: 'Daddy! What did I do?!'"[3]
Another traumatic event that Jordan wrote about which had an influence on both her life and her writing was when she was raped. She wrote about this event and her process of coping with it. In Poem about My Rights Jordan wrote that she had once thought she was in the wrong for being in the wrong place at the wrong time. However, she came to terms with the fact that she was not in the wrong. She realized, instead that there was something wrong with the system, which would allow for a person to commit an act of sexual assault and not have any penalties. Within this poem, not only was Jordan critiquing the system, but she was also addressing the problems that she often faced growing up as a female, and those problems were not singular to her. This poem was a message to young females growing up in America, a predominantly male society. She wanted to let them know that even if they face adversity, as she often did, it is not because they have done something wrong. Instead, women should be free to be who they are and who they are becoming and they should be unapologetic about it. "I am not wrong: wrong is not my name," says Jordan.[4]
These traumatic events shaped her into the resilient woman that she became. Although her father bullied and beat her she still found a way to see good in their relationship. She stated in an interview before her loss to breast cancer in 2002 that she never doubted that he loved her and thought highly of her and her abilities.[5] She also began to cope with her experience with sexual assault as she often explored the issue of sexual identity and sex within a number of her poems. Many of the traumas that June Jordan overcame throughout her lifetime, she saved for her poems.
Living Black in the US of A
Although Jordan was actually Jamaican there were certain experiences that she could not escape as a resident of Bedford-Stuyvesant, New York, and as an American citizen. When people looked at her, they saw another black person and therefore they judged her and treated her the same way as they would have any other. Therefore, her writings tackled an array of topics, from black love to police brutality. Her poem, entitled Poem about Police Violence, encompasses both of those topics as she flows between different techniques and auras within the poem.
"What you think would happen if /everytime they kill a black boy /then we kill a cop /everytime they kill a black man /then we kill a cop /you think the accident rate would lower subsequently? /Sometimes the feeling like amaze me baby /comes back to my mouth and I am quiet /like Olympian pools from the running /mountainous snows under the sun…"[6]
What Would I Do White
She also dedicated her poem What Would I Do White to tackling this issue. Within this poem she made it obvious that she couldn't even imagine white because it would be an entirely different lifestyle than the one that she had led. She ends the poem with, "I would do nothing. That would be enough."[7] These two lines alone would have been sufficient for an entire poem. It emphasizes the differences in lifestyles while letting the reader know a little bit about her struggle as an African American. It tells the reader that unlike the alternate lifestyle which she was writing about, she has had to work in her life. She has had to work to be accepted in her family, work to be respected as a female within society, work to be equal in the eyes of the police and government officials while witnessing police brutality and corruption, and she has had to work to become the person that she was destined to be in such a demanding and hurtful world. And it is partially because of that simple difference, that she was pushed to write many of her better pieces of work.
Although, the purpose of the poem was not so that she could speak poorly about white Americans, but rather to demonstrate that life as a white American is much different from that of an African American. Within the poem she also wrote, "I would forget my furs on any chair. /I would ignore the doorman at the knob…"[8] Many will read these lines and assume that she is alluding to the fact that whites are careless and ignorant, however these lines have a much deeper meaning. They hint at the fact that wealth is also something that separates her life from that of a white American's. She would not have furs to drape anywhere, nor would she be living in a house with a doorman ready to open and close the door at her will. Jordan worked hard all of her life, partially because she was a single mother to her son, yet she still didn't live anything close to the lifestyle of the character that is described in the poem. How could she live such a lifestyle when there was still so much work to be done?
Perspective and Impact on the World
This is the type of question that Jordan would have tried to answer within one of her poems, however, her writing was not limited. She did not limit herself to writing about the negative things of the world nor did she only write about the African American community and the injustices of the world. Yes, she wanted her writings to mean something and to have an impact on the community in which she lived in and the world as a whole. It is for this reason that she tackled such topics as 9/11, police brutality, sexual assault, government scandals and acts of corruption, she wrote about positive things as well. However, she should never be mistake for simply another "angry black woman" who used her poems, books, essays, etc. to let out her frustration. Instead she should be viewed as one who used her platform to make an impact by glorifying love, uplifting black men and women, teaching the youth, and empowering the African American's experiencing the daily struggles of life. There is so much more than anger to be seen within her poems.
Poems in the Key of Love
One of June Jordan's more famous books, Haruko/Love Poems was simply a collection of love poems that she had written over the span of twenty-two years.[9] In one of her poems she eloquently wrote about not only love, but also procreation.
"Little moves on sight /blinded by histories /as trivial or expansive /as the rain /seducing light /into a blurred excitement /Then /she opens /all of one eye… she who sees /she frees each of these /beggarly events /cleansing them /of dust and other death."[10]
This poem alludes to two lovers who are joining to "cleanse them [selves] of death". They are cleansing themselves of death by making sure they continue to live through the legacy of their children. Which was also something that Jordan believed was essential; the legacy of children. It is for this reason that she wrote many books dedicated to young readers and edited the poems of young writers. In the book Soulscript: A Collection of Classic African American Poetry, she edited the works of young authors. The contributors to this particular book wrote though provoking pieces about experiences that should be well beyond their years. Yet they write about them so eloquently.
One of my personal favorites within this book is entitled Monument in Black.[11] It sheds some light on the differences between races while emphasizing the blood sweat and tears that African Americans have put into this country and into the world, without much recognition. However, she does it through acknowledging the "monuments" that whites have achieved or at least that they are praised for. The message of the overall book is that young authors should have a voice as well since the collection of poems were all produced by young adults. While this book is only edited by Jordan, it is not the only book that she published for the youth. She wrote Kimako's Story, Who Look at Me, New Life: New Room and many more.
June Jordan wrote many impactful and important pieces of work.She was an educated African American female who took on the roles of mother, author, and political activist. Her books and poems were a place where these roles could merge together or be non-existent altogether. Jordan's dedication and style of writing was one that cannot be mimicked and one that is missed. However, due to her impact on her community, her work and legacy will continue, especially since many of her writings are still relevant to the world that we live in today. This exhibit was dedicated to the life and work of June Jordan because she dedicated her life and work to all of us.
Sources:
[1] Jordan, June. Civil Wars: Selected Essays. Boston: Beacon Press, 1981, 4-5.
[2] Jordan, June. Collected Poems of June Jordan. Port Townsend: Copper Canyon Press, 2005.
[3] Jordan, June. Soldier: A Poet's Childhood. Boston: Basic Civitas Books, 1999.
[4] Jordan, 2005.
[5] Dinitia Smith, June Jordan, 65, Poet and Political Activist, (The New York Times, June 2002).
[6] Jordan, June. "Poem about Police Violence." Mr. Africa Poetry.
[7] Jordan, June. Some Changes.New York City: Serpent's Tail, 1993.
[8] Ibid.
[9] Jordan, June. Haruko/Love Poems. New York City: Serpent's Tail, 1993.
[10] Ibid., 3.
[11] Howard, Vanessa. Soulscript: A Collection of Classic African American Poetry. New York: Random House Inc., 1970.
Anna Strong is a 2017 graduate of Marquette University in Milwaukee, Wisconsin. During her studies in English literature, she interned with America's Black Holocaust Museum. However, she was particularly interested in African American literature and feminism, which led her to research and publish two pieces of work about these in Marquette University's electronic publications. She is now greatly looking forward to continuing her education within this field and in law.
Days after New York City police officers choked an unarmed Black man to death in the summer of 2014, ForHarriet.com founder and editor Kimberly Foster declared she would "not march for Eric Garner." Foster described "watching Black men show up for Garner after seeing so many derail conversations about Black women's well-being leaves me with little more than a sinking feeling of despair."
The perception that sympathy and political mobilization are unequally reserved for Black males has been gaining traction for well over a decade in intellectual circles. 
Sociologist L'Heureux Lewis
 and others describe this as "Black male privilege." Lewis and others don't suggest Black males are on the brink or world domination, but they do posit that in relation to Black females, Black males often enjoy greater access to resources and/or attention to their accomplishments and grievances. Speaking with journalist Michel Martin, Lewis, a Black man, explained, "There are actually spaces where Black men are advantaged and often sometimes dominate a dialogue," often to the detriment of Black women.
In a 2016 report, Lewis corroborates the disparities that pained Foster, adding that when we seriously access the problems facing Black people, we "are most commonly raised and framed in terms of the crisis of Black males." Using our framework of mass incarceration to demonstrate, Lewis observes Black males are the default representation of the prison's consumption of Black bodies. This helps conceal the rising number Black female incarceration….Curry submits that the gawking and attention to Black males, framed by some as "Black male privilege," are often little more than dehumanizing stares at Black corpses. After the dying moments of Eric Garner and Philando Castile accumulate millions of views, Curry writes, "Black men are rarely thought of beyond their dead bodies." Recognizing the humanity of Black males and seeing that no more Castiles or Garners meet the same fate has proven impossible.
The title of sociologist Becky Pettit's 2012 book "Invisible Men: Mass Incarceration and the Myth of Black Progress" challenges multiple facets of the view that Black males hog the attention related to racism. Because the prison system is disproportionately Black and male, Pettit believes large numbers of Black males are unseen. If these ignored inmates were included in our overall assessment of African-American advances, Pettit senses celebrations of Black progress would be greatly muted. With more than two million U.S. inmates at the time of Obama's 2008 election, Pettit writes turning a blind eye to this large population of Black males distorts "the establishment of social facts" and "conceals inequality."…
Curry asks: "If the effect of racism is such that the alleged advantages of men disappear in most of the things that we value, like work or life expectancy or home ownership, why make the leap" to insist Black males benefit from or exercise privilege?
Legions of Black males and a growing number of Black women are incarcerated because of white power, not Black privilege. Searching for "privileged" Black people can sidetrack Black males and females from producing the Black power needed to establish justice.
Read the full story here.
Read more Breaking News here.
By the Associated Press, atlantablackstar.com
JACKSON, Miss (AP) — A Black Mississippi citizen is taking his case against the state's Confederate-themed flag to the U. S. Supreme Court….
Attorneys for Carlos Moore said lower courts were wrong to reject his argument that the flag is a symbol of white supremacy that harms him and his young daughter by violating the Constitution's guarantee of equal protection to all citizens….
That under the 5th U. S. Circuit Court of Appeals' ruling against Moore, "a city could adopt 'White Supremacy Forever' as its official motto; or a county could incorporate an image of white hooded figures and a noose hanging from a tree into its county seal; or a state could incorporate a Nazi swastika, as an endorsement of Aryan/white supremacy, in its state flag ."
Mississippi's is the last state flag to feature the Confederate battle emblem. Critics say the symbol is racist. Supporters say it represents history .
Mississippi has used the flag since 1894….
However, several cities and towns and all eight of the state's public universities have stopped flying the flag amid concerns that it is offensive in a state where 38 percent of the population is Black. Many took action after the June 2015 massacre of nine Black worshippers at a church in Charleston, S.C., by an avowed white supremacist who posed with the Confederate battle flag in photos posted online…
The lawsuit Moore filed in February 2016 says the Mississippi flag is "state-sanctioned hate speech," and seeks to have it declared an unconstitutional relic of slavery.
U.S. District Judge Carlton Reeves dismissed it in September without ruling on the merits, saying Moore lacked legal standing to sue because he failed to show the emblem caused an identifiable legal injury.
But despite ruling against Moore, Reeves devoted nine pages of his decision to historical context, noting the racial terror intended to maintain segregation and white supremacy in the Deep South in the years leading up to Mississippi's adoption of the flag with the Confederate emblem….
Moore, himself an attorney, is now asking the Supreme Court to send the case back to Reeves' federal courtroom for a full trial on the merits of his arguments. Ultimately, Moore wants the Confederate symbol removed from the flag.
"While acknowledging that the Establishment Clause prohibits a state from expressing the view that one religion is superior to, or preferred over, others, the court of appeals reached the remarkable and unwarranted conclusion that the Equal Protection Clause does not similarly prohibit a state from expressing the view that one race is superior to, or preferred over, another, " wrote Michael Scott and Kristen Ashe, who represents Moore..
It will be October, at the earliest, before the Supreme Court will say whether it will take the case….
Republican Gov. Phil Bryant has said if the flag design is to be reconsidered, it should be done in another statewide election. Legislators filed several bills in 2016 and this year, to either change the flag or financially punish universities that refuse to fly it. All failed because leaders said they couldn't reach consensus.
Read more Breaking News here.
Read the full article here.
Treva B. Lindsey, Ph.D., theroot.com
Last week, WGN America announced that it had canceled the critically acclaimed and riveting historical drama Underground. Allegedly moving in a more conservative, programming direction, the network is leaving behind a show that introduced millions of viewers to the relatively unknown network….
The push to find a new home for this show is largely due to its dynamism. The show is singular and remarkable in its approach to telling the stories about enslaved and freed black people in the 19th century. From its complex characters, stellar performances, breathtaking soundtrack and rich storytelling, each episode feels like a multitextured journey.
The liberties taken with historical accuracy do not compromise the integrity of truth telling and historical precision as it pertains to slavery and resistance. Pitting the notorious Patty Cannon against the Black Rose and one of the greatest heroines in American history, Harriet Tubman, was an incredible fictionalized remix of true stories of fugitive, formerly enslaved people and the inhumanity of slave catchers and owners. It's hard to imagine Wednesday nights without the resistive spirit and depths of ancestral pain that Underground has provided….
"She's come back to sort of give us the playbook on how to strategize, on how to pray, on how to be guided and how to prioritize what's necessary, and how to eventually take those selfless acts and be willing to die for the causes that are important to moving us forward," she continued.
Worth dying for, yes. Tubman believed that black lives, black bodies and black souls were worth fighting for—worth dying for and worth living for. "The General's" actual practice was #BlackLivesMatter, generations before the radical black women at the core of this movement would proclaim the same.
Underground is clear in its purpose: to expose the reality that when it comes to white supremacy—and the ways in which black people have always resisted oppression—past is often prologue. In many ways, Underground reminds us that the past is not even past. It encourages us to fight unrelentingly for radical black futures….
#SaveUnderground matters because the show's cast and crew were and are unapologetically committed to telling our stories. From an artistic standpoint, Underground is phenomenal. The show's commitment to a radical, black, freedom-fighting imagination, though, is what makes it invaluable.
Underground is the show, the freedom-dreaming experience, the ancestral battle cry, that we didn't know we needed.
Read the full article here.
Read more Breaking News here.
By Kirsten West Savali
theroot.com
Sean Christopher Urbanski, 22, has been charged with first- and second-degree murder in the stabbing death of Bowie State University student Richard Collins III, 23, and the FBI is investigating whether the killing was a hate crime.
Urbanski is a member of the white supremacist Facebook group, "Alt-Reich: Nation," NBCWashington.com reports.
The completely random and unprovoked attack took place on the University of Maryland's campus at approx. 3 a.m. Saturday morning near a bus stop. Collins was rushed to a local hospital with a stab wound to the chest and was later pronounced dead.
Urbanski, who was allegedly intoxicated—with alcohol or hate—was still sitting about 50 feet away from where he stabbed Collins when authorities arrived. He was taken into custody at the University of Maryland's police department.
"It never gets any worse than this," University of Maryland Police Chief David Mitchell said at a news conference Saturday afternoon. "When I sat with the victim's father, who is a military veteran, and his pastor and we shed tears together … I can tell you, it rips your heart out."
Read the entire article here
Read more Breaking News here
Emancipation
Reconstruction
Juneteenth
The Black Codes
Segregation: Legal and De Facto
The One-Drop Rule
Who and What Was Jim Crow?
White Supremacy

The Ku Klux Klan
The White Citizens Council

Race Riots and Massacres
Lynching in America
An Iconic Lynching in the North
Freedom Fighters of Jim Crow Era
The Memorial to the Victims of Lynching
Black Farmers and Sharecroppers
Sundown Towns
Medical Experimentation
The Great Migration
Hateful Things: Jim Crow Objects
Military Service

In the Civil War
As Buffalo Soldiers
In the World Wars